Applications such as Zoom, Hangouts, Houseparty, and Duo are used to make video calls for work or friends and family. Have you ever wondered how to change your voice for zoom? If you want to change your voice for zoom, improve your voice during the video calls, or make face-timing fun, you should try voice changer applications.
Voice changer applications make the experience exciting and give your audience a fun touch and surprise everyone. It is a fun way to catch up with the lives of your loved ones, from reducing the noise of your microphone or using a squirrel's voice or that of a thief.
Part 1: Creative Ideas for Using Zoom
Zoom is an application that facilitates video calls for either work or school group discussions or for having a good time with friends. You require the application to be able to video call. You can always do activities that bring all your loved ones together no matter the distance.
Five ways to have fun on zoom
1.Host a dinner party – hosting a dinner at your house is a tedious job that requires a lot of work and time for preparation, setting up, and clearing after. Many people prefer to host the dinner via zoom. Everyone must be dressed, have food on their tables, and have a drink of their preferred choice.
2.Host trivia games and use the voice changer app to change your voice to mimic that of a squirrel or a robot.
3.Have karaoke nights and use voice changer apps to sing like the chipmunks to entertain everyone.
4.Playing simple card games such as cards against humanities, charades, and more.
5.Netflix and chill with your friends via zoom with a bowl of your favorite snacks.
Part 2: 5 Powerful Voice Changer for Zoom
iMyFone MagicMic is a voice changer application and editor tool that gives your 100+ voice changer from the softest to the scariest of voices. You can add sound effects to your voice while gaming or when on video calls on Zoom.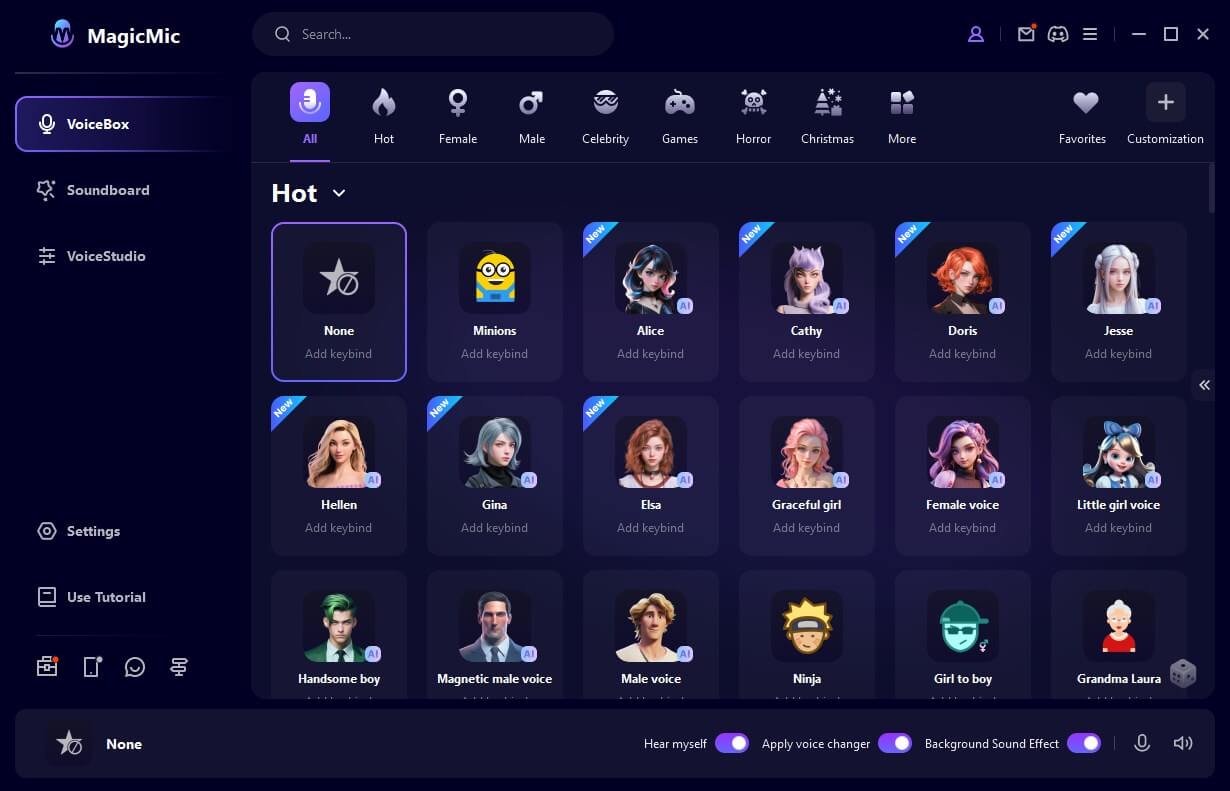 This program is stable. During use, the program has not experienced system crashes. But there are 4 voices with a small gap between them, it doesn't sound like any difference, hope they can improve the quality of these voices a bit.
Operate System
Window 7/8/8.1 and later and macOS
Key Features:
1.real-time feature- you can change your voice using different platforms such as zoom and discord.
2.A vast collection of voice effects,up to 300+ .
3.Voice filters come with background sounds so that you can change environment sounds.
4.Hotkey settings for voices and sounds playback control.
5.It can also used as a voice recorder and audio editor voice changer.
Limitation:
1.It is a new product on the market,not as famous as others.
2.Voicememes come with same icon.
Pricing:
MagicMic has a free and paid version.
9.9$/Quarter (0.11$/day)
19.9$/Year (0.05$/day)
39.9$/Lifetime
VoiceMeeter is not only a voice changer app; it is also an audio mixer. It makes your voice sound unique by adjusting the pitch of your voice. You can create different characters to prank and joke with your friends.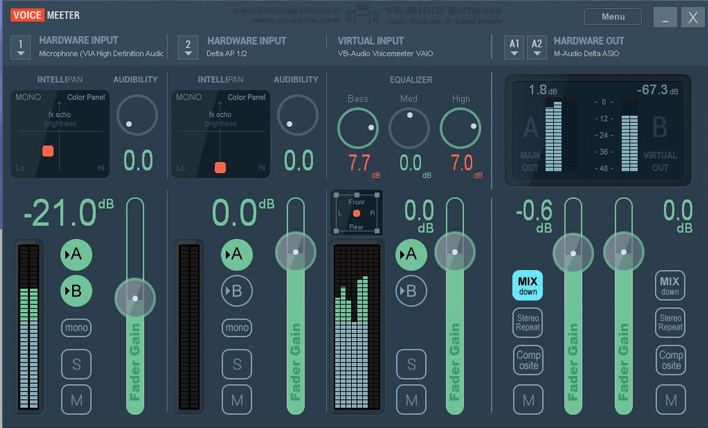 Using this voice changer requires you to have certain expertise. The interface of this program is very professional, and also provides many adjustable sound parameters. But if you are a beginner, this might be a little difficult.
Key Features:
1.You can mix audio sources from audio devices and applications.
2.It has three output and inputs managed by two buses.
3.You can use it to Record Conference or Interview in multichannel for post production.
4.You can use to different audio application together and record the performance in live with your preferred DAW.
Limitation:
1.It is less about changing voices, and more mixes would not be too applicable for someone whose main aim is to change their voice.
2.Not for beginner.
Clownfish is simple with a little basic interface voice changer for Discord and other voice chat platforms. It is real-time voice changer which allow you to change your voice into 14+ voices. The biggest feature is free.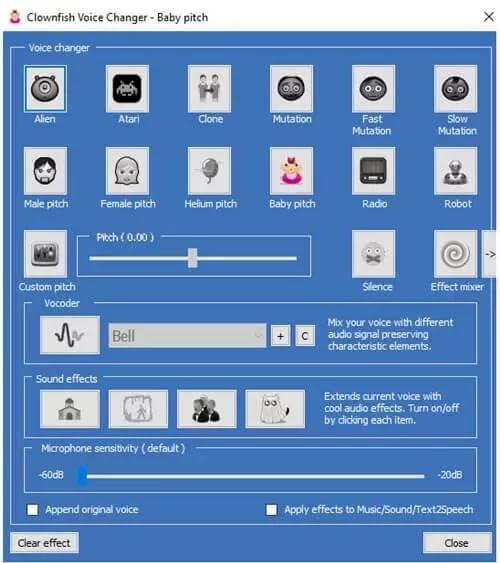 This product is free, but the sound is very low, and the function is relatively simple. If you want more fun, try a full-featured voice changer. But if you only use it occasionally, you can try it.
Key Features:
1. It has a dynamic sound player.
2. Fascinating editing by users being able to control the background music.
3. It is a free real-time voice changer.
4. It comes with VST technology, which means you don't need to download an additional sound card driver
Limitation:
1. It only has a custom pitch function and no additional voice effects.
2. Limits voice changer and function for fun.
MorphVox Pro is one of the finest available voice changers for PC available in the market today. It has plenty of features, a vast catalog of effects, and many built-in sounds. The free version is good but does not compare to the paid version.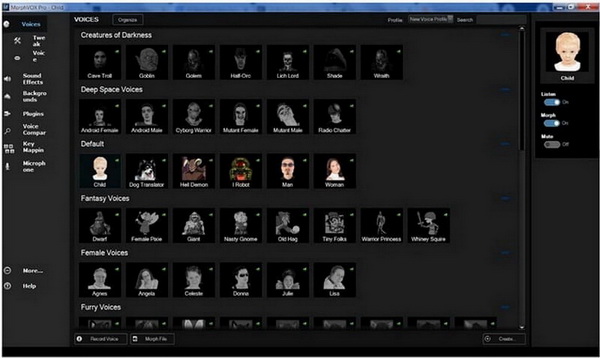 MorphVOX Pro's sound output quality is very good, without too much noise. But its interface design is a bit dated. If you have used the windows and mac versions, you will find that the Mac version has a better experience with more complete sounds and functions.
Operate System
Windows 7 and later and Mac
Key Features:
1. Sound effects that can be used in the mix.
2. Uses very little CPU power and bandwidth.
3. You can choose suitable voices and sound effects packs to download.
4. It works with both Mac and Windows operate system.
5. It offers you various voice parameters to adjust your voice.
Limitation:
1. Subscription is quite expensive.
2. Unintuitive installation process.
Pricing:
The MorphVox Pro 5 goes for $39.99
AV voice changer is an application made by Audio4Fun. It incorporated all things from voice to audio effects. It allows its users to completely turn a person's voice or audio into different pitches. The interface of this software is clean and well organized.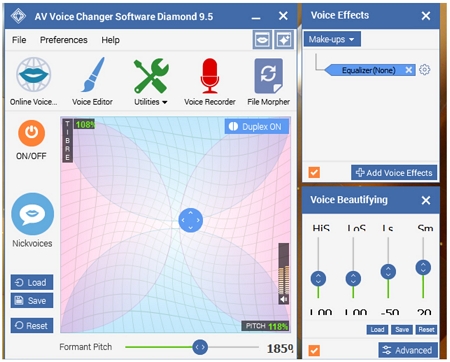 It has a lot of sound adjustment parameters, it is a powerful software, but the price is really too expensive, and its trial version can use very few functions. If you have a lot of needs and requirements for sound editing, this product can be used.
Key Features:
1. You can pick voice effects or customize voice preferences.
2. Voice comparator where you compare two voices.
3. It can record and edit any type of sound or voice.
4. It can be used as a sound effect maker.
Limitation:
1. The program is incompatible with other installed applications.
2. Expensive price and limited functions on free trail version
Part 3: How to Use Voice Changer on Zoom
Step 1: Download and install the voice changer zoom you prefer as per our reviews.
Step 2: Connect the headphones that have a microphone.
Step 3: Choose the virtual soundboard input as the microphone and the headphones as the output on the voice changer setting interface.
Step 4: Set the input device as the voice changer virtual soundboard on the zoom voice settings and the output as the headphones.
Step 5: Choose different voices and sound effects to test.
Conclusion
There are many ways to elevate your experience on zoom to be more exciting and fun. One of the most common ways is using voice changer applications. Voice changer zoom enables users to use different voices and sound effects to entertain their audience.
The article reviewed articles such as AV voice changer, iMyFone MagicMic, VoiceMeeter, Clownfish, and MorphVox pro.