Are you a fan of the legendary Sam Elliott and wish to incorporate his iconic voice into your projects or personal recordings? Look no further than the cutting-edge AI voice changer technology. In this article, we will introduce some outstanding AI tools like Sam Elliott AI voice changer and voice generator available for capturing the essence of Sam Elliott's voice.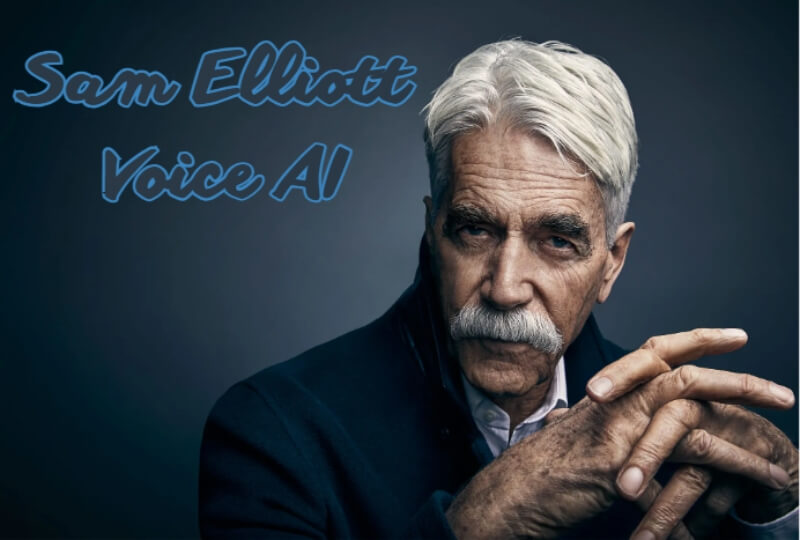 Part 1: How To Get Sam Elliott AI Voice with AI Voice Changer?
MagicMic is a popular real-time AI voice changer software that allows users to modify their voices during live communication or recordings. With a diverse range of fun and unique voice effects, MagicMic enhances online gaming, video chats, and content creation experiences. Its user-friendly interface and compatibility with various communication platforms make it a go-to tool for adding entertainment and creativity to vocal interactions.
Key features of MagicMic
Sam Elliott AI Voice Changer
It provides 225+ voice effects,600+ soundboard and 200+ voice memes.

Instantly modify voice with AI effects in real-time.

Enjoy humor-filled interactions by playing audio clips via the built-in soundboard during chats.

Customize hotkeys effortlessly to access your favorite voice effects.

Experience improved audio quality with background noise suppression.

Seamlessly compatible with popular platforms like Discord, Twitch, and others.

Capture and modify audio from any application or device using the virtual audio driver feature.
How to get Sam Elliott AI voice?
Step 1: Download and Launch
Install MagicMic software, log in to your account.
Step 2: Configure Input and Program Settings
Choose your main microphone as input, enable "Apply Voice Changer," activate "Hear Myself."
Step 3: Select the MagicMic Virtual Audio Device
Select Virtual Audio Device as input in your preferred app for seamless voice modification.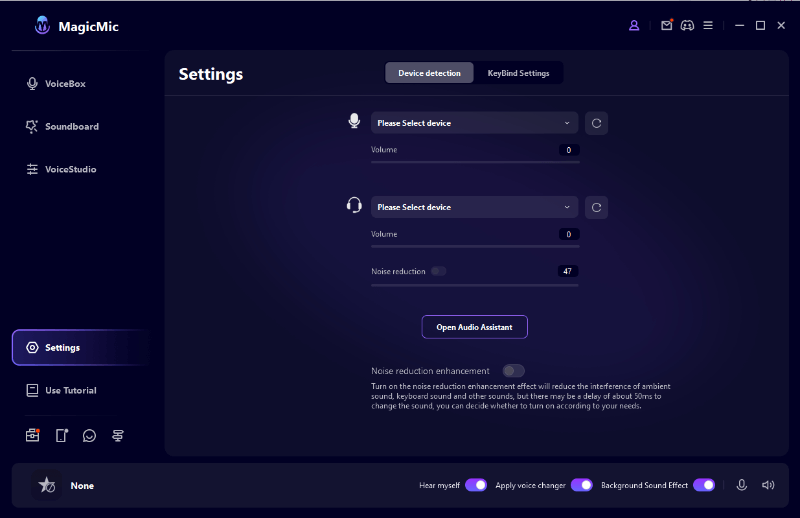 Step 4: Choose Voice or Create AI Voice
Explore effects , assign keybinds, create personalized AI voices, such as Sam Elliott AI voice, Morgan Freeman, Sean Connery ,Anthony Hopkins.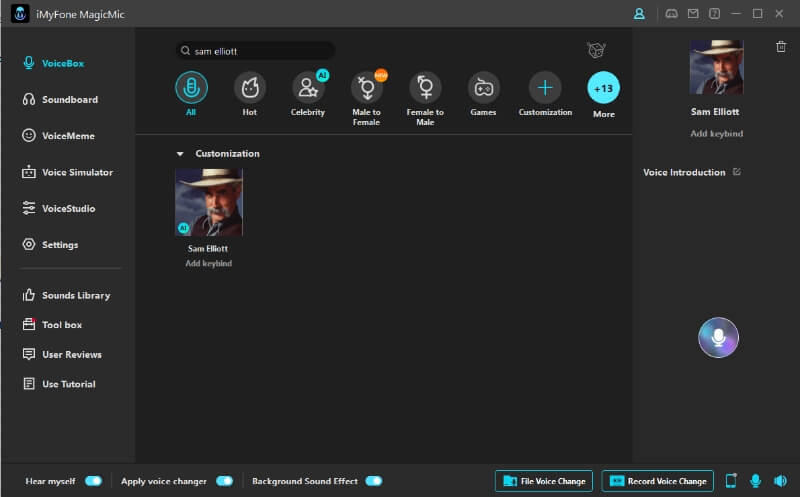 VoxBox Sam Elliott Voice Generator is your go-to option. This exceptional voice generation tool employs AI technology to produce an exceptional replica of Sam Elliott's voice. Simply input your desired text, and VoxBox will generate an audio file, transforming your words into the unmistakable tones of Sam Elliott. This opens up a world of possibilities for advertising campaigns, audiobook narration, or any project needing that captivating Sam Elliott AI Voice.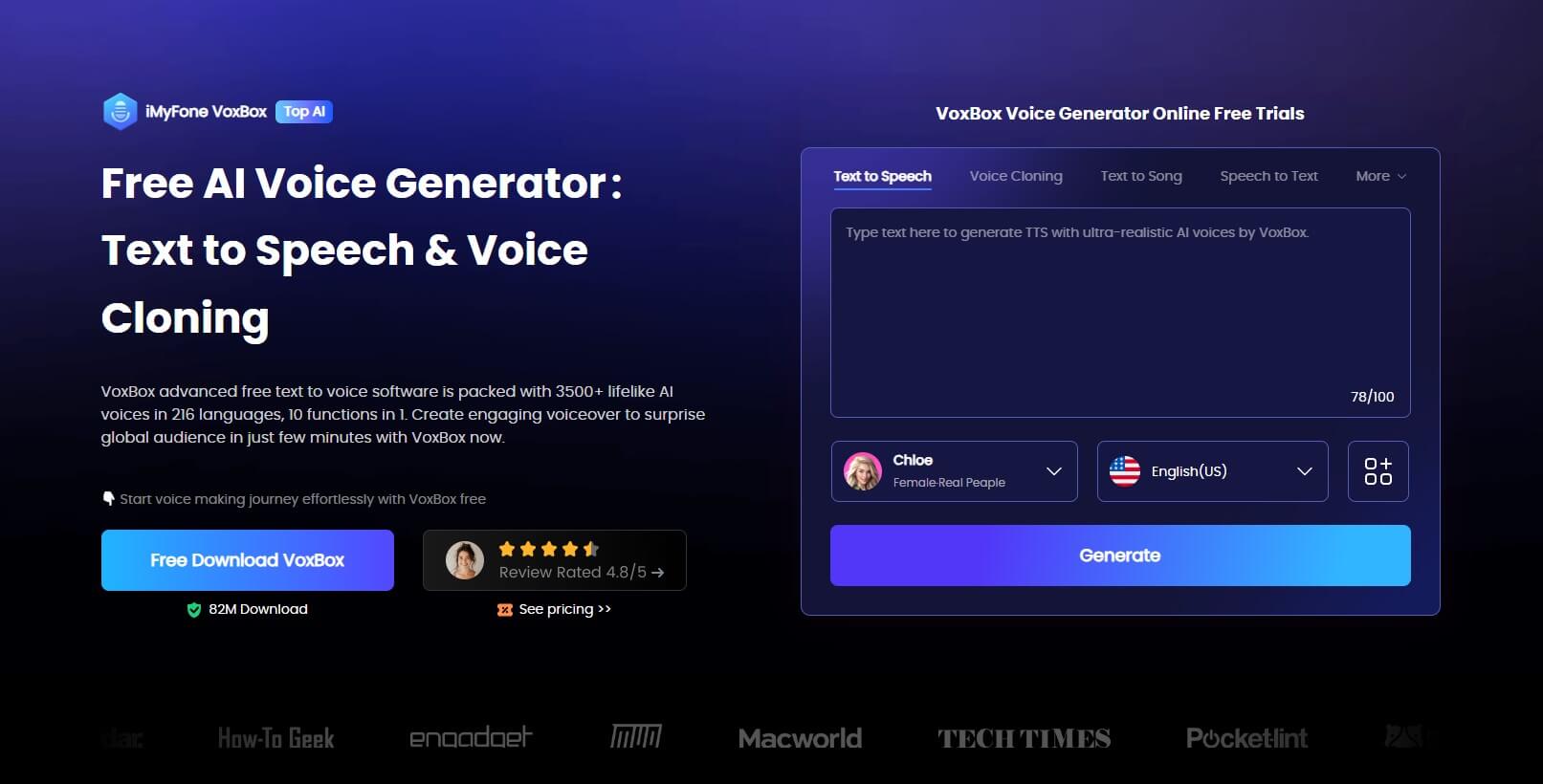 Key features of VoxBox Sam Elliott AI voice generator
Utilize text-to-speech, voice cloning, and transcription features.

Choose from a vast selection of 3200 AI voices in 77+ languages and 100+ accents.

Easily customize pitch, speed, and volume settings according to your preferences.

Ideal for various purposes, including business, entertainment, and social media applications.

Enjoy high-quality audio outputs available in OGG, WAV, and MP3 formats.
How to use VoxBox Sam Elliott voice generator?
Step 1: Download & Install VoxBox AI Voice Generator
Start by obtaining the VoxBox AI voice generator by downloading it from their official website. It's available as a free download for your device.
Step 2: Choose "Voice Cloning" & Upload Audio File
After installation, launch the VoxBox application and access the "Voice Cloning" feature from the menu. Upload an audio file that contains Sam Elliott's voice, which you wish to clone.
Step 3: Access Your Realistic Sam Elliott AI Voice
Once the cloning process finishes, your Sam Elliott AI voice is ready to use for various applications, such as voiceovers and video content, providing a realistic experience.
MetaVoice is a Studio web app that empowers creators to quickly produce distinctive and emotive AI voice overs. It offers instant voice conversion and character creation, allowing users to select voices and connect seamlessly across various platforms. The Live feature ensures real-time voice changes while retaining genuine human emotions, enabling confident communication and scaling content creation across numerous platforms and characters.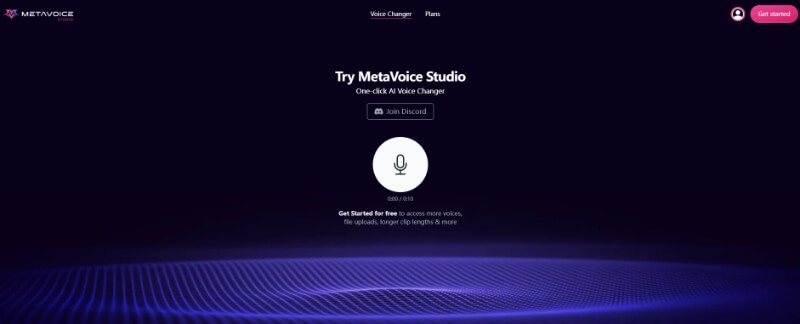 Key features of Sam Elliott voice AI online
MetaVoice boasts ultra-realistic AI voice conversion technology that maintains human-like emotions.

The 'Live' app offers real-time voice changes with minimal latency, ensuring smooth communication.

With just one click, MetaVoice connects you to over 800 platforms, including Discord, VRChat, Zoom, Google Meet, Roblox, OBS, DAWs, YouTube, TikTok, and more
Part 2: Info about Sam Elliott
Sam Elliott is an American actor known for his iconic deep voice, thick mustache, and Western roles. He was born on August 9, 1944, in Sacramento, California.
With a career spanning over five decades, Elliott has appeared in numerous films and television shows. Some of his notable movies include "The Big Lebowski," "Tombstone," and "A Star Is Born." He is often associated with cowboy roles, earning him a reputation as one of Hollywood's most recognizable Western actors. Beyond acting, Sam Elliott's voice has been widely sought after for narration and voice-over work.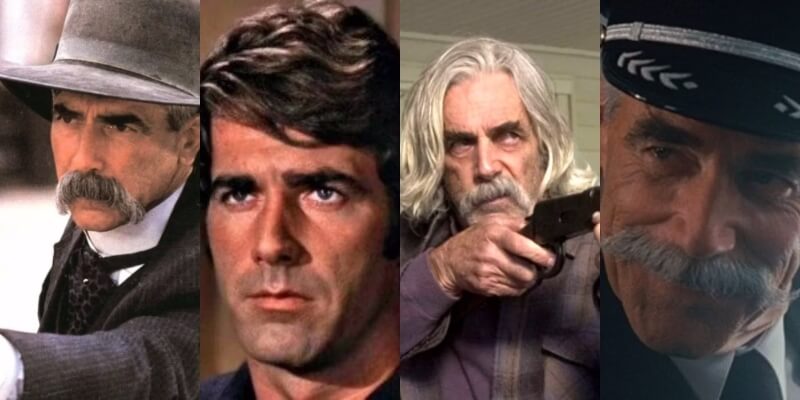 Part 3: Hot Topics about Sam Elliott Voice AI
What is Sam Elliott Voice AI?
Sam Elliott Voice AI is an artificial intelligence-powered voice generation technology that replicates the iconic deep voice of actor Sam Elliott.
Is Sam Elliott Voice AI available for different platforms?
Yes, the AI voice is compatible with various platforms, making it convenient for integration into different applications and devices.
Is the generated voice indistinguishable from Sam Elliott's real voice?
The AI technology aims to replicate Sam Elliott's voice as closely as possible, but it may not be 100% indistinguishable from the real actor's voice.
Final words
In conclusion, the AI voice changer technology offers a remarkable opportunity to experience the captivating essence of Sam Elliott AI voice. Whether you choose the MagicMic AI voice changer to transform your own voice or the VoxBox Sam Elliott voice generator for effortless replication, the power of Sam Elliott's voice is at your fingertips.