Meet Tyler, the Creator - a renowned artist with a unique voice that captivates fans worldwide. Now, discover how to harness that distinct charm using the Tyler the Creator AI Voice changer. This article explores how AI technology enables users to recreate his iconic voice and utilize it creatively for various projects.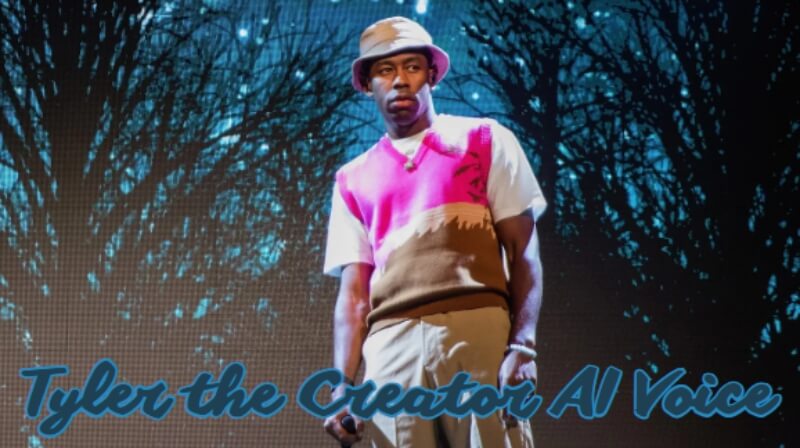 Part 1: How To Get Tyler the Creator AI Voice with AI Voice Changer?
MagicMic is a groundbreaking voice changer that empowers users to transform their voices instantly during voice calls or while streaming games. With a wide array of voice effects, including the mesmerizing vocal style of the beloved singer Tyler, The Creator, users can immerse themselves in captivating experiences. From mimicking famous celebrities to embodying VTubers and anime characters, MagicMic enhances entertainment across communication platforms.
Key features of MagicMic
Tyler the Creator AI Voice Changer
It provides 225+ voice effects,600+ soundboard and 200+ voice memes.

Instant voice modification with diverse AI effects in real-time.

Play funny audio clips via built-in soundboard during chats.

Easy hotkey customization for accessing voice effects.

Enhance audio quality with background noise suppression.

Supports Discord, Twitch, and other popular platforms.

Capture & modify audio from any app/device with virtual audio driver.
How to get Tyler the Creator AI voice?
Step 1: Download and Launch
Install MagicMic software, log in to your account.
Step 2: Configure Input and Program Settings
Choose your main microphone as input, enable "Apply Voice Changer," activate "Hear Myself."
Step 3: Select the MagicMic Virtual Audio Device
Select Virtual Audio Device as input in your preferred app for seamless voice modification.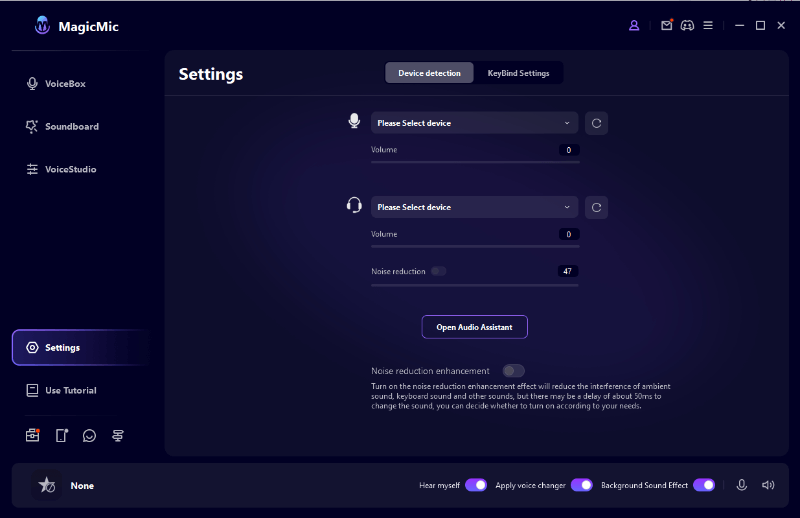 Step 4: Choose Voice or Create AI Voice
Explore effects , assign keybinds, create personalized AI voices, such as Tyler the Creator AI voice, Drake, Ice Spice, Kanye.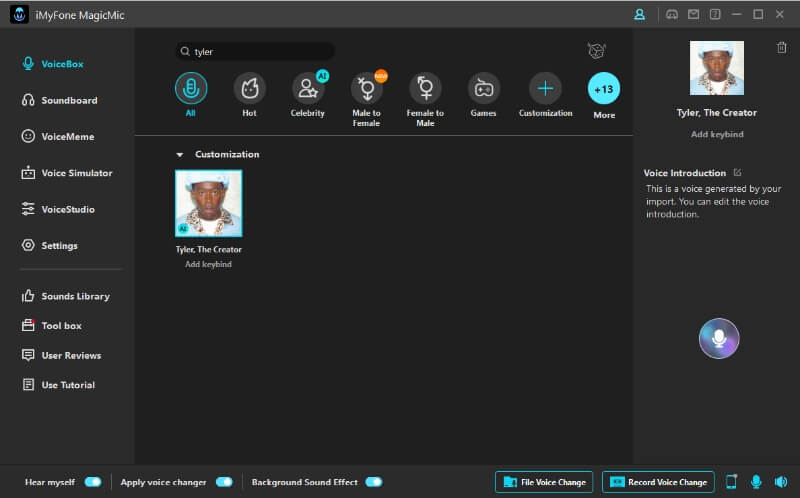 VoxBox is a cutting-edge AI voice generator and cloning tool, providing users with a staggering 3200+ voice options across 77+ languages. With VoxBox, transform text into Ryan Reynolds's speech and create lifelike character AI voices. Mimic YouTubers, celebrities, movie & TV characters, and anime personas with ease.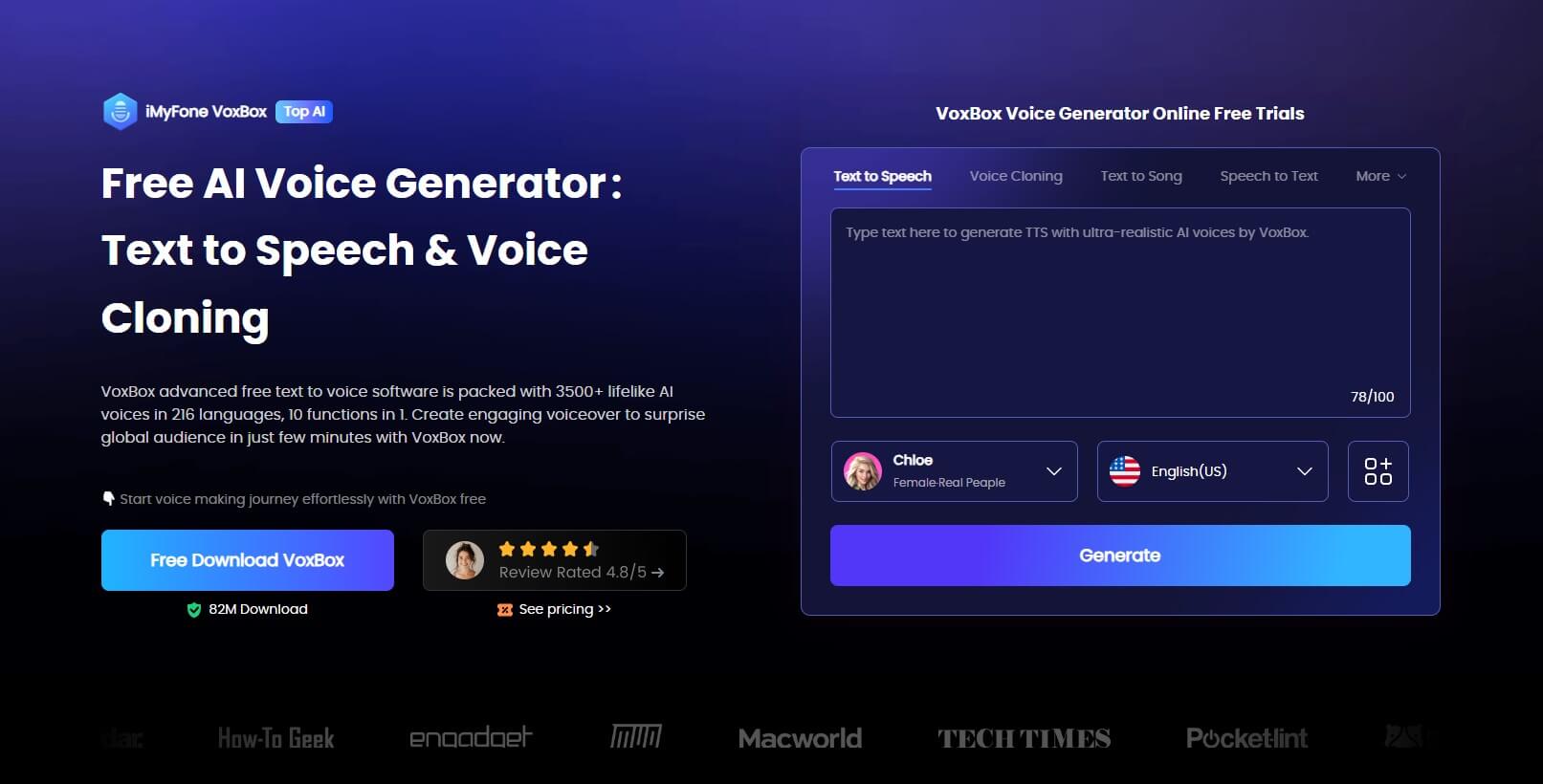 Key features of VoxBox Tyler the Creator AI voice generator
Access text-to-speech, voice cloning, and transcription.

Over 3200 AI voices in 77+ languages and 100+ accents.

Customize pitch, speed, and volume settings.

Perfect for business, entertainment, and social media.

High-quality audio in OGG, WAV, and MP3 formats.
How to use VoxBox Tyler the Creator voice generator?
Step 1: Download and install VoxBox to get started.
Step 2: Open the "Text to Speech" lab, search "Tyler, The Creator," and enter your text.
Step 3: Click "Convert" to create the voiceover, listen, and make any needed adjustments.
Part 2: Info about Tyler, the Creator
Tyler, the Creator is an American rapper, singer, songwriter, record producer, and fashion designer. He was born on March 6, 1991, in Ladera Heights, California. Tyler, whose real name is Tyler Gregory Okonma, is known for his unique and eccentric style, both in his music and fashion choices.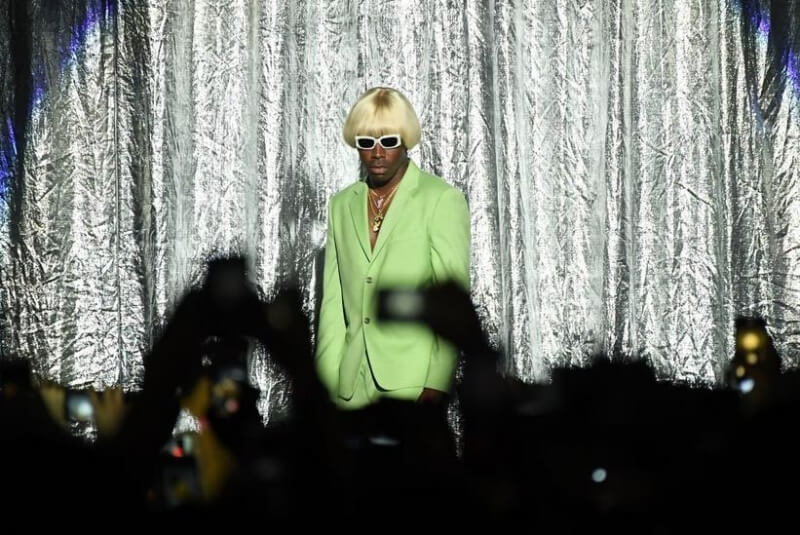 He gained prominence as the co-founder of the hip-hop collective Odd Future, also known as Odd Future Wolf Gang Kill Them All (OFWGKTA). Tyler released his debut mixtape, "Bastard," in 2009, followed by his first studio album, "Goblin," in 2011. His music often features dark and introspective themes, as well as controversial and provocative lyrics.
Part 3: Tyler, The Creator - Spotify Top Songs
Throughout his career, Tyler, the Creator has been recognized for his artistic vision and influence on the hip-hop and alternative music scenes. His ability to continuously reinvent his style and push creative boundaries has solidified him as a significant figure in contemporary music and pop culture.
Here are the Top 10 Tyler, the Creator songs:
1. See You Again (feat. Kali Uchis)
2. EARFQUAKE
3. NEW MAGIC WAND
4. After The Storm (feat. Tyler, The Creator & Bootsy Collins)
5. BEST INTEREST
6. GONE, GONE / THANK YOU
7. 911 / Mr. Lonely (feat. Frank Ocean & Steve Lacy)
8. ARE WE STILL FRIENDS?
9. Boredom (feat. Rex Orange County & Anna of the North)
10. She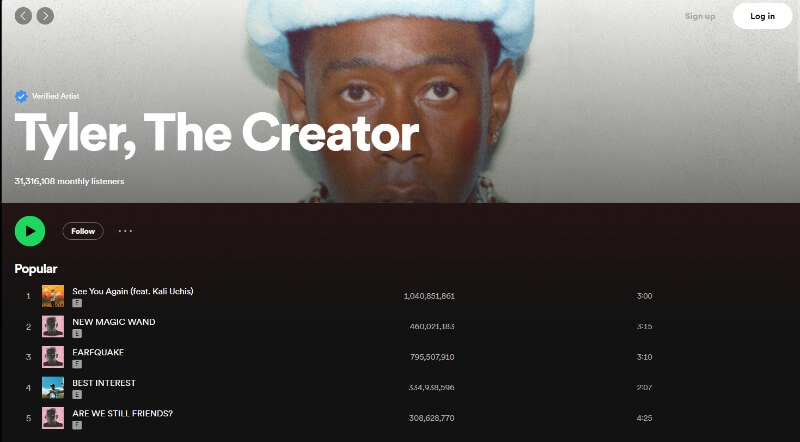 Part 4: Hot Topics about Tyler, the Creator AI Voice
What is Tyler, the Creator AI Voice?
Tyler, the Creator AI Voice is an innovative voice synthesis technology that uses artificial intelligence to replicate and mimic the distinct vocal style of the rapper and artist, Tyler, the Creator.
What can I use Tyler, the Creator AI Voice for?
Tyler, the Creator AI Voice can be used for various creative purposes, such as audio content creation, voiceovers for videos or podcasts, and entertainment projects where you want to incorporate Tyler, the Creator's signature voice.
Are there any voice effects other than Tyler, the Creator's style available?
Yes, along with Tyler, the Creator's vocal style, the AI voice technology often offers a diverse selection of other voice effects to choose from, such as celebrity impressions and fictional character voices.
Can Tyler, the Creator AI Voice be integrated with video game characters?
Yes, definitely! Game developers and content creators can integrate Tyler, the Creator AI Voice into video games to enhance character dialogue and narration.
Final words
In conclusion, Tyler, the Creator's captivating voice has won the hearts of countless fans. With the advent of AI technology like Tyler the Creator AI Voice changer and voice generator, enthusiasts now have the power to transform into their favorite artist effortlessly. Come and try the magic of tools like MagicMic to recreate Tyler's iconic voice. Join the league of fans try the Tyler the Creator AI Voice revolution and experience the allure of his unique vocal style.