Ever wondered if you could chat like Rod Serling? Imagine your voice taking on his mysterious vibe. What if I told you there's a way to make your words sound just like his?
This article is about Rod Serling AI voice, and find out how it could change your voice in your online conversations and gaming. Keep reading!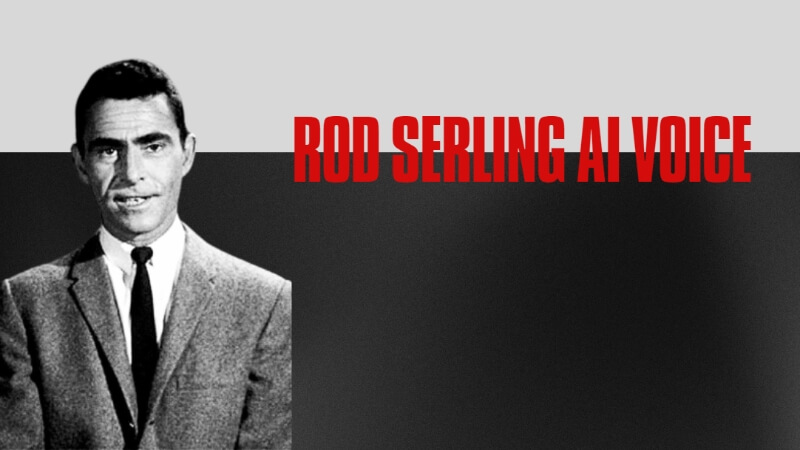 Part 1. How to Use Rod Serling AI Voice Tools to Replicate His Voice?
1) MagicMic - Rod Serling AI Voice Changer
MagicMic is an AI voice changer that lets you tweak your voice in real-time during live broadcasts like Rod Serling AI voice. With over 250 voices and 800 soundboards, you can add a touch of magic to your streams.
But that's not all – MagicMic isn't just for live interactions. It's your go-to tool for transforming your voice in gaming chats or even during regular calls.
And here's the other kicker: MagicMic goes beyond live sessions. If you're a content creator aiming for a unique vibe in your text and voiceovers, MagicMic has your back.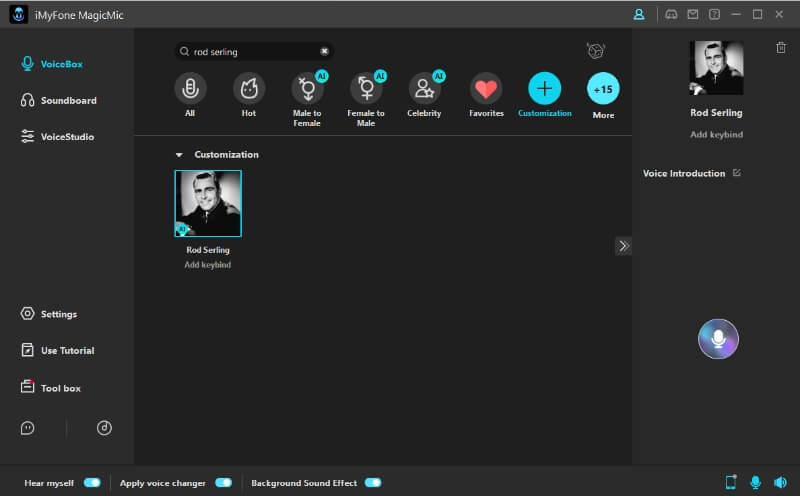 Key features of MagicMic Rod Serling AI voice changer
300+ unique voice options, 600 soundboards, and 200 voice memes.

Noise reduction guarantees clear voice changes in noisy settings.

Real-time voice modulation for gaming and streaming on various platforms.

Enjoy five daily free high-quality voices.

Compatible with Windows, Mac, Android, and iOS.

Easily assign custom keybinds to each sound effect.
How to sound like Rod Serling with MagicMic in real-time?
Step 1: Download and Set Up MagicMic
Get MagicMic now. Choose your microphone and headphones, then turn on "Apply Voice Changer" and "Hear Myself" at the bottom.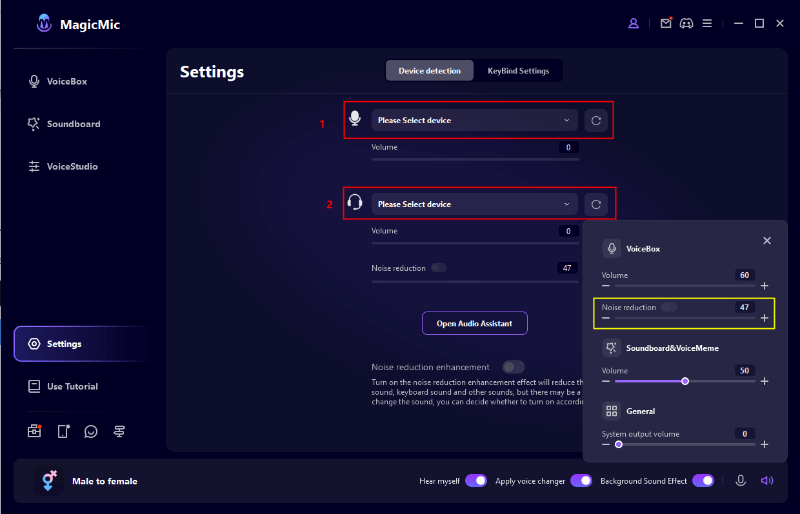 Step 2: Change Voice in Real-time. Choose "Microphone (Voice Changer Virtual Audio Device)" as the input device in the application where you wish to modify your voice.
Step 3: Clone Rod Serling AI Voice
Click "VoiceBox" > "Customization," then upload an audio clip of Rod Serling. After that, you can access Rod Serling's voice. Select this voice, speak into the microphone, and your voice will transform into his.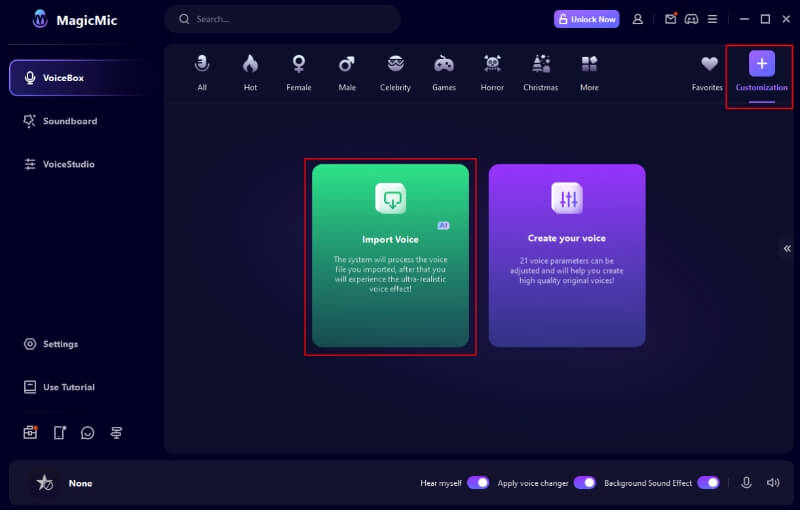 Part 2. Generate AI Rod Serling Voice via Text to Speech
1. VoxBox - Rod Serling AI Voice Generator
VoxBox is a easy solution for killer voiceovers! No tech fuss, just natural voices, expressive audio, and even AI-driven voice cloning for Rod Serling. Click, clone, and conquer with VoxBox. Plus, it's not just about voices – record, edit, and convert.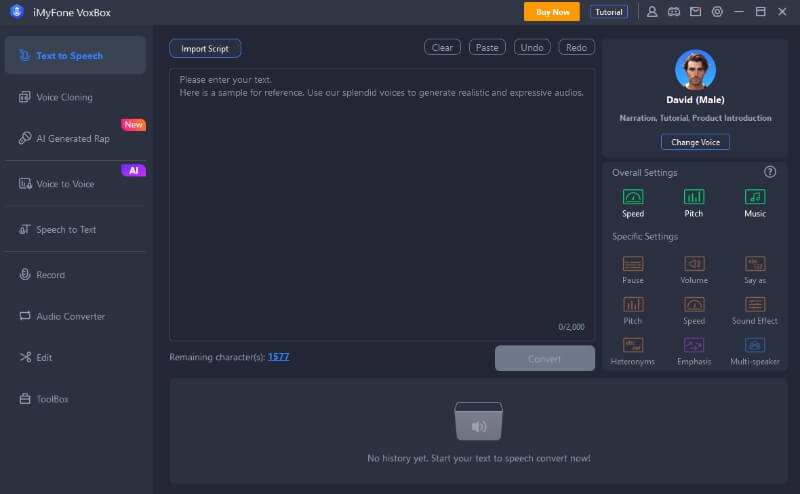 Key Features:
text-to-speech, speech-to-text, recording, editing, and audio conversion.

2000+ free character voices for text-to-speech applications.

It provides 3200+ voices in 77+ languages.

Export TTS in various formats like MP3, WAV, Ogg, and more.

It has voice cloning technology that you can generate anyone's voice.
How to generate Rod Serling AI voice with VoxBox text to speech?
Step 1: Download and install VoxBox
Step 2:Go to "Voice Cloning", upload video or a Rod Serling audio clips, start cloning, then head to "My Clone Voice", you will get the Rod Serling AI voice.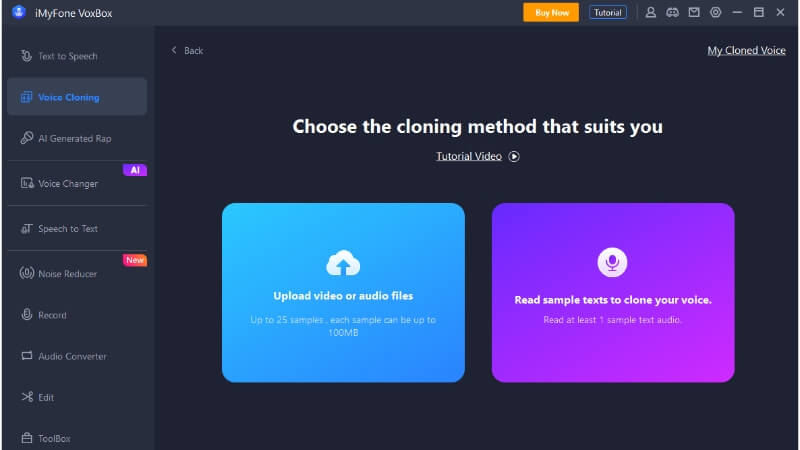 Part 3: Brief Introduction to Rod Serling
Rod Serling (1924–1975) was a prolific American screenwriter, playwright, and television producer, best known as the creator and host of "The Twilight Zone." His distinctive voice and groundbreaking work in speculative fiction made him an iconic figure in television history. Serling often used the anthology format of "The Twilight Zone" to explore social and political issues through thought-provoking stories with unexpected twists.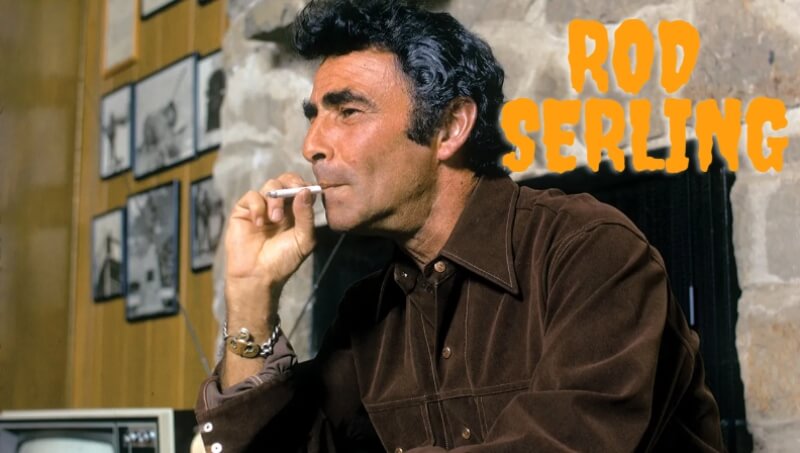 Conclusion
So, can you believe it? Rod Serling's voice is no longer a mystery code. After soaking up all the deets in this article, are you thinking of giving it a shot? Picture your online chats and game chat with a touch of that Serling flair. Ready to make your voice like a good 'Twilight Zone' plot? It's time to come and try the Rod Serling AI voice tools!