If you find yourself getting tired of dubbing videos on your own every time or are unsatisfied with a single voice, then CapCut AI Voice is definitely suitable for you. With this tool, you no longer need to worry about dubbing; all you have to do is write your script and choose the voice you want. If you're interested in this, please keep reading. In this article, we will introduce some of the more useful AI CapCut voiceover tools.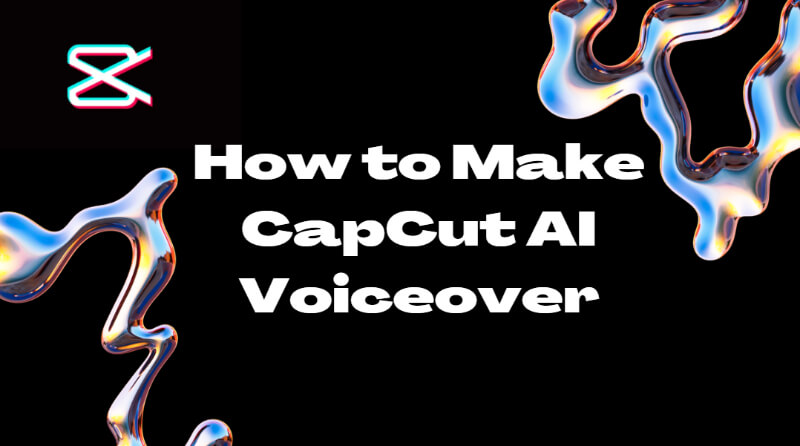 Part 1: How Can Capcut AI Voice Improve Your Voiceover?
The CapCut's voiceover feature, it can be pretty handy. It lets you quickly create voiceovers for your videos without having to do all the recording yourself. Some cool things it might do include letting you pick different voices and accents, making it easy to have consistent audio throughout your video. Plus, you can use it for different languages if you're reaching a global audience. It's a real time-saver and can be a budget-friendly option compared to hiring voice actors.
How to use Capcut AI text to speech to generate voiceover?
Step 1. Get your video into CapCut and drop it onto your timeline.
Step 2. Head over to the upper left corner, find the "Text" menu, and slap on the "Add Text" button right onto the timeline. Up in the top right corner, type in your text and jazz it up with fonts, colors, or whatever you like.
Step 3. Click on that text on the timeline, then scoot over to the top right and hit "Text to Speech." Now, you'll see a bunch of voice options. Pick the one you fancy, and click "Start reading" down in the bottom right to let it do its text-to-speech magic.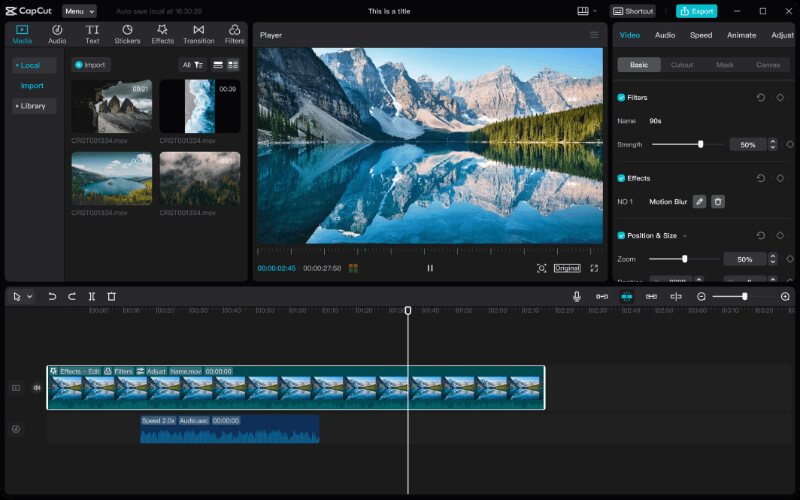 Part 2: Best Recommendations for Capcut AI Voice Text-to-Speech
Speechify AI voiceover for CapCut is all the rage in video editing. It's like this super cool feature where the app turns your written words into spoken ones. Basically, it uses AI magic to whip up a voice that can either replace your voice in your videos or work alongside it. How awesome is that?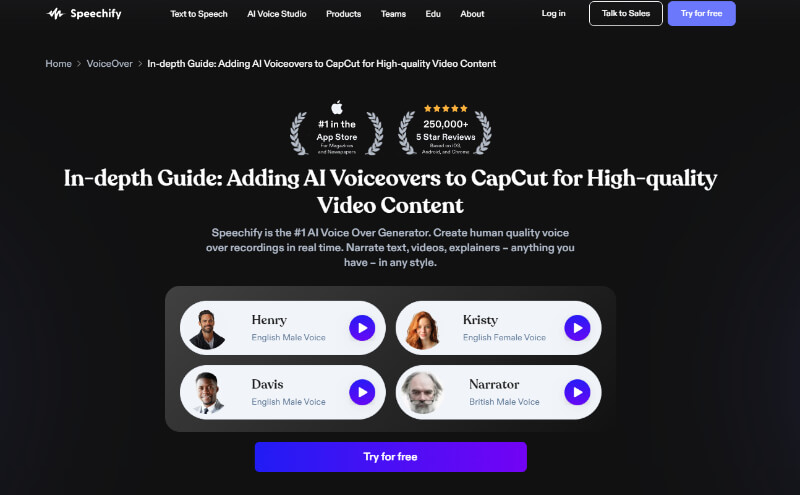 Main Features
Multilingual TTS support.

Voice customization for unique narration.

Emotional tone control for diverse content.

Efficient, time-saving text-to-speech conversion.

Effortless compatibility with video editing tools.
Lovo stands out in advancing text-to-speech for Capcut and voice replication technologies, producing impressively lifelike outcomes.A whopping million users are big fans! It's the award-winning voice wizard with 500+ voices in 100 languages. Make amazing voice-enhanced videos for marketing, education, games, and more.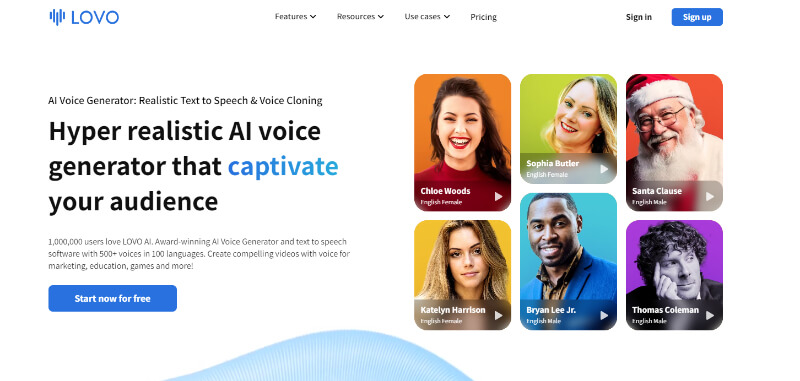 Main Features
Lovo offers cutting-edge AI voice and text-to-speech technology, delivering premium results.

With over 1,000,000 users, Lovo has a proven track record of excellence in enhancing text-to-speech and voice cloning technologies.

Lovo is an award-winning AI voice generator with 500+ voices available in 100 languages, making it a versatile tool for creating compelling videos for marketing, education, games, and more.

Lovo's core AI voice generator, Genny, provides a rich feature set and a seamless voiceover production experience, powered by realistic AI voices and an online video editor.

It offers unlimited royalty-free image generation and helps writers generate scripts 10 times faster.
VoxBox, your go-to AI voice generator, simplifies the process of adding AI voiceovers to your CapCut videos. It offers 100+ languages and accents, all with a 100% natural text-to-speech quality.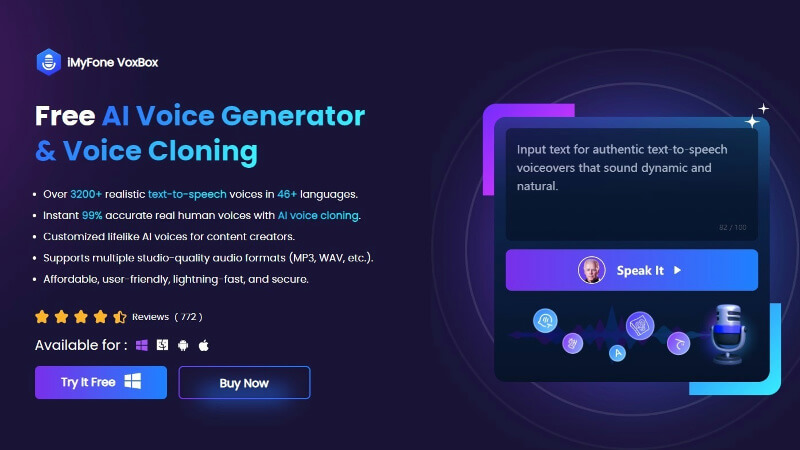 Main Features
VoxBox offers 3200+ AI voice ranges suitable for business, entertainment, study, and work-related projects.

It can tailor your voiceovers with customized settings such as pitch, pause, speed, volume, and more.

Multiple popular output formats are supported, making it easy to use your content for streaming and other purposes.

VoxBox features a super-fast voice cloning process, saving you time and effort. Plus, it delivers realistic, studio-quality audio in various formats, all with a generous free start of 2000 characters for text-to-speech.
Part 3: Bonus Tips: Change Your Voice in Real-time with Capcut Voice Changer
1. MagicMic - Capcut Voice Changer
As a multimedia content creator, I believe you must be no stranger to live streaming or video creation. So, you definitely need to give MagicMic Capcut voice changer software a try. It can transform your existing voiceovers or even change your voice in real-time during live broadcasts, making your content and creations even more captivating.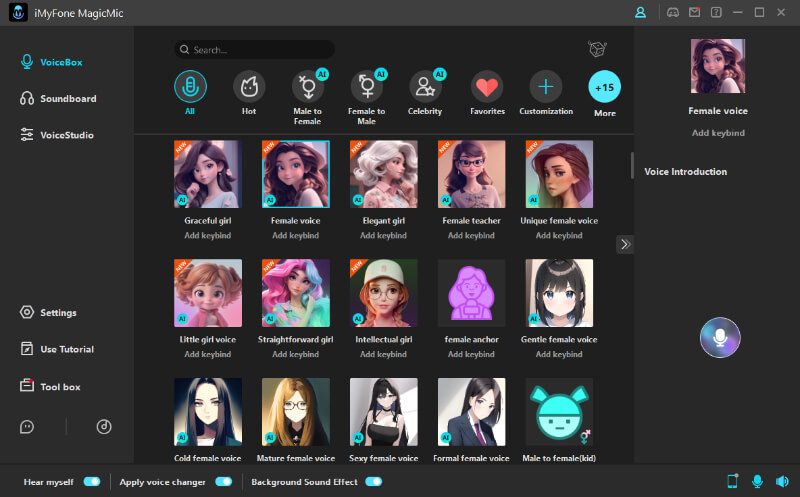 Main Features
Change your voice with 300+ real-time voice filters.

It can be used on streaming and gaming platforms like Discord, Twitch, Zoom, and more.

It also provides a file voice change feature that allows you to modify the audio's voice.

Keybinds make voice-changing more convenient.

You can use 800+ soundboards in videos or streams for instant reactions to add more fun.
Conclusion
After reading this article, you probably have a good idea about CapCut AI voice tool. In fact, most text-to-speech tools on the market can meet the needs of the majority. Making your videos stand out doesn't just rely on voiceovers; it also depends on the quality of your video content. In addition to that, you can use a voice changer to modify your video's audio. Give these fantastic tools a try!