Hellena Taylor's mesmerizing voice has left a lasting impression on gamers and fans alike. Known for her remarkable portrayal of the iconic character Bayonetta, Taylor's vocal talents have captivated audiences around the world.
With the Hellena Taylor voice changer, you can step into the shoes of this legendary character and transform your own voice. In this article , we will introduce this innovative tool that allows you to emulate the distinct charm and power of Hellena Taylor's voice.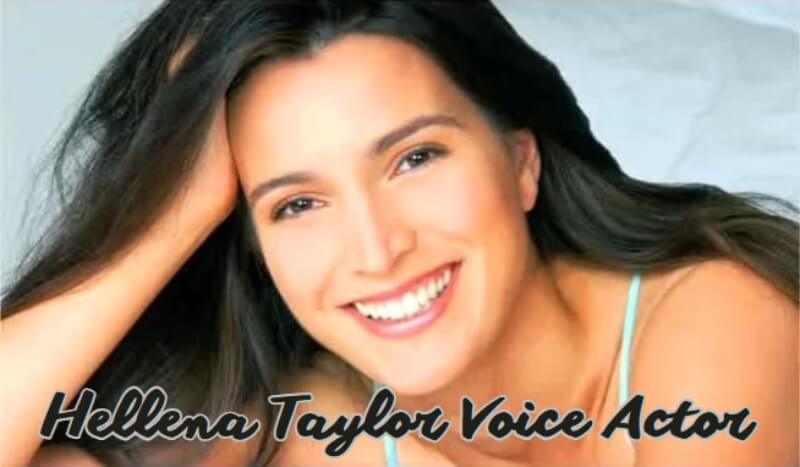 Part 1: Info about Hellena Taylor
Hellena Taylor is a British voice actress known for her notable roles in video games and animation. She has a diverse range of vocal abilities and is particularly recognized for her portrayal of the character Bayonetta in the popular action-adventure game series of the same name. Taylor's performance as Bayonetta has garnered critical acclaim for its captivating and powerful delivery.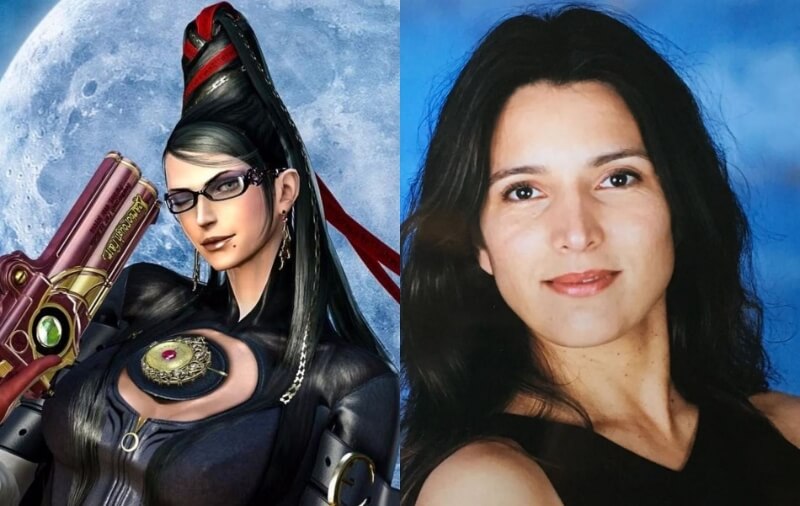 Part 2: How To Get Hellena Taylor AI Voice with Voice Changer?
MagicMic is a cutting-edge voice modulation software that allows users to transform their voices with ease. Whether you want to sound like Hellena Taylor's iconic character Bayonetta or explore a wide range of other voice effects, MagicMic offers a seamless and immersive experience. With its user-friendly interface and extensive library of voice presets, MagicMic opens up a world of possibilities for voice customization and creative expression.
Key features of MagicMic
Hellena Taylor AI Voice Changer
It provides 225+ voice effects,600+ voice effects and 200+ voice memes.

Real-Time Voice Changing: Instantly modify your voice during live calls or streaming.

Custom Voice Filters: Create unique voice presets with customizable parameters.

Compatibility: Works seamlessly with popular communication and streaming platforms.

Hotkeys and Shortcuts: Conveniently control voice effects using customizable hotkeys.

Virtual Audio Device: Route your modified voice to any application or game.

AI Voice: Utilize advanced artificial intelligence for natural-sounding and realistic voice transformations.
Steps to get Hellena Taylor AI voice
Step 1: Download and Launch
Install MagicMic software, log in to your account.
Step 2: Configure Input and Program Settings
Choose your main microphone as input, enable "Apply Voice Changer," activate "Hear Myself."
Step 3: Select the MagicMic Virtual Audio Device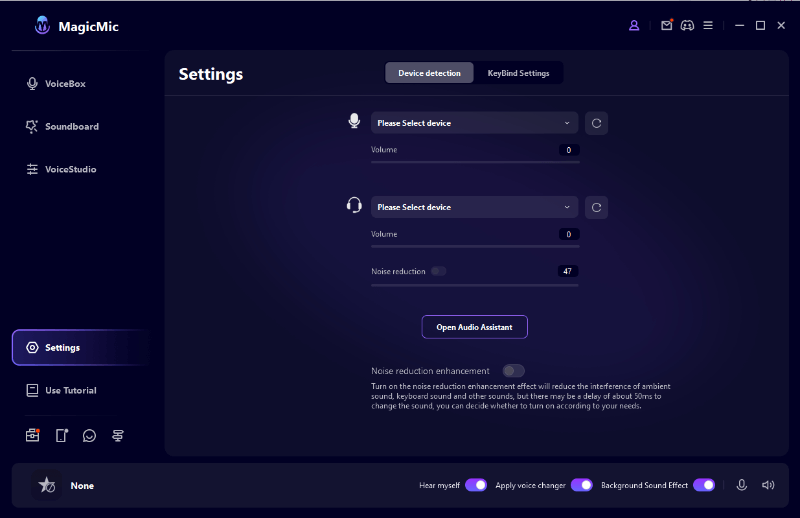 Select Virtual Audio Device as input in your preferred app for seamless voice modification.
Step 4: Choose Voice or Create AI Voice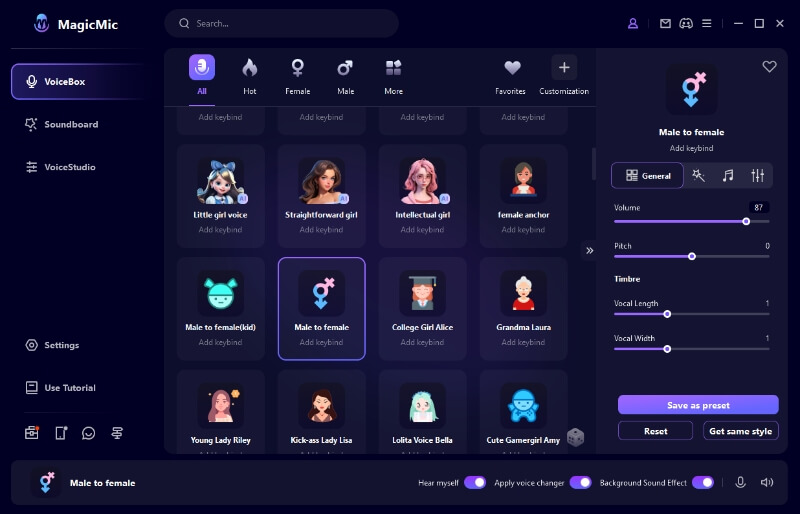 Explore effects , assign keybinds, create personalized AI voices, such as Hellena Taylor or Bayonetta voice.
Watch the video below to know more about Hellena Taylor AI voice
Part 3: Hot Topics about Hellena Taylor Voice
What other roles has Hellena Taylor voiced?
In addition to Bayonetta, Hellena Taylor has lent her voice to various characters in projects such as "The Witcher 3: Wild Hunt," "Kameo: Elements of Power," "Aliens: Colonial Marines," and "Super Street Fighter IV," among others.
What happened to the hellena taylor voice actor of Bayonetta?
Hellena Taylor, the original voice actor of Bayonetta, spoke out on Twitter about not returning for the third installment. PlatinumGames cited scheduling conflicts, but Taylor revealed she was offered only $4,000 to reprise her role. Consequently, she was replaced by Jennifer Hale, a respected industry veteran with extensive credits in games like World of Warcraft, Overwatch, and Halo.
What is the Hellena Taylor Voice changer?
The Hellena Taylor Voice changer is a software or tool designed to modify and transform your voice to sound like Hellena Taylor or emulate her unique vocal characteristics.
Can the Hellena Taylor Voice changer be used in real-time?
Yes, depending on the software, the Hellena Taylor Voice changer can often be applied in real-time during live calls, streaming sessions, or while recording audio and video content.
Final words
In conclusion, Hellena Taylor's voice has captivated audiences worldwide with its unique charm and undeniable appeal. The mesmerizing quality of her performances, showcased in iconic characters like Bayonetta, has garnered a dedicated fanbase.
Now, with the Hellena Taylor Voice changer, you can unlock the magic of her voice and embark on your own creative journey. By utilizing this powerful tool, such as MagicMic, you can immerse yourself in the enchanting world of voice transformation, channeling the essence of Hellena Taylor's captivating characters and captivating your own fans with the allure of your transformed voice.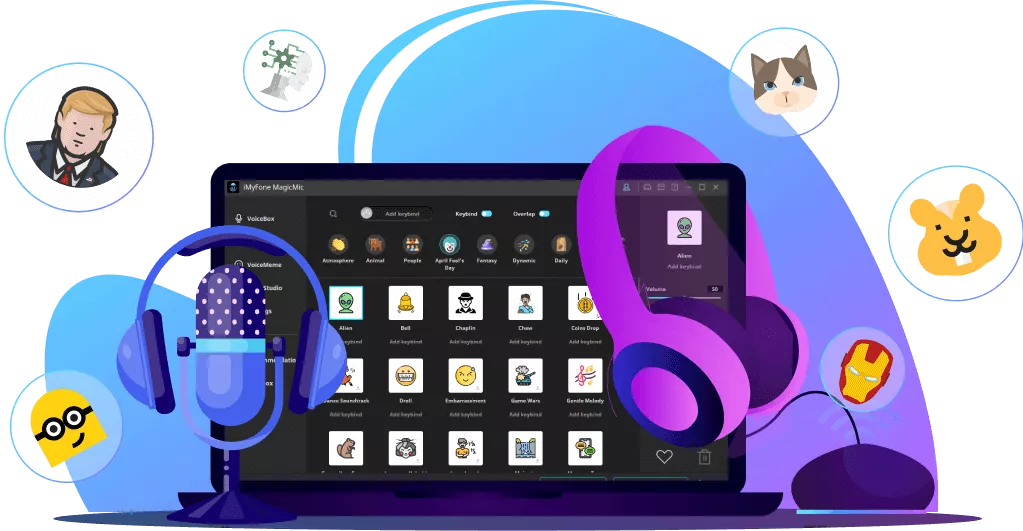 225+ Voice effects for one-click voice changing in real-time.
Huge library with 600+ Voice Effects and 200+ Voice Memes.
Sound emulator in games, live, chatting, online classes, and more.
Voice recording and audio voice changing is supported.
Voice studio lets you create any voice you like.