Have you watched ASMR videos on TikTok or YouTube before? Have they captured your attention or made relaxation for you? Do you want make this kind of video on your own or change your voice into ASMR AI voice during live chats? If yes, you will find the best answer in this blog!
Because in this article, we will reveal the best ASMR AI voice generator that enables to do text to speech and ASMR voice changer to ensure real-time voice transformation on platforms like Discord, Zoom, Twitch, YouTube, etc.
Let's go!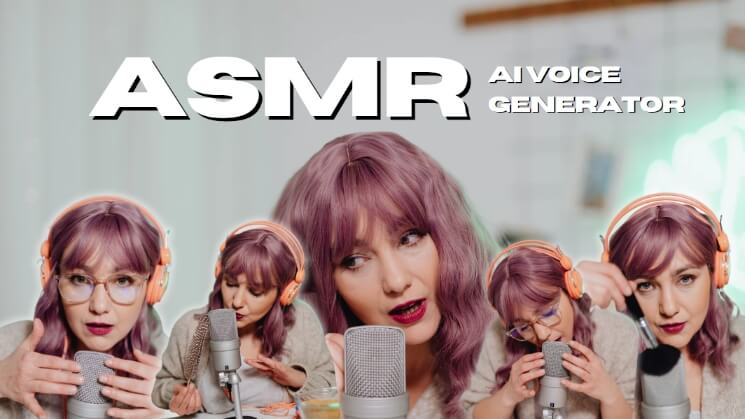 Part 1: What is ASMR and Why is it so Popular?
ASMR is the abbreviation of "Autonomous Sensory Meridian Response", refering to a kind of sensation that starts from scalp and goes down the neck and back, making people feel a kind of pleasure.
It is mostly triggered by some specific auditory or visual stimuli and hard to be controlled by intentional attention. Now, you can find a plethora of ASMR videos or even streams on social media platforms, like YouTube, Twitch, Instagram and TikTok.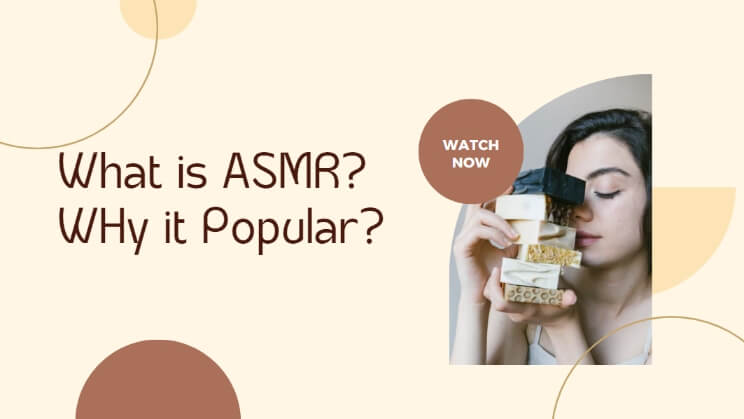 Speaking of the reasons why there are a large number of people loving ASMR videos or streams, there are several reasons accounting for that:
1. Stress Relief: The gental sounds or soft voices the content creators make can trigger a feeling of relaxation and reduce stress for many people.
2. Sleep Aid:Comforting feature of ASMR videos/audios can help many people who have difficulty sleeping fall asleep.
3. A Sense of Belonging: With the dedicated fan base and online community, people can enjoy their favorite ASMR content.
4. Medically Being Helpful: It is said that ASMR may bring about some therapeutic benefits, such as reducing symptoms of anxiety and insomnia.
5. Free and Easy to Get: Almost all the ASMR videos are available online, and it is very easy to get.
Part 2: Best ASMR AI Voice Generator for Streaming and Content Creation
1. MagicMic - ASMR Voice Changer
If you want to make ASMR streams, ASMR AI voice changer - MagicMic can do you the best favor, since you can replicate any ASMR voice and use it while streaming or live chatting with friends.
Apart from replicating voices, it provides users with 225+ AI voice filters allowing to change voice in real-time. 600+ sound effects and 200+ voice memes to add more fun to your stream or prank.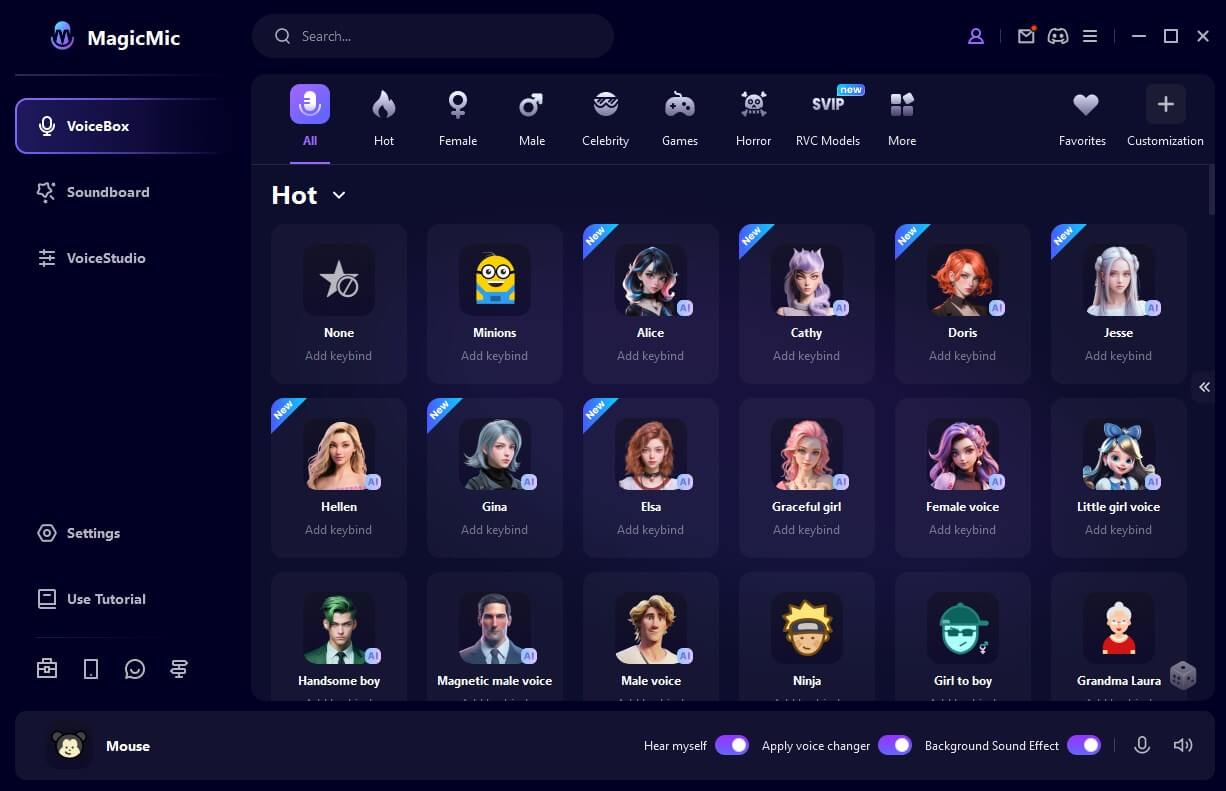 How to Change into AI ASMR Voice in MagicMic:
Step 1: Install MagicMic software, and log in to your account.
Step 2: Select your microphone and headphone to make sure you can hear your own voice clearly.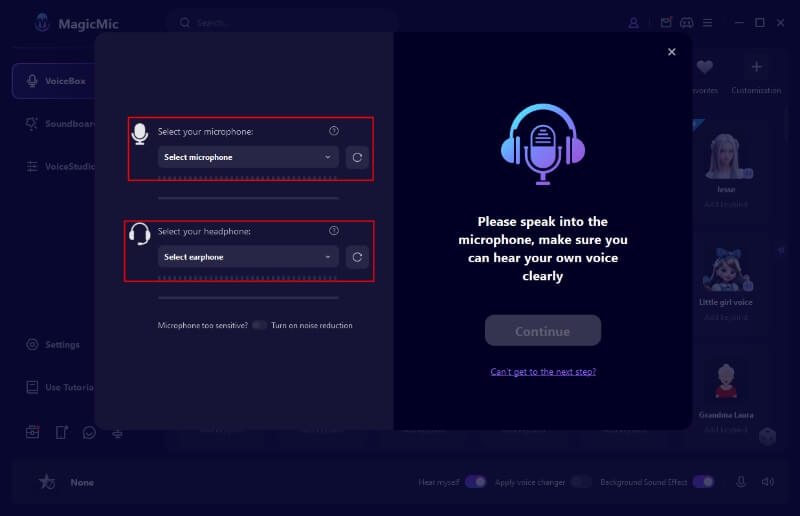 Step 3: Click "VoiceBox" - "Customization" to import the audio file with the voice of ASMR.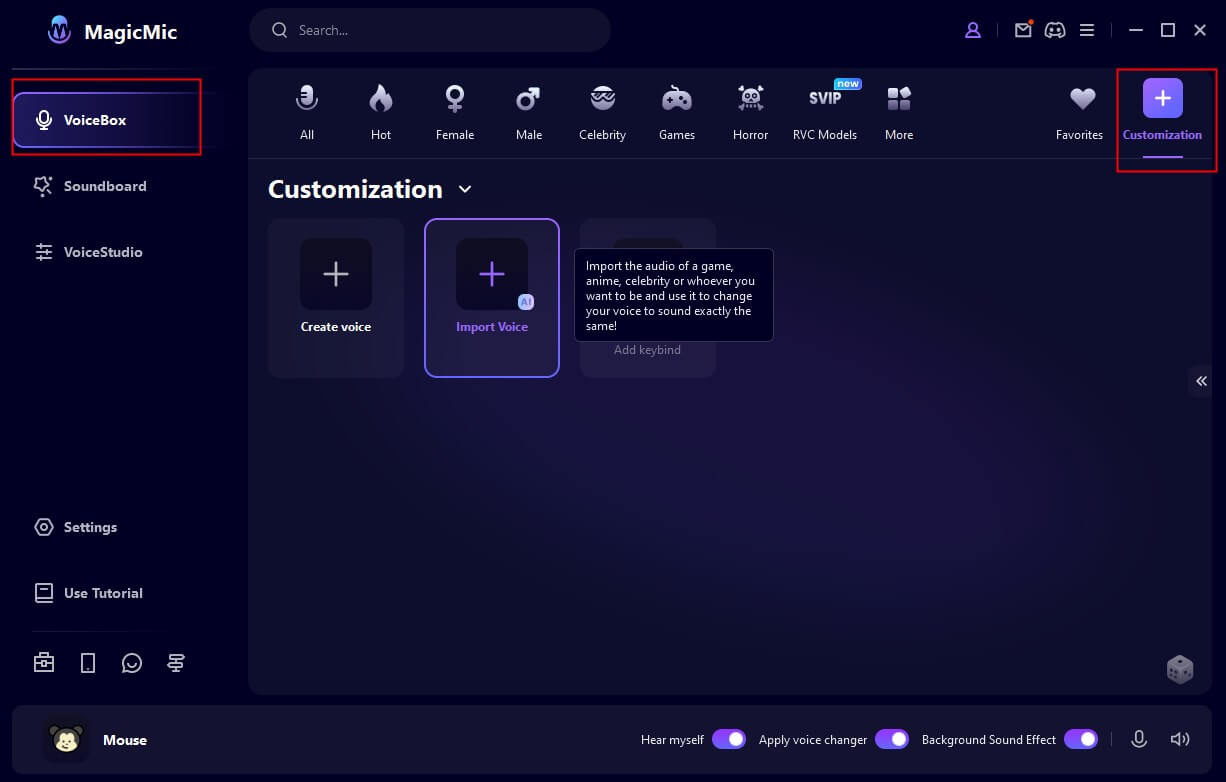 Step 4: Choose the ASMR voice you have imported, and select "Microphone (Voice Changer Virtual Audio Device)" as input in the desired application for voice modification, and start the real time voice change during streaming or online chats.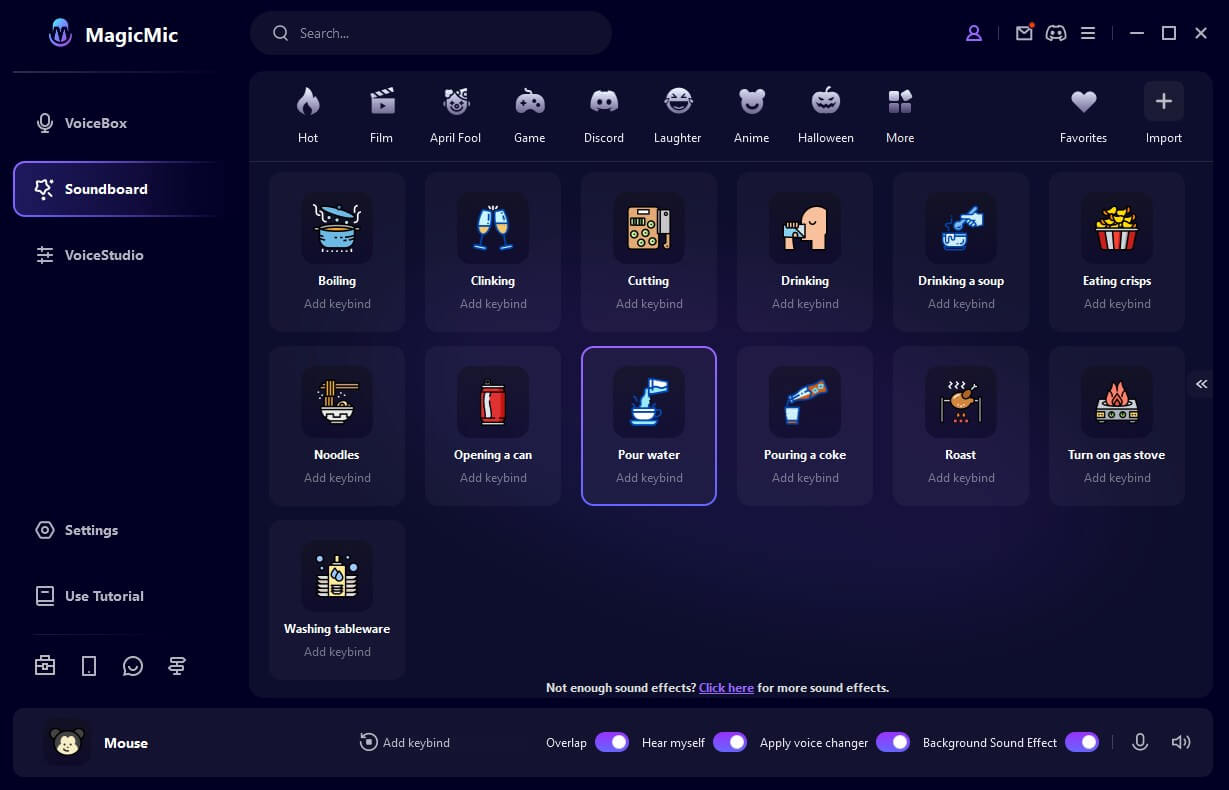 Special Offer: Get Official MagicMic with A Discount
35% off Coupon Code: MAGICMICYT
Key Features:
Generate the best ASMR AI voice of high quality for your own content or streams.

225+ voice-changing AI voice filters, including male to female, kid, devil, fictional characters, etc.

Add more fun to your streaming or gaming with 600+ sound effects, 200+ voice memes and background sound effects.

Supports to replicate any voices to use on streaming and online chatting.

Change your voice in platforms like Discord, Fortnite, Valorant, Zoom, Twitch, and more in real time.

Switch voices with assigned hotkeys or keybinds.
2. VoxBox - ASMR Voice Generator
If you want to gain access to ASMR AI voice to make your own ASMR videos to go viral, VoxBox is the best choice, since it allows users to generate lifelike ASMR AI voice from text with single click.
What's best is that there are 3200+ other voices available for text to speech conversion, like characters AI voices, those of celebrities, singer, etc. And it allows users to create voiceovers in over 77 languages, which is to say, no matter which country you are from, you can make your own distinct videos.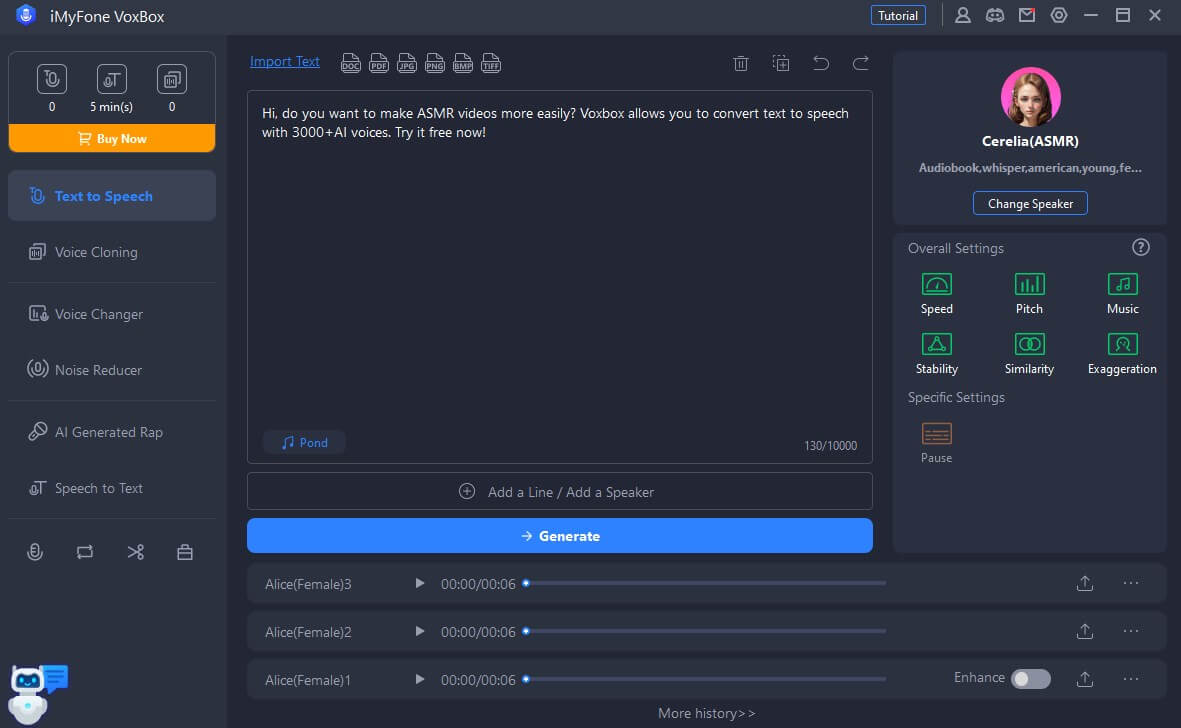 Key Features:
Provide new users with 2000 free characters counts for text to speech coversion.

Allows to clone any voice, yielding results with high quality.

3200+ voices available in 77+ languages.

Speech-to-text, audio recording and editing, audio conversion, and AI rap generation, all in one tool.

MP3, WAV, Ogg exportation formats are supported.

Best option for making ASMR videos/audios, and other types of digital content.
Part 3: Hot FAQs About ASMR AI Voice Generator
1. What is the meaning of ASMR?
It denotes a kind of comforing feeling that triggered by some videos/audios including whispering voice, clicking and more.
2. What type of person likes ASMR?
In general, people who feel rather stressful or has anxiety disorders may like to watch ASMR videos or listen to ASMR audios.
3. Is ASMR good for the brain?
It is shown in a survey that ASMR videos/audios can help improve mood and alleviate depression.
4. How can I get ASMR AI voice on stream?
You can generate the realistic AI ASMR voice by uploading audio files featuring its voice in MagicMic, and then click it to use on various platforms.
Conclusion
In conclusion, whether you desire to use ASMR AI voice to dub for your own video or change your voice while streaming or online chatting, MagicMic and VoxBox, serving as the best AI ASMR voice generator, can fulfill all your requirements.
So, why wait? Download MagicMic and explore ASMR voice AI now!