Music is the binding force for any video. Therefore, adding music to IGTV videos makes them more interesting, and exciting for the followers. Music increases the overall charm of the video and motivates viewers to watch the video till the end. If you are wondering about how you can add melodic music to your IGTV video, this article is perfect for you. Keep reading, and we will tell you how to add music to IGTV video on Windows, macOS, iOS, and android.
4 Ways to Add Music to IGTV on Instagram
IGTV video is one of the best platforms to share video content, and many marketers and influencers are utilizing this feature to create and share engaging content for marketing and promotion. The competition is very high on Instagram. Therefore, if you want to win on this platform, you must work on your video quality.
For this purpose, you need a fantastic video editor to create and edit your IGTV videos to meet the viewers' demand. Let us see different video editing tools and apps to add music to IGTV videos and other editing tasks.
People prefer to edit IGTV videos on a computer because mobile tools and applications are not that advanced. You must edit your IGTV videos using a desktop application if you want to make your videos more appealing. Download iMyFone Filme on PC now.
Like iMyFone Filme facebook page to get more IGTV tips
iMyFone Filme is the best video editing software that contains all the necessary features for IGTV video editing. You can use this editor to add music, transitions, effects, images, and texts to your video. It will provide you thousands of free music templates for your IGTV video. Furthermore, you can also add custom music to your IGTV video using Filme.
Do you know another exciting feature of Filme video editors? It allows you to add eight audio tracks to the video background simultaneously. Seems interesting, doesn't it? You should also try this tremendous software to add music to your IGTV video background.
Subscribe iMyFone Filme YouTube to get more IGTV tips
Watch video to learn how to add music to video by iMyFone Filme
Let us see how make igtv video with music on Windows or macOS using iMyFone Filme.
Step 1. Download and install Filme on your device. For this purpose, go to the Filme website and click on the free download button shown in the figure below. It will automatically start downloading software on your PC. Run the .exe file to install it on your laptop or MacBook.
Step 2. Open the Filme video editor. You will see the interface as shown in the figure given below!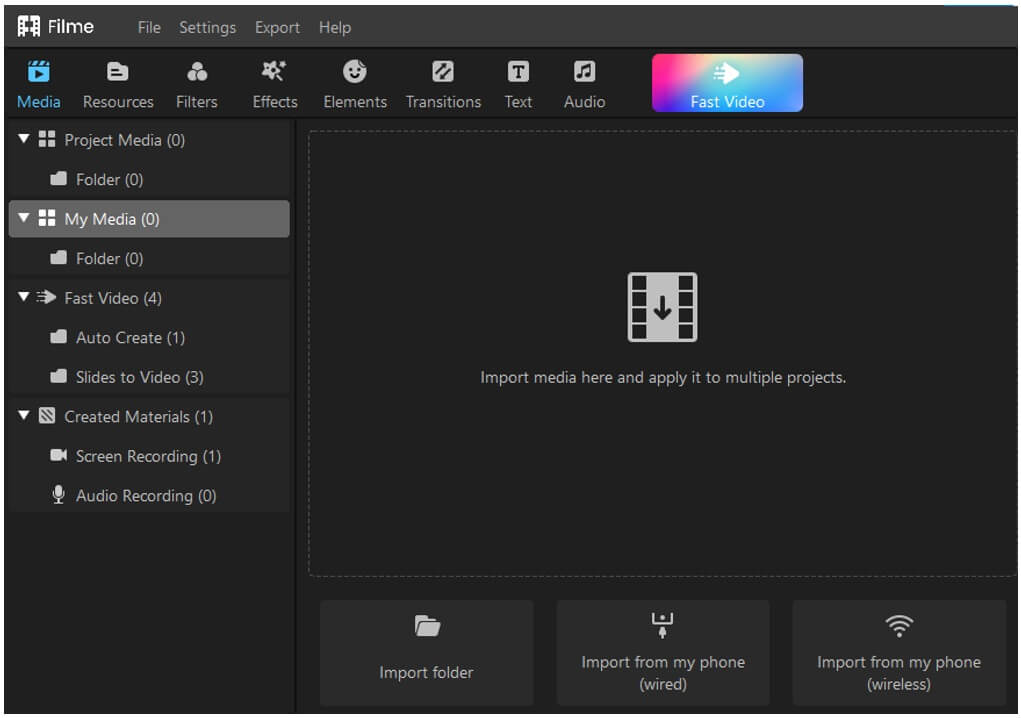 Step 3. Import file by clicking the "down arrow" on the left side of the screen. It will open a path for a hard drive and allow you to select the IGTV video where you want to add music.