Your wedding is probably one of the most important events in your life, as everyone hopes to find a soulmate one day, with whom one can share his/her life. Hence, it is important to capture and cherish each moment related to your wedding, so that these memories can be retained for years to come. So, what do you need to savor these memorable moments – a good wedding video maker!
Let's look at the 5 best free wedding video makers that you can use to make that wedding video incredible!
1. iMyFone Filme – 1 Click to Make Stunning Wedding Video
As one of the best free wedding video makers, iMyFone Filme is an excellent and easy to use. The unique selling proposition of this video editor is the fast mode, that can be used to create incredible videos with a single click. Not only this, but it also beautiful templates that can be used in the creation of your wedding videos.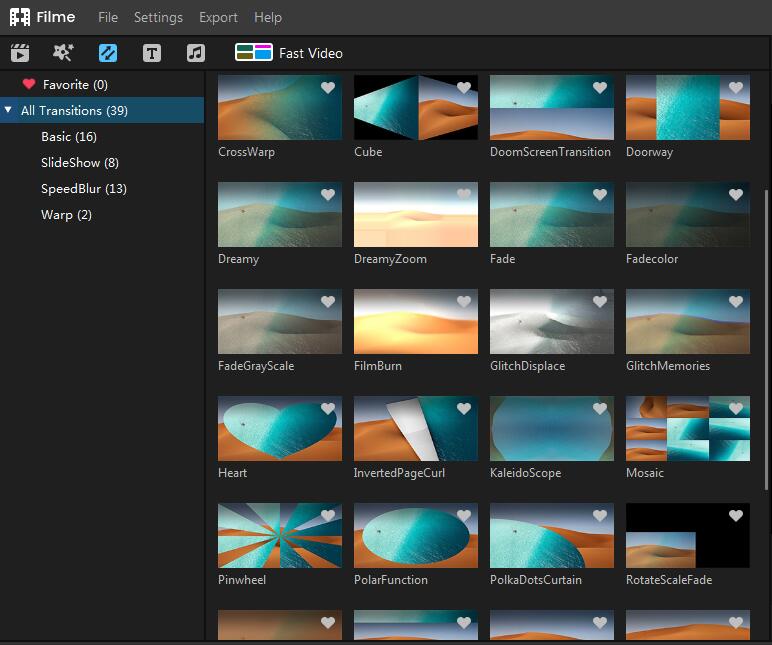 iMyFone Filme Key Features:

Fast Video: 1 click to create your wedding video with wedding templates.

Effects: You can add various effects to your videos, such as filters and animations.

Transitions: You can add different transitions between frames, this can make the video smoother when it comes to switching frames.

Text: You can add text to your videos, they can be subtitles or just captions. This is a great way to make your video more interesting for your audience, as you can add catchy phrases, or even personal jokes to make it more memorable.
Audio: Make your video more fun by adding your favorite music. This is ideal for your wedding video as you can add songs that represent different events in your relationship.
Change speed: Now you can choose whether to make some parts go faster or slower using this feature. Want to highlight the part he/she puts a ring on it? Not a problem- make the speed slower so that the audience can savor this beautiful moment. 
Guide on make a wedding video quickly with Fast Video mode:
Step 1: In the Media Library, select the "Fast Video" option, which will bring you to the Fast Video mode.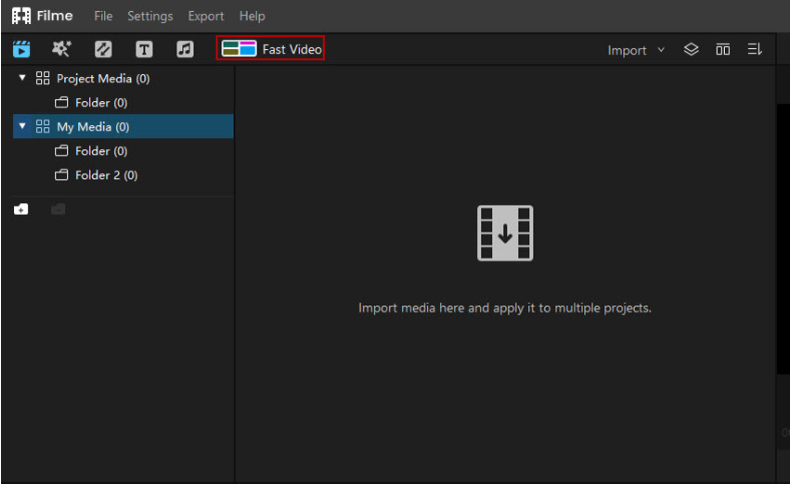 Step 2: Then you can see the wedding template category where you can choose the template to create wedding video fast. Select one template and click on "Add Your Media" on the lower-right corner.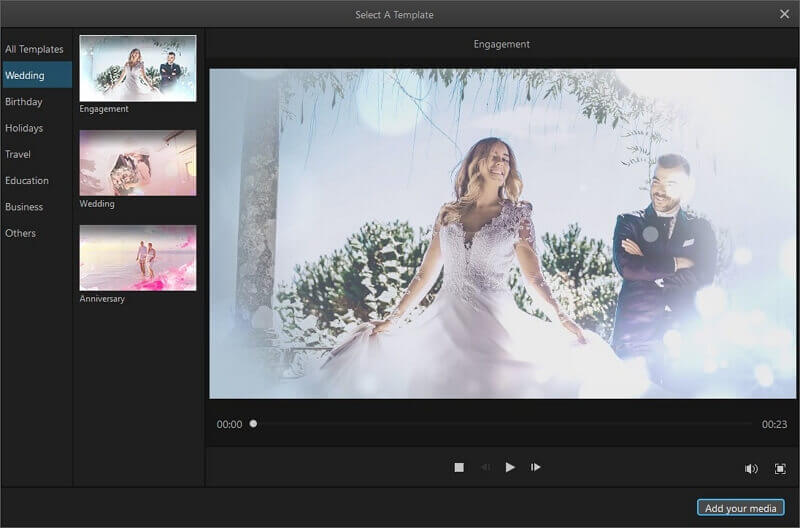 Step 3: Import your file that you would like them on this selected template. After you have chosen all the files you need, click on "Preview" to see how they looks in this template.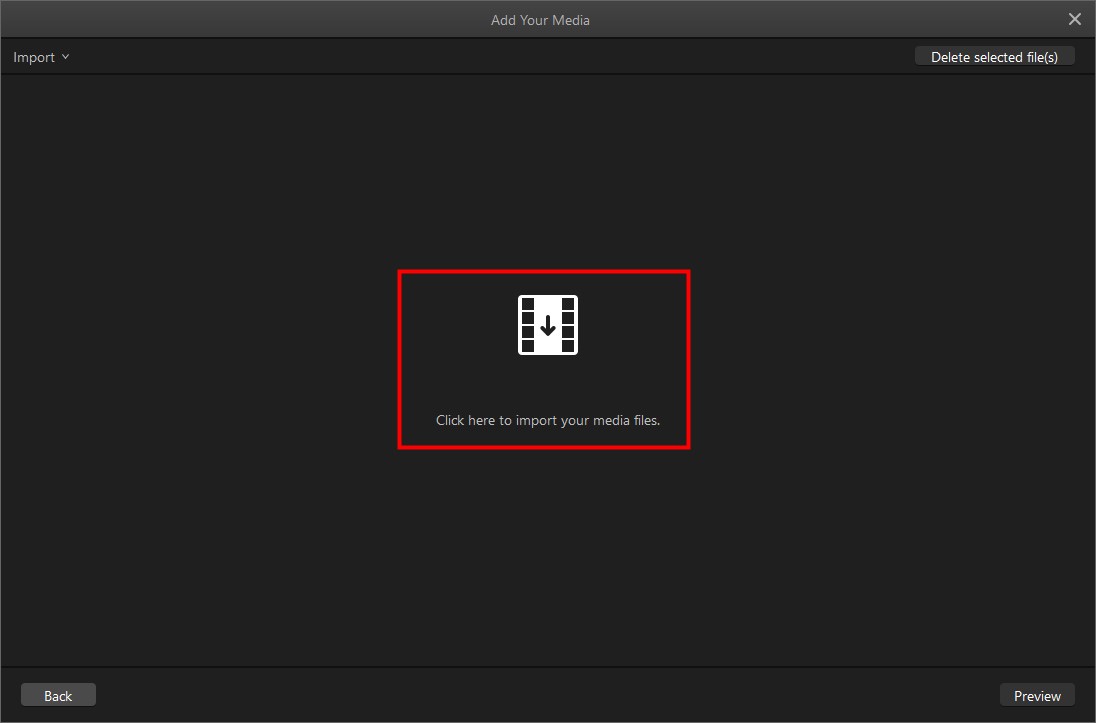 Step 4:  If you are satisfied with the work, click on "Export" on the lower-right corner to save the edited wedding video. /p>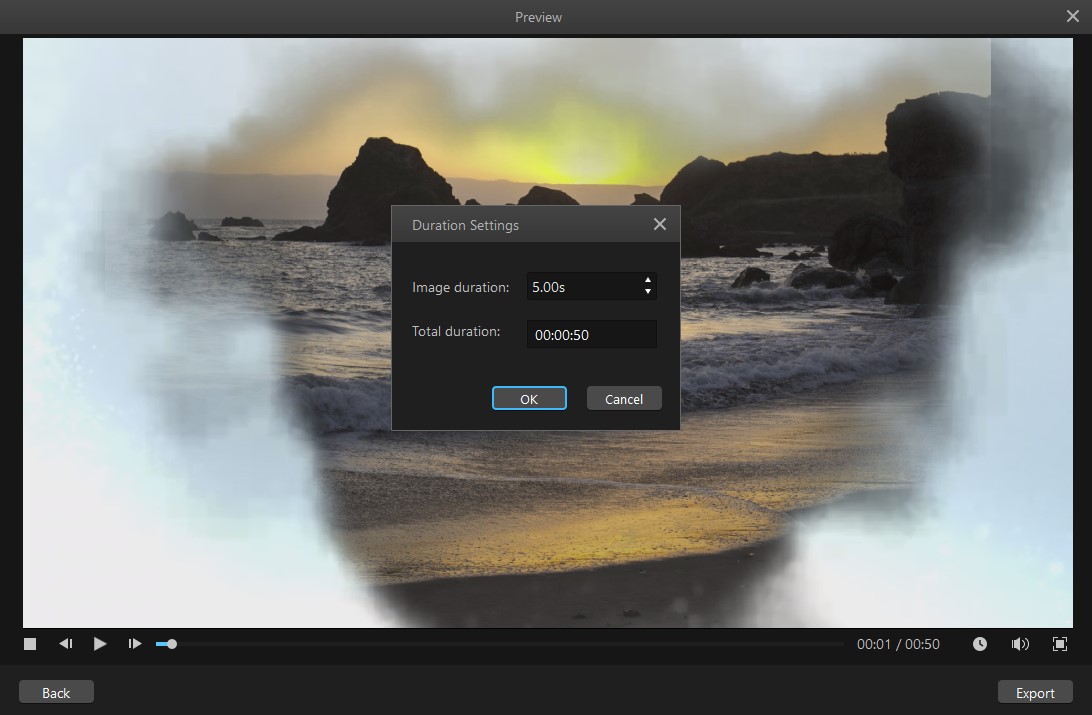 That's it! 1 click to create your own memorable wedding video is that easy!
2. Canva - Create Wedding Invitation Video
If you want to invite those loved ones to your wedding, you may want to make a special video invitation with your own wedding characteristics. In this case, Canva would be another best free video maker for wedding. Canva allows you to make a slideshow of your valuable pictures for your wedding, which can also serve as a great flashback on important events such as wedding anniversaries and birthdays.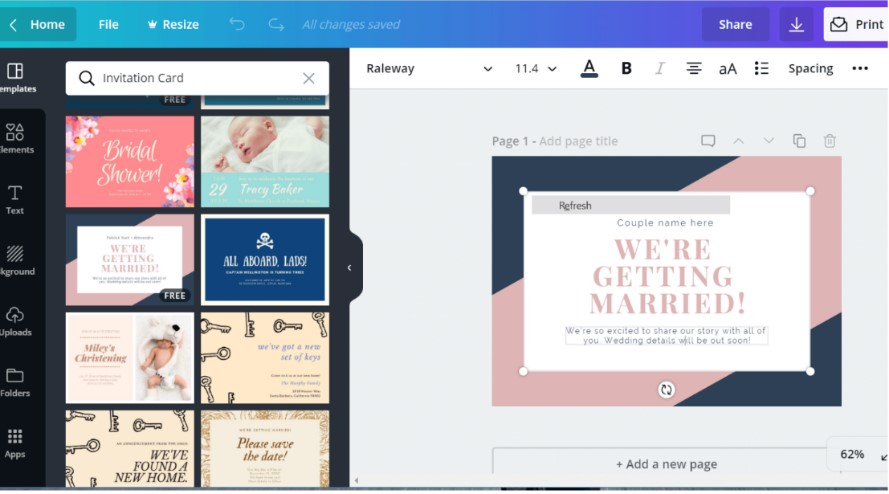 Pros:

Easy to use interface

Customizable fonts and styles to add your special touch

Allows you to design the entire wedding kit- matching RSVPs, save the date cards, itineraries etc., all in one place
Cons:

Lack of pre-set image sizes

Limited options in free version

Limited stock image library
You can refer to the image below to get a feel of what the Canva interface looks like, and If you were to design your wedding invitation card, your screen would look something like this.
3. VSDC Free Video Editor - Video Stabilizer to Help Stabilize Footage
Imagine someone shot your wedding video but it seemed like an earthquake was taking place. Confused? Simply put, you would be devastated to find that your entire video is shaky and unstable. What should you do now? The answer lies in the VSDC video stabilization feature. There are two main functions of this video editor which will help you stabilize the video.
Shakiness: In order to remove the shakiness of the video, you need to determine the value of shakiness on the scale, the shakier the video the greater the value on the 1-10 scale.

Smoothness: Smoothness is ensured by choosing the number of frames the stabilizer can use in order to correct the movement of the video shooter. The greater the number of frames, the smoother the video outcome will be after stabilization.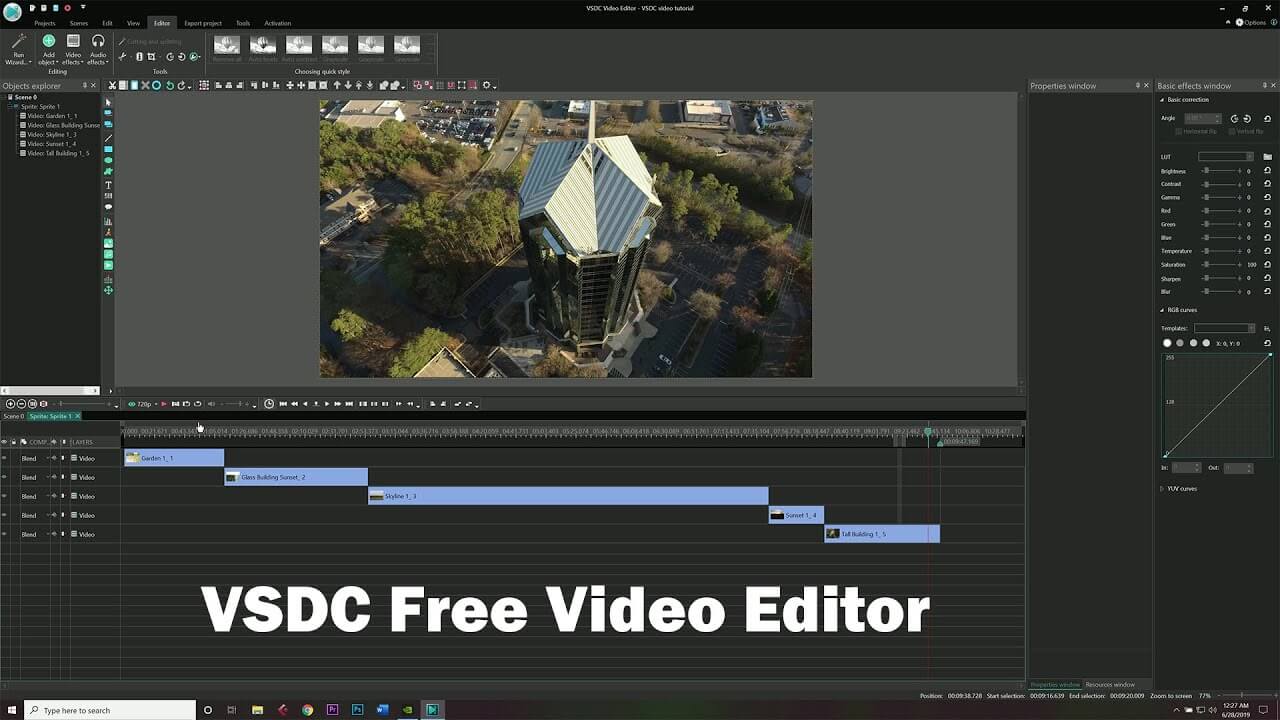 Pros:

Full of various features

Good quality video export

Wide choice for video/audio selection from library
Cons:

The interface is not beginner-friendly

No preset titles or animated texts

Windows compatible only
4. Quik - Film and Edit Wedding Video at Hand
So, you might not have a proper camera on hand to shoot a video. What do you in this situation? Because you do want memories at the end of the day. In a situation like this Quik is your best choice for free wedding video maker. This editor is perfect for users who have a lot of short length video footage, but do not have expertise on video editing. The on the go model of Quik is of much convenience for users.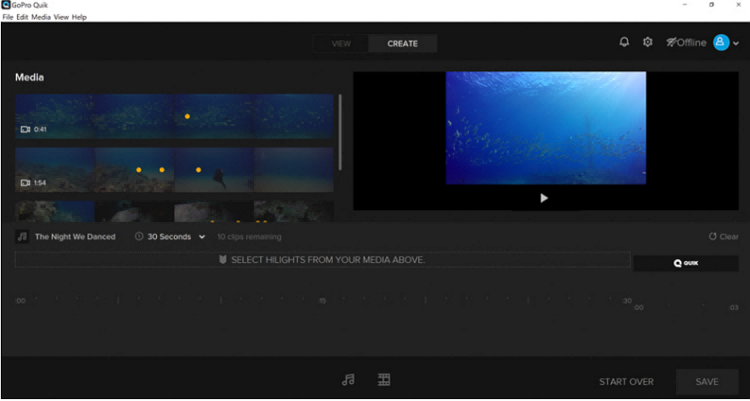 Pros:

Good features such as fisheye correction

Easy to share files

A range of trimming tools
Cons:

Advanced System requirements

Not much control on editing

Not suitable for long form videos
Please refer to the image below to get the look and feel of the interface of Quik. Quik is also available as a desktop version, so now you can take your video editing from your phone to the computer.
If you want a best free wedding video creator to add cool effects to your wedding video, Hitfilm Express is your answer. With a professional 3D composition and 122 effects, Hitfilm Express is ideal to meet your needs and add that "oomph" factor to create a 3D video. It will definitely make your video stand out from the rest and capture the attention of your audience. When you look back to these wedding days in this wedding video, you will feel more immersive and feel the joy in the wedding!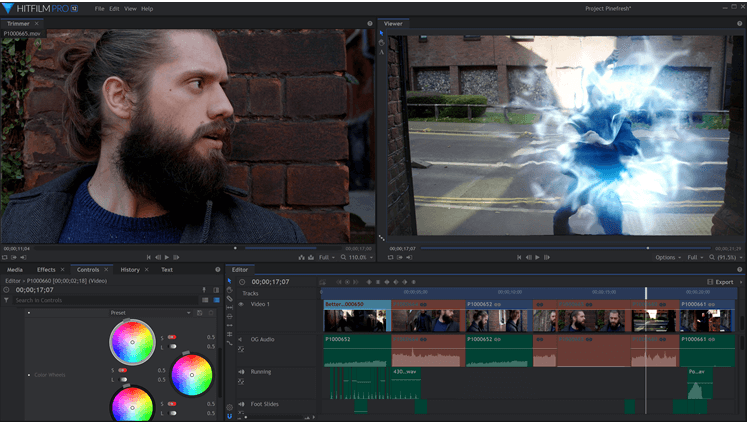 Pros:

Flexible features

Playback options

Can edit while exporting
Cons:

Low export performance

Playback may remove special effects

Need to buy add-ons
5 Tips for Making a Stunning Wedding Video
Now that we've have introduced 5 best free wedding video makers for you, let's take a look at some tips to make your video amazing, and one which will leave your audience flushed with memories of your important day. This list is non-exhaustive, feel free to try more things!
Tips
Choose good music. This can let you feel the joy on the wedding when you watch the wedding video in the future.

Tell your story. Give a theme to wedding video to make it special.

Adding happy and sad moments. This will make the wedding video more vivid to the audience.

Use consistent transition to make the wedding video look cool.  

Too many effects are not recommended. As this will lose the point that this is your real live, not a mere shining digital showcase.