Social media video is a powerful way to engage your followers. But it's different on every single platform. Sharing a video on different platforms at the same time helps you make your content viral. In this article, we will be discussing the best method to share a video on Instagram and Snapchat and some of the best tools to save the Instagram video.
Keep reading to catch more.
How to share a video on Instagram and Snapchat
Sharing a video from Insta to Snapchat is really easy. The process may take only a few minutes and it works perfectly for both Android and iOS devices. Follow the given steps to complete the procedure.
Step 1. Connect your device with a stable internet connection.
Step 2. Open the Snapchat app on your mobile phone and log into your account.
Step 3. Now take a snap from your mobile and you will see a paper icon on the main screen.
Step 4. This icon is used for connecting your different social media accounts with Snapchat.
Step 5. Tap on that icon and it will lead to you a page where there will be a search bar at the top of the screen.
Step 6. Type www.instagram.com and enter the id of your Insta account.
Step 7. Hit the "Done" to attach your social media accounts.
Step 8. Your Insta page will be loaded on your main screen but you may have to wait for a couple of minutes to complete this step.
Step 9. At the main screen you will see the option of "Attach to Snap." Tap on it and a link to Insta will appear on the snap.
Step 10. This will allow you to share a video from Instagram to Snapchat.
3 other tools to save Instagram video
1. Ingramer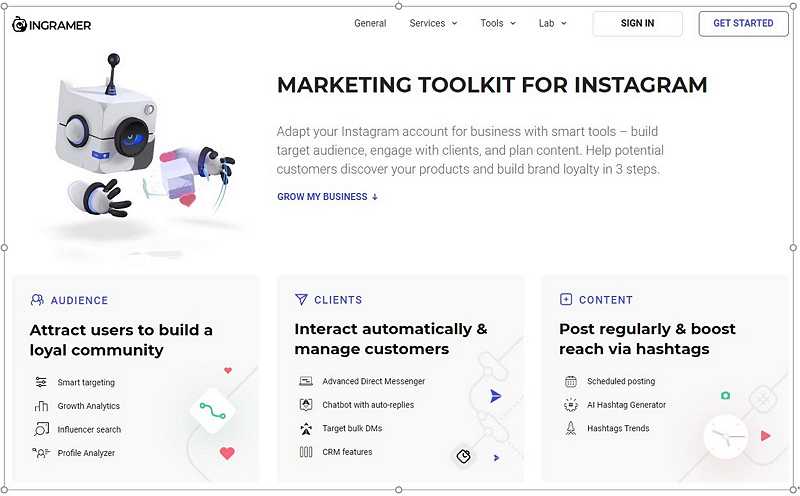 Ingramer has a really basic UI that allows you to save any type of Instagram video whether it's an IGTV movie, a snapshot, or even stories. Almost any content from Instagram can be downloaded within a few seconds. It also has no limitations in terms of usability. You could use this program to save the videos from anywhere in the world to whatever platform you want.
The downloading procedure is rather simple. Select the three dots that appear on the video you want to save. There will be an option of 'copy URL.' Tap on it to obtain the URL and enter this into the Ingramer input area and hit the download button. Your favorite video will be downloaded in a couple of seconds. After downloading a video from Insta, you can share it on your Snapchat profile easily.
Ingramer is a free-to-use tool that offers a wide range of features. But you can get the premium membership of this tool to enjoy the extra perks and features. These features include the option to save several videos and photographs in one go, as well as the option to save clips from an unrestricted number of Insta accounts.
Features
Simple and easy design of the tool allows easy downloading.

Perfect for major platforms like Mac, android and iOS.

Can be used for downloading several videos at a time.

Helps you get the trending hashtags

No doubt, this is one of the best tools to download a video from Instagram and share it on Snapchat. The easy and simple user interface of this app along with its amazing design makes it a perfect choice. The video can be downloaded in Ultra High-Quality MP4 Format with only a few clicks.
Instagram doesn't have an option of downloading the video content from Insta pages but this tool can be used for saving the videos easily. The users who are inexperienced in using apps and gadgets can also use this Instagram video downloader to share the video from Instagram to Snapchat.
This tool gets the mp4 video link of a video and directs you to a new web page to preview the video. Hit the "Download" button at the bottom screen and the downloading will start immediately.
Features
User-friendly and simple to use

Allows you to save the Insta video with only a few taps

Can be used for downloading Insta videos in high-quality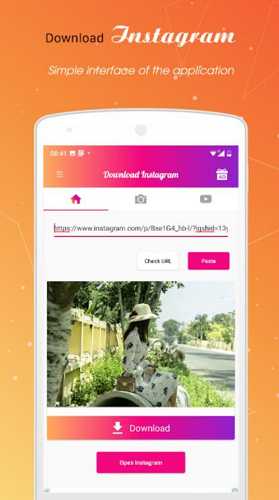 This is the best app for Android for downloading Instagram videos on your device. The users who want to save a video on their mobile phones and tablets can download and install this app to make the entire downloading process simple.
Video Downloader for Instagram App has a simple and easy the user interface that makes it perfect for everyone. This Insta Video downloader app provides a wide range of features like copy text, report a picture, download several clips at the same time and copy trending hashtags.
Open the official app store on your android device and download Video Downloader for the Instagram app. Downloading the latest version of this app will help you enjoy more benefits. Open the app and paste the URL of your favorite video in the search bar. The download button will appear on the main screen. Hit this button to save your Insta video. It will also help you to share videos from Instagram to Snapchat with only a few taps.
Features
The fast and quick downloading speed of this app makes it a better choice.

Allows the reposting, sharing, and deleting content on your page.

A simple dashboard of the app can be used for managing your content.

No-login is required
You Might Be Interested In This:
Snapchat Videos Not Working? >>
Everything You Need to Know about Making Snapchat Viral Video >>
Edit your video on the desktop for Snapchat and Instagram
If you're seeking video editing tools to assist you to edit your Snapchat clips, introduce improved effects and use other sophisticated functions iMyFone Filme is the best free tool available on the internet. It's an excellent choice for users who are inexperienced in video editing who need a professional clip without the trouble of mastering how to use one.
The program, which is downloadable for both Windows and Mac, is ideal for both novices and experts looking to save energy. The software's UI is simple to use, it runs smoothly with no errors, and it produces high-quality films. What more would you want from a video editor? If you want to purchase the product, a lifetime subscription is the best option because you will save a significant amount of money.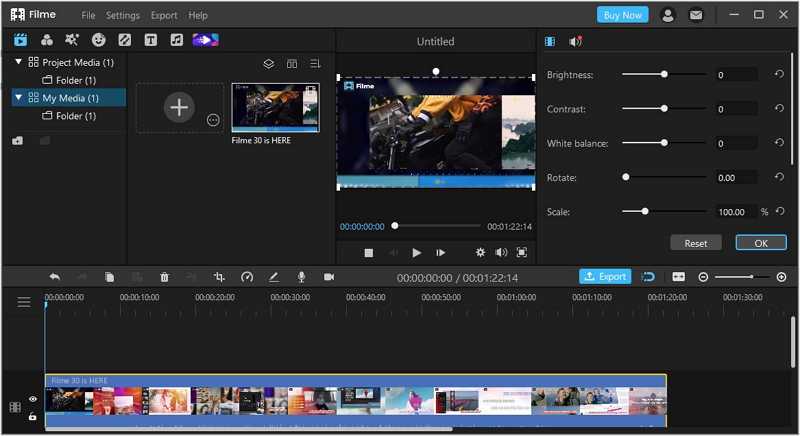 Features of iMyFone Filme
With only one click, you can use Filmes's Fast Video Mode to create magnificent presentations using graceful designs.

Filters, headlines, animations, changes, soundtracks, and more are all available as effects and resources.

Share special occasions such as anniversaries, marriages, trips, festivals, and so on.

Helps you perform basic editing including cropping, trimming, speeding up, etc.
Watch this video tutorial to see how to make funny video for Snapchat using Filme:
Conclusion
It is no longer difficult to share a video across several social media networks. The methods outlined above can be utilized to quickly share videos from Instagram to Snapchat. iMyFone Filme has a lot of features that make it a good pick. iMyFone Filme can allow you to end up producing clips from images with soundtrack and graphics to express your experiences with everyone.

iMyFone Filme
Release Your Creativity with Best Video Editor iMyFone Filme!
Download Now