Have you ever considered how to share videos from Instagram on Facebook? It's very easy to do and doesn't require any special tools (unless you want to use them.) Of course, you might want to use an intuitive video editor such as iMyFone Filme to enhance the video before republishing it, and we'll show you how to do that as well. In addition, you'll also learn how to report IGTV videos to your Facebook page to increase your brand's reach.
Why Share a Video from Instagram to Facebook?
Before we address the question of 'how do you share a video from Instagram to Facebook', let's understand why you might want to do this.
You may want to reach out to a different audience that's not following your Instagram account

You can save time by creating identical content for both platforms

You will be using less manpower, thereby saving you money while achieving twice the reach

You may want to reduce ad spending on Facebook but still get the benefit of having your content visible to the public
Whatever your reason might be, it's a good idea to cross-post between Instagram and Facebook, whether it's a video that's likely to trend, a captivating image, or just an informational post about your business. The main reason is that not everyone on Instagram also uses Facebook actively and vice versa.
3 Ways to Share a Video from Instagram to Facebook
Method 1: Download, Edit, and Upload to Facebook
With this method, you first download the video from Instagram, then edit the video in a desktop video editor (iMyFone Filme) to enhance the video quality, and then you post it to Facebook. There's an important reason why it's a good idea to do this, and we'll cover that in this section.
Step 1: Go to your Instagram account on a desktop browser and click the … (ellipsis icon) on the top-right corner of the post window as shown in the screenshot below. When a notification pops up, click on Copy Link.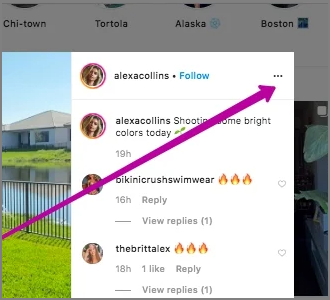 Step 2: Head over to Ingramer, a site specifically designed to download video content from Instagram, and paste the URL there. Click Download.
Step 3: Once your video is downloaded, install and launch iMyFone Filmeand import the video into the video editor by dragging it and dropping it in the Media Library section. You can also use the Import option, as shown below: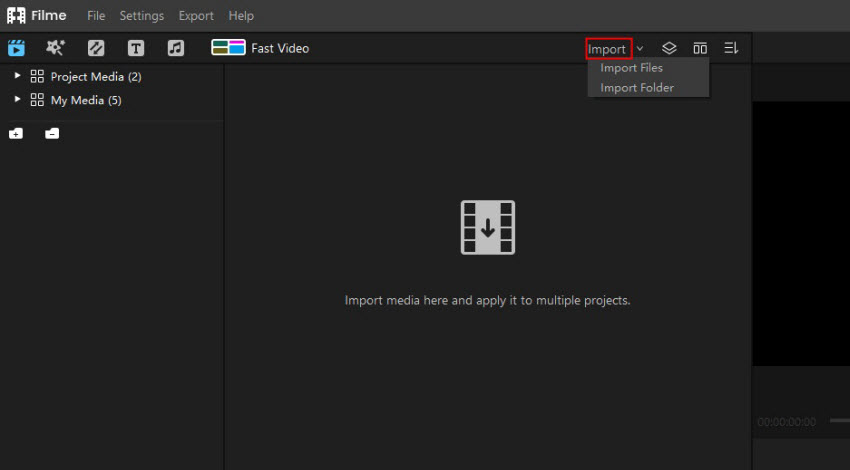 Step 4: Next, bring your mouse pointer over the video thumbnail and click the + symbol to add it to the timeline editor. You can now perform several actions in Filme to enhance your video quality:
a. Edit: Crop and trim the video to keep the parts you want and remove unwanted sections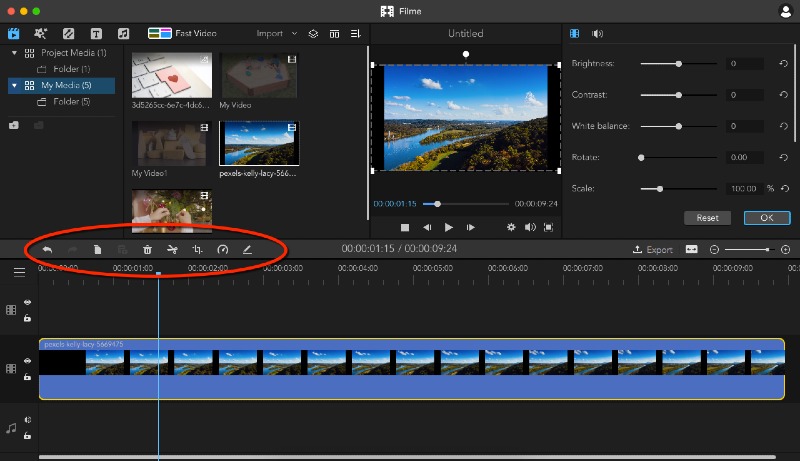 b. Effects: Add filters, transitions, and text to give a pro look to the video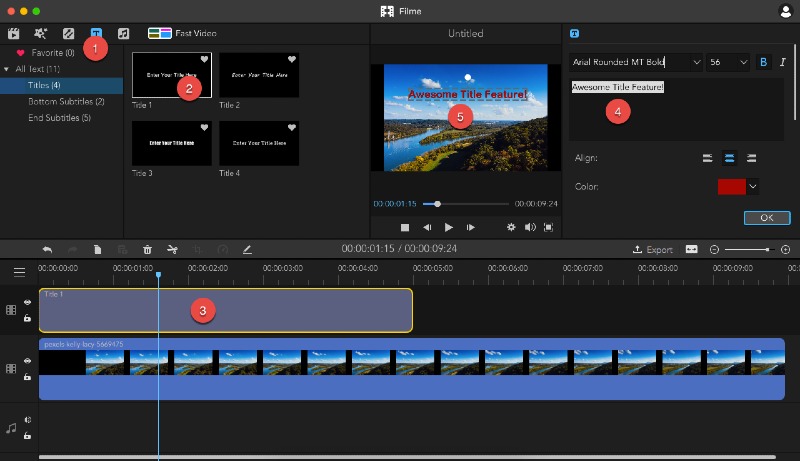 c. Audio: Add music from the royalty-free library in Filme
d. Final Touch: Change the brightness, color, and other settings to give it a sophisticated touch.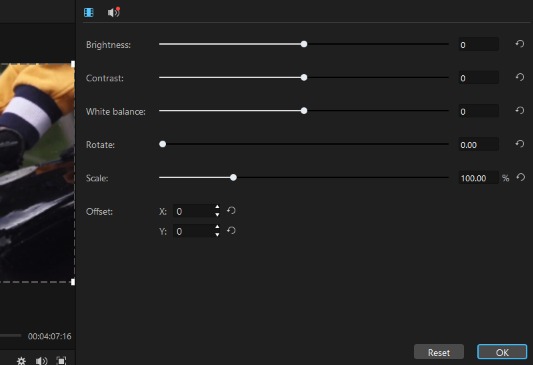 Step 5: Click on Export in Filme to save the file and choose the right format and aspect ratio, then hit Export again to download it.
Step 6: Repost the newly edited video to Facebook the usual way.
Method 2: Use the Instagram URL
Step 1: Get the URL for the Instagram post by clicking the ellipsis icon (see Method 1, Step 1 above.)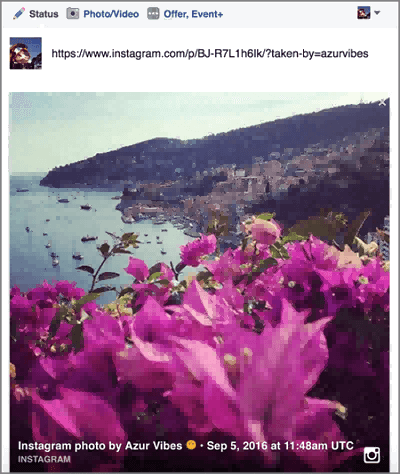 Step 2: Go to Facebook and paste the URL directly into your status box. A preview of the video will be visible below. You can now remove the URL and replace it with a new update.
Step 3: Publish the post.
Method 3: Use the Instagram Embed Code
Step 1: Follow the same process as shown in Step 1 above of both the previous methods, but instead of clicking on Copy Link, click on Embed.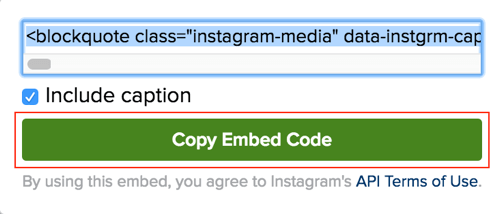 Step 2: Copy the embed code using the button provided and check the Include Caption button if you want that.
Step 3: Paste the embed code in your Facebook status box and wait for the Instagram video to render. You can remove the code once you see it. Write your own status and hit Publish.
All three methods are easy to use, but Method 1 is preferred because it allows you to make corrections and beautify your video before sharing it on Facebook.
3 Ways to Repost IGTV Videos to Facebook
IGTV is Instagram's long-format video platform that requires videos to be between 1 and 60 minutes long. It is typically used by verified advertisers so they can share longer videos promoting their business. If you have an active IGTV channel and you want to repost videos to your Facebook page, you can follow one of the three methods shown here.
Method 1: Use the IGTV App
Step 1: On your smartphone, you'll have the IGTV app to access your channel. Tap that to launch it.
Step 2: Tap the gear icon to go to Settings and tap on Linked Accounts.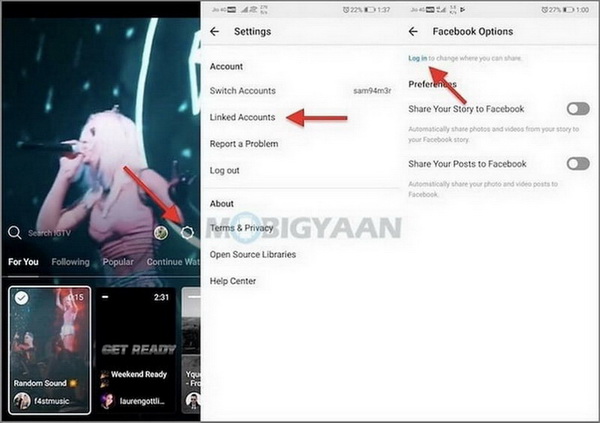 Step 3: If required, enter your Facebook credentials to link IGTV to Facebook.
Step 4: Choose the page or profile to which you want to share the video.
Step 5: Now, go to the video you want to share, click +, enable posting to the linked FB page or profile, and click Post.
You can do this with older videos or even when posting a new video. As long as the required Facebook account is linked, you can do this.
Method 2: Use the Instagram App
Step 1: Perform steps 1 through 4 as shown above. This will link your Instagram account with your Facebook account and show you the posting option when sharing or posting new content.
Step 2: When you link the two accounts, you can go to the IGTV section of the Instagram app, choose your video, and follow step 5 shown above.
The only difference between these two methods is that you're using different apps to accomplish the same task.
Method 3: Use Instagram on the Browser
Using a web browser makes it even simpler to share a video from IGTV to a Facebook page, but you can only use this option when posting a new video. The result is that the video will be posted on Instagram, and it will simultaneously be shared on IGTV and Facebook. The option links both actions.
Step 1: In your browser, go to Instagram.com and log in.
Step 2: Upload a new video for posting. On the left panel, under IGTV and Facebook Page, click Connect Page, and enter your Facebook credentials to connect your page.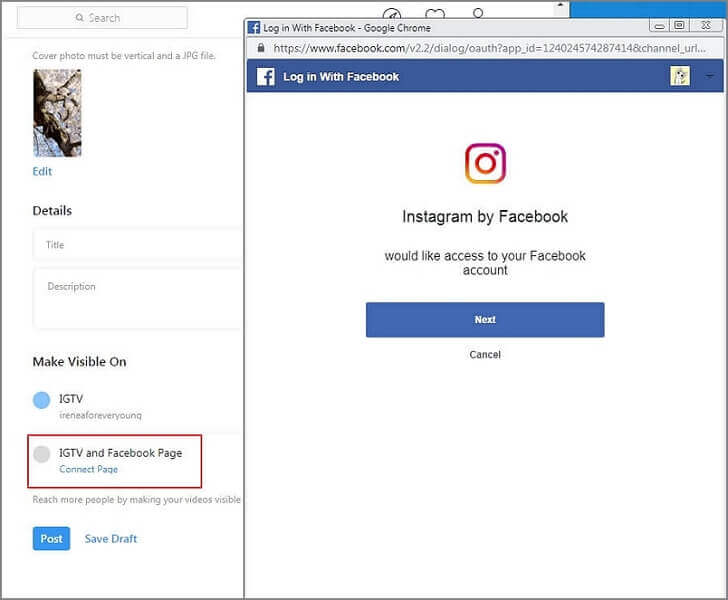 Step 3: Once connected, you'll be able to see the Facebook Page name there. Click on Post to simultaneously post to all three platforms.
Frequently Asked Questions (FAQs)
Can I Share a Live Video from Instagram to Facebook?
No. Although both platforms are owned by Facebook, they are separate and not completely integrated yet. Instagram was rumored to have been testing a 'Simulcast to Facebook' feature in April 2020 but the feature is yet to go live. To share a live video from Instagram to Facebook, you'll need to use a third-party tool such as Restream. This allows you to simultaneously broadcast to both channels live.
Why Can't I Share My Video from Instagram to Facebook?
You should be able to share any Instagram post on Facebook. If you are unable, try doing the following:
Your Instagram account may not be linked to your Facebook page for crossposting

Try the URL or embed code methods described above.

Try downloading the video and re-uploading it to Facebook.
How Do You Share Someone Else's Instagram VIdeo?
We've outlined several ways to do this in this article. You can either download the video or use the video rendering option in Facebook by pasting the URL or embed code in the status box. To download the video, you'll need a third-party online tool like Ingramer (shown above.)
Conclusion
There are several ways to share a video from Instagram to Facebook, but rather than doing it directly, we recommend downloading the video and editing it with iMyFone Filme. This will allow you to do edits and make other modifications that will make your video sparkle before posting to Facebook. If your videos are professional-looking, your followers will naturally increase at a faster rate.