Snapchat and TikTok are two different sides of the same coin. Singing or lip-syncing, short videos, comedy sketches, and videos less than average commercials are parts of these apps. The active users of TikTok and Snapchat are in billion, and there is an audience on every type of content you want to see. If you want to know how to share TikTok videos on Snapchat, you are in the right place.
Different apps like Facebook, Twitter, and Instagram don't allow their users to download videos directly. So you need a third-party screen recorder or app for video saving purposes. However, TikTok is the newest famous short video platform that makes it easy to share video on Snapchat.
Part 1. Steps to Share TikTok Videos on Snapchat:
If you are looking for a way on how to share a video on Snapchat from a camera roll, you need to download TikTok videos in your gallery. There is no distinct way to share content from one platform to another. However, some competitors will help you to share TikTok videos. You can share TikTok videos on different platforms like Facebook, Snapchat, and Instagram, or you can download them to your device. Here are some simple steps that will show you how to share the TikTok video on Snapchat.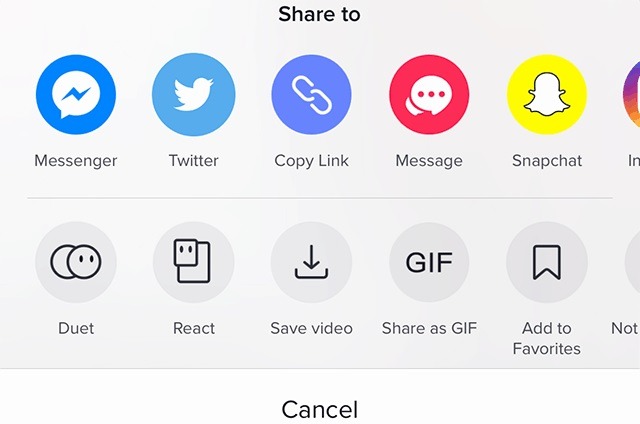 1. Open your TikTok account with an icon of a blue, white, and red music note having a black background. You can find this in the app drawer, home screen, or by searching.
2. Navigate to the video you want to share on Snapchat. You can either search for a tag in discover or browse home.
3. Tap on the share icon that is on the right side near the bottom. The sharing icon might be different from Facebook or Instagram icon, depending upon the method.
4. Now it's time to click on the desired sharing method. You can tap to share TikTok videos through Snapchat, Facebook, WhatsApp, tumbler, Twitter, and more. If the Snapchat icon is not showing in the pop-up menu, you can tap on another and a menu will slide up. So you can now share your video on Snapchat.
It is the complete guideline about how to share a video on a Snapchat story or home page.
Part 2. Download Video Before Sharing:
TikTok is the most popular social media platform that permits its users to download videos to their android phone or iPhone. There are two things you can do to download the targeting video: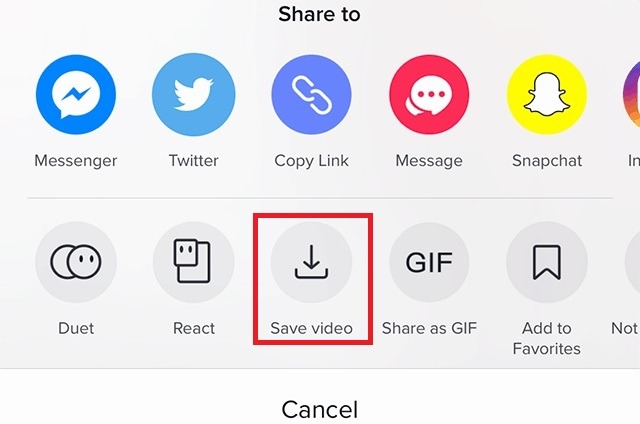 Method 1:
It is the easiest way if you are looking for how to share a video on Snapchat. Press and hold in the middle of the screen to save video.
Method 2:
The second method is the longest way as you can click the share icon, then save the video from the row that pops up at the bottom. The video will be shown in your phone's default photo app after downloading.
Download your Video on TikTok:
TikTok provides you an opportunity to download your videos with ease and it is the simple way to share your videos on Snapchat by following these steps.
Click on the video you want to share.
Select the share button in the bottom right side of the video.
After that, click on the download from the pop-up menu.
Find the video in your gallery.
Now you can upload your TikTok video to Snapchat within a minute.
Download Others Videos:
TikTok does not offer any method for downloading other videos because it wants everyone to stay there. However, there is an app that can support video downloading of other users from TikTok.
Install and download video downloaders for social media.
Select the video you wish to download on TikTok after playing it.
Tap on the share icon.
Select on copy link.
Now open the video downloader for social media, choose copy URL, and download.
Tap on download and paste the TikTok video URL into the app.
Now you can easily download videos.
If you want to know a successful way on how to share a video on Snapchat, the video downloader is a reliable app. However, it might take few minutes to download depending on your network speed.
Differences Between Snapchat and TikTok Video Uploading:
Both TikTok and Snapchat are such applications that allow their users to show their creativity while embracing short content. These apps are non-traditional as compared to older platforms like Twitter and Facebook. However, there is a head-to-head comparison between both apps. Snapchat was launched in 2011, and it permits users to create video-based stories and image-based messages about their lives. When we talk about video uploading, the Snapchat content disappears after 24 hours. So the platform specifically leads its users to create videos and pictures that are more lighthearted than other platforms.
On the other hand, TikTok was initiated in 2017. It allows users to create ten to sixty-second videos that can be algorithmically placed on users' feeds or shown in the account holder profiles. Both apps continue to grow as TikTok recently crossed 800 million monthly active users, and Snapchat has 310 million daily users. So if you want to know how to share the TikTok video on Snapchat, you need to know the difference between the uploading requirements of both applications.
Part 3. The Best App to Edit TikTok Videos - iMyFone Filme
iMyFone Filme is an ideal tool in the list of the top video editors because of its ease of use. It is the best app with groundbreaking features, and you can easily edit your TikTok videos with it. With the help of its fast video mode, users can use the refined and built-in template to make a well-edited slideshow with music. You will not see this feature in TikTok. However, with iMyFone Filme, you can use fast video mode if you are looking for a way of how you share video on Snapchat.
Moreover, the iMyFone Filme editor will provide you various text options. You can make cinematic text and title with different colors and fonts to make your video eye-catchy. The app also permits users to add multiple transitions for making stunning TikTok videos to share with Snapchat audience. However, if you want to add some filters and effects to make the video catchy, the iMyFone Filme is the best choice.
Watch this video to learn how to edit video using iMyFone Filme:
Key features:

All in One Editor:

If you want the best way for how to share a Snapchat video, the iMyFone Filme is all in one editor with different tools. It has complete control over video size, clip videos to specific length and duration, video speed control, and flexible text addition options.

Stylish Effects With Resources:

IMyFone Filme has different features like music, filters, animation, titles, transitions, etc.

Instant Preview:

The iMyFone Filme offers its users a quick preview to know what they will get.

One-Click Fast Video Mode:

It provides its users fast video mode to create exclusive video slideshows without complex and extensive editing.

Easy and Free to Use:

One of the best things about iMyFone Filme is it's free to download the software on your Mac or window. Quick filters and fast mode make it an easy-to-use video editor.
Pros:
The iMyFone Filme is one of the best solutions with different advantages if you want to know how to share TikTok video on Snapchat. Some of its pros are:

Easy to use and ideal for new users.

Abundant built-in effects, transitions and animations to create classy videos.

It comes with a list of advanced video editing features and a simple UI for visual appearance.

Support video exportation on Snapchat, Vimeo, YouTube, Twitter, and Facebook, without upload and download many times.

Dozens of audio, video and image formats support

You can record screen and audio for teaching, gaming, and more video sources.

Its free version is available, and everyone can try it.
Also Read:
5 Best TikTok transitions of 2021 [Step-by-step guide]
[2021 Guide] 3 Ways to Add GIFs on TikTok with Ease
[2021 Full Guide] How to Find and Add Stickers on TikTok Video
Final Talk:
If want to know how to share the TikTok video on Snapchat by looking for a perfect way, you need to use some sharing method. You can share your TikTok videos to any other platform by using some effective tools. We have explained all facts and figures about sharing TikTok videos on social media platforms like Snapchat in detail. Therefore, if you want control over your TikTok videos, you must use the iMyFone Filme video editor. By using this tool, you will be able to change the video speed with great accuracy.