TikTok is one of the fastest-growing social media platforms that people use for entertainment. People share their videos with their audience. Sometimes, it is required to join various video clips and share all lovely moments in one video. You can combine videos on TikTok, and you can also use third-party applications and software.
Today, we are going to explore how you can join videos on TikTok and other tools. We will introduce some powerful video editing tools and software that you can use to create a stunning video like a professional. Let's start the discussion.
Part 1: Combine 2 or Multiple Videos on TikTok
TikTok also allows you to combine your videos directly on the application. You can also edit the videos before uploading them. You don't need to use a third-party application if you want to do basic editing in your videos. If you want to join videos, follow the following steps. You can join as many videos as you want.
Steps to Combine Multiple Videos
Step 1: Open the TikTok application on your mobile. You will see a "+" button at the bottom. Tap on the button. This will open the Camera, but you need to tap on the Upload button.
Step 2: Select the videos that you want to edit. If you want to arrange the videos, tap on any video and hold it. Move the video to the position you want. After that, tap on Next.
Step 3: Now, you need to add the sound if you want. You can select the sound from TikTok's own library. Tap on Default. You can also adjust the clips and trim them in the default. When you are done, tap on Next.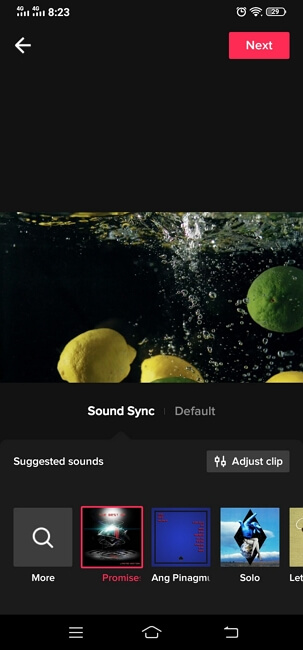 Step 4: You will be in the video editor. You can add voiceover by clicking the Voiceover button. Moreover, you can add sound, effects, text, and stickers.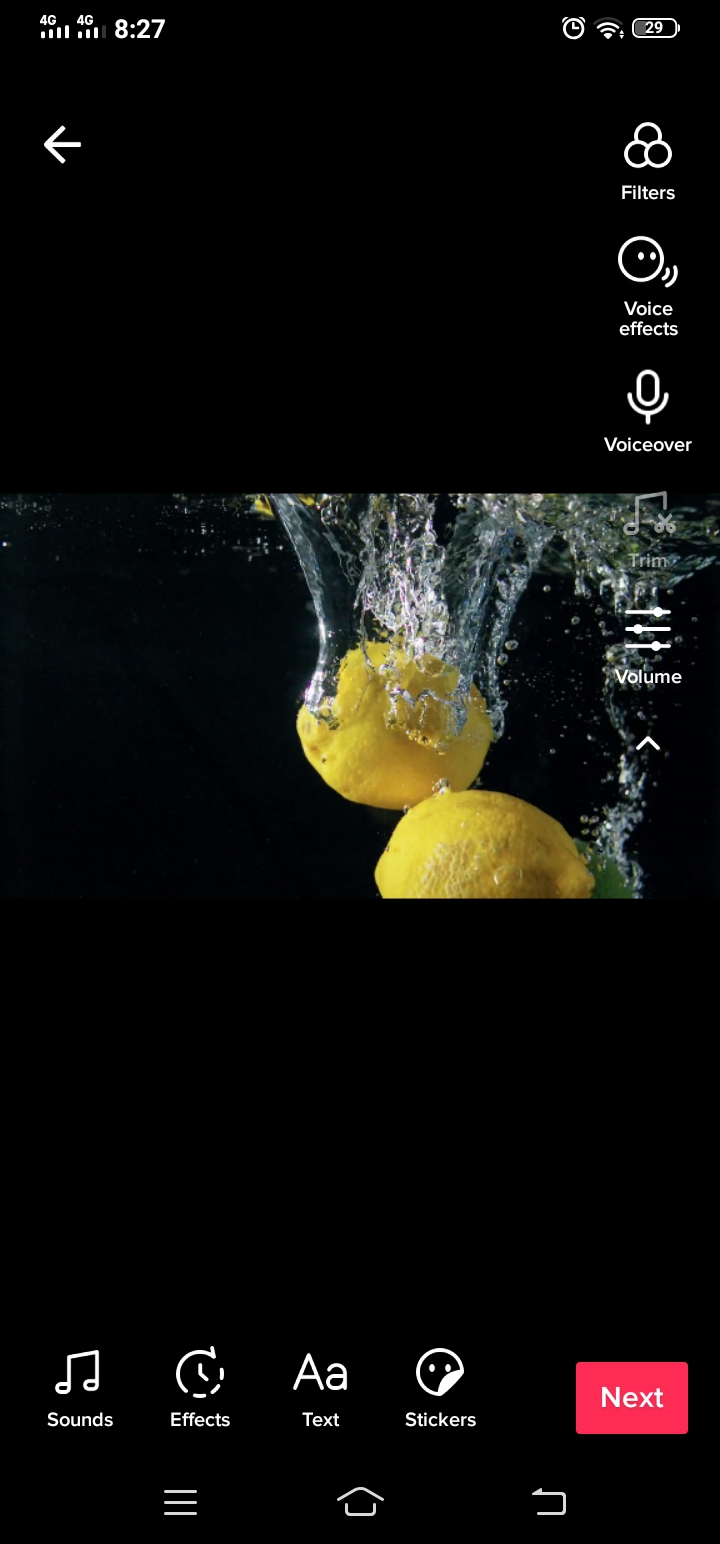 For Effects: Tap on the icon. You will have the timeline of the video. Drag the handle to the point where you want to add the effect. Tap on the effect that you want. Tap on Save.

For Text: Tap on the icon. Write the text and select the style and color. Tap on Done. Now, you can move the text and place it wherever you want.

For Sound: Tap on the icon. You will have the sound library. Select any soundtrack you like.

For Sticker: Tap on the icon. Select the desired sticker. This will be added to the video. Tap on the sticker to adjust its position and set duration.
You can do any editing at this stage. After that, click on Next.
Step 5: Write a description of the video and do other settings, and tap on Post.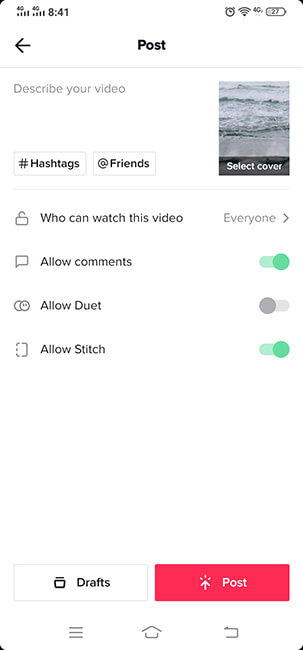 Also Read:
How to Make a TikTok with Photos and Videos >>
Edit Videos on TikTok with Best Editing Tools for TikTok Video >>
Part 2: Use Third-party Tools Combine Videos for TikTok before Uploading
1

Filme (Win & Mac)
iMyFone Filme is an excellent video editor. You must use it if you want to stand out from the crowd and engage your viewers. You can create TikTok videos on Filme quickly like a professional.
Reasons to Use Filme

Filme is an advanced tool that offers you all video editing features, including transitions, effects, and animations. You can do anything you want using this one tool.

It is an easy and simple video editor. Even beginners can use it without any hassle.

You can do any kind of editing in less time. Within a few steps, you can create a stunning video with all features and effects you need.

You can create slow motions videos, slideshows, and fast-mode videos for TikTok. You can also add stunning effects that will attract your viewers.
Steps to Use Filme for Combining Videos for TikTok
Step 1: Launch Filme on your PC. It is better to create a new project at the start. Click on File>New Project. You will see various aspect ratios. For TikTok, it is recommended to select 9:16 (Portrait). You can also go with 1:1, but 9:16 is mostly used.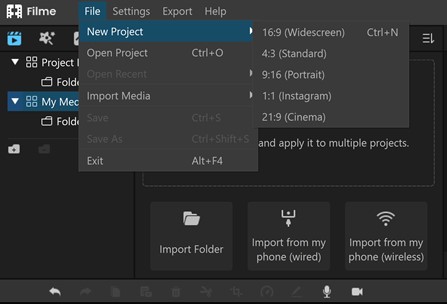 Step 2: Click on Import. In Filme, you can import files and folders from your computer, or you can directly import from your Android Phone. You can choose any way you like. Import the files. You will see them in the My Media section.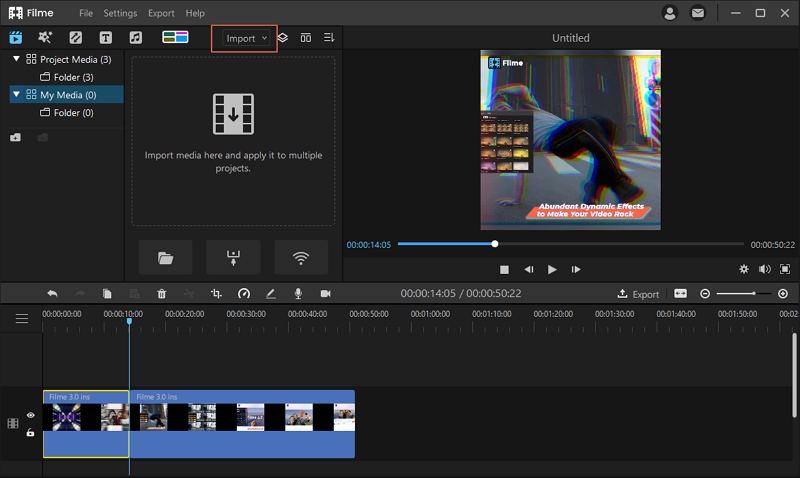 Step 3: Drag the files to the timeline or click on the "+" button in the middle of the video or audio you want to add to the timeline. If the resolution of the video does not match with the videos in the timeline, you will be asked to change the resolution or keep it the same.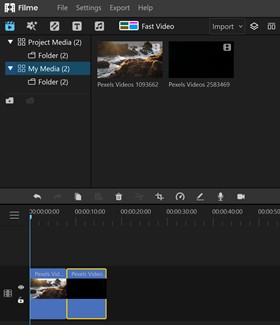 Step 4: Add the audio files to the timeline. You can add any music you like. You can also add transitions, effects, or anything you want in the video.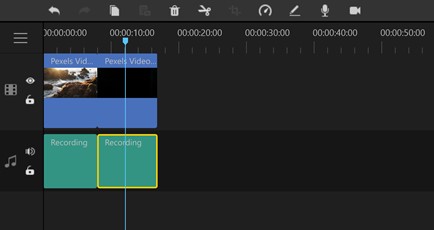 Step 5: See the preview of the video and make sure everything is perfect. You will see the Export button over the timeline. Click on it. You will see the Export window. Select the format and other settings. For TikTok, the format should be MP4 or MOV.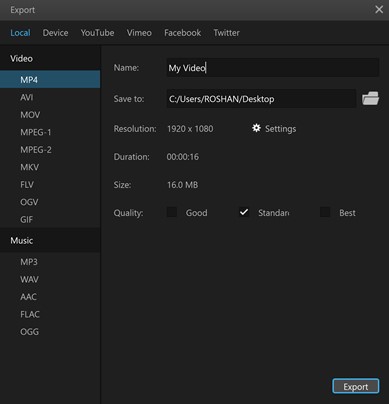 Step 6: Go to Settings. You will see encoder, FPS, bitrate, resolution, and other settings. It is better to go with H. 264 encoder for TikTok videos. After managing the settings, click on OK. Click on Export.
Step 7: The file will be saved in the desired location. Go to tiktok.com. Click on Upload Video. Log in to your account. Upload the video directly from your computer.
2

Online Converter (Online)
Online Converter is a web-based application that allows you to combine videos without downloading the software. It is free, and you can easily combine up to four videos with a maximum file limit of 200MB. It is one of the simplest tools that beginners can use without any hassle. It is a quick method, and you can join videos using a browser.
Steps to Use Online Converter:
Step 1: Open any browser on your computer and go to https://www.onlineconverter.com/merge-video.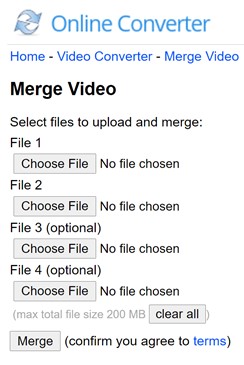 Step 2: You will see a very simple screen where you will have options to choose four files. It supports all formats, including MP4, MKV, 3GP, AVI, WMV, and MOV. Click on Choose File and select the first file. Click on Open.
Step 3: Now, click on Choose File to open another file. Similarly, you can choose two more files if you want.
Step 4: When you are done, click on Merge. It will take some time to upload the files and convert them. Click on Download Now to download the converted file.
3

iMovie (iOS)
iMovie is a commendable video editing application for iOS. It can do almost anything you want, such as adding text, cropping video, etc. You only need to learn it a bit and explore the application to edit videos like a professional. You can join your videos on the iMovie application through a few simple steps.
Steps to Join Videos on iMovie
Step 1: Open iMovie on your iOS device. Tap on Create a New Project.
Step 2: You will have two options on the screen: Movie and Trailer. Trailer is to create videos from templates, and Movie is to edit videos and create videos from images. You need to tap on Movie to join videos.
Step 3: Now, you need to select the videos that you want to combine. Select videos and tap on Create Movie.
Step 4: You will be in the video editor. You will see the selected videos in the timeline. You can arrange them as you like.
Step 5: There will be a transition button between the video. Tap on that to add a transition. There will be several options, so you can add transitions of your choice.
Step 6: If you want to trim the video, tap on it. Move the handles from the ends to trim the video as you like.
Step 7: Play the video to check everything is perfect. Tap on the Done button at the top left corner. Tap on the Share button and tap on Save Video. Select the desired resolution, and your video will be saved.
4

Video Merge (Android)
Video Merge is an Android application. It is only for merging videos, so you cannot do any other editing using the application. It only requires a few seconds or minutes to merge two videos. Keep in mind that you cannot merge more than two videos, and there will be a watermark in the free version.
Steps to Use Video Merge
Step 1: Open the application on your mobile or tablet. There will be only two options: Merge Video and Saved Videos. Tap on Merge Video.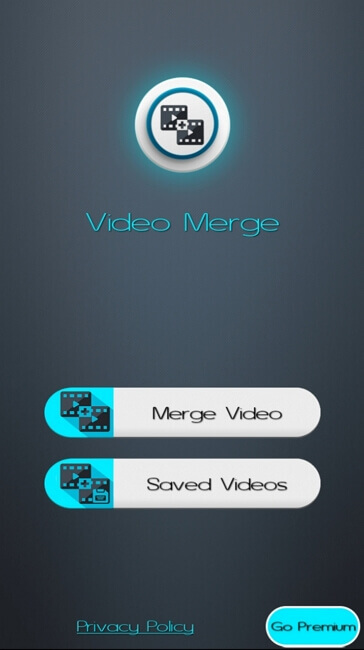 Step 2: Select two video clips that you want to merge.
Step 3: You can place one video on the right and one on the left, one above the other, and one after the other. These three patterns are available in Video Merge. Select anyone you want.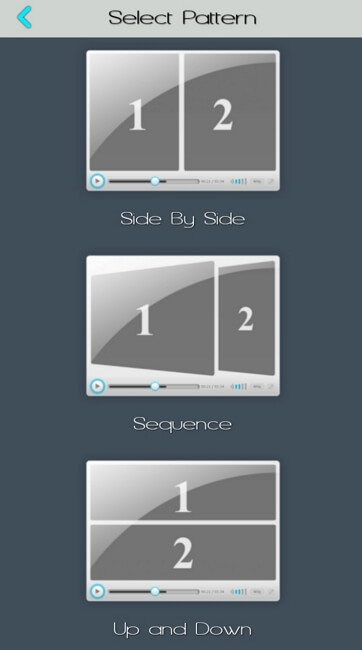 Step 4: You can arrange the videos as you like. In the Modes menu, you can select the pattern (you have already selected one). In the Edit Audio menu, you can mute the audio of the video. You can also use the small portion of the inherited audio. If you want to add external audio, you can do that by tapping on Add New Audio.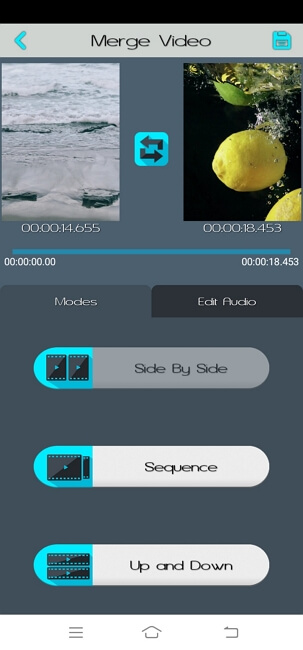 Step 5: Tap on the Save button at the top right corner. Select the resolution you want. Video Merge will merge the files within a few seconds or minutes.
Part 3: Frequently Asked Questions about Combining Videos on TikTok
How long can a TikTok video be?
The maximum limit of TikTok videos is 60 seconds. So, the videos can be anywhere from 0 to 60 seconds.
What format are TikTok videos?
The supported formats of the videos on TikTok are MP4 and MOV. However, it supports MPEG, MOV, and AVI for ads. The ad pictures can be in JPEG, PNG, and JPG. Moreover, the aspect ratio of the videos should be either 9:16 or 1:1.
Can I combine the video on TikTok after posting?
No, you cannot do any type of editing after posting the video. If you have posted, you can download those videos, combine them, and repost them.
Can I combine videos and photos on TikTok?
Yes, you can combine videos and images on TikTok. You can select both of them. The photos will be automatically converted to a slideshow. Each image will be displayed in the video for a few seconds.
Part 4: Things to Note when Combining Video Clips
Tools like iMyFone Filme and Filme Lite make it easy to combine videos for TikTok and other social channels, but even if you have such robust and capable tools, there are certain things to keep in mind regarding quality, format, original settings of the clips, color correction, contrast, and so on. We've listed some of these areas that you need to pay attention to before or when combining videos and images to create a single, shareable, and potentially viral video.
Input quality
The quality of your final video can only be as good as the quality of clips and images you're using, so make sure images are always in high-resolution and videos are shot at a high framerate. This way, even if you're slowing down a section of the video or zooming in on a particular portion, you won't lose clarity and detail.
Formats
Not all social media platforms accept all formats of videos or codecs, so using a tool like Filme will help you navigate that issue because it supports so many different output types.
Aspect ratios
Depending on where you're sharing your videos, you may want to take different outputs for various aspect ratios. Instagram, for example, accepts 1:1 ratios or square videos.
Color
Not all clips are shot in the same light or on the same device, so use the color correction tool in Filme to bring some consistency to your clips before combining them.
Be Organized
Having your media files neatly labeled in different folders and subfolders within your phone or on your desktop allows you to quickly find what you need when adding images or clips to combine into a longer video.
Using Transitions
Using the right transitions can make your videos look very professional, which is exactly what you want in order to grow your audience organically.
Effects and Filters
ust like too many cooks spoil the broth, using too many effects and filters in your videos might make it look like a hodge-podge of gaudy colors and animations. It's better to use just a few eye-catching effects wherever appropriate.
Direct Sharing
Filme offers a very handy feature to directly upload your output videos to Vimeo, YouTube, and other video-sharing sites. That's faster than having to download them and then upload them to the platform.
Final Words
You can join various video clips to create one video of your liking. You can do it directly on TikTok, but sometimes, you need some advanced options or alternative tools. We have discussed four alternative software and tools in this article. While editing video using computer software, you have more options and features. iMyFone Filme is the best tool for creating TikTok videos. You can merge videos using it like a professional. It is a very simple video editor that anyone can use without any hassle.