Resizing video in After Effect is quite a challenging task that requires technical skills for mastery. The article below is going to shorten your learning curve to resize Video in after effects by Adobe so that you can make your creative videos without any expert's support. Are you wondering how to resize Video in after effects? Let's dig deep to find and learn!
How to Resize Video using Adobe After Effects
"How to resize a video in after effects" is a question that creates buzz and confuses everyone as Adobe offers multiple ways for video resizing. You can conveniently resize the Video by using Adobe After Effects, but that isn't possible without expert guidance due to the software's technical complexity.
Adobe After Effects is an excellent video editor, but it has some cons that limit the use of software, but i would recommend iMyFone Filme to resize or scale video, you can resize or scale a video in iMyFone Filme with few clicks in 5 seconds. The best alternative to Adobe After Effects is iMyFone Filme. You can do all kinds of video editing, including resizing and scaling like a professional. Download iMyFone Filme now and get 3 month free license below.
Watch this video to learn how to resize or scale video with Filme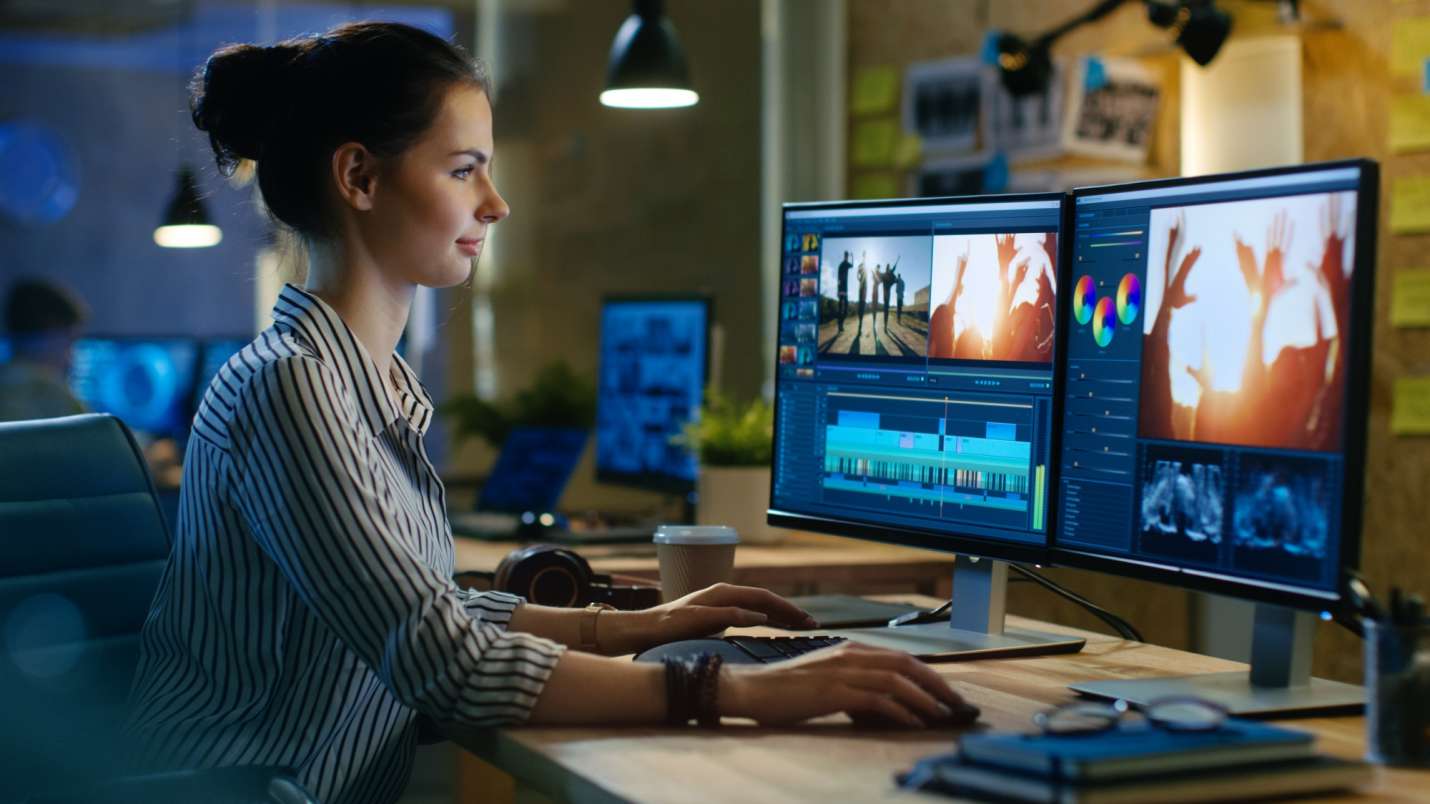 You can use the following simple steps for resizing your Video using Adobe After Effects.
Download and launch Adobe After Effects on your PC and run the setup.

Click "New Composition" in the upper corner of the left side of the display.

Import a video or images from your PC into Adobe After Effects.

Now drag the video into the timeline below to start editing, either resizing, scaling, or cropping, or anything.

Your selected Video won't fit perfectly in the screen resolution box due to size differences. Click and drag the outer corners of the Video to make it fit on the screen.

Click the "Explore" button on the left side of the timeline, followed by clicking "Transform." Next, the dialogue box will open with multiple settings.

There, you can change the "Scale" value to resize the Video, e.g., from 100% to 150% or 200%, etc.

Tip: Another simple way to apply the same effect is, just right-click the video layout on the timeline, click "Transform," followed by clicking "Fit to Comp" to adjust the video size according to the selected composition.

Save and Export your new resized Video that is ready to be used just as you want.
Although these steps seem simple, still, creating a composition video and layering it before resizing and further editing using Adobe After Effects is quite technical that may drag all of your energy.
If you, too, find this quite tangling, challenging, and dull, here's another software named iMyFone Filme that can be your sweet spot for Video resizing and scaling.
Faster Way to Resize and Scale a Video - iMyFone Filme
Where there's a need, there's a solution, and to ease out the pain of video editing without compromising the quality and perfection, we now have iMyFone Filme, which is probably the easiest professional solution for all kinds of video editing needs.
It is a full adventurous package of exciting features that are easy-to-use in no time. This is why iMyFone Filme makes a great choice for both professionals and beginners.
As far as video resizing and scaling are concerned, there couldn't be a convenient choice rather than iMyFone Filme. Here's how you can resize and scale your Video to perfection using Filme;
How to Scale a Video in iMyFone Filme:
iMyFone Filme is gaining overnight momentum, and that's for its outstanding user friendly features. You can play with your creativity by using this smart video editor's features to make a quick slideshow, add texts, audio notes, transitions, etc. You can also use its built-in templates for ultra-quick editing like a pro.
This magical video editor is packed with premium features to meet a video-editing project's significant needs, including resizing and scaling. For resizing the Video in a particular scene of the Video, you can use iMyFone Filme's Scale feature. This feature will make your work done in very few moments.
Follow the steps mentioned below to Scale your Video using iMyFone Filme;
Install the software of iMyFone Filme on your PC and launch the program.

Click "Import" to add a video file on the board.

Drag the Video in the lower section, and start editing.

Click the "Edit" tool (Pen-like) from the bar and customize the dialogue box's editing options.

Move the Slide bar of "Scale" forward or backward to adjust the scaling of the Video.

Click "OK" followed by "Export" to save your scaled Video on your PC.
How to Resize a Video in iMyFone Filme:
iMyFone Filme is majorly known for its versatility. You can try plenty of innovative ideas if you've embellished your PC's desktop with iMyFone Filme's Icon. Besides resizing just a scene, you can also resize the whole Video by playing with some general settings in the "New Project."
Versatility doesn't end here; there are two ways to change the entire video's size using iMyFone Filme. These resizing can make your videos quite acceptable for specific social media platforms like Facebook, YouTube, Instagram, etc.
Here's how;
Method-I:
Install and launch iMyFone Filme.

Import your video file in Filme and drag it to the lower portion to start editing.

Find the "Setting" button (Gear-like) under your video preview, and adjust "Aspect Ratio" and "Resolution" form the next dialogue box.

Save changes by pressing "Ok," preview your Video, and Export the resized Video to your PC.
Method-II:
You can choose a pre-set video size from the "New Project" window in the "File" on the upper left side of the screen.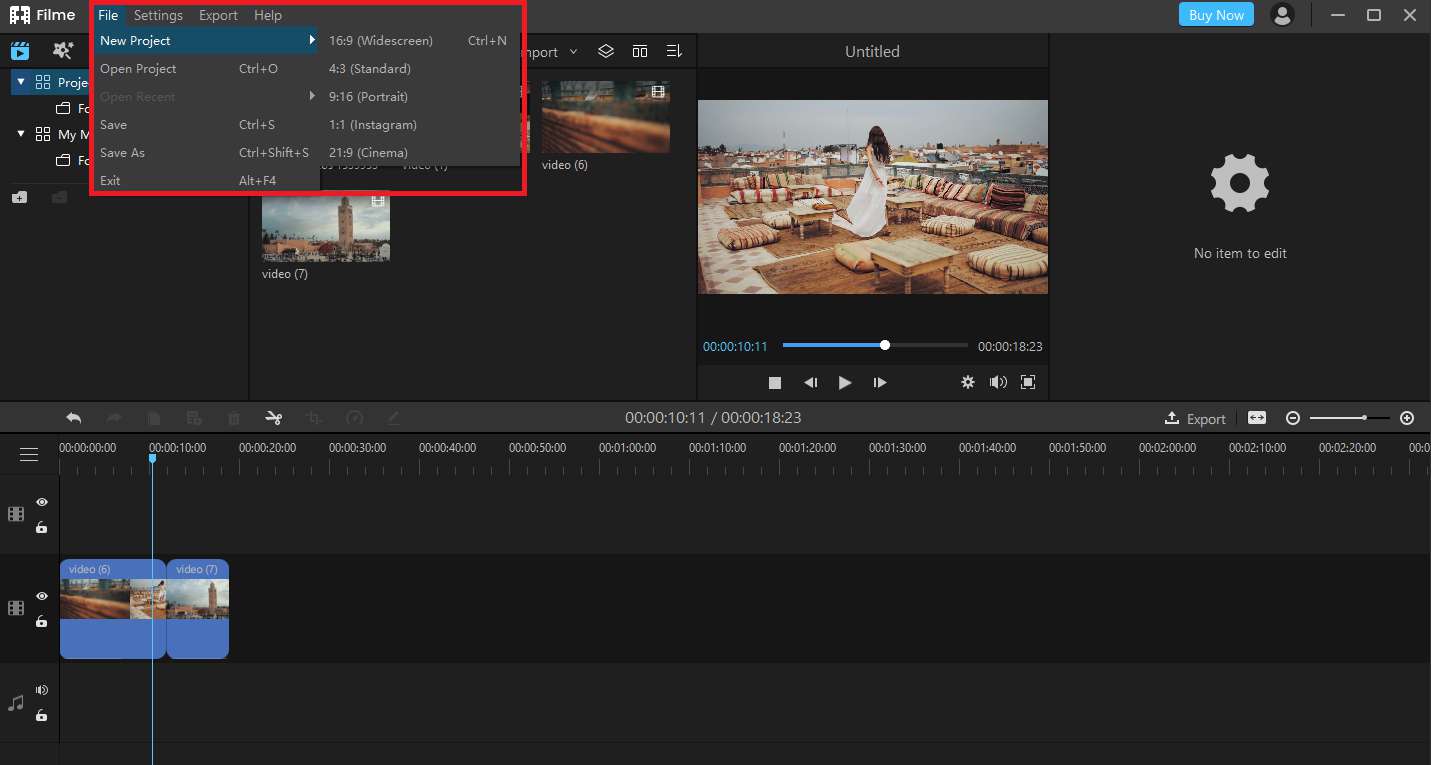 These were the two simplest methods to resize and rescale your Video using the easy-peasy tactics of iMyFone Filme. The beneficiary story doesn't end here as Filme comes all equipped with everything one can ever need for video editing.
Let's see what else iMyFone Filme has got to offer;
Key Features of iMyFone Filme:
It's undoubtedly the easiest video editing software with unmatched convenience and professionalism without any technical complexities.

The Fast Video Mode allows you to make videos quickly, saving you a lot of precious time without compromising the Video's quality.

There're plenty of templates, special effects, and transitions to spice up the videos right according to their core theme, like birthdays and traveling.

With built-in background music and effects, you can boost up the crisp of the Video. You can also add relevant music to make the Video more tempting.

You can rotate, crop, scale, resize, and split your videos in a fun way like never before. It's an equally comfortable and charming video editor even for beginners.
Watch this video to see how to use Filme to scale video:
Some Frequently Asked Questions;
Is Adobe After Effects Resize Video Editing suitable for beginners?
After Effects is a technical and professional platform designed by Adobe that includes many technicalities and requires video editing skills. It is nearly impossible to use Adobe After Effects without any expert guidance. Hence, we can conclude that it is not efficient for beginners. If you want to go for video editing tools for beginners, try Filme, iMovie, Shortcut, etc.
What are the Fun Benefits of Video Resizing and Scaling?
Video Resizing and Scaling is used to make any video more acceptable for a specific social site. You can resize the whole Video to smaller or larger than before, just to make it more appealing, acceptable, and tempting.
Is there an easy way of resizing a video?
Adobe Ae and other similar software are good enough but are trickier and technical. Certain easy-to-use software like iMyFone Filme grabs the user's attention due to a fully-functional set of in-built features to resolve the issue. Resizing and scaling demands only a few steps when you use advanced video-editing software like Filme.
Conclusion
Since the world has been digitized, video editing has become a major need for anything you are doing online.
Where Adobe After Effects and similar software give a tough time to the users, advanced software like Filme steps forward to jump through all the hurdles of video editing.
iMyFone Filme comes as a handful of powerful and comprehensive video editing tools to touch any video with professionalism. Once you try iMyFone Filme, you're going to stick to it, and that's for sure!