Did you come across an awesome GIF and felt like sharing it with your friends and family on your social media like Facebook or Instagram? This can be achieved by following a few simple steps! Platforms that do not support the posting of GIF format static images or animations require that you convert such files to MP4 format. You can find the best online gif to video converter to assist you with this task of conversion. A number of fantastic GIF-to-video and video-to-GIF converters can be easily found online.
Top 5 Online GIF to Video Converters
Mentioned below is a brief account of all the top online GIF to video converters.
1. EZGIF
EZGIF is a fantastic tool if you are looking for a gif file to video converter online. It even lets the user create GIF banners which is a great feature. This tool is equipped with some very advanced tools that can be used absolutely free of cost. It is a time-efficient tool that you can use to convert gif files to video in a short while. The quality of the video will not be compromised if you use this gif converter.
Pros:

Whether you want to convert gifs to MP4 or you want to create gifs, this tool does not require the user to install any program to perform this task.

The easy interface allows all users to create gifs and convert gifs with ease.
Cons:

Sometimes, the conversion from gif to MP4 may not be successful.

A glitch in the program reduces the quality of the gif that the user wants to create. This is why it may not be ideal for professional use.
2. CloudConvert
CloudConvert is a great tool if you want to convert animated gif to video online. It lets users convert up to 25 files per day for free. For users who require more conversions each day, it is advisable for them to get a subscription. It has an advanced and scalable API. It is capable of supporting PDF, DOC, HTML, PNG, JPG, EPUB, RAR, ZIP, MP3, MP4, CSV, and XLS. It is most suitable for users who want high-quality conversions of images, videos, and even documents. Due to its professional-level conversions, it can be used by organizations.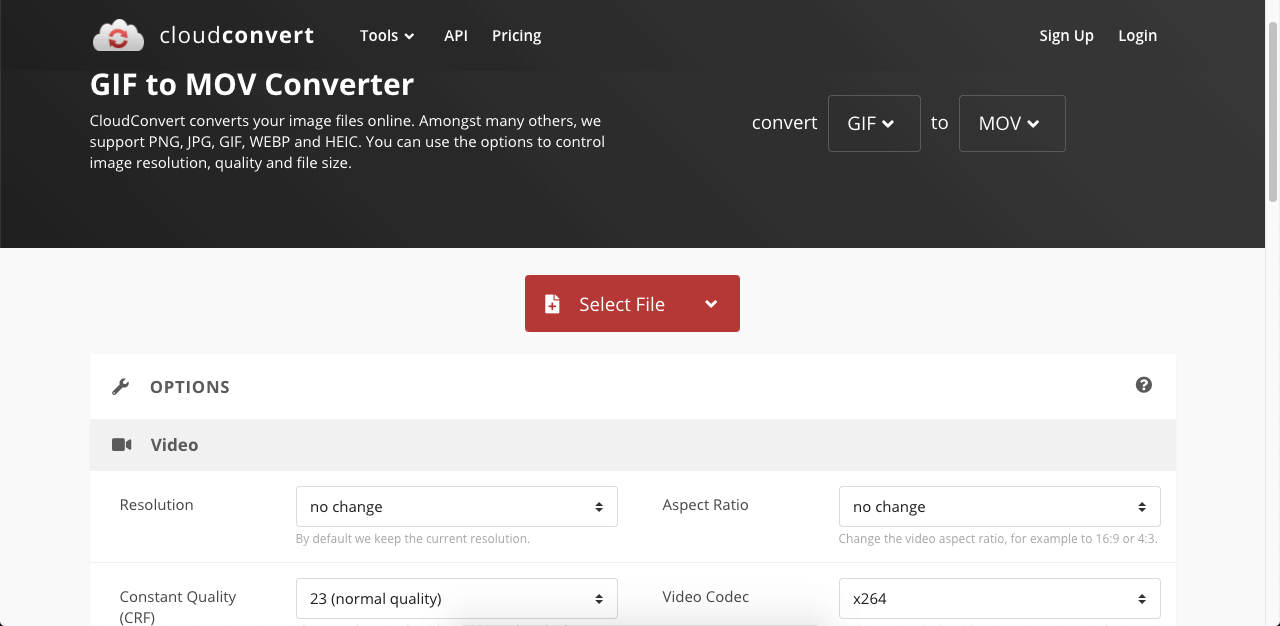 Pros:

Video, images, and document files can be converted free of cost using CloudConvert.

It is a very quick tool, and conversions are achieved very fast.

The only time it will slow down the conversion process is when your internet is down. If you have a fast internet connection, there is no need to worry about time consumption.

It helps the clients get productive and complete various tasks efficiently.
Cons:

For some users, the interface may get a little confusing. It may take a little while to get familiar with the conversion button and what to press for the conversion to begin.

Since it is an online converter, internet connection plays an important role in this regard. If you are converting a large file and your internet connection is lost during the process, you will face a connection timeout error.

The font choices are limited for the user since the conversion of documents is not possible unless the font used in the document is available on the tool as well.

The interface can get a little tricky, and it is advisable to use the instructions provided by the software.
3. Convertio
If you are wondering how to convert gif to video online, you need to check out an amazing tool called Convertio. It serves as a converter of files for almost all types of formats. Whether you want to convert gifs to mp4 or mp4 to gif, you can easily acquire this conversion using this remarkable tool. It is a powerful and proactive tool. If you are paying for this tool, it can easily convert 15 files in a row, which makes it very time-efficient. Even the free version is pretty good since it allows five file conversions in a row.
One of the greatest features of this tool that leaves the clients feeling highly impressed is that it uses a fault detection system that immediately detects a wrong file and informs the client before converting it right away. This saves money and time for the user since some users are paying for the conversions.
Pros:

It can convert audio, video, and text files to your desired format.

It can crop a video file to your desired duration.

You can convert pdf files.

You can compress various files.

It is effective and affordable.

It runs on any browser and does not require the user to install any program.
Cons:

If you want to convert text files, you need to make sure it doesn't have any unusual fonts. Otherwise, the conversion of the file will not be possible.

It does not allow you to convert more than 4 to 5 files unless you are using the paid version.
4. Zamzar
Zamzar is a powerful and advanced tool that successfully converts files and supports several different formats. It can be used as a gif to video converter online. It is capable of 1,100 conversions. Users can use it to convert videos, images, gifs, documents, emails, CAD, etc. The support team of Zamzar is excellent. They are always ready to solve problems. It is a fast tool that conducts conversions within minutes.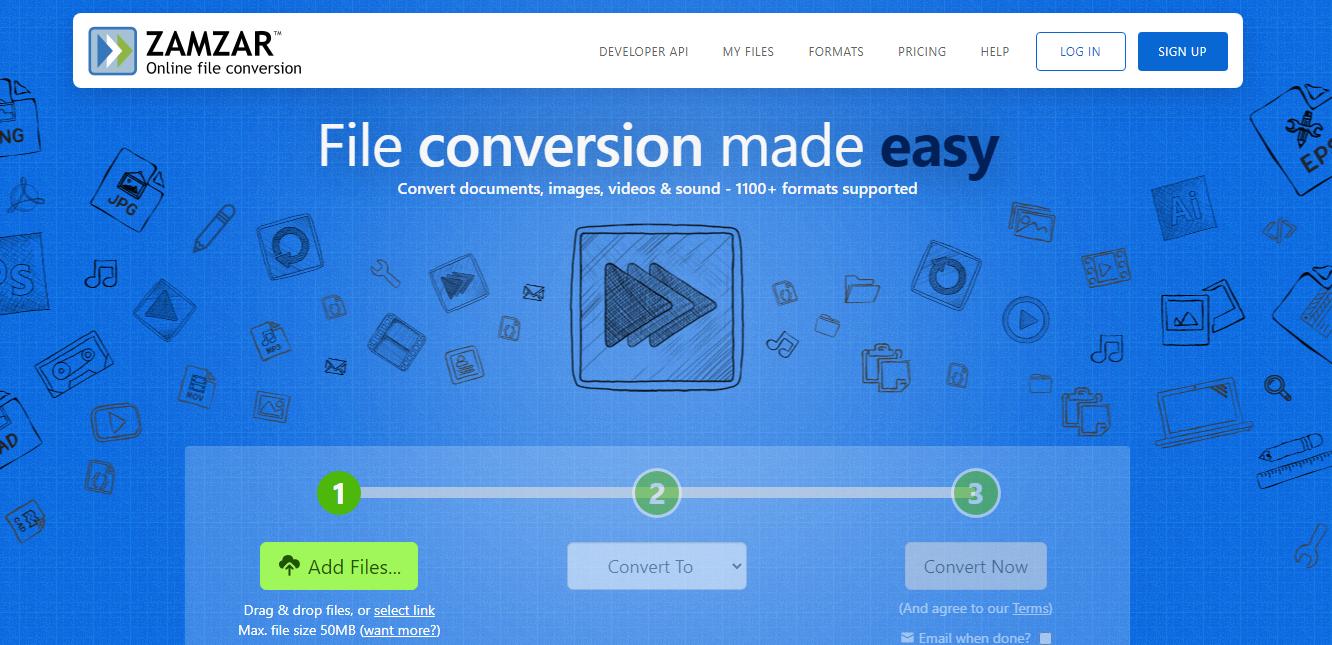 Pros:

It is ideal for converting files of one format to another, such as converting gif format files to Mp4 or jpg to png, png to jpg, and so on.

It is an excellent and affordable program.

The interface is easy to understand and is ideal for beginners as well. You don't need to consult the support team or search for any instructions to begin the conversion right away.
Cons:

The conversion limit is five files per day. If you want to convert more files on the same day, you need to pay for it.

It does not support different API keys for different environments. It may cause inconvenience to some clients.

Large files take a considerable amount of time to be converted. Before converting large files, users need to confirm that their internet connection is working perfectly fine. If it stops working midway, a timeout error will be received, and that can come across as an annoying factor.
5. GIFtoMp4
MP4 videos are much smaller than GIF format files. They are also more convenient because if you wish to post a gif on your Instagram profile, it won't accept the format. This is why it is quite useful to convert the gif animations and images to MP4 format. If you are looking for a gif to video converter free online, GIFtoMP4 is an ideal option. It has an extremely easy-to-use interface, and it can simply be accessed by using a browser such as Google Chrome. You can select up to 20 GIF files that will be converted by the tool into MP4!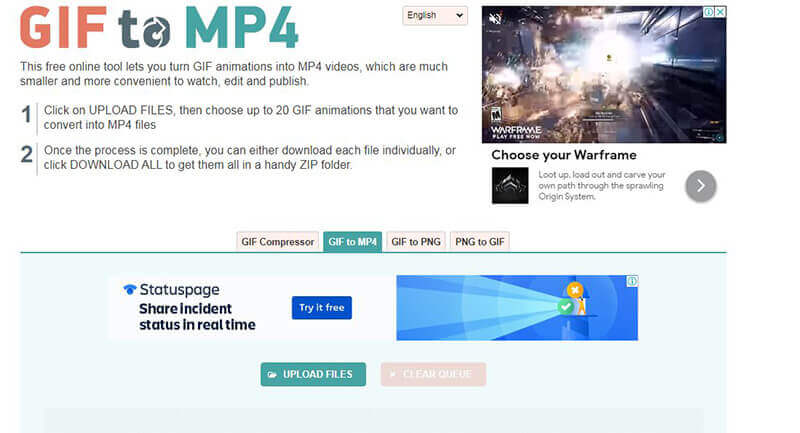 Pros:

It has a beginner-friendly interface. The moment you visit the homepage, you will be able to figure out how to upload gifs and start the conversion process.

It allows you to convert 20 GIF files simultaneously, thus saving the user from the trouble of uploading each animation file separately.

Conversions are made easily, and it does not take a lot of time.

Each MP4 file can be downloaded by the user individually, or the user can select all of the files and download them at once. Such files are then saved as a ZIP folder.
Cons:

The functions of GIFtoMP4 are very limited. You can only convert GIF to MP4, GIF TO PNG, and PNG TO GIF.

Unlike other converters, this software does not support any more formats. However, the formats it does support are converted successfully.
Bonus Tip: Or You Can Use Desktop Solution to Convert GIF to Video
If you want to convert GIF animation to MP4 format, it is doable with the help of iMyFone Filme. Filme is an advanced and comprehensive video editing tool. From the creation of slideshows, and professional video editing (adding effects, text, filters, animations, clipart, transition, etc.), to the conversion of one video format into another, Filme does it all!
Main Features of Filme
Filme supports converting GIF to video with just a few clicks. The conversion can be so easy with this tool.

Filme is available forWindows as well as Mac. And it also supports most popular video file formats like MP4, WMV, etc.

Various editing tools are provided to the user, such as transitions, cutting the video clip, rotating video, adjusting video speed, etc.

You can also add music to the converted videos to make them more amazing.

The user can carry out the conversions with ease due to the easy user interface.

You can share the converted video to popular social media platforms like Facebook, Twitter, YouTube and Vimeo.
Steps to Convert GIF to MP4 Using Filme
Step 1: Install and launch Filme on your Desktop Computer. Create a new project by importing the required gif files.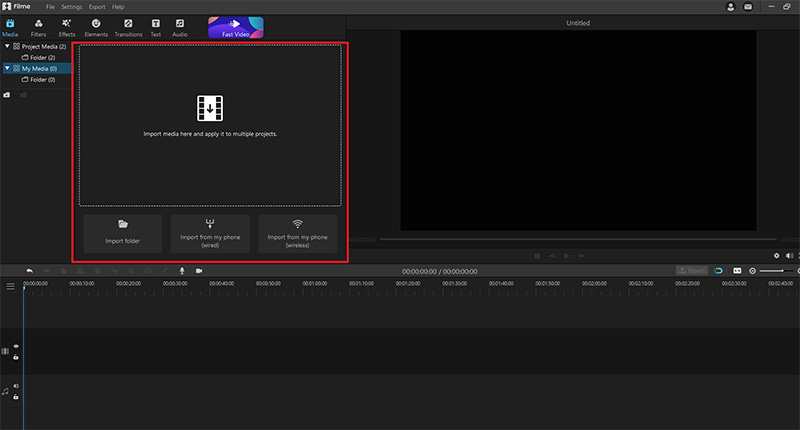 Step 2: You will find the imported files in the Media Library. Drag the required files to the workstation or click on the plus sign to add imported files.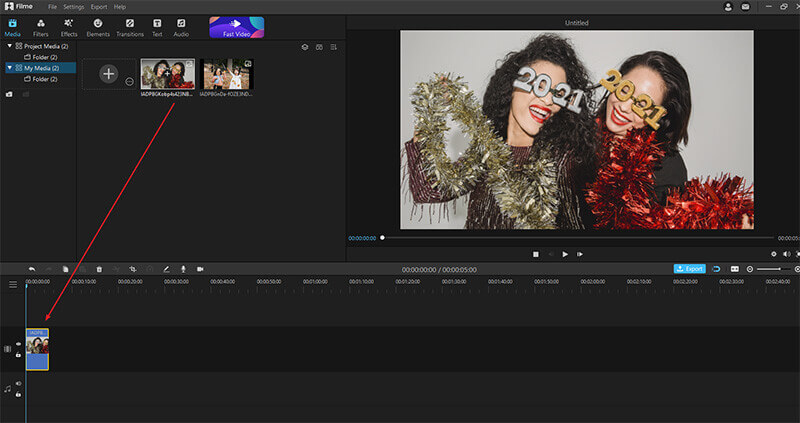 Step 3: You can edit the duration of your GIF files before carrying out the conversion process.
Step 4: By right-clicking the file, you will come across the edit option. It allows you to adjust the brightness, contrast, duration, and even the rotation of the image or animation.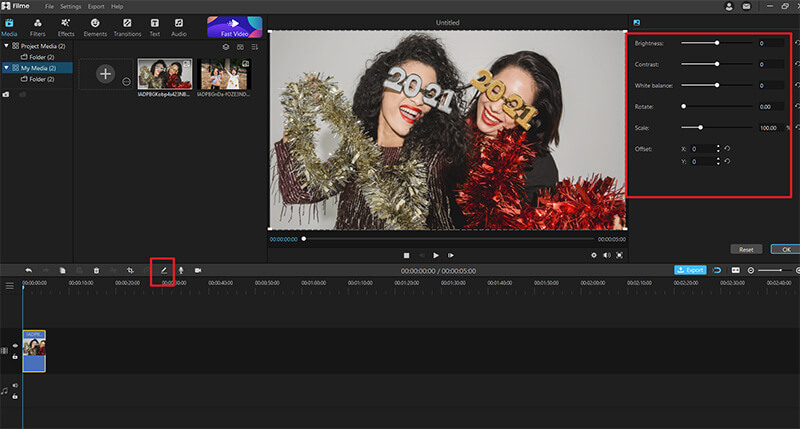 Step 5: After the editing process is complete, feel free to click on the export button. The converted GIF video can be saved in any video file format, such as MP4.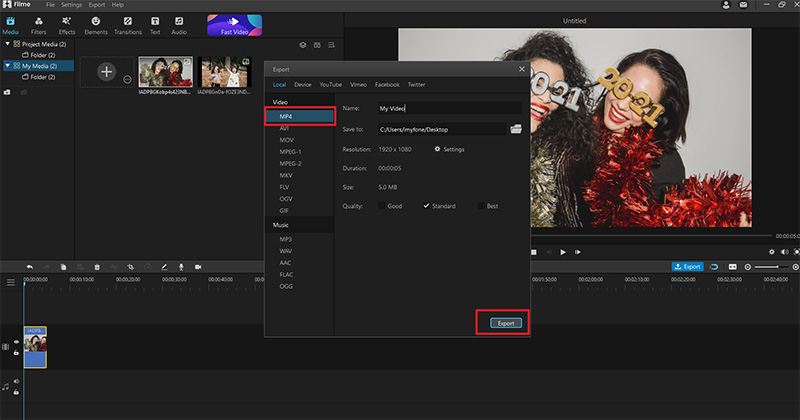 Hot FAQs about Converting GIF to Video
Mentioned below are the hot FAQS regarding this topic.
Question 1: Why should I convert GIF to video?
You can convert GIF to MP4 if you want to reduce the file size. Moreover, some social media platforms such as Instagram and Facebook do not allow the posting of the GIF format. If you want to post a video on these platforms, you can convert it to MP4.
Question 2: How do you turn a GIF into a video on an iPhone?
Download a GIF-to-MP4 converter application on your iPhone and import the required GIF files to the app. After the conversion has been completed, you can select the MP4 format and save the video to your iPhone.
Question 3: How do I convert a GIF to a video on Android?
You need to save the GIF video on your Android phone. Import the file and then select the format of the output. You can choose MP4. After the conversion, you can save the converted video to your phone. Such files can be uploaded conveniently on several social media platforms like Facebook and Instagram. Such platforms do not allow the users to upload files in GIF format; thus, the conversion can prove to be very beneficial.
Conclusion
Converting GIF to MP4 files is a very easy process. Several tools are available online that allows the users to convert the files free of cost. If you want to do a professional conversion and on a daily basis, it is advisable to buy paid subscriptions for one of the tools since there is a conversion limit per day. You can use Filme for advanced level conversion of GIF files to MP4 or some other video format. It is a great platform that allows comprehensive editing of the GIF file as well as the conversion of the GIF file.