Do you want to prank someone with the Anonymous voice? Yes, it is possible. You can do it using a voice changer. In this article, we will explore different voice changers that can help you change your voice to the Anonymous voice. Let's start.
How to Make Anonymous Voice with Real-time Voice Changer
Changing your voice into the Anonymous voice could be a bit scary as well as funny. You can prank your friends and family with this feature and have fun. But to do this, you need software or an application that provides the feature of changing your voice to the Anonymous voice. You can find many tools on the internet that provide this feature. One of them is Adobe Audition. It can help you change your voice in real-time. The step-by-step procedure to use this software to change your voice into the Anonymous voice is described as under:
Step 1: The first step is to download the software on your PC or Laptop. Go to Google and search "Adobe Audition". Click on the first link, which would be the official page of Adobe Audition. You will see an option of "Buy Now", which will be highlighted in blue color on the top portion of your screen. The latest version of Adobe Audition is available for US$ 20.99 / month.
Step 2: Now, you will need to download a second software named "Virtual Audio Cable". It allows you to transfer audio/tracks from one application to any other application. Search for Virtual Audio Cable on Google. Click on the official website of this software. Download the software according to your operating system (Windows or Mac).
Step 3: After downloading, restart your PC and go to "Sound" in the settings. Then go to the "Recording" tab and click on Microphone to open its advanced setting. Now select 2 channel, 16 bit, 48000Hz (DVD Quality). Do the same for Cable Output.
Step 4: Now open Adobe Audition, go to Edit> References> Audio settings. Now choose your default input. Choose Virtual Audio Cable in the default output option.
Step 5: Now, create a new Multitrack project. Set input to "Microphone" and output to "Cable Input". Go to "Effects Rack" and select "Pitch Shifter". Set "Semi-tones" to -5 and "cents" to -12. Now go to "Hard limiter" in the effects rack and limit it to -6dB.
Step 6: Now, go to any social media site where you want to speak in the Anonymous voice. Make sure to select "CABLE Output" as your Microphone.
Some Best Anonymous Voice Changers to Know
AthTek provides three types of voice changers. Free Voice Changer is for non-commercial use. Skype and All-in-one Voice Changer have many advanced features, but you need to pay for them.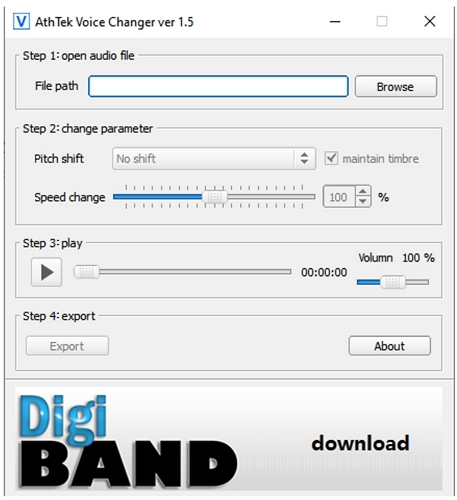 On AthTek voice changer, you need to upload audio to change the pitch and speed of the audio track. It is a very simple tool with good results. If your aim is just to prank your friends by varying the pitch and speed of your voice, then this might be the perfect software for it. You need to record your voice using another tool and upload it to the AthTek Free Voice Changer. It is available on both Windows and Mac.
Advantages:

It is very easy to use, and the user interface is very simple.

You can vary the speed of the audio as well.

The results are pretty smooth.
Disadvantages:

The features are very limited.

You have to import audio from somewhere in the free version.

You can import only 3 types of audio files/formats.
Clownfish voice changer is another excellent application. It is installed on the system level, so all the applications that use the microphone will be affected by it.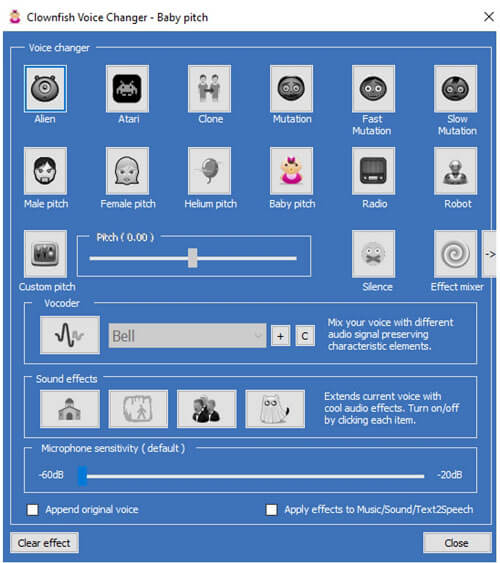 Clownfish works fine with multiple applications like Skype, Google Hangouts, Viber, Steam, Discord, and many more. There are different voice effects that you can use to transform your voice into the voice of an Alien, Clone, Robot, Radio, Helium pitch, and the list goes on.
Clownfish is for Windows only (Vista, 7, 8, 8.1, 10).
Advantages:

Multiple voices changing effects.

Easy to use application.

Background Microphone music supported.

Music source from the internet is also possible.
Disadvantages:

As it is installed on the system level, so all the applications are affected by it, even those that you don't want to.

It is not compatible with macOS.
3) Magic Call (iOS and Android)
Magic Call is an application that is used to change voice while you are on the call with any of your friends or family. It is a real-time voice changer, and it will change voice instantaneously while you are on the phone.
There are different built-in voices available that you can use, like the female, kid, cartoon, etc. Moreover, you can also switch between voices during the call. Also, there are some emoticons that you can play while being on the call, like kiss sound and clap sound.
Sound effects, like rain and the happy birthday theme, can also be played in the background. It is available on both iOS and Android.
Advantages:

Easy and simple to use.

Emoticons and background themes can also be added to your audio.
Disadvantages:

It works only for phone calls and does not support other applications.

Sounds are very limited to choose from

Sometimes, there is a distortion while using this application in real-time.
FunCall is another voice changer application for calling. In addition to changing your voice, you can also record the voice. There are many voice effects and sounds available. You can also perform a Demo call to listen to your voice. It will alter your voice in real-time, and you can also use sound effects during the conversation. It is available on both iOS and Android.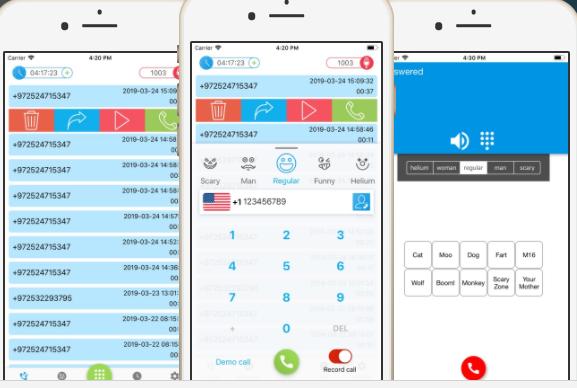 Advantages:

You can also record the conversation during a call.

These recorded conversations can also be shared with other people.

Best price calls to landlines and mobiles in over 150 countries.
Disadvantages:

Available voices, as well as sound effects, are limited.
5) Voice Changer Plus (iOS and Android)
There are multiple effects on Voice Changer Plus from which you can select any to change your voice. This application is not just limited to phone calls, but you can also save and share the audio with anyone on any social media site. You have to record your voice first by tapping on the record button. Once you have recorded the audio, it is time to apply different effects on it to have fun and observe these effects on your voice. It is available on both iOS and Android.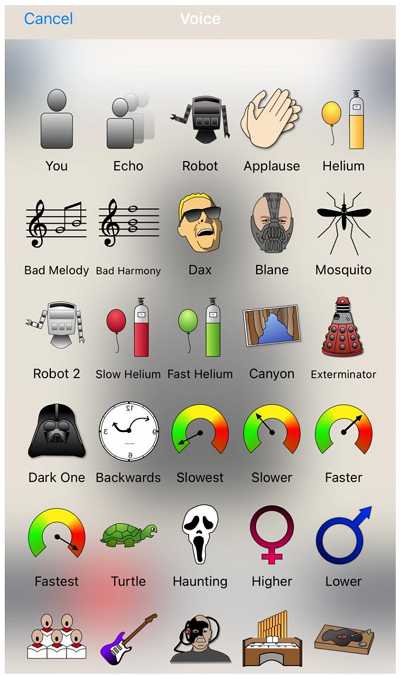 Advantages:

Around 55 voice-changing effects.

Free to save recordings.

You can also trim the recordings.
Disadvantages:

There are ads in the free version.
Also Read:
Part 3. Best Voice Changing Software to Change Voice in Different Ways
If you are looking for software that can change your voice along with other video editing tools, then Filme is the best application for you. Filme has a wide range of features, from basic editing tools to detailed effects. It is a complete package for all your audio and video editing needs, and it is the best of both worlds.
In Filme, you can alter a pre-recorded audio by importing it and then applying different audio effects to it. You can also change your voice in real-time and record it.
Features:
Filme can help you edit your audio. You can change volume, duration, and voice.

You can add sound effectsand music to your voice.

There are dozens of effects and transitionsavailable that you can use in Filme.

It can help you do any type of video editing. You can add text, images, stickers, filters, music, and GIFs.

The final file can be exported in any format you like. You can export in various audio, video, and GIF formats.
Steps to Change Your Voice Using Filme
Step 1: Launch Filme on your computer. Click on File>New Project and select an aspect ratio.
Step 2: If you want to change pre-recorded audio, you can import it from the media menu. You can also import any video if you want.
Step 3: Move the audio to the timeline and double-click on it. You will see a new window on the right of the canvas. You will see the voice changer. Select any voice you want and click on OK.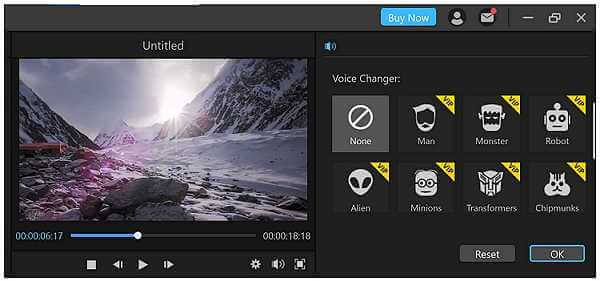 Step 4: If you want to record audio in real-time and change your voice, move the playhead to an empty area. Click on the microphone button above the timeline. You will see a new window. Select the input device and the voice you want. Finally, record your audio and stop it whenever you want.
Step 5: Go to Export>Export Video. Select the format and other settings and click on Export.
Final Words:
In this article, we have seen how to change voice to the Anonymous voice. Moreover, we have shared some excellent voice changers that you can use. We recommend Filme for voice changing and video editing. It is a versatile video editing application that can help you edit your video and audio without any hassle.