Looping a YouTube video on your browser (YouTube desktop) is as simple as right-clicking on the video area and selecting the Loop option from the contextual menu. However, doing this on mobile isn't as straightforward because there's no built-in function for this. One of the possible reasons is that mobile is the main platform for viewing videos, and since looping a video makes advertisements less effective, Google may not bring this feature to its YouTube mobile apps anytime soon. So how do you loop a YouTube video on iPhone, iPad, or Android? Let's take a look.
Part 1: How to Loop YouTube Videos on iPhone/iPad/Android/Mobile
Method 1: How to Loop a YouTube Video in the iOS and Android YouTube App
The first method we're showing you works on the YouTube app on both iOS and Android. Admittedly, it's a workaround, but it serves the purpose of playing a single video over and over again. The trick here is to create a new playlist with just the video you want to loop. Here's what you will need to do:
Step 1: While the video is playing, tap on the Save button below it.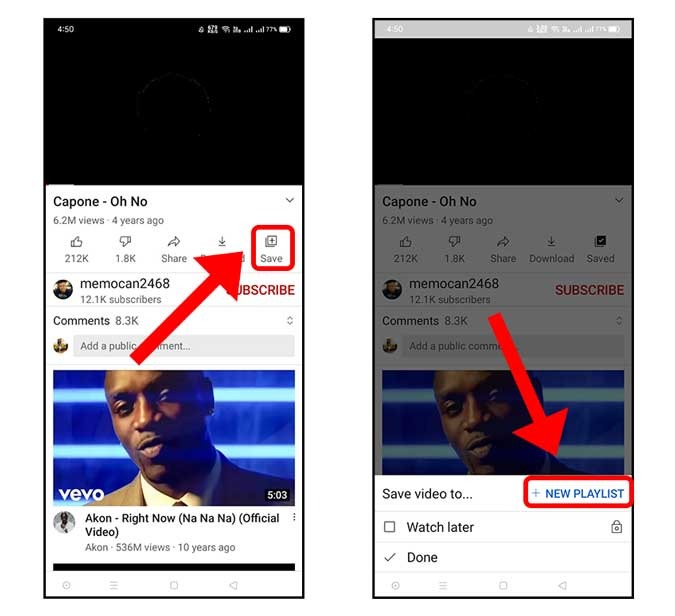 Step 2: In the Save Video As… slide-up menu, select New Playlist.
Step 3: Name the playlist and tap on Create. Your playlist is now ready.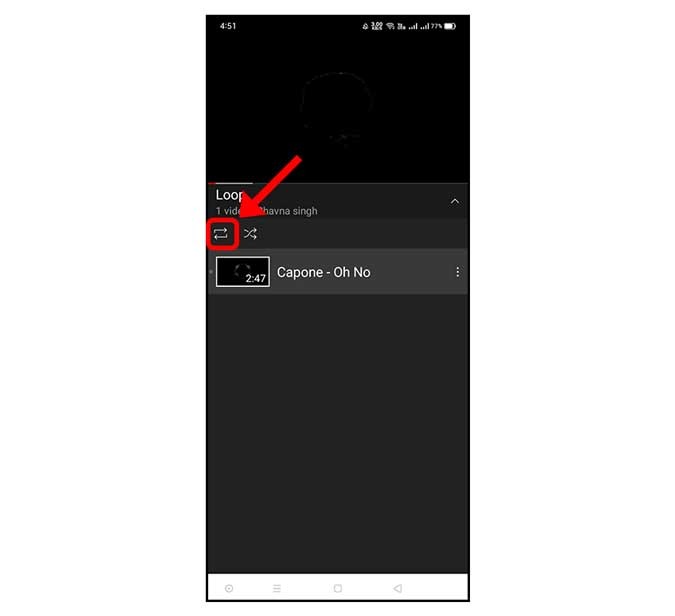 Step 4: When you hit Play on this playlist, the video will begin to play. While it's playing, tap the Loop icon.
That's it! Your video will now play on an endless loop until you hit Stop.
Method 2: Looping a Video on Android Devices
If you want to loop a YouTube video on an Android device, you can use this workaround. Unfortunately, it doesn't work on iPhone or iPad devices but it should work on any Android smartphone or tablet. The key here is to use the browser version of YouTube instead of the YouTube Android app. These are the steps you'll need to follow:
Step 1: Open a browser app like Chrome or Firefox on your mobile device.
Step 2: In the address bar, type in m.youtube.com and tap on the Go icon on your virtual keyboard.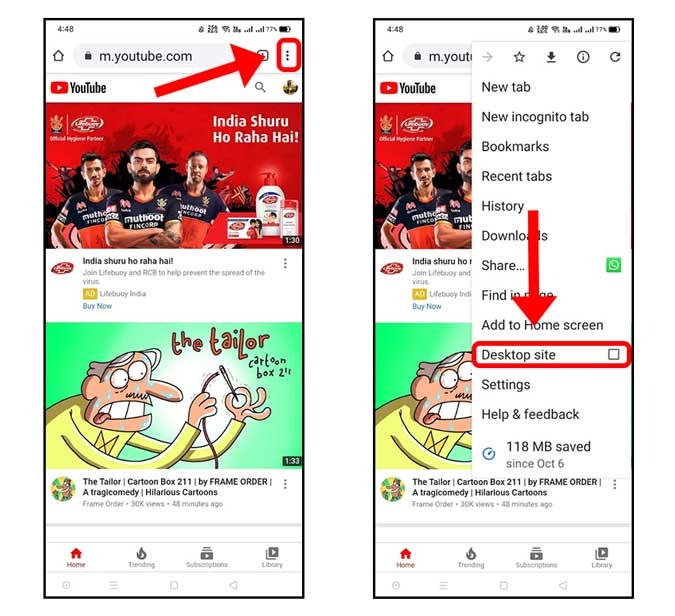 Step 3: Now, tap the vertical ellipsis menu (three vertical dots) and select the checkbox next to where it says 'Desktop site' - this will make sure that the YouTube app is not launched by default when you play the video.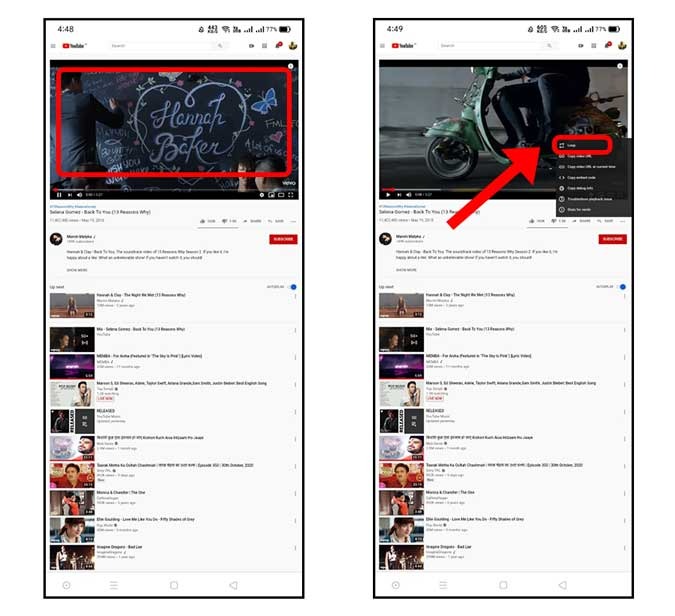 Step 4: You can now proceed to search for and play the video. While it's playing, long press anywhere in the video area to see the contextual menu. Tap on Loop and the video will keep playing over and over until you close the browser.
As mentioned, this doesn't work on iOS or iPadOS devices, so if you're looking for another method, read on.
Part 2: Using a Third-party App on iOS and Android to Loop a YouTube Video
The other way to loop YouTube videos is to use a third-party app from the Google Play Store or Apple App Store depending on your device. The Repeat YouTube Video app for iOS and Android is perfect for this. Here's how to use it:
Step 1: Install the Repeat YouTube Video app on your iPhone, iPad, or Android device.
Step 2: Fire up the YouTube app on your device and start playing the video that you want to loop.
Step 3: As the video is playing, tap on the Share option below it.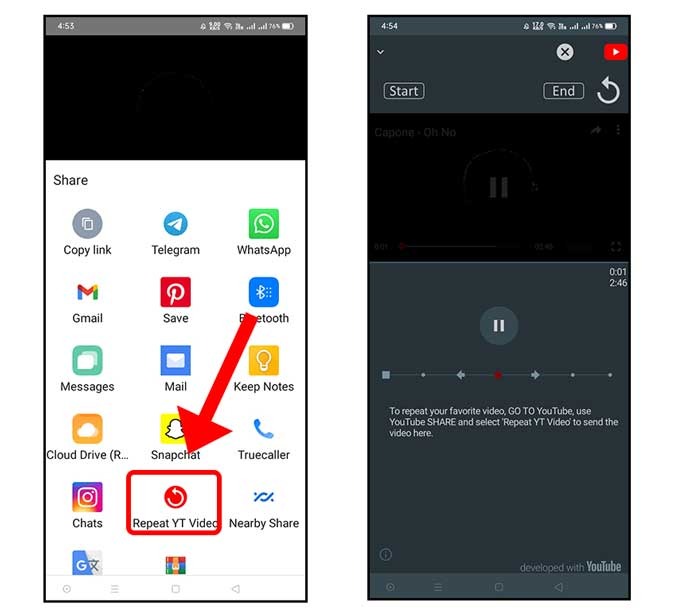 Step 4: In the Share Sheet, you'll be able to see an option called Repeat YT Video - tap that icon. On your iPhone or iPad, select the Copy Link option, then open the third-party app and paste the URL there.
Step 5: Once you complete the previous step, the video will play in the new app on repeat mode.
The three different methods above can be used to loop any YouTube video over and over. However, in some cases, you may simply want to enhance the quality of the video before sharing it or uploading it elsewhere. What can you do in such a situation? The next section will help answer that question.
Also Read:
Part 3. Best YouTube Video Editor - iMyFone Filme
If you've downloaded a YouTube video, it's always better to edit and enhance it before sharing it on other channels such as social media, your blog, chat messenger, etc. To do this on desktop computers, you can consider using iMyFone Filme, the best video editor for YouTube videos. Whether you're doing it for the first time or a consummate professional, iMyFone Filme makes it easy to add effects, caption your videos, add free songs as background, and do much more. The final output will be more professional-looking, and if you're trying to grow an online audience, it will be a tremendous boost to your brand and image.
Why is iMyFone Filme the Best YouTube Video Editor?
Slick User Interface with a clean layout and easy navigation

Lots of features and tools to enhance the quality of your YouTube videos

Crop, trim, split, pan & zoom, and other editing tools

Edit brightness on YouTube videos, contrast, etc.

Add filters and effects, text animations, and other enhancements

Choose and add from a wide range of royalty-free music
As you can see, iMyFone Filme offers some compelling reasons to edit your YouTube videos before further sharing or posting them publicly. Moreover, the process of editing YouTube videos with Filme is very simple, as shown in the next section.
How to Edit a YouTube Video in iMyFone Filme
After you download a YouTube video on your desktop or even your mobile device, download and install iMyFone Filme on your PC or laptop. The latest version can be found on the official website here.
Step 1: Launch iMyFone Filme and import the video by dragging it into the interface. If the video is on your phone, no problem; just use the Import Media option in the File menu and choose one of the phone import options - wired or wireless - and import it that way.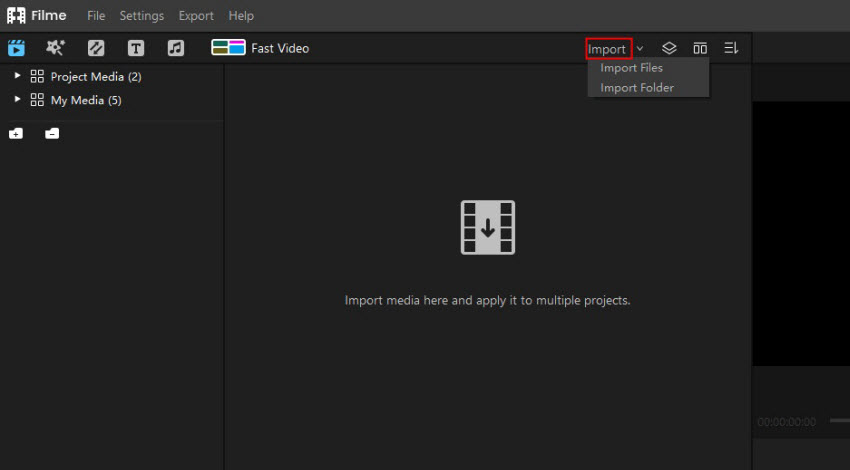 Step 2: When the video appears in your Media Library, drag it to the timeline at the bottom for editing. You can also click the + symbol on the video thumbnail or right-click the thumbnail for the Add to Track option. The video is now ready for editing.
Step 3: To trim the video, just drag the trim handles on either side of the video, thereby making it shorter in terms of duration or playtime. You can also select the clip and click on Crop to crop the image or add pan and zoom effects in a new window. In addition, double-clicking the clip on the timeline will show you an editing pane on the top right, where you can change the brightness and other settings. You can also change the speed of the video to slow it down or speed it up.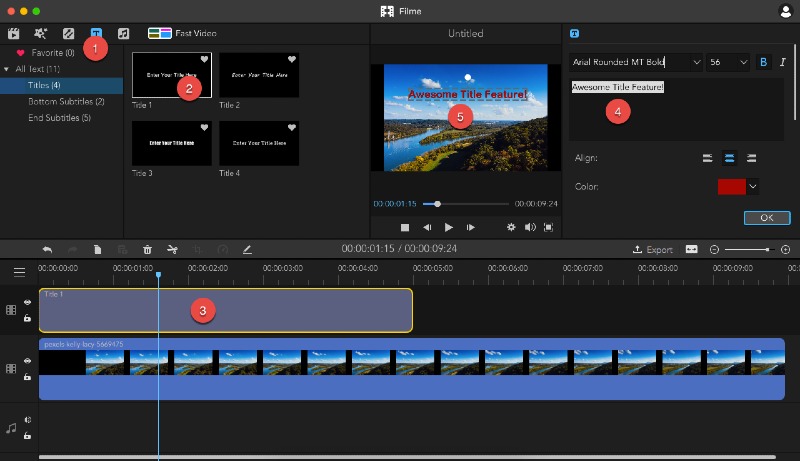 Step 4: To add enhancements, text, and audio, use the icons on the top left, where you'll see options for filters, animations, transitions (between clips), audio, etc. You will also see a Fast Video mode, which you can use to create video slideshows from existing media files such as video clips, photos, and other visual file types.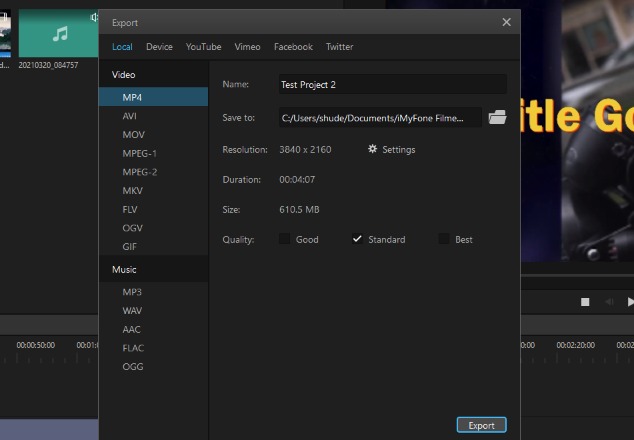 Step 5: When you're done with editing, hit the Export button above the timeline and choose the output format and other parameters. Click OK to download the file to a location of your choice.
Video Tutorial About Using Filme:
Frequently Asked Questions - FAQs
1. If I loop the YouTube video, will it be counted as views?
Google keeps changing the algorithm for how YouTube video views are counted, but the current understanding is that looped YouTube videos will be counted for up to 4 or 5 times and then lock up for 24 hours. This is presumably in place to prevent users from artificially increasing the views on videos they post. The counter will start again for that video on that same device after 24 hours.
2. How to loop a YouTube video between time frames?
While it's easy to loop a YouTube video from beginning to end, you'll need a browser extension or third-party software such as Magic Actions for YouTube in order to loop a specific segment of a longer video. You can also use InfiniteLooper, which is an online service.
Part 4: Parting Thoughts
You may want to loop YouTube videos for several reasons, such as playing it for different people on the same device at different times, setting it as an ambient video (such as a fireplace video), or any other reason. But be careful about doing this too often with videos that you have posted on your own channels. YouTube is very strict about fraudulent practices, and if they see you looping too many of your own videos just to get video views, it could be construed as a violation of their policies. So make sure you don't do that. For any other reason, it's perfectly safe and fine to loop a YouTube video on a mobile device or even your desktop.