TikTok is a popular online platform for creating minute-long videos. People usually create fun and entertaining content. These videos go viral fast and get shared with friends and family. Some videos are so entertaining that fans want to download them. If you like a TikTok video too much, you can download it and make it your wallpaper, enjoying it every time you access your phone.
It may be a challenge you want to participate in, a cherished memory with your friends, or maybe a motivation you always want to look at. In any case, there are various methods to download your favorite TikTok videos and make them your live wallpaper. Here we have a step-by-step guideline to show you how to make a live wallpaper on TikTok.
Part 1: How to make a live wallpaper from TikTok on iOS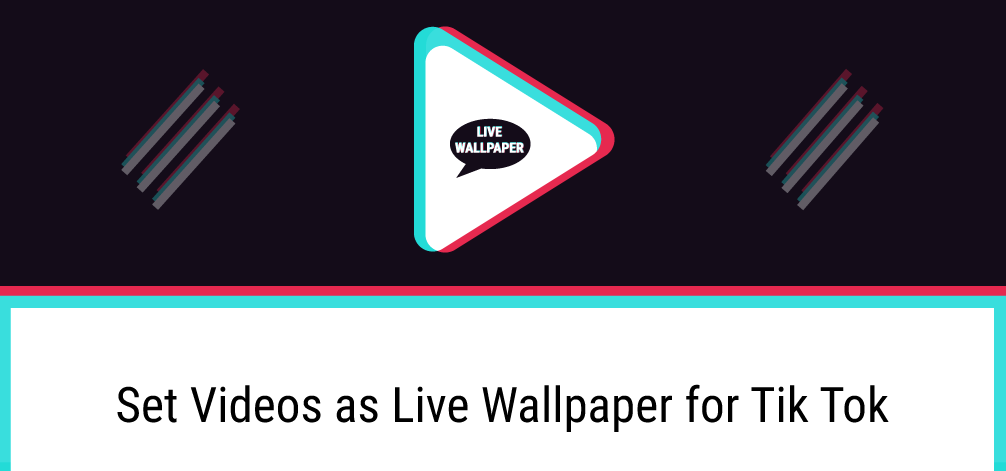 The exact method of converting TikTok videos into animated wallpapers varies based on platforms and conditions. To convert these videos to live wallpaper on Apple devices, you will follow these steps.
Step 1: Launch TikTok on your iPhone, Click on the Share icon
It is the curved arrow on the screen.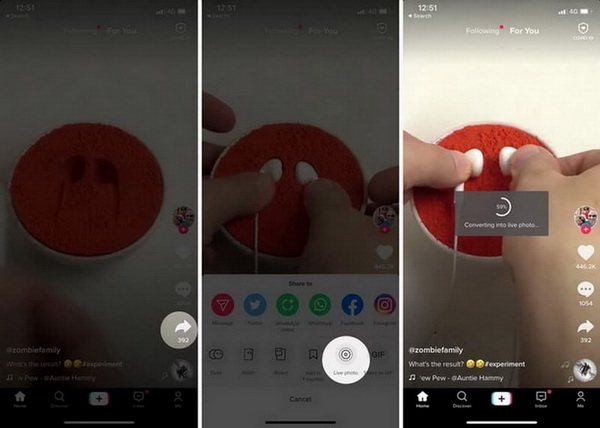 Step 2: In the second row of actions, click Live Photo.
This action converts the video into a live photo saved in your Photos app.
Step 3: Now, this video is saved as a live photo on your phone.
The next step is to set it as wallpaper.
Step 4: Launch Photos app, locate the photo.
Step 5: Click the share icon and tap Set and select Set Lock Screen or Set Both.
Step 6: Congratulations! You get a cool live wallpaper.
Alternate Method to Use this Saved Live Photo.
Step 1: Go to the Settings app on your iPhone.
Step 2: Select the Wallpaper link in settings.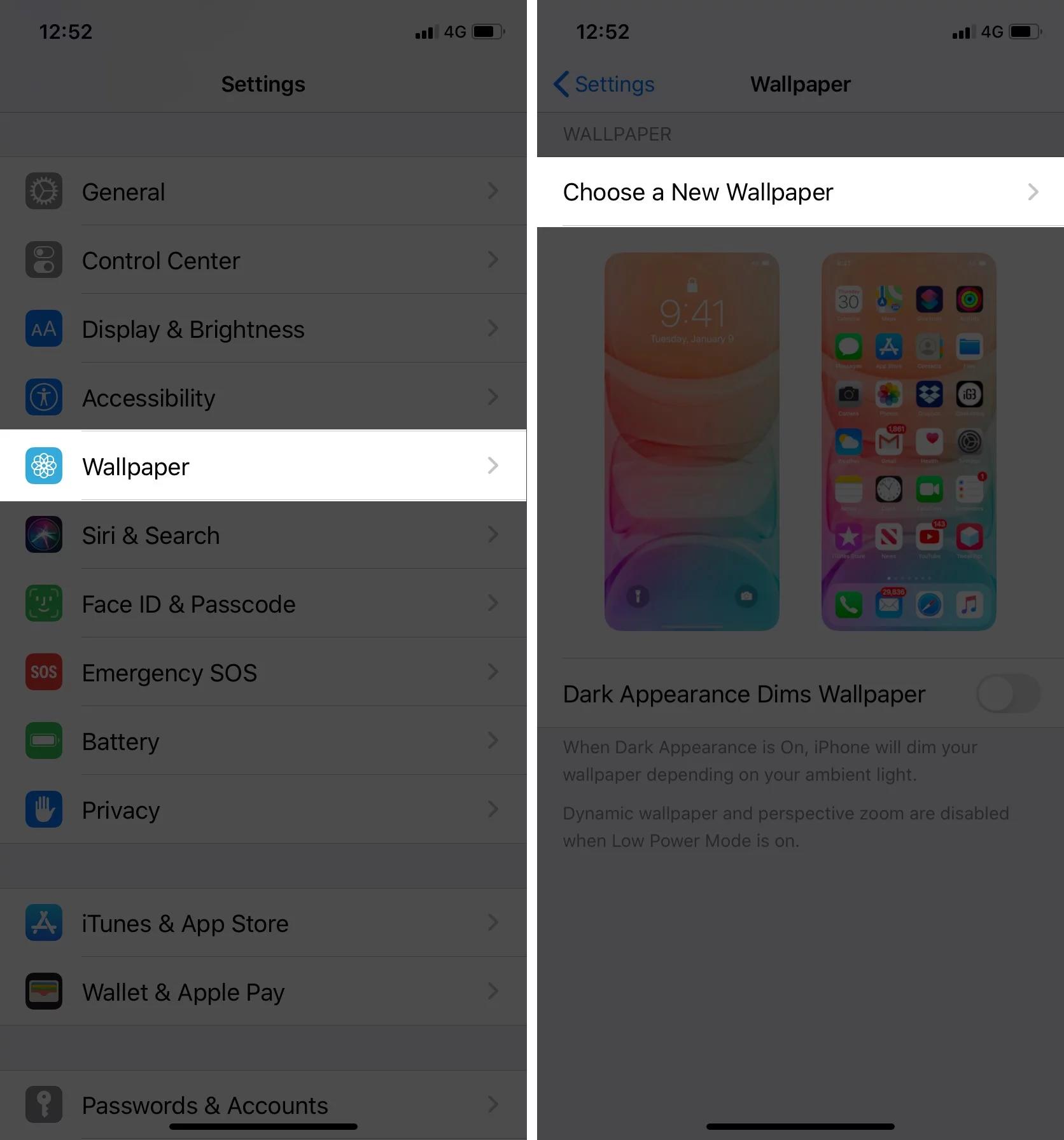 Step 3: Now, click Choose a New Wallpaper. Now, select the live photo you want to use as the wallpaper.
Using these methods, you can set the wallpaper screen that you can zoom in and move the image. The disadvantage of this method is that in iOS live wallpapers only display on the lock screen. Also, it won't work with iPhone XR because 3D Touch devices do not support live wallpapers.
Part 2: How to make a live wallpaper from TikTok on Android
The method to convert TikTok video to live wallpaper on Android devices is different from the method on Apple phones. The detailed steps are as follows.
Step 1: Launch the TikTok app on your Android device.
Step 2: Locate the video you want to use as live wallpaper.
It should be saved on your phone for further steps.
Step 3: Click the three dots on the corner of the video and click the Live Photo option.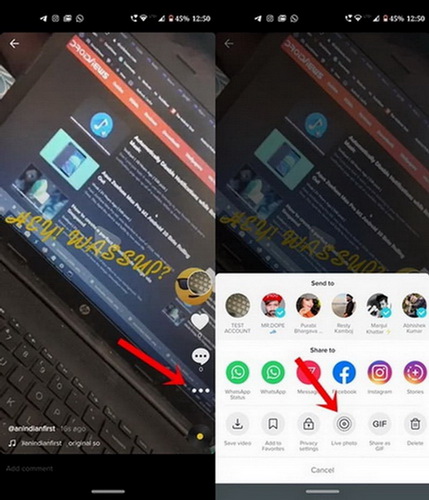 The next step is to set it as wallpaper.
Step 4: To move forward, you need to have the TikTok Wallpaper Picture app installed on your Android phone.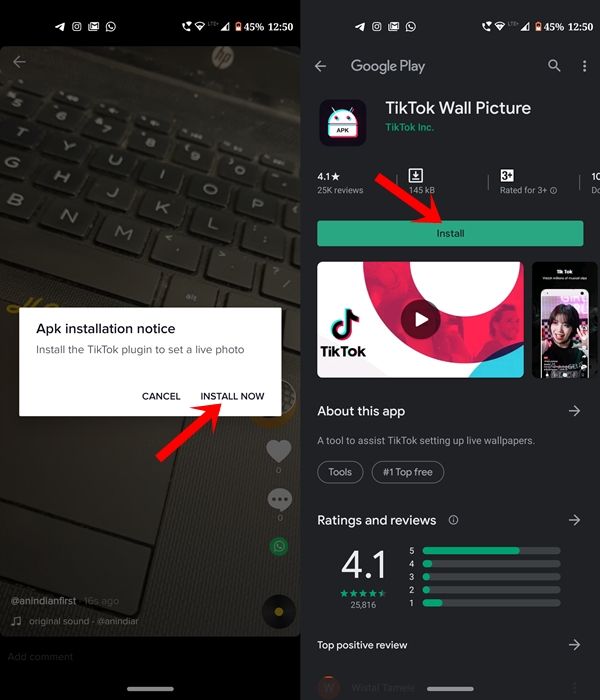 Step 5: Once the app is installed, click on the Live Photo option in step 3, which will move you to the wallpaper app.
Step 6: Select if you want to apply it on the home screen or both the home and lock screen.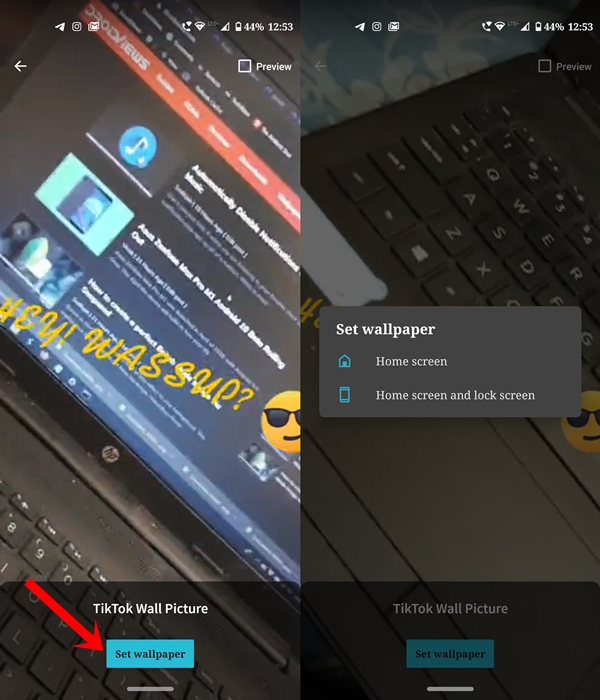 Step 7: Tada! You are done!
Part 3: Convert Your Videos to Most Awesome Live Wallpaper on Desktop
First Step to High-Quality Live Wallpapers (Win&Mac)
If you are wondering how to make a quality live wallpaper from TikTok but do not know video editing skills then iMyFone Filme is your best bet.
iMyFone Filme is a video editing and crafting software launched by iMyFone who already has several professional and robust software to their credit. Though cannot export a live wallpaper directly, Filme can be used to edit videos to make professional-level high-quality live wallpapers without any technical knowledge.
Key Features:

Filme is one of the best free music video editors, providing you audio support to add music or voice to your videos. This is helpful for people who are making videos for the tutorial, influencing, or reviews. When you are finding out how to make a live wallpaper on TikTok, the quality of your video matters.
You can also label and subtitle your videos with cinematic titles and text in a variety of fonts and colors.
Add transitions to your slideshows to give a professional look.
Edit your videos easily with few clicks using the automatic tools included in the software. You can crop, split, rotate, and even use picture-in-picture effects.
Add filters and animations to your content.
One mind-blowing feature of this software is multi-layering. This feature needed a professional-level skill set and specialized software; however, Filme makes it possible to do it simply. You can layer different types of content including videos, audio, text, images, animation, and transitions to your digital story.
Pros:

It is simple to use yet the results are professional level. Definitely user-friendly especially for beginners.

Allows making slideshows with all audio-visual effects, which can help you make a better video or vlog with the themes of wedding, traveling, cute babies, pets and so on.

An extensive library of built-in templates. So that you won't bother to find more satisfying templates. Fast video mode can give you an extraordinary editing experience just like a Pro.

Simple click and Drag & Drop operation. Even a kid would find it easy to operate.
Cons:

Price can be a factor for some people.

Easy to use, might lack some challenges for professionals.
iMyFone Filme is your perfect partner to make videos with purpose and professional results. The transitions, animation, text, and audiovisual effect help you to create studio-level movies with a few clicks.
Wallpaper Engine (Win)
Wallpaper Engine is another software you can use to create TikTok live wallpapers from images, animations, and videos. This software has built-in tools to create and customize basic and animated wallpapers.
Key Features:

Wallpaper Engine offers a wide range of resolutions.
Built-in library of wallpapers.
Allows creating playlists and slideshows that change your wallpaper at a set interval.
Advanced users can use the built-in SceneScript language to customize wallpaper elements.

Advanced users can also use the particle systems editor to create complex and interactive particle systems for wallpapers.
How to Convert TikTok Video to Live Wallpaper Using Wallpaper Engine.
Once you download the TikTok video on your computer, you can use it to make a live wallpaper using the Wallpaper Engine. So, if you are wondering, how to make a live wallpaper from TikTok, here are the steps.
Step 1: Open the Wallpaper Engine and click Create Wallpaper. Choose the option of New Video Wallpaper.
Step 2: Name your project and import the video to the editing pane.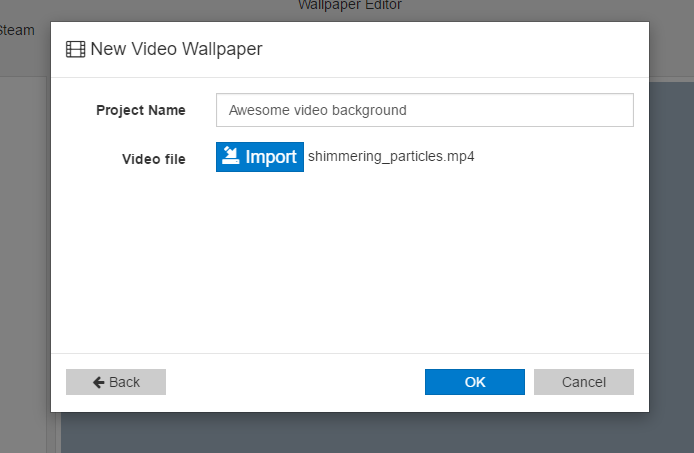 Step 3: Before uploading your wallpaper to Steam Workshop, navigate to Edit -> Change project settings and make the modifications.
Step 4: Click the color chooser button and change the color scheme.
Step 5: Adjust the settings, apply tags and publish.

This is a basic guide about how to make a TikTok video as your wallpaper. You can do much more with Wallpaper Engine but that needs some technical skill.
Part 4: Frequently Asked Questions
1. What are the useful techniques to make a high-quality Live Wallpaper?
A high-quality live wallpaper has its foundation in various elements. The load time, resolution, multi-layering and the use of effects and transitions combine to give a wallpaper a studio-made look.
2. What format is a Live Wallpaper?
TikTok live wallpapers are the files stored as. PVT files. Each. PVT file comprises three files.
 .JPG file, is the still picture.


.MOV file that plays when the user long presses on the phone screen.


PLIST file that instructs the processor when to start the animation.
3. Can I make a Live Wallpaper only with several images?
Yes, you can make a live wallpaper with an image or more. If you're going to make a live wallpaper on Windows, use Wallpaper Engine directly, and you can get a live wallpaper at your fingertips. Also, you can make a slideshow video in Filme first before converting to a live wallpaper in Wallpaper Engine. If you make a live wallpaper on your phone, the first key step is that you need to merge the selected images into one video in TikTok. Then, choose an appropriate tool, such as TikTok (iOS) or TikTok Wallpaper Picture app (Android) to export it as a live wallpaper.