Have you ever been confused over how to how to resize video for Instagram? You'll be glad to know that this article will provide you a complete guide for the simplest method to crop any video that you desire. Be sure to read till the end to gain a full understanding of this method.
Part 1. Why having the Correct Size Video on Instagram is Important?
Why is it so important to resize video for Instagram?
It's necessary that you take extra care of the video size that you finalize to upload on Instagram. Using the correct video size on Instagram is essential to make them more presentable and leave a lasting impact on your viewers.
Apart from this, you also need to upload your video in the highest available resolutions. At times, Instagram compresses your videos leading to a loss in quality. To counter this, upload your video in the highest aspect ratio possible to ensure the best quality.
Now that you know the importance of having the correct video size on Instagram, you might be eager to know how to resize Instagram video. However, before discussing that, let's take a look at the most preferred aspect ratios and video resolutions for different video formats in Instagram.
Instagram Feed:
Instagram feed videos come in three unique aspect ratios that are listed below.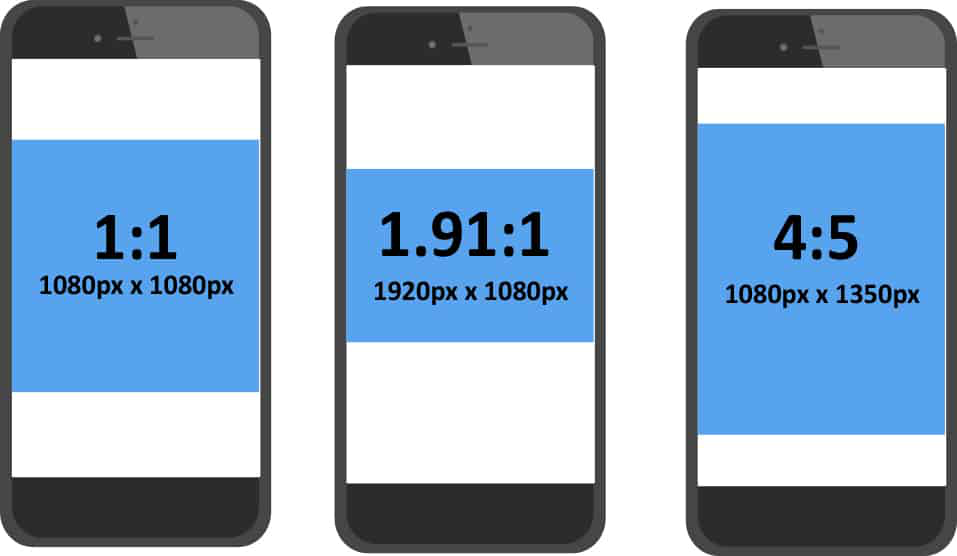 1:1 (Square): This format is most widely used for Instagram feed videos and can be a great option for promotion related videos.

1:91:1 (Landscape):  Landscape is a bit smaller than Square and it may not be the most desired option for promotional videos. The sole reason of this being that Landscape videos aren't very well known to catch people's attention.

4:5 (Portrait): Portrait is slightly longer than Square and is perfect for grabbing people's attention and eventually, their interest.
IGTV:
9:16 (Vertical) Or 16:9 (Horizontal)
Stories:
9:16 Or 1080px x 1920px
Reels:
9:16 Or 1080px x 1920px
Part 2. How to Resize a Video on Instagram?
If you want to know how to resize a video for Instagram, then the first thing that you must know is that Instagram itself offers you the option to resize videos to make them suitable to upload. Furthermore, cropping or resizing videos through Instagram is a rather simple process. Moreover, this method also proves to be the easiest method to re-size an Instagram video. To understand how to resize a video for Instagram story, follow the steps listed below:
First of all, tapping on the camera icon and swip e up to locate and upload the video to Instagram Story.

Simply tap the screen with two fingers and pinch both the fingers to zoom in. Similarly, drag the two fingers wider apart to zoom out.

Tap on "Send to" to save your changes.
However, since this re-sizing option is very limited, be sure to understand and consider the second method to resize Instagram videos listed later in this article.
Part 3. The Best Video Editor to Resize and Scale Videos on Instagram - iMyFone Filme
If you're in search of the best way to resize video for Instagram, then you just can't ignore iMyFone Filme. Filme is a great video editor that's able to perform both basic editing tasks as well as more advanced video editing with ease. If you just start to learn video editing, go for Filme which is a video editor for beginners.
Most importantly, Filme allows you to resize or crop your videos for Instagram in a matter of simple steps. Filme is especially known for its sleek interface which makes it extremely simple to perform basic editing like video resizing and video scaling.
Apart from  resizing a video, it's also necessary to adjust the resolution of the video before uploading it on Instagram. This is because Instagram typically compresses your video which lowers the resolution and results in loss of quality. To avoid this, you must also assign the appropriate resolution to the video along with resizing it. Fortunately, iMyFone Filme allows you to perform both of these tasks with ease. The steps below illustrate how you can utilize Filme to resize video and change the resolution of your video to make it suitable for Instagram:
How to Resize a Video using Filme
First and foremost, you need to download and install iMyFone Filme on your computer. Download the software from the hyperlinked site and after downloading, tap on the downloader file to install the software.

Launch Filme and tap the 'Import' option. Locate and double tap the desired video to import it in Filme. Next, drag and drop this video clip to the Timeline.

Resize and adjust the video resolution by selecting 'Settings' from the top-left menu. This will open up the Project Settings window for where you can alter the aspect ratio as well as the resolution.

Alternatively, you can select 'File' from the top-left menu. Go to 'New Project' and then, select the aspect ratio that you want from the list of various ratios. This will begin a new project in the defined ratio.
In some cases, you might want to alter the video size for a specific scene or a defined portion of the video. You'll be glad to hear the Filme's Scale feature allows you to achieve just this! With the scaling feature, you can scale any video to a much higher resolution resulting in better video quality. The steps below illustrate how you can scale a video with the help of Filme.
How to Scale a Video using Filme
In order to begin scaling, you must drag and drop the desired video clip of Filme's timeline.

Next, select the 'Edit' option from the toolbar given at the top of the timeline.

An edit menu will show up on the right. To re-size the video clip, re-locate the 'Scale' slider shown in the edit menu. Initially, the slider will be set at 100. Drag the slider towards the left to zoom in and towards the right to zoom out in that particular video clip.

Press 'OK' in the edit menu once the scaling is complete.

Now, simply export the video by going to 'Export' from the top menu. Select 'Export Video' and enter the necessary details like file name, destination, format, and more. Finally, press 'Export' to finalize the changes.
Key Features
Apart from being able to resize video for Instagram, Filme is a multi-purpose video editing software with multiple key features. A few of the most prominent and notable features of Filme are listed below:
Filme's 'Fast Video Mode' allows users to instantly create a well-edited video or slideshow by using built-in templates found exclusively on Filme.

Filme also allows you to include special effects like filters and animations to make your video stand out.

Filme provides a number of video transitions to jump from one clip to another.

Advanced video editing tasks like alter speed rotate, and split are also available on Filme.
Watch this video to see how to use Filme to scale video:
Conclusion:
By now, you must've understood how to resize Instagram video in a matter of seconds! The simplest method for this is by zooming in and out of the video through Instagram, however, since this alternative is quite limited and may not be suitable for everyone, so I suggest you giv iMyFone Filme a try to complete this job for you.