Do you have more than one video on the same niche or the same occasion or project? And if you want to keep all of them in the united form, video merger by developers turns this dreamy imagination into reality.
A free video merger is an online tool that works as a converter of multiple videos into a single video. This tool enables you to merge two or more videos along with editing options to adjust the parameters like the length of the video according to your requirements.
Advantages of Combining Videos
Combining videos is becoming a trend because of the following benefits. You can:
Create unique projects

Beautify your videos or your recordings

Manage many videos in a single video

Provide the video attractive aesthetic look

Give different Looks to videos.
Different styles offered by video merger like up and down, side by side, sequence, etc.
The merged videos can be used for a business, like promoting a product, displaying cars or anything for sale, showing off a recipe, etc. The created videos can also be used for personal use, e.g., creating a video of your family or friends' trip.
Part 1: 3 Steps to Join Videos Online Like an Expert
As I have discussed above the best five tools for merging videos, let's know about steps for joining videos on one of them to take the idea of using such tools.
Follow the following three simple steps to perform the task on the Aconvert tool:
1.

Upload Video Clips
Open the tool and go on the video merging option.
2.

Merge and Add Transitions
Tap on the "choose file" option and make the selection. Repeat the process to select various videos for merging.

3.

Export Your Joined Video
Click "submit" for merging. You can understand the method for merging videos by the example as a, b, c are the names of the three videos you have selected. The merged video will be "a+b+c." And then download the merged video.
Part 2: 5 Free Online Video Mergers You Don't Want to Miss
Let's discuss the best five free online mergers, famous among editors, their features, pros, and cons. The hyperlinks attached to each tool will lead you directly to the tool's merging videos page.
The letter "A" in the tool name Aconvert stands for all. It means it can convert various types, almost all types of files. You can merge, rotate and cut in short edit videos free of cost online using this tool.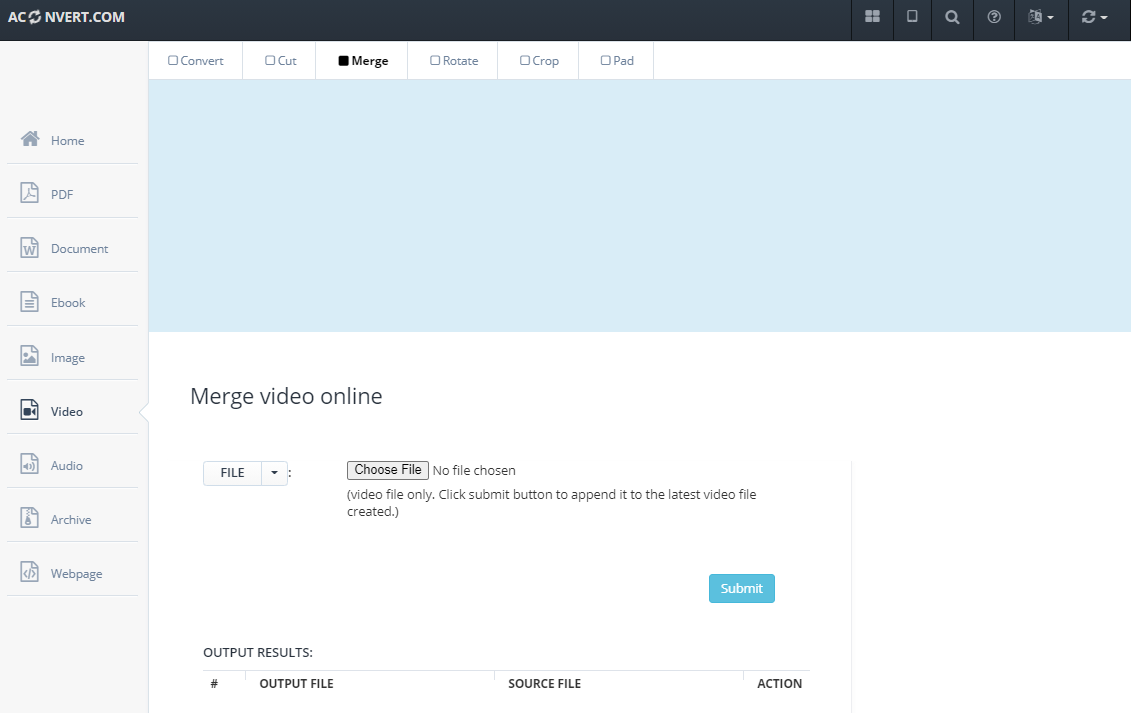 Pros:

Aconvert.com allows you to merge MP4, AVI, FLV, etc., videos.

It supports and converts into all the frequently used video formats like MP4, MPG, WMV, AVI, FLV, M2TS, MOV, MKV, M4V, RM, OGV, GIF, MKV, and VOB.
Cons:

You can't upload a video clip of more than 1GB for merging on this platform.

You can't rearrange the videos after submitting them. Thus you have to submit the videos in the specific order you want them to be merged.
Clideo as a video editing and merging tool supports all the video formats. Online editing is both free of cost and subscription-based.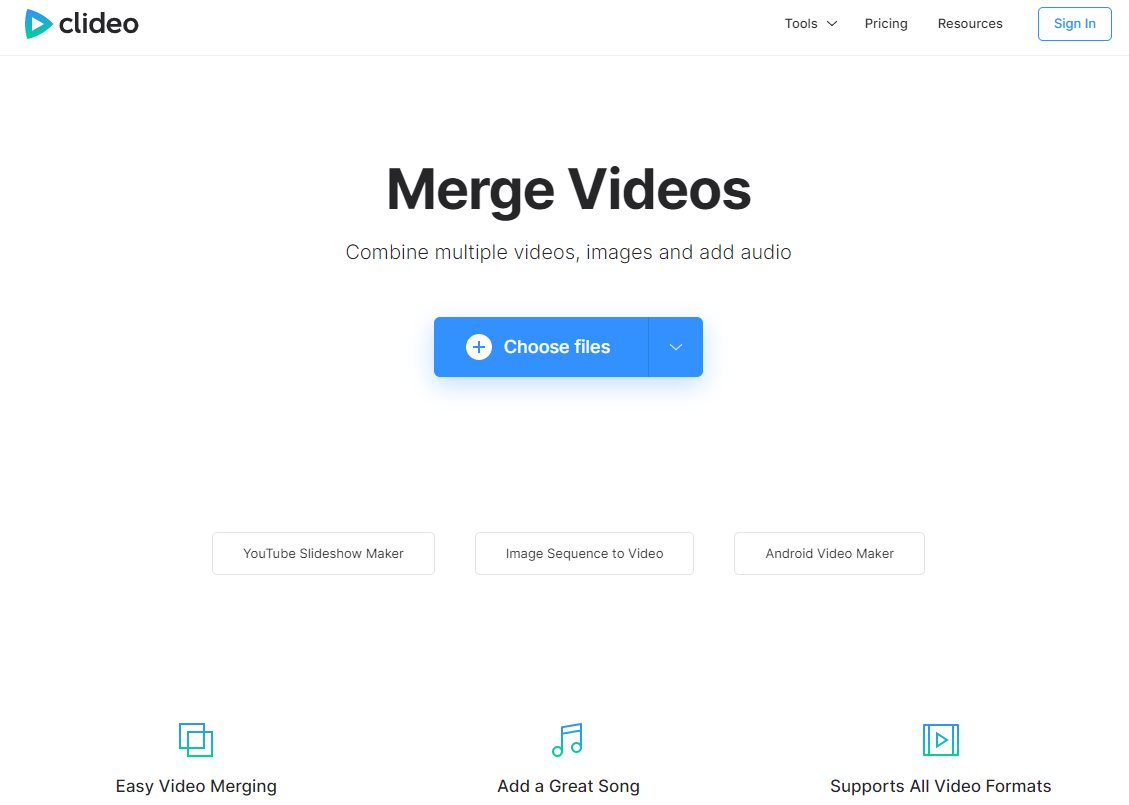 Pros:

You can add borders to the video obtained after merging several video clips.

There is no limitation on the number of videos you are going to merge.
Cons:

Its time-consuming process makes it worse.

You find a restriction of 500MB per project here.
Kapwing allows people to make exclusive videos for sharing their stories on the internet. Because of many editing options during the merging of videos, it's one of the top choices. It makes you perform from basic editing actions like merging, cropping, rotating, setting aspect ratio, etc., to advanced level editing activities.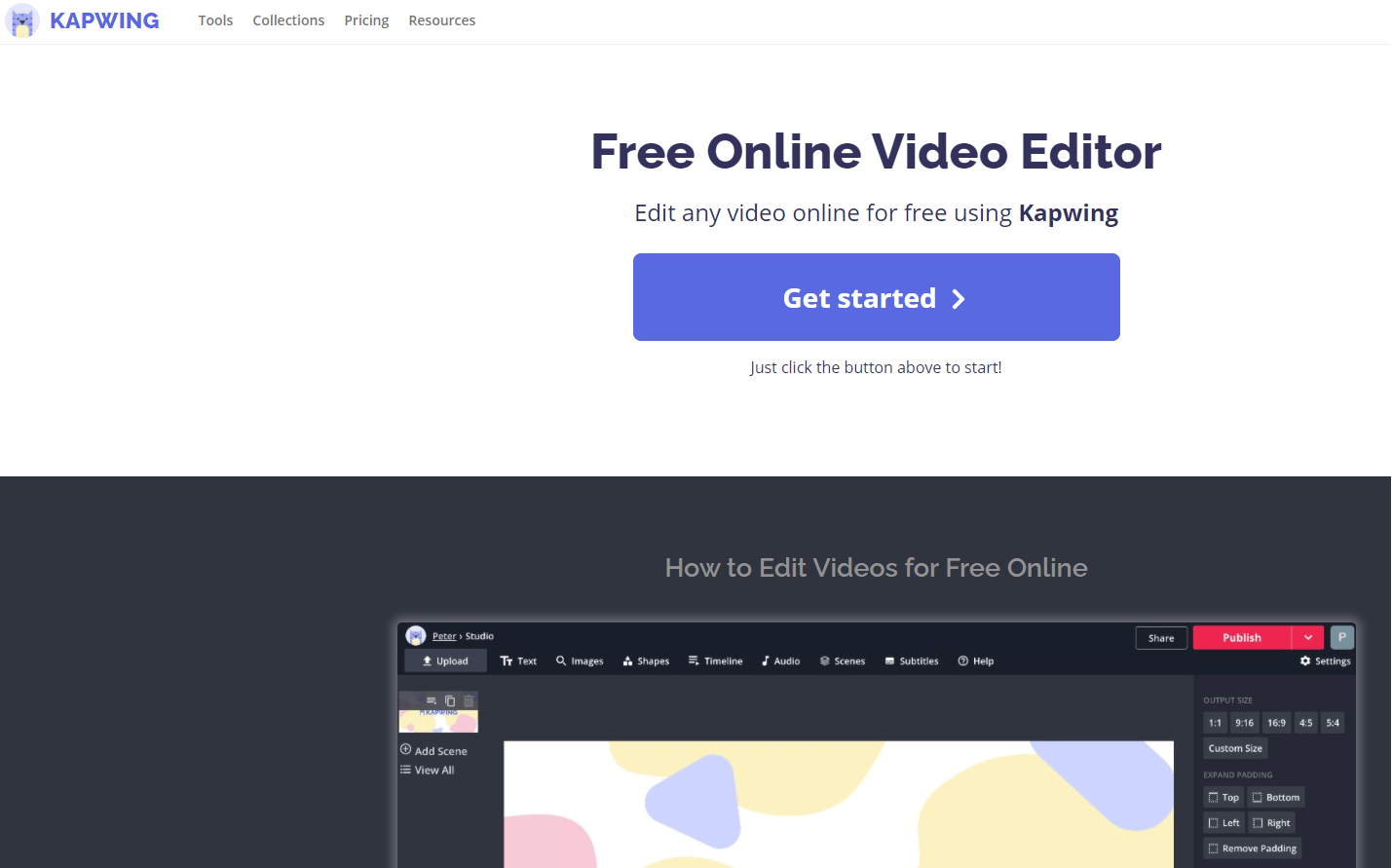 Pros:

There is no need to have an account on the tool for using basic video editing options.

You can choose videos from both your device and online source.

It enables you to arrange videos even after selecting or uploading.
Cons:

In its free version, you have to bear Kapwing's watermark on the videos.

It gives no indication either it is processing or not in the background and sometimes hangs.
Spark Video is an easy and less expensive tool offered by Adobe that enables its users to unite videos, images, texts easily to create a unique story.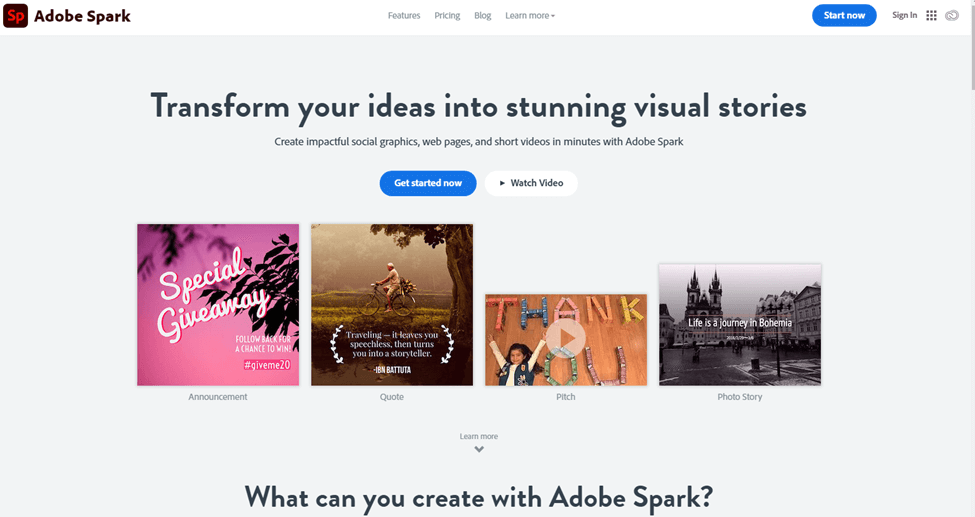 Pros:

It's free and very easy to use.

3 in 1 quality of Adobe spark video, i.e., is for pictures, videos, and templates, make it preferable.
Cons:

You only have to share stories with Facebook and Twitter.

Few options as compared to modern other tools go in its cons.
FlexClip is a top-rated tool that offers you to join various video clips and pictures together. You can create a catchy project because of a wide selection range of stock footage offered by this tool.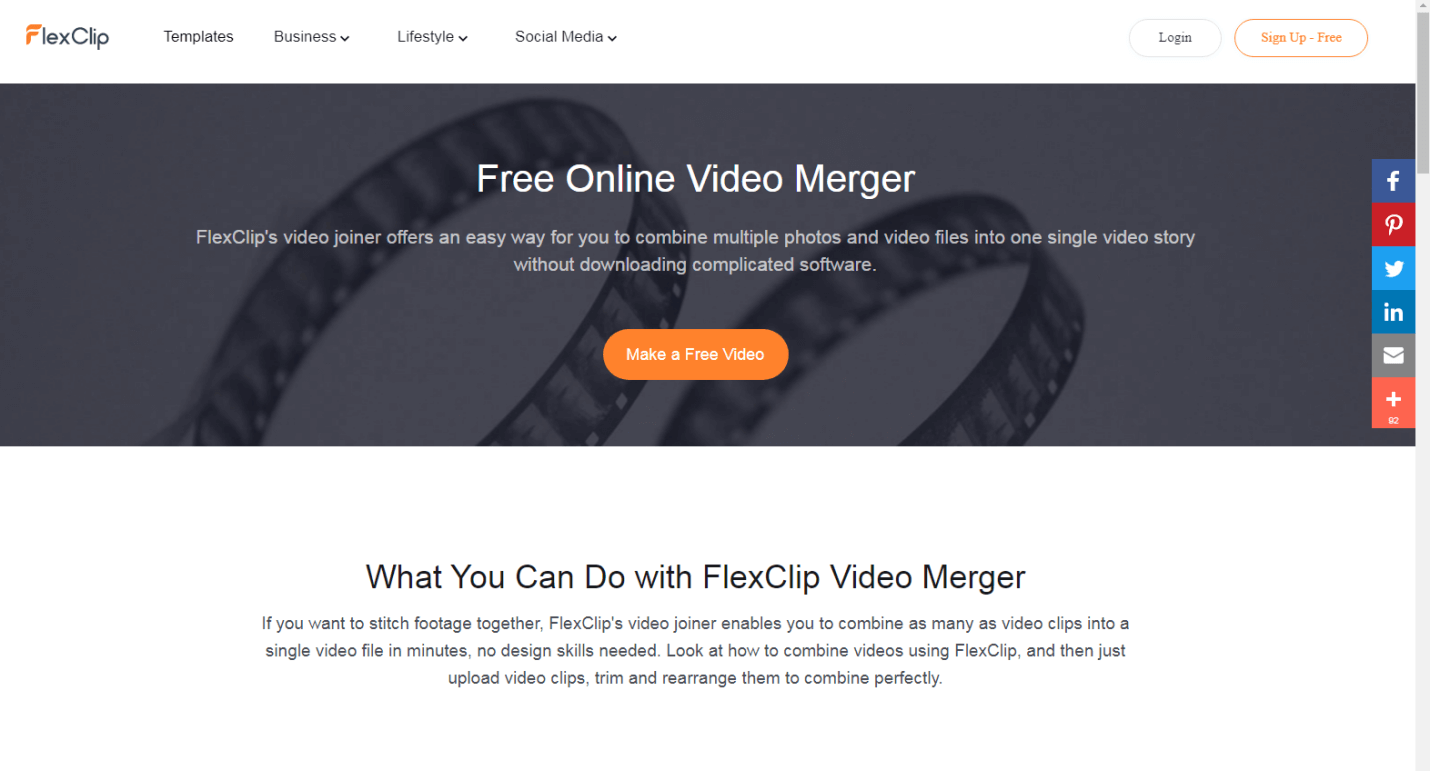 Pros:

You can export video in high output quality like 480p, 720p, 1080p.

Rearranging the videos after uploading is easy by simply dragging them in the storyboard after uploading.
Cons:

You have to create an account on FlexClip to enjoy the tool's features by signing up or signing in through your Google or Facebook account.

This tool has a limit that you can't upload videos of more than one minute.
Limitations of Combining Videos Online
Following defects and restrictions will make you think about something else and better than these above-discussed tools.
When we talk about merging Youtube videos online easily, you have to bear:
1GB restriction in uploading videos

limitation of selecting only one video at a time

the inability of arranging video clips after uploading

no advancedediting options
Part 3: Best Alternative to Combining Video Online- iMyFone Filme (Window&Mac)
To combine videos on desktop, an advanced tool, which is an alternative for all kinds of the best video merging tools, is iMyFone Filme.
iMyFone Filme is an advanced-level tool that has fascinating editing options that can work as a way for you to lead you to become a pro in editing. It is for both personal and business videos.
Its use is easy because it teaches editing from starting from basics. When the user reaches the higher advanced level tools, it becomes easy for him to apply them.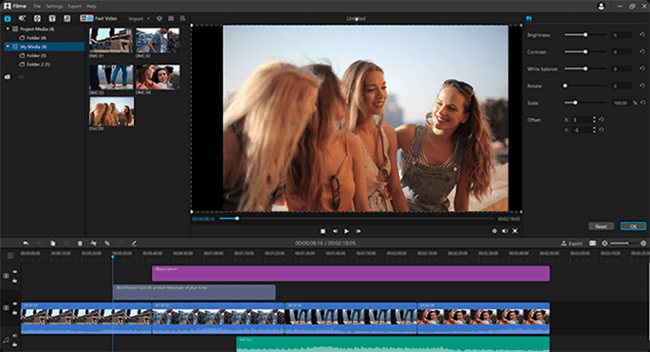 Key Features:

Merge, cut, rotate, trim, and apply various other editing options to the video efficiently.

20+ Fast video templates. Rock your Youtube, tiktok, instagram videos and Vlogs by applying different themes from weddings, birthdays to traveling. Cannot be more suitable for beginners.
110+ cool transitions especially made for combining videos naturally
170+ effects to stun your social media followers.
50+ audio and editable soundtrack to combine your music, images and videos.
How to combine video on desktop using iMyFone Filme?
The combination of videos on desktop using iMyFone Filme is really an easy task admitted by a large number of users. The following steps will help you in this regard:
Step 1
Download  Filme on your desktop and launch it. Tap on the file and then on the new project. Select the aspect ratio.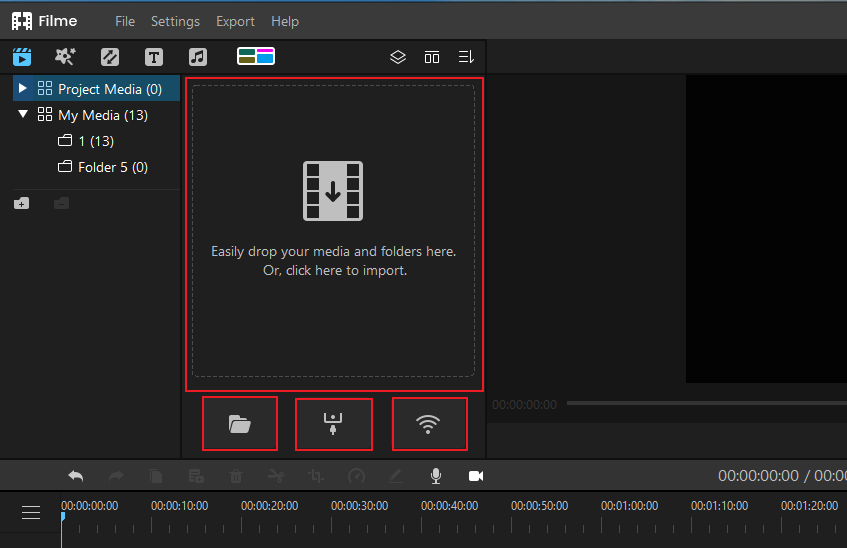 Step 2
Click on the Import option. Here you will see the four options to import files. You can import a folder also. Filme also allows you to import from both computer and android mobile phone. The importing from the android mobile phone is either using a USB data cable or wireless through a QR code. Import the video files which you want to merge.
Step 3
Now simply drag the videos to the timeline which are in my media. You have options to match the videos' resolutions and keep the original resolutions of the videos.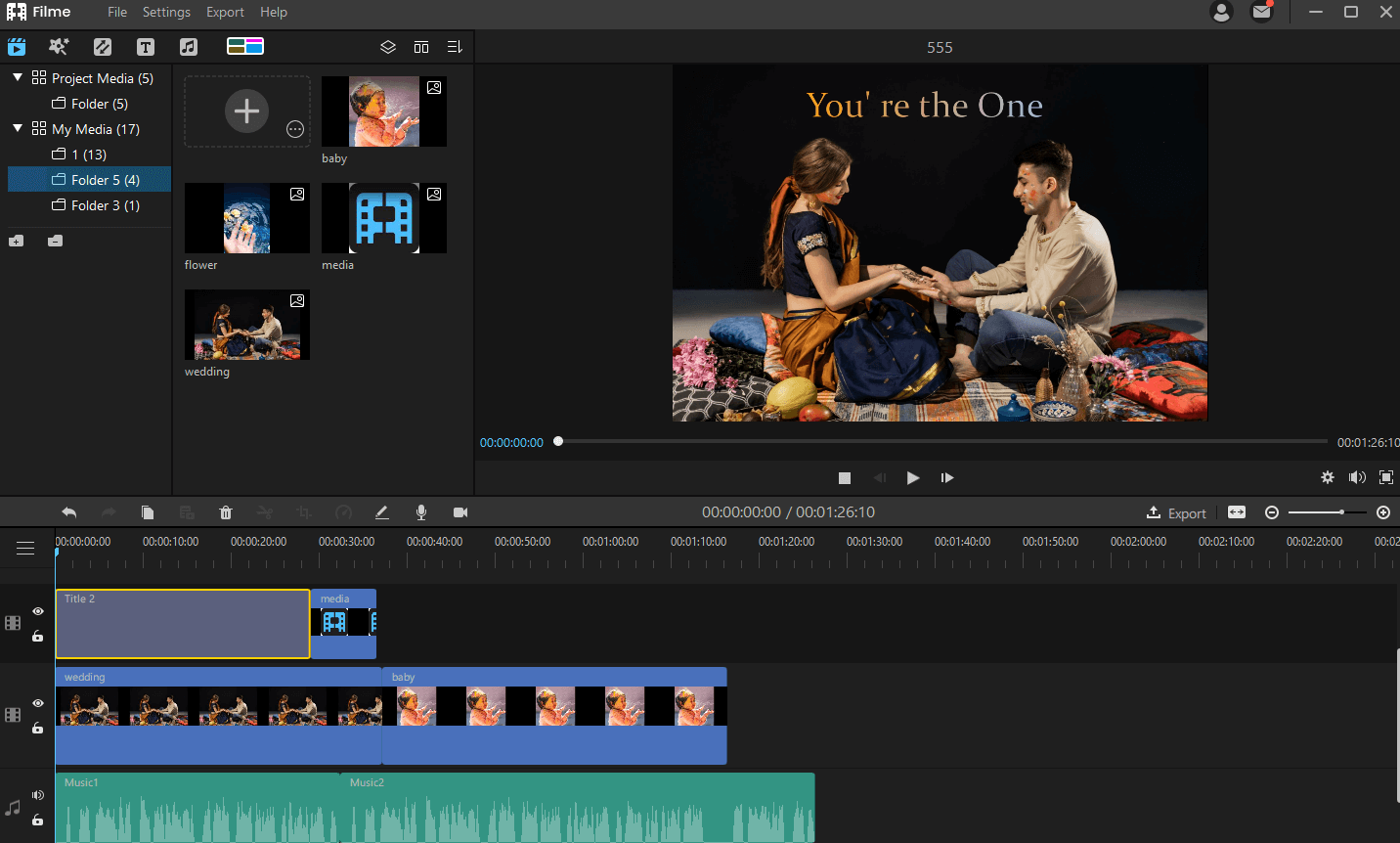 Step 4
Export the video, which is the output combined video. Go to the export video option. Select the appropriate format and do other export settings. Then click on the Export option.
Watch this video to learn how to use Filme to merge video:
Part 4: Pro Tips for Cutting and Uniting Videos Online
The tips given below will help you trim or join videos perfectly, just like a pro.
1. Select videos of matching actions
Matching actions in the videos you are going to merge will make the merged video smoother. You should do so because the viewers have focused on a specific action while watching a video.
2. Avoid jump cuts in the video.
The jump cuts change the position of the subject jarringly, which becomes a noticeable thing. Some people make fun of this fact and laugh loudly at such below ordinary type editing. Thus you should escape from jump-cuts from the video as far as possible.
If you have to make a jump cut in a video, you can hide that cut by applying filters or transitions on that part.
3. Avoid sudden cut-off of audio.
The sudden cut-off of audio in the video directly affects the smoothness of the merged video. Thus focus with full attention on video merging to avoid the audio's sudden cut-off.
4. Keep all the media merging files in a single folder.
Keeping all the media in a single folder will help you during uploading on the tool because you don't have to go to different folders for uploading media. Moreover, naming the files will also enhance your speed.
5. Add transitions
Transitions are used to cover and hide various facts, especially a jump cut. And they give the video a different eye-catching look. But you should avoid the addition of too many transitions.
6. Use editing options
Add filters, texts, music, etc., to the merged video. And also use various other editing options which a tool offers. This will lead you to become a pro-level editor.
Part 5: Frequently Asked Questions about Combining Videos Online
How can I combine music and video online?
Follow the following easy three steps for this purpose with the best online movie makers:
① Upload the video on the tool.
② Add the music or audio you want on your video.
③ Look for and click on create or done option. Now you can download and share the final video.
What video format should I export to?
Different platforms offer different formats for exporting video. You have to check for the appropriate format on a specific platform. If you are still confused in selecting the format, old MP4 is not a bad option.
How can I combine photos and videos online?
Upload all the media, i.e., photos and videos you want to unite on the tool. You can also edit the video by adding music or sound and effects etc., to it. After the processing is done, export the video.
Can I trim and combine videos online?
Yes, you can easily trim and combine videos online on various tools either free of cost or by taking a paid subscription.
How to combine videos for YouTube?
Download the videos you want to merge from YouTube and then upload on different tools for combining. You can directly upload videos from YouTube on some tools like iMyFone Filme. After completion of the merging process, you can export and save the file.

iMyFone Filme
110+ Cool Transitions: Combine Your Videos Naturally in One Click 
Download Now