Screen recording apps have been around for a long time and they have helped a lot of people to record their computer screen. As technology is advancing day-by-day, screen recorders are also offering advanced features and they have more to offer than just simple screen recording. Adobe screen recorder tools are not behind on this. They have some of the finest screen recording and video editing tools available on the market right now. So if you are confused about the Adobe screen recording apps, do not worry, we will talk about the Adobe screen recorders full review in this article.
Don't Miss: We will also show you a better alternative to Adobe Screen Recorders -
iMyFone Filme
. It is easy to use and comes with many other video editing features.
Adobe Screen Recorders Full Review
If you are asking, "Does Adobe have a screen recorder?" then here are the Adobe screen capture recording software with their detailed review for you –
Adobe Premiere Rush is a powerful and new video editing software that makes everything fast and easy for you. It can help you capture, edit, and share you videos online. It's available for Windows, Mac, iOS and Android operated devices. It's really simple to use, and it will fully transform the way you keep creating. It doesn't matter if you are editing videos for YouTube, Twitch, or any other online video sharing platform, Premiere Rush makes is easy to go from shoot to ShowTime.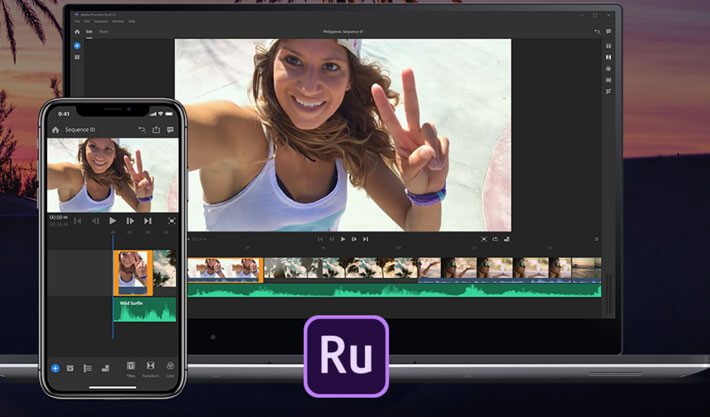 Key Features:
It's really easy to use and it offers some of the best motion graphics and audio capabilities from the Creative Cloud suite.

It offers edit on the go, so that all your edits from your computer is saved into the cloud for accessing again from your phone.

Various motion graphics templates available for users.

The magnetic timeline feature helps you to edit freely.
Pros:

It comes with a simple interface.

Supports cross-platform.

It has great export options.
Cons:

It offers limited editing control.

The fee is subscription-based.
Pricing Plan: Monthly plan is 9.99$/month, Annual plan is 119.88/year.
Can you screen record with Adobe? Yes, Adobe Premiere Pro is one of the best video editing and screen recording software used by both professional and amateur users. If you have basic knowledge of creating videos and you want to produce videos like a professional, then it can be a great choice for you. It's clearly so popular because it has an elegant video editing interface, a very advanced system of tools and a big set of powerful features. It supports Windows and Mac operating systems.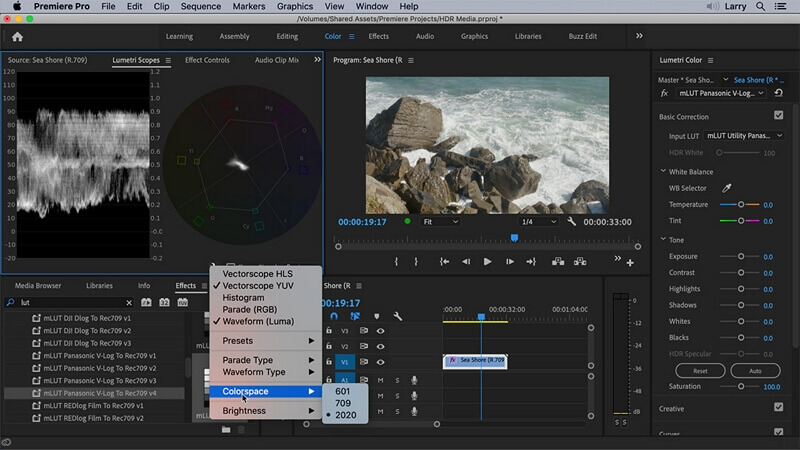 Key Features:
It has a very adaptive designed interface that helps to increase your performance and efficiency.

Integrated workflow feature allows users to edit their team member's project easily.

Premiere Pro supports complex VR editing features.

Allows users to open multiple projects at a time and continue simultaneous video editing.
Pros:

It can help you in high-quality video and audio editing.

Various formats such as Flash Video, HD and HDV are supported.

Real time video editing available.
Cons:

It has a very resource-intensive system requirement.

You can only use this software for free only for 30 days.
Pricing Plan:
Annual plan: Paid monthly – US$20.99/month.
Annual plan: Prepaid – US$239.88/year.
Monthly plan: US$31.49/month.
3.Adobe Captivate Screen Recorder
Does Adobe have a screen recorder? Yes, Adobe Captivate Screen Recorder can help you create videos for software guidelines, scenario-based training, simulations and quizzes. It's a powerful and fascinating tool for personal, business and corporate users. It's a great screen recording software that allows users to record every move on the computer screen. It's available for Windows, Mac, Android and iOS devices.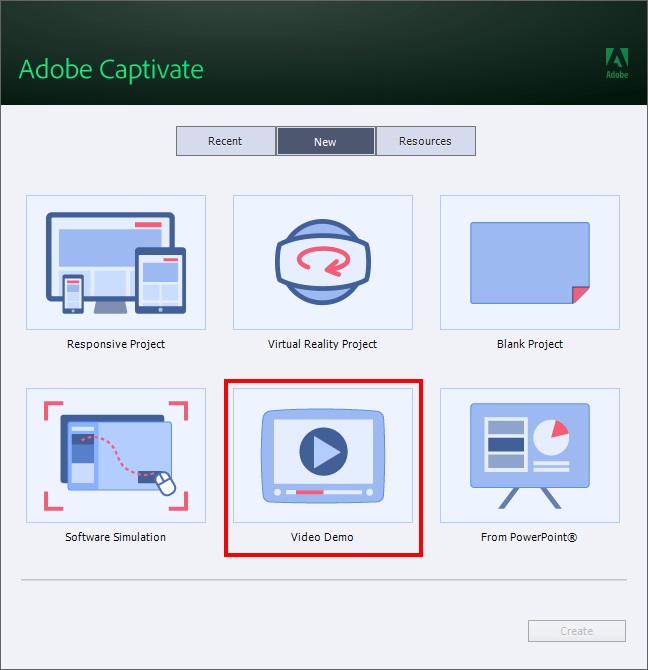 Key Features:
It has a responsive design and it can optimize content on any screen size.

Offers easy screen recording system that can be handled by anyone.

Allows users to add smart shapes, texts, transitions, picture-in-picture formats in the screen recording.

Smart screen recording system allows it to record system audio, all mouse activity and keyboard activity.
Pros:

This screen recorder has huge range of functionality and versatility.

Users can enjoy layer-based interface, efficient asset selection, Hotkeys etc.

Creative built-in animation and characters available.
Cons:

The outdated Interface is a drawback.

It uses a separate license than Adobe Creative Cloud.
Pricing Plan:
Annual plan: Paid monthly – US$33.99 /month.
Full license – US$1,299.00 for one time.
License upgrade - US$499.00 each time.
How to Make Your Choice Among Them
Based on the above information, here is why to choose a certain tool, and what fit's you the best –
1. Adobe Premiere Rush:
It's a powerful screen recording tool from Adobe.

Various features with intuitive interface.

You can edit your videos using both your computer and your phone.

The limited editing control lags behind compared to Adobe Premiere Pro.
2. Adobe Premiere Pro:
A full length professional video editing software supported and used by many professionals.

Creative and powerful features that allows users to unleash their creativity.

Record your screen and edit your videos like a professional.

You need to become an expert if you want to use this tool for best results.
3. Adobe Captivate Screen Recorder:
Dedicated screen recording tool from Adobe.

Easily records screen but require using other video editing software from Adobe.

Short cut keys available to easily start and stop recording your screen.

It's not a full length video editor so it has limited video editing capability.
Also Read:
Nvidia Screen Recorder: Full Review and How to Use it >>
An Affordable But Still Powerful Screen Recorder - iMyFone Filme [Editor's Choice]
In this part, we are going to introduce you with a powerful video editing and screen recording software named iMyFone Filme. It's the best alternative to Adobe's screen recorders because it can beat those screen recording tools in every way when compared against the ease of use and video editing features. It has the most easy to use user interface and many advanced features that can replace all the Adobe screen recording tools. Moreover, when it comes to screen recording and editing the videos with your own creativity, Filme can be a one stop solution without any doubt. Users can record their full screen or partial screen, record system or external audio, and then edit their recorded videos to make them look professional without any hassle.
Features:
The powerful screen recording feature allows users to record their computer screen anytime easily.

It allows users to instantly preview the video while editing it into the editing timeline.

You can play 8 or more audio tracks simultaneously without any complication.

Easily use the picture-in-picture effect to create advance level videos after recording your screen.

Add various music, audio, texts, transition and effects on your videos.
Steps For Using The Screen Recording Function of Filme:
Step 1: Setup Program and Record Screen
Download, install, and launch the software in your computer. Then to record your screen, click on the "Record Screen" button and start recording. You can choose to record the full or partial screen as needed.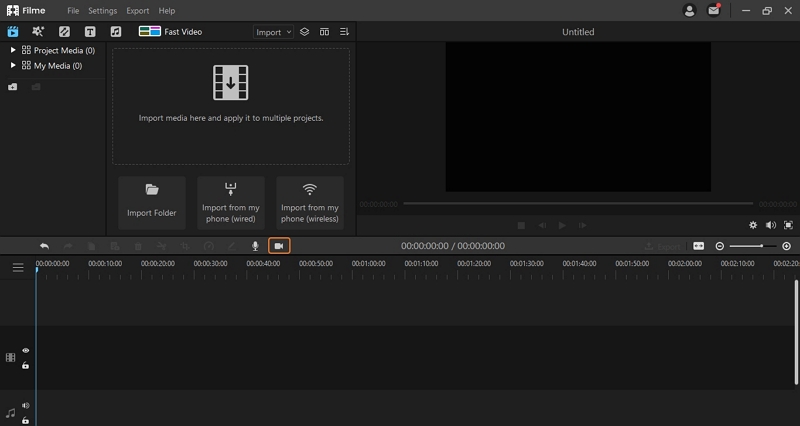 Step 2: Add Royalty Free Music or Record Audio
Next, click on the "Audio" tab from the menu toolbar to add royalty free music to your video, or click on the "Record Audio" button to directly record audio from the microphone.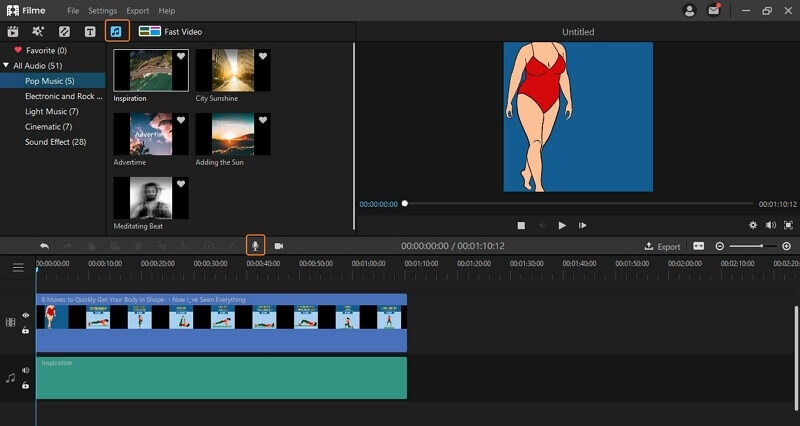 Step 3: Export or Share to YouTube
Finally, click on the "Export" button from the menu bar to export the video. Then select "Export Video" and a new pop up window will appear. Now choose the output file format, output folder and then click on the "Export" button to export the video into your specified folder.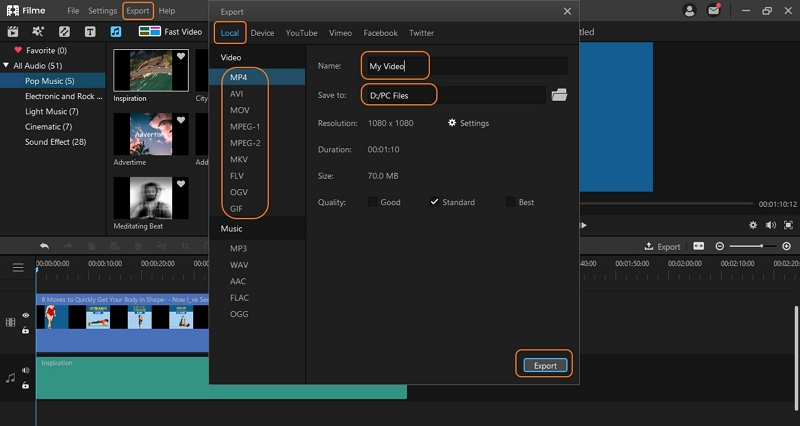 You can also click on the "YouTube" option from the pop up window and type in video title, description, tags etc. necessary details. The program will also allow you to choose video resolution settings, category etc. from here. Then finally click on the "Export" button to directly upload the video into your YouTube channel.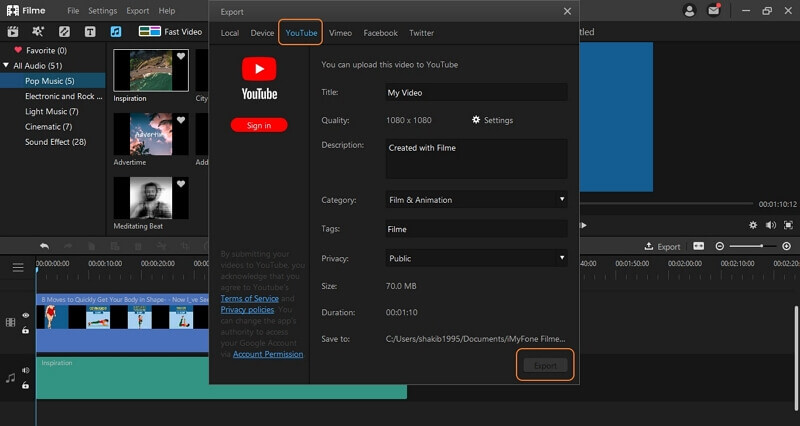 Conclusion:
To reach into a final verdict, you must make sure that you have properly gone through all the details we provided about all the Adobe screen recorders for Windows/Mac/Android/iOS devices. All of the Adobe screen recording apps can be a great choice for you if you want to record the screen of your computer and create video contents easily. But if you want to know our opinion and suggestion as experts, we have tested all the above mentioned tools and we think iMyFone Filme can be a great alternative against all the Adobe screen recorders. Surprisingly this tool literally has it all for both newbie and expert users who want to make excellent video content.