When the generic Windows background can often feel alien and dull, you need to learn how to set up your slideshow background. With these, you can customize your experience and display whatever your heart pleases. When it comes to the art of video making, not many apps out there offer all the right tools. However, iMyFone Filme is a gem designed for professional video making with a highly user-friendly interface that even beginners can figure out.
Part 1: Steps to Set Up the Windows 10 Slideshow Background
If you have successfully created your slideshow. Here is how you can set it up as your background on windows 10.
1. Using Search Function of Windows 10
Start the process by heading over the windows ten search function and type is "Desktop Background." When you do this, a new window will open up. Select the option that pops right on the top, saying "Choose your desktop background."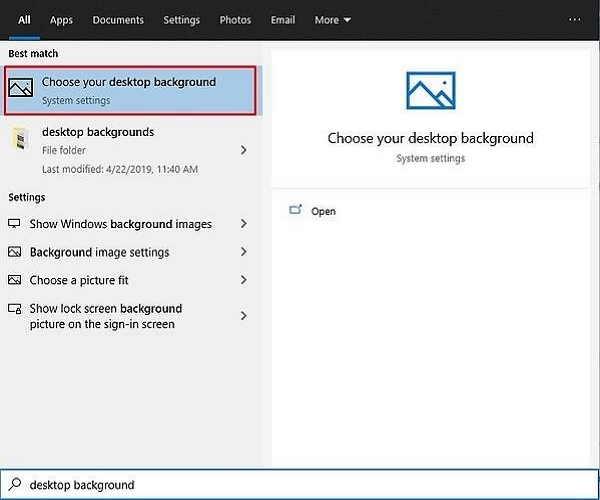 2. Set the Background Settings to Slideshows
The next step is where you set the background settings to slideshows for beginning the process. Press on "Background," and here, you will see the top panel. Press the drop-down option and select "Slideshow."
3. Select the Location of the File Slideshow
Next, you will be pressing on the browse button that will open up a small pop-up window. Here you will have to identify the folder where your slideshow has been saved. Select the location where you have saved your slideshow and select the slideshow.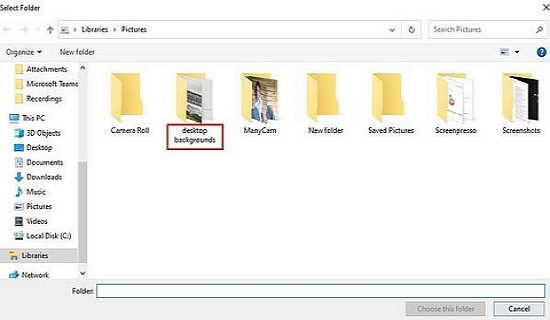 4. Setting the Interval Time
Now, you will move onto setting the interval time. This interval time will determine the frequency with which your wallpaper will change. There are tons of options for this frequency. However, 30 minutes is the preferable one. If you don't like to be distracted with switching wallpapers, long time interval will be better for you and vice versa.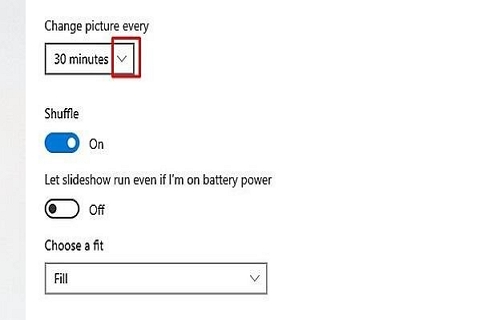 5. Add the Finishing Touches
The last step is where you add the finishing touches. You can customize the final look to your preference. Users can alter the battery life, the beauty settings, and the variety as well.
Part 2: How to Create the Photo Slideshow Easily – iMyFone Filme (Windows & Mac)
Method 1: Create with the Slideshow Template -iMyFone Filme
Another way of creating a slideshow easily is with the help of iMyFone Filme. With the tons of templates available on iMyFone Filme, you can now create professional-style slideshows in no time. Read on to check the steps.
1. Select the Fast Video
To start making a slideshow with Filme, head to the main page. Here, you will find a button that says "Fast Video." Press on this option that's present in the top right corner of the screen. Once you do this, a new screen will pop up.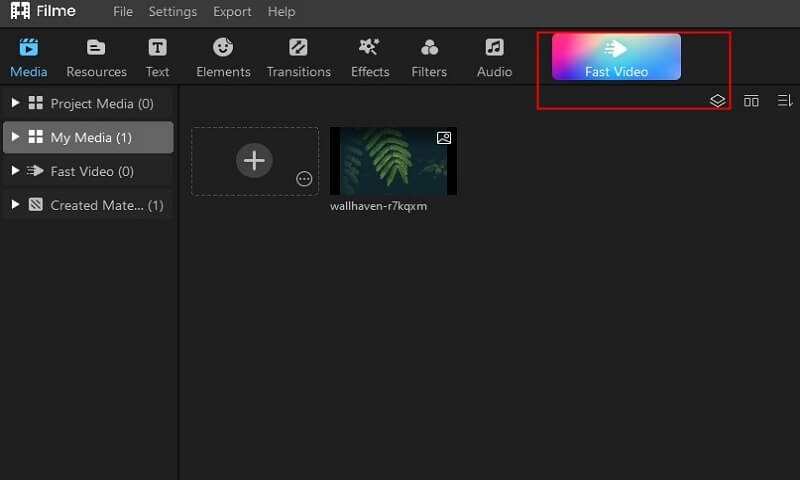 2. Choose Template
Next, once the new screen opens up, you will be required to select a template for your slideshow. The benefit of using Filme is that you get tons of slideshow templates. All you have to do is press on "All Templates," and a bunch of them will be displayed. You can also select from the categories given below.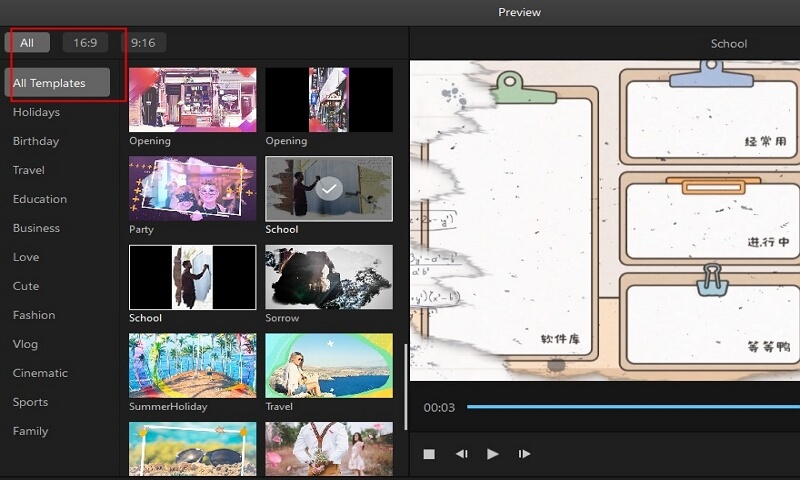 3. Add your Media
Now that your template is ready to go, you need to add your pictures for a customized look. To do so, press on the "Add your media" option in the bottom right corner of the page. As soon as you do this, a new page will pop up to add your media. You can also change the sound and text.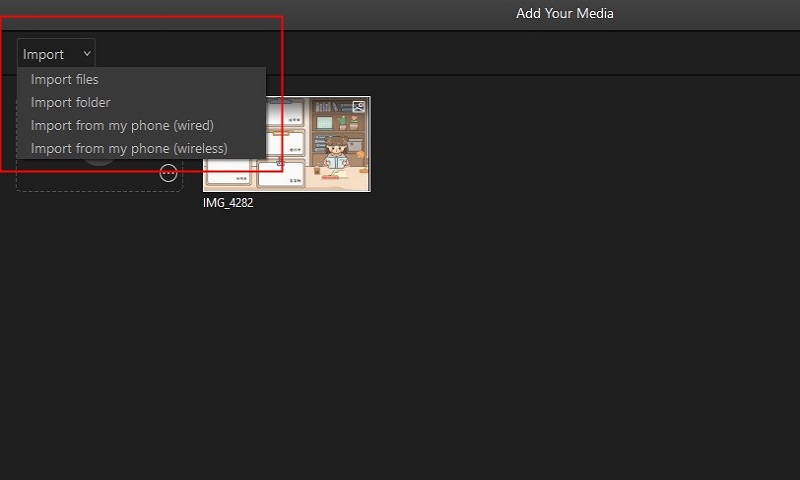 4. Preview and Export
Once your media has been selected, all you need to do is press the "Preview" button at the bottom right corner of the tab, and the media will be opened up. And there you have it! Your slideshow will be completed and ready for you to export. Press on the "Export" option, and then you can find your desired location where you wish to save the file on your computer.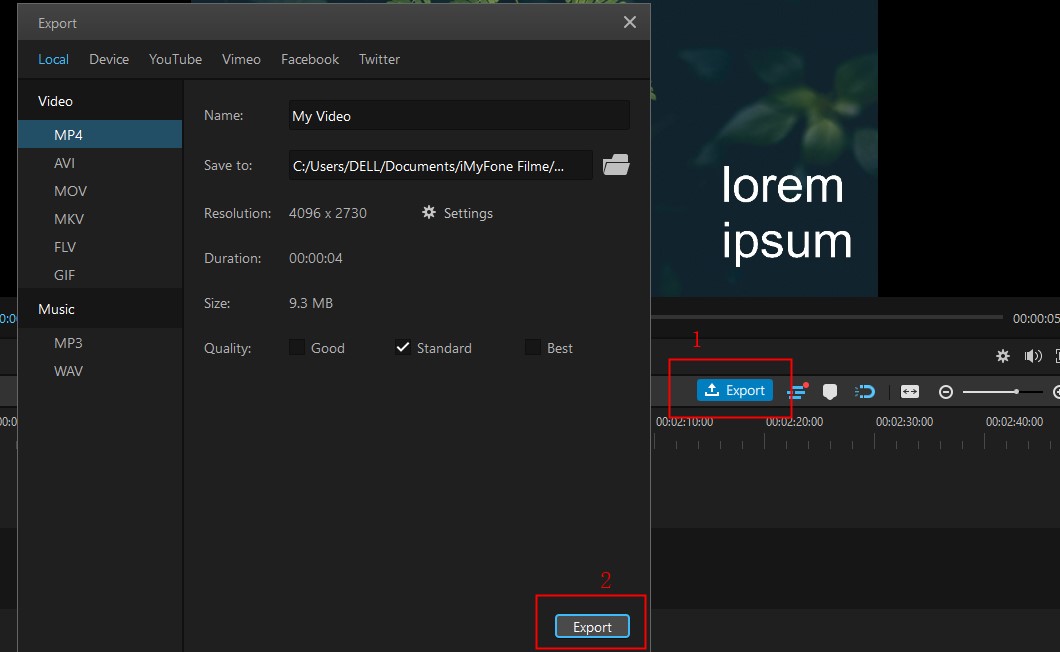 Features of Filme
With only one click, you can convert your PowerPoint files to video.

It also supports batch conversion, allowing you to convert many files at once.

The PPT and PPTX formats may both be converted to videos.

The video that is exported is of excellent quality.

Filme can also convert your presentations to MP4 or WebM formats, complete with audio and video thumbnails, and share them on YouTube, Facebook, Twitter, or Vimeo.
Method 2: Create with Slideshow Maker
The easiest way to make a photo slideshow is by simply going for the slideshow maker. Here's how you can do it.
1. Create a New Project
To start the process of creating your unique slideshow, what you need to do is open the Slideshow Maker. Once the application is open before you, the next step is to create a new project. If you use the app for the first time, the page displayed below will open up for you, ready for slideshow creation.
2. Import Images
The next step is where you bring in the photos that you wish to add I your slideshow. Once again, this is a pretty simple step, and you can import images from various places. Press on Photos, and the side menu will open up, showing you options for image importing.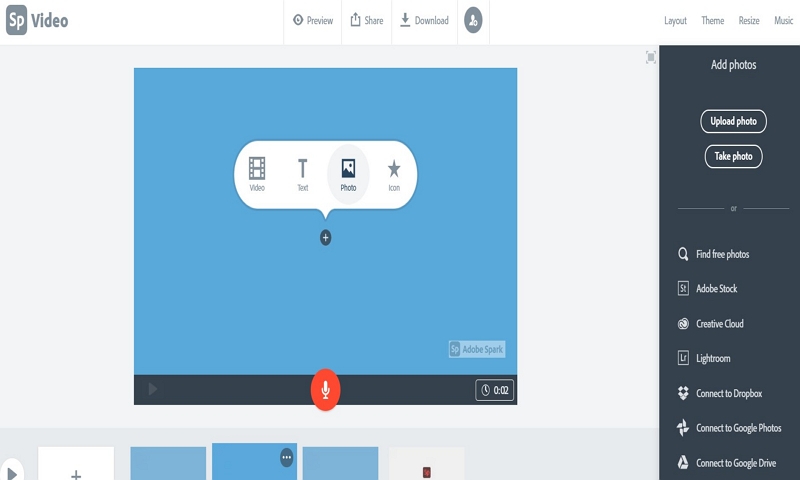 3. Ways to Start the Import Process
Open your desired location on your computer where the images are saved, and you can start the import process. You can either import them individually or press CTRL + Shift keys on your keyboard to select multiple at one time.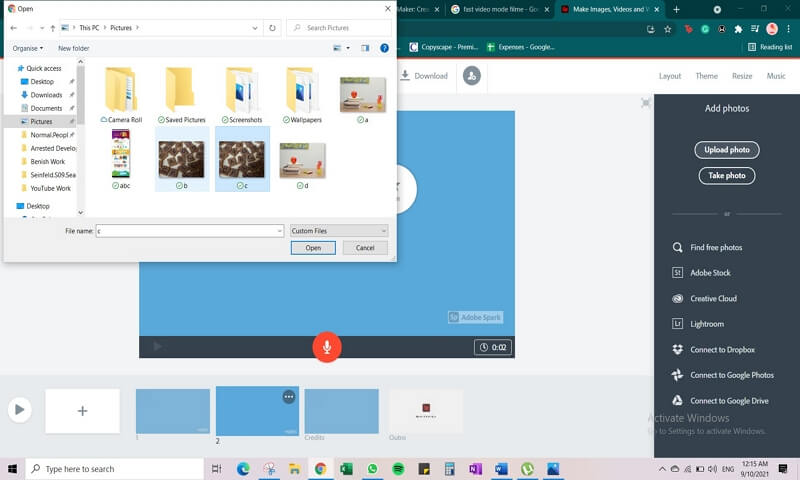 4. Export the Slideshow
For the last step, you can add all your desired pictures to the slideshow, and you'll be good to go, just click the Done and export button.
Part 3: Where Can We Find and Download the High-Quality Slideshow Background?
1. Clear the Resolution of the Computer
The first step is where you clear the resolution of the computer. To do this, follow the steps mentioned ahead.
Ⅰ. Go to your desktop and right-click anywhere in the space available
Ⅱ. When you do that, a drop-down menu will open up.
Ⅲ. Select "Display Settings" from the menu.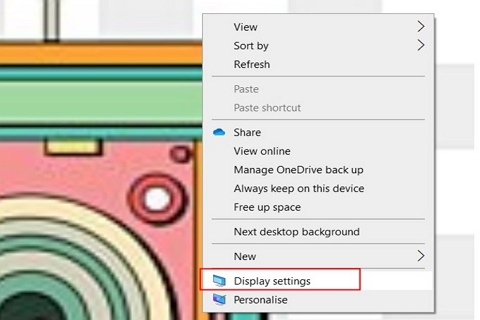 Ⅳ. Once you do that, a new tab will open up, showing the Display page. Scroll down and check the correct resolution of images for the display.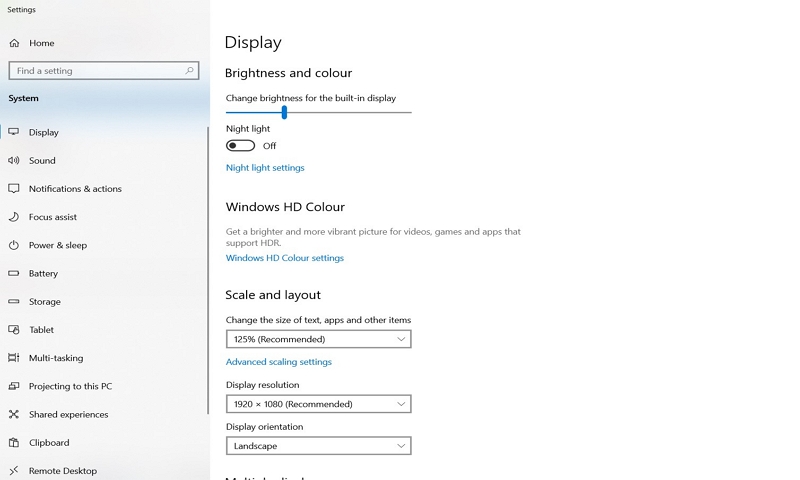 Part 4: Best Websites to Download High-Resolution Images for Free
All can be done with Filme, whether you need to make a slideshow out of images, edit your videos, play around with your audio, or any other creative activity. Here are five sites best for downloading images that you can edit on Filme.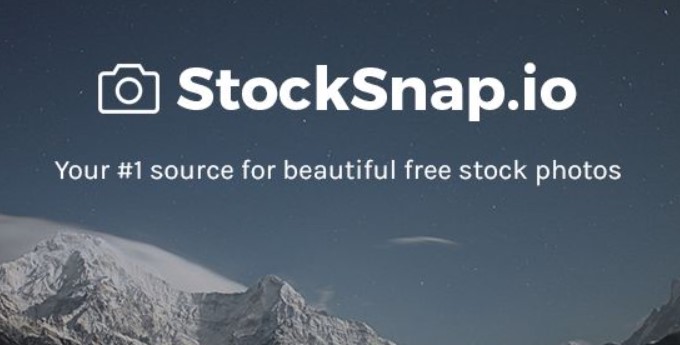 Stocksnap.io is one of the best sites out there to download free copyright-free images. You can browse from their vast gallery and download without any attribution.
Pros:

Free for all

Easy to use

Category-wise searching
Cons:

Frequent ads
Burst is another copyright-free photo library platform that gives you access to thousands of pictures online. It is powered by the famous Shopify and has lots of royalty-free images.
Pros:

Free

User-friendly interface
Cons:

Some photos have to be bought
Google images can also be used to find copyright-free issues. However, the process is a tad bit complicated. With endless options, it is a good pick if you don't mind the process.
Pros:

Free

Lots of options

Easy to use
Cons:

Complicated process for filtering out-licensed photos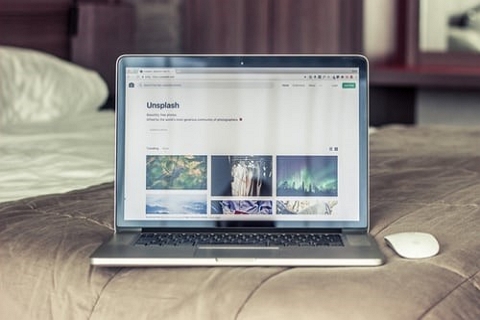 Another huge photo catalogue used often for browsing wallpapers and other copyright-free images is Unsplash. Top editors and photographers around the world upload the pictures ready for you to use.
Pros:

Easy to use

Free

High-resolution images
Cons:

Lack of common keywords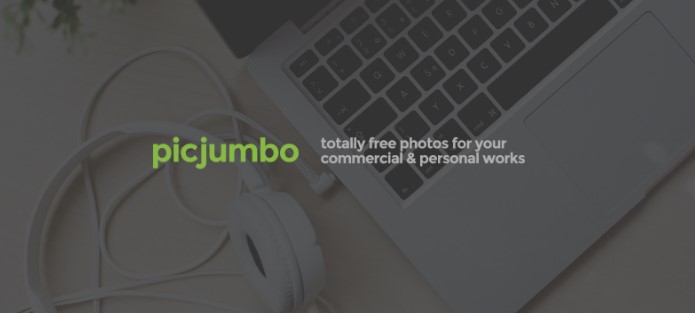 Created back in 2013, Picjumbo, too, offers its users a vast library of stock-free photos that can be used for various purposes.
Pros:

Free

Variety of options
Cons:

Confusing layout
Final Words
And there you have it, folks! This detailed guide elaborated all the steps you need to take to create your unique slideshow and details on saving it to your device and setting it as your desktop background. With iMyFone Filme taking the lead because of stunning templates and ease of usage, it is the app you want to try for creating slideshows.