Do you want to prepare an attractive presentation, but you are short of time?
The quickest way to make a sales presentation is by converting text and slides to videos. Whatever information and facts you have, you can use them to create a catchy sales presentation. Your video sales presentation will be ready in a few minutes.
You can use different video editors for making a sales presentation, but in this article, we will use Filme. Let's see how you can make an amazing sales presentation without any hassle.
Part 1: Two Faster Ways to Make Sale Presentation in Video-iMyFone Filme
A video presentation is much better than simple slides because it is more engaging and attractive. You can add images, video clips, GIFs, music, and other media to make your videos more than amazing. Therefore, facilitators usually prefer a video presentation instead of slides.
Let's have a look at two methods that can be used to make amazing video presentations using iMyFone Filme.
Method 1: Choose the "Text to Video"
Step 1: Click on Text to Video.
Open Filme on your computer. You will have many options as Filme is a versatile tool. For now, you need to click on Text to Video.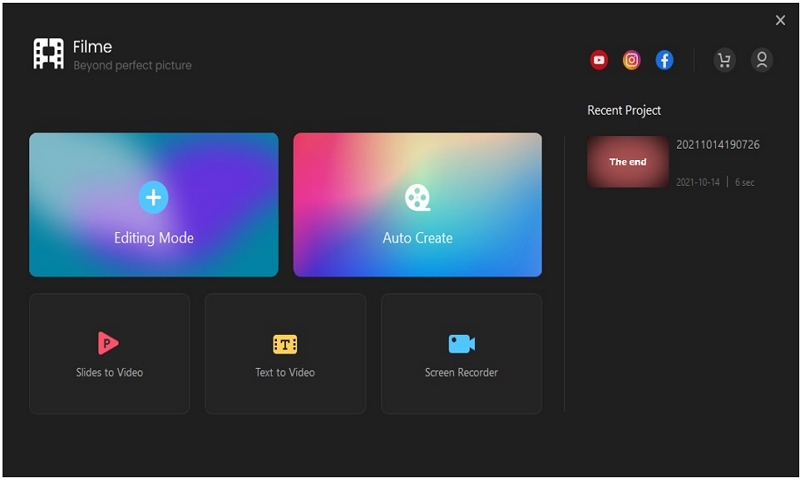 Step 2: Enter Subtitles
Now, you need to enter subtitles that will be displayed on the video. You can enter subtitles manually, but iMyFone Filme can smartly split them. You can also choose the color and font of the subtitle. The best thing is that you can select a voiceover that will repeat the subtitles. There are several voices male and female voices available. After completing this step, click on Next.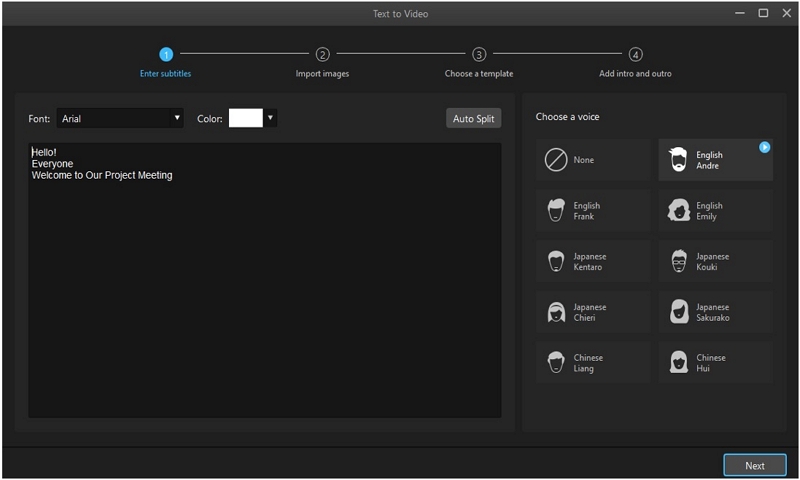 Step 3: Import the Images
Now, you need to import the images that you need to add to the video. You can select images from your computer. You will see a big "+" button on the screen. Click on the button and select the images. After adding images, click on Next.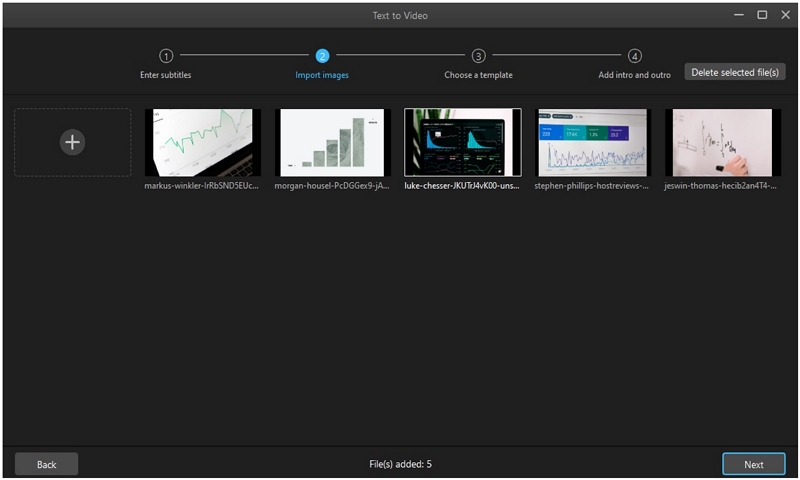 Step 4: Choose the Template
Filme offers you various templates to create an amazing video. For presentation, you can go for technology, science, meeting room, or classroom templates. But if you don't need to template, you can also customize the background, frame, and character. You can select anything you like according to your needs. Click on Next.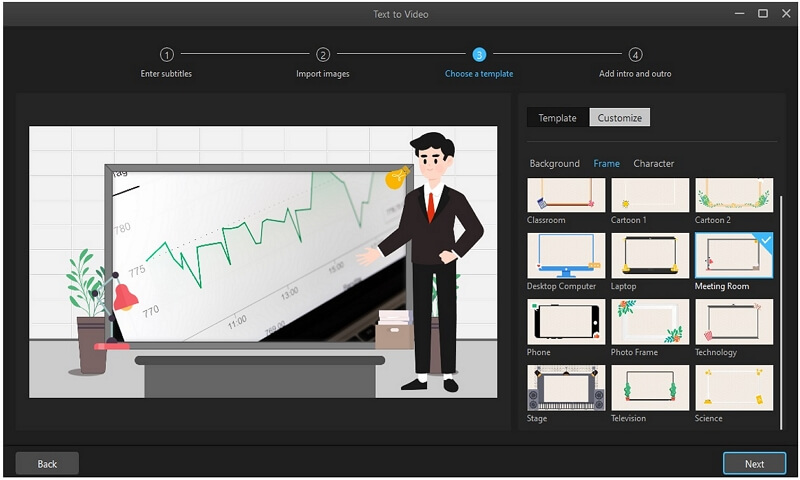 Step 5: Select the Intro and Outro
Filme offers video intros and outros. You just need to select the one you like. If you already have an intro and outro, you can select none and import your clips later in the project. Click on Done.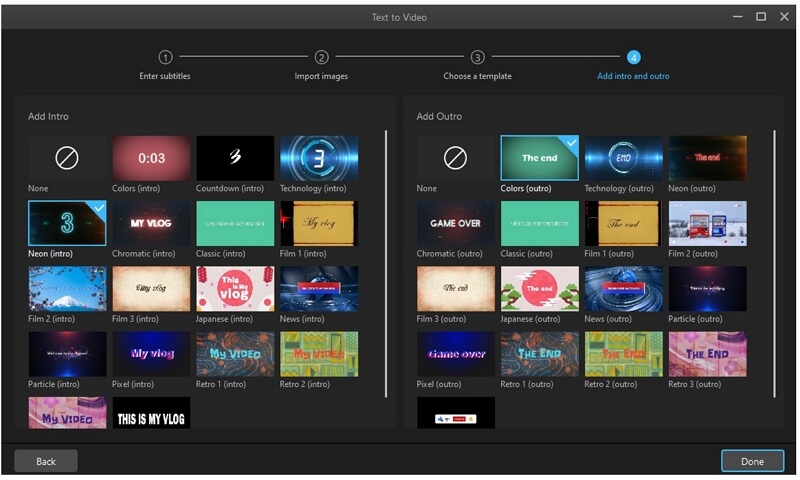 Step 6: Further Editing
Filme will composite the animation and make everything ready. After that, you will see the video in the video editor. Now, you can edit the video as you like. You can adjust the duration, add voiceover, apply effects, and make other changes to make your video perfect. Filme has every tool you can expect. After all, click on the Export button and export the video.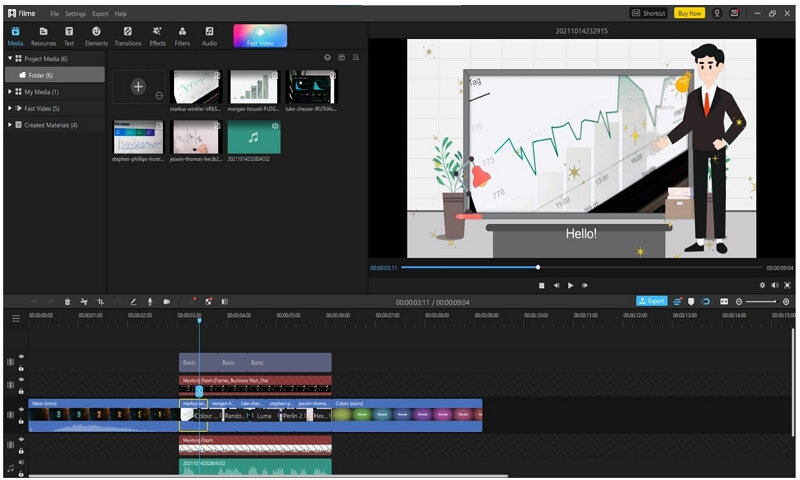 Method 2: Slides to Video
If you have slides ready, you can easily convert them into videos. Let's see how.
Step 1: Slides (PPT) to Video
Open Filme and click on Slides (PPT) to Video. This is a separate tool in Filme.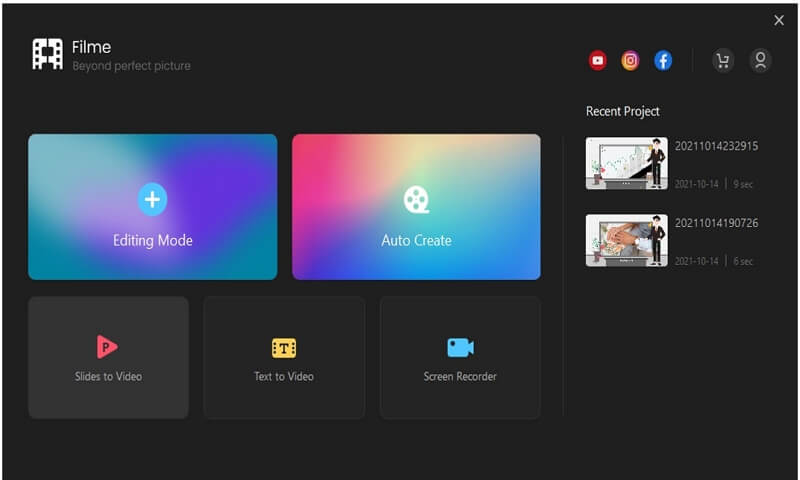 Step 2: Import the Slides
You need to import the slides or the PPT files to the project. Click on the "+" to select the files. The PPT files will be automatically converted to slides/images and imported to the video.
Step 3: Add Subtitle
Now, you need to add subtitles to the video. You can write subtitles manually. Filme also offers you to record your voice over.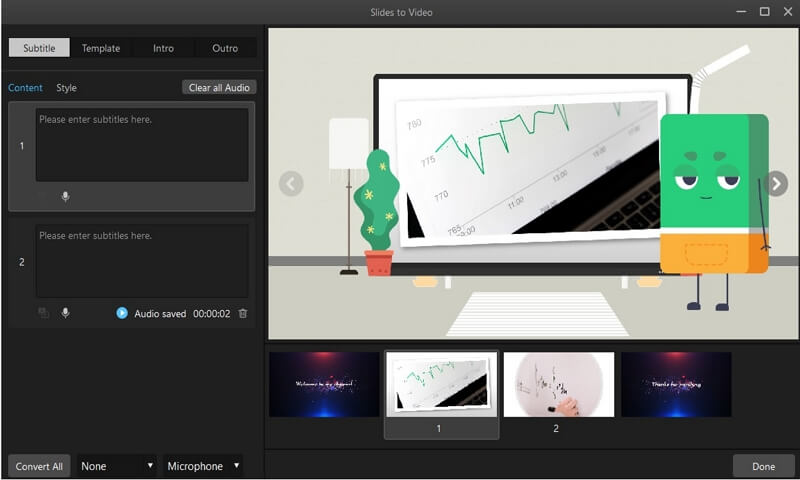 Step 4: Click on the Template
Click on the template to select any suitable template for your presentation.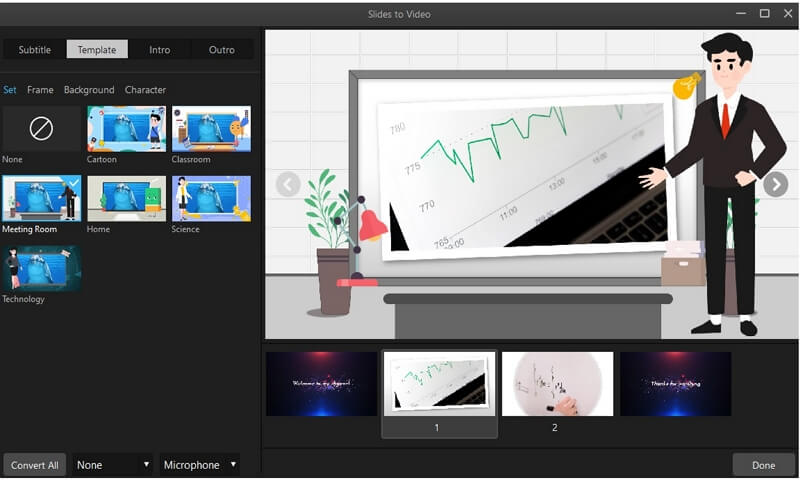 Step 5: Add Intro and Outro
Go to the Intro tab and select any intro you like. Similarly, you can select the outro. Finally, click on Done.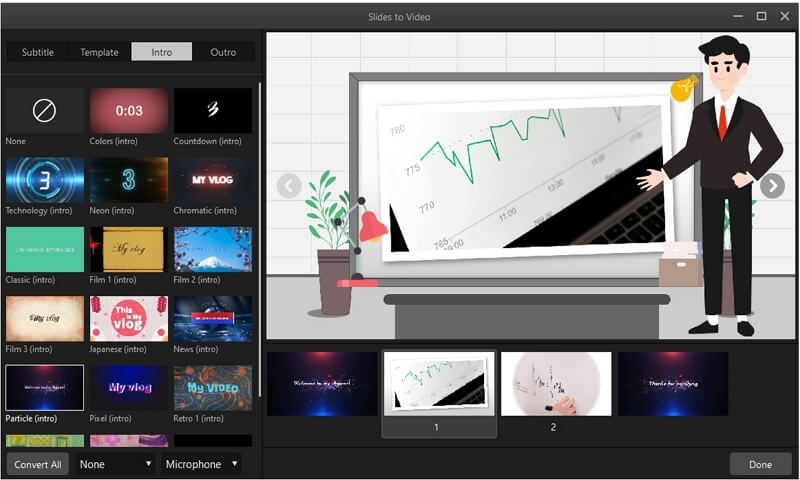 Step 6: Adjust the Details
Filme will create the video, and you will see it in the video editor. Now, you are ready to edit the video. You can make it more amazing by adding effects, filters, transitions, music, sound effects, stickers, images, or anything you like. You can adjust the duration, speed, frame, and almost anything in the video.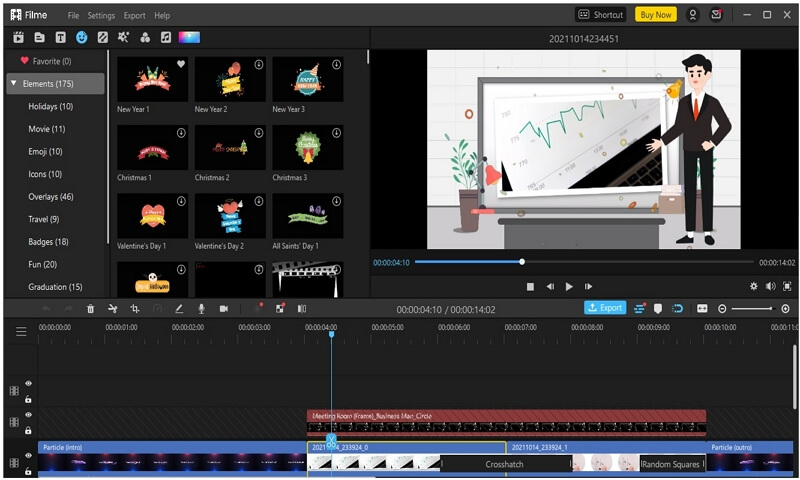 Step 7: Export
Click on the Export button. Select the settings you like and export the video.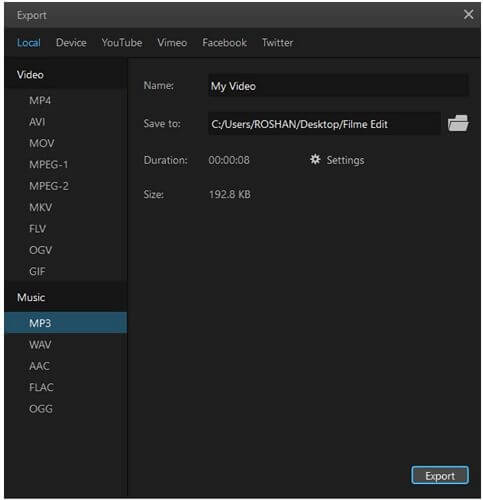 Part 2: 5 Amazing Sales Presentation Example
Let's have a look at some of the most successful sales presentation examples. We will have a look at the strategy and tactics.
1) Facebook
Facebook is the largest social media platform with 2.89 billion monthly active users, and the number is still increasing. This is all because of Facebook marketing and sales presentations.
Strategy: You might have seen Facebook ads/presentations. The strategy that the marketing team follows is happiness, sharing, and communication. The ads show how Facebook can bring smiles to the faces of people, how people share their happiness with others, and how it can be a good way of communication. This strategy attracts everyone, and this is why Facebook is getting bigger and bigger.
2) Netflix
Netflix is a famous media service and programming production company. It uses its marketing strategy to engage more viewers and customers.
Strategy: The marketing strategy of Netflix is customer-centric, which means it is according to the customers. You might have seen many ads/presentations. All these are according to your interest. The company makes catchy content according to the viewer. It shows the highlights, new trailers, offers, and different ways to attract customers.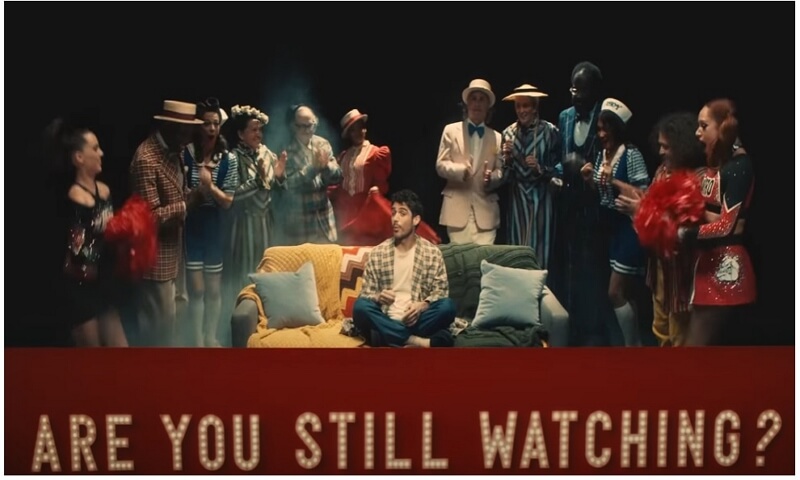 3) Apple
Apple is known for innovation and technology. It has got to the position through its powerful marketing.
Strategy: The marketing strategy focuses on how the product differs from other products on the market. It makes sure to show the product is better than others and worth the money. Even before the launch of any product, a massive hype is created, and people wait for the launch. The company tries to bring something new to customers and show how the product is better through presentations.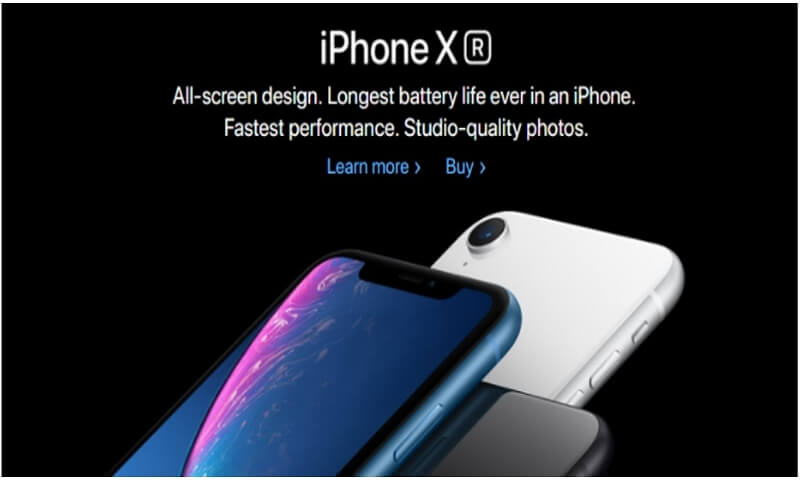 4) Contently
Contently is a content marketing platform and company that does marketing for many well-known brands.
Strategy: Contently mainly uses the examples of its achievement and what it has done to make the customers successful. It compares the customer's situation before and after using the service in the presentation. This strategy gives an idea to potential customers about what the company has done for the business. They show statistics, graphs, and other visual presentations to attract customers.
5) Uber
Uber is one of the largest mobility service providers working in different countries. It reaches customers through its powerful sales presentations.
Strategy: Ube also creates excellent sales promotions to attract new people. It achieves the goals by targeting the pain points of the viewers. It targets the needs of the customers; for instance, it tells that a cab is just a few clicks away, and you just need a click to get to your destination. It tells customers that the service is available 24/7, it is safe & reliable, the payment methods are easy, etc.
Part 3: Powerfully Show the Sales Presentation with Presentation Tips
(1) Make the Sales Presentation Relevant
The most important thing is relevance. When you are making a sales presentation, make sure everything is related to it. You cannot include other things that are not relevant to the product or service. You need to be precise and to the point, because no one would like to hear anything irrelevant. If you want to make your sales presentation and pitch engaging and attractive, make sure you are covering the right points and aspects.
(2) Create a Connection Between Your Product/Service and the Prospect
If you want to sell a product or service, then you need to make your potential customer realize that the product/service is perfect for him. You need to create a connection between the product and the prospect. For that, you need to look at the problems of your potential customers and describe how your product/service can be beneficial for them.
(3) Use a Physical Demonstration
No matter how engaging your speech or presentation was, if it does not have any physical demonstration, there are fewer chances of sales. Physical demonstration makes the potential customers believe that the product/service is authentic and suitable for their needs. They become confident about the product, which is why they like to be your future customers.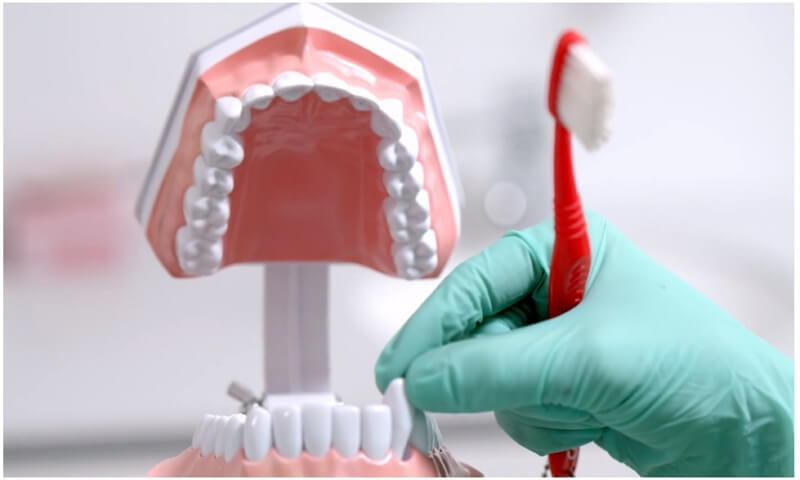 (4) Include Some Facts and Figures
Your presentation should not be vague. You should back your statements with facts and figures to gain the trust of your clients. If there is any product, you can talk about the specs that help it outrank the competitors. You can discuss the products that are already sold to date and the customer feedback. These facts and figures will attract more customers.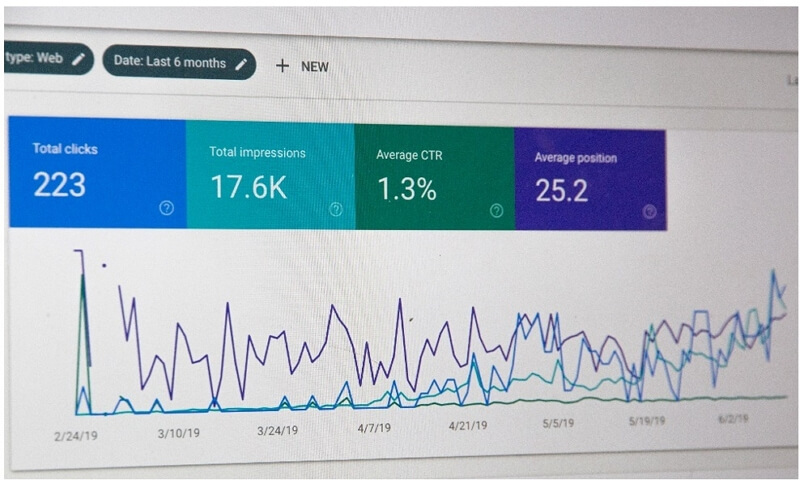 (5) Edit Using Professional Tools
When you are relying on video sales presentations, you need a perfect video. Everything depends on the quality of the video and its content. So, make sure you edit it using professional tools. If you are not an expert video editor, you can hire a professional freelancer or anyone else to do the job.
You can use Filme to create your own sales presentation without any hassle. It is perfect for beginners.
Final Words
We have seen how you can make sales presentations using images and text. You just need to import images and add text, and your sales presentation will be ready in no time; it will save you time. We have discussed the step-by-step method of using Filme. You can use it and make awesome presentations without any hassle. It has got every tool you need, and the video editor will help you make the video pixel-perfect.