There is a huge audience for gaming video ideas. If you want to start creating content, you need to learn about all these YouTube gaming video ideas. Before you create your YouTube channel, it is best to explore and learn about all these alternatives of content you can use for your videos.
That is why we have prepared a complete guide with all the ideas for YouTube gaming videos you can use. We also will mention some awesome tools that you can use to create your content.
20 Best YouTube Gaming Video Ideas
1. Do Game Reviews
Some gamers don't have enough free time to spend time trying games they don't know anything of. That is why they prefer to spend the little time they have playing games they know they will enjoy and having a game review to help them will make things a lot easier. Also, this will bring you lots of viewers.
To prepare an engaging game review, start with a game spoiler-free resume. Then, you need to give different scores according to different features like story, game mechanics, graphics, and entertainment. You might end your review with an overall score and your opinion. Here is a review example you can follow:
2. Game Analysis
Game analysis is a deeper perception of a game. It requires a complete description of all the game elements and how they are put together. This requires that you play the game and analyze the whole experience, story, and core dynamics of the game. Take notes through all the experience and prepare your analysis.
You will not only analyze the game itself, but the players experience and what challenges the player may encounter. It will also require a comparison of the game with similar games and mention how the company performed the game design. Here is an example of a proper game analysis:
3. YouTube Live
There is a huge audience for YouTube Lives. A live broadcast is an excellent gaming video idea if you have a charismatic personality. You need to engage your public with comments and activities for your viewers.
Remember that you need to improve the game experience, preparing more than a game walkthrough. Make sure you use a great video quality and enable video stickers and effects that will activate as your viewers interact with you. It will also help to announce your YouTube Live sessions on other social media platforms beforehand to let your followers know beforehand. Here is a tutorial to help you set your streamer equipment:
4. Family / Friend Reactions
As you can see in this video, family reactions can be funny gamming video ideas. Games can offer surprises and unexpected experience for persons that are not familiars with them. To produce these videos you need a video screen recorder to show what the friends or family members are seeing. You also need a face cam to record the reactions properly.
It is best to use short games with engaging stories and powerful emotions. One excellent alternative is to use horror games and fun games. You need to edit the video, make sure to show the best reactions to entertain your audience.
5. Game Recommendations
There are always new games coming out in different genres. Therefore, for YouTube gaming video ideas you can prepare games recommendations for all the genres. You need to understand what the audience for each genre is searching.
It is best to prepare recommendations of games that are not popular. Those hidden perfect games will show you as a reliable recommendation source. For this, you need to try lots of different games and prepare engaging games resumes. As there are always new games, you will always have ideas for YouTube gaming videos. You can see this video as a recommendation:
6. Complete Gaming Tutorials
Games are competitive and there is always the yearning to become better and improve. To achieve this, the gamers need tutorials and detailed tips to improve. Gaming tutorials are also great ideas for YouTube videos gaming since it will help gaming beginners.
To make sure your gamming tutorials are interesting for your audience, you need to give detailed instructions. Prepare different video ideas for YouTube with step-by-step instructions and you will gain followers that will thank. You might always ask your audience what videos they need help with. It will require multiple videos to create a complete game tutorial. This video can serve as an inspiration:
7. Provide Game Previews
There are always new games coming up. Gamers and game producers are always in the lookout for the next amazing game reveal. Previews are a secure source of YouTube gaming video ideas since there will be new releases each season. You can create content by checking all the news portals and next companies' releases.
It is best if you gain access to beta versions or demos since you will be able to show the dynamics of the game. For this, you need to postulate yourself to the beta tester programs. This video can be a great inspiration for your content:
8. Gaming News
The gaming community will always serve as a rich source of ideas for YouTube gaming videos. There are e-sports, new development, new mechanics, and much more. You can cover the news and serve as a reliable portal for your audience. It would be best if you add commentaries and complement the information with tips and trivia.
There might be different blogs and news feed that can serve as material source. You can take a look at this video for inspiration. Keep in mind that you need to prepare and edit your videos swiftly if you want them to keep their relevance.
9. Top 10 Games
Video tops are attractive for YouTube gaming video ideas. There is a gaming audience that always seeks for the best game. Also, some viewers want to confirm that their favorite games score a high position on the Top games videos. For these videos, you need to prepare an evaluation process for the games and keep the scoring clear.
One excellent advice is to try to be as impartial as possible. If you let your opinions take the lead, you might end up with an unpleased audience. This video is a good example of what you need to aim to.
10. Game Discussions
Games stories and meanings have improved and are way deeper than what they used to. There will be always room for discussions as ideas for YouTube gaming videos. You need to prepare an engaging script that will showcase all your points in a charismatic way.
You might talk about the game industry evolution, the challenges gamers and developers face nowadays, and other interesting hot topics that will always be the center of discussions. As you can see on this video, there will be always lots of interactions and comments with this type of videos.
11. Favorite Characters List
The characters of a game are an essential element that deserves to be evaluated. Comparing different characters based on each feature will be an excellent source of gaming video ideas for YouTube. To prepare your list, keep in mind what aspects you will use to support your list.
Even if you use simple features to compare the characters, your content will be a success if your script and explanation is good. To show the different characters, you will need to edit different video clips. These videos require lots of edition but the final product is worth it, as you can see in this video.
12. Testing Products and Unboxings
Game consoles and peripherals can have a huge impact on the gaming experience. That is why you can always use testing and unboxing as YouTube gaming video ideas. It requires inversion since you need to order all the equipment you will showcase.
To fund and you create your content, you can open up a platform like Patreon after you create a couple videos. That way, your followers and audience can help you to keep your content up to date. You can see this video as example for this idea.
13. Share Game Highlights
There are always new mechanics to explore in games and with game highlights you can show them. If you are good preparing special moves, tricky attacks, and special achievements, then this is the right type of content for you.
You can do videos of your abilities as well as blooper recompilations that can serve as funny gaming video ideas. Remember to add a nice commentary to the video or you might as well add some matching game music and sound effects. Here is a nice example of this idea:
14. Question and Answer Videos
A trivia will be a nice dynamic for gaming video ideas. We enjoy and love to test our knowledge about the things we like. Therefore you can offer a nice challenge for your audience and create engaging questions and explanations.
You might find inspiration by joining discord servers and forums where everyone can share their thoughts and doubts. It is best if you prepare a detailed investigation to offer all the information about the games questions as you can see in this video.
15. Game Walkthroughs
Game walkthroughs are long videos or series of videos that will share your experience while playing a game. It will give you lot of material for gaming YouTube channel video ideas since you can record the entire game walkthrough with your comments and share it with your audience. Then, you can edit the highlights and funny moments.
You need decide whether you will show the complete walkthrough or you will leave out the slow parts. It will depend on how you interact with your audience. Take a look at this video to learn a nice example.
16. Explain Game Series
There are some game series with complex story and not a simple game succession. If you need some video gaming ideas, you can explain into detail these game series. You might explain which is the best order to play the whole series in case the order is not evident.
Another alternative is to explain the complicated story of the whole series. Some series like Kingdom Heats, Assassins Creed, Resident Evil, and Final Fantasy can serve as material for your videos. It will be best if you explain series that are not so well known for the regular audience, with games like Touhou. You can see a detailed example on this video.
17. Discuss Game Glitches
There is a complex code process behind every game we use. Error, glitches and bugs may always happen at the most unexpected times. These glitches can give off funny and interesting effects to the gaming experience. That is why you can always use them as ideas for YouTube videos gaming.
Some glitches might even give an unexpected advantage to the player. Therefore, you need to prepare a complete guide on how to use this glitch and when it will work. Other glitches might occur out of the blue, that is why it is best to always record yourself while playing if you will use these glitches as content source for your videos. Take a look at this video to learn how to showcase this idea.
18. Gaming secrets
From the first games in history, there always were interesting secrets and treasures hidden all over the game. Some gamers are really passionate about searching until the last secret on the games and this can lead to long crusades and information seeking. If you are good at exploring and discovering these secrets, then you might use it as a YouTube gaming video ideas.
Search among the forums and servers to find all the discussions about secrets that might help you during the content creation process. The game secrets might be hard to discover but the audience is huge, as you can see in this video.
19. Good things in a game
Creating a game can take a lot of work and time. It is a dedicated process that will deliver a whole experience to the players. Even among the worst games, there is always a good thing to mention and you can use all those pros of the games as video gaming ideas for YouTube.
You can prepare a list of good things about a game and explain them into detail. You might as well compare different features in games and show how each game presented the idea on their own. You can take a look at this video to learn more about this idea.
20. Bad things in a game
As there are good things, there are also bad things on anything and games are no exception to this. A gaming video idea for your videos might be to prepare a critic to a game tittle and explain all the fails the creators made.
Try to be objective on this type of content or you will look like a hater that will not be taken seriously. Here is a great example of a well-made critic to a videogame:
Best All-in-one Video Editor to Make Your Own Gaming Video Ideas Realize
With all these gaming video ideas, you are ready to start creating your videos and engage your audience. But there is another question now: How will you prepare your YouTube videos? You need an editor tool that will make the process easy and quick.

That is why we want to recommend to you the video editor

iMyFone Filme is a premium tool ideal for beginners who want professional-looking videos. Not only you can use it as a computer screen recorder, but you can also edit audio, video and add pictures. This software compatibility makes it excellent for cross-platform gamers.

. It is a user-friendly tool that will help you create your videos on any device and in just minutes depending on the type of video. Here are some of the main features this tool offers:
Key Features:
User-friendly interface ideal for beginners.

It includes two main modules of video caeating - Editing Mode (for basic and advanced video editing) and Auto Create (for quick video making with re-fined templates).

You can add effects, text, tittles and transitions to your video clips.

Yoy can do basic editing on your video. (trim, split, change speed, cut,etc)

You can add audio or free music on the full video.

Change your voice of game video with various voice filters.

You can share your videos directly on YouTube, Facebook, Vimeo and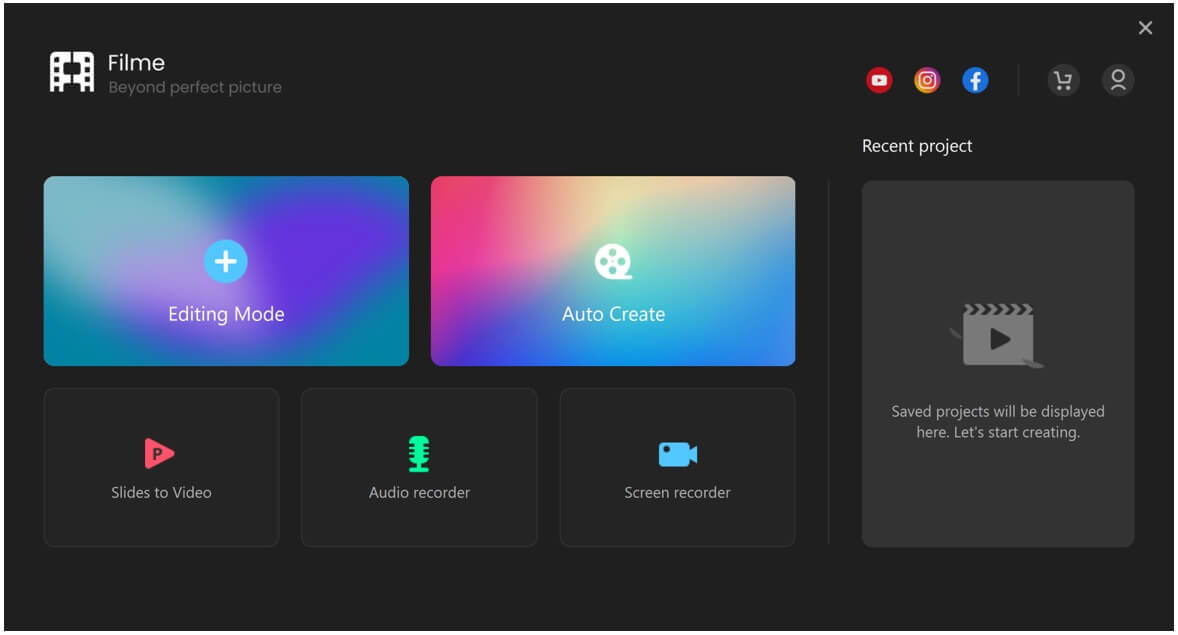 How to Use iMyFone Filme [Editing Mode]
First, you need to download the application from the official website of iMyFone Filme. Install it and launch it.

Then, you need to import the video you want to edit. This program is compatible with almost any format.

Once you import it, you canuse the editing tools to edit it until it is ideal. You can see a previsualization of the video.

Export the video in the format you want or upload it to social media platform
How to Use iMyFone Filme [Auto Create]
First, you need to launch Filme.

Then, you need to import the medias or files you need.After inporting, click the "Next"

Then Filme will intelligently analyze and match a suitable template for you. You can also apply other templates you want.

If done, click the "Export"button to export the video in the format you want.
Conclusion
Games and gaming content will always be an excellent source of YouTube content. There is a lively audience that is constantly growing and this is the right moment to start creating your gaming channel ideas. Remember to do a deep investigation of all the content you want to create and make sure you are having fun because it will show on your content that you are enjoying the process as well.
Keep in mind that whatever gaming video ideas you choose to make, you will need a great video editor to improve the quality of your videos. You can use tools like iMyFone Filme to edit and customize your videos to make them engaging and appealing to your audience.