Whether storytelling or a typical sales pitch, speech greatly impacts the success percentage of the entire YouTube trip. Having a good voice and speaking skills is advantageous. However, not everyone receives both simultaneously; many hire voice actors to offer voiceovers.
The price range for a five-minute voiceover varies between $5 to $100. However, not everybody can afford a high-priced voice actor, particularly for longer projects or those that are just getting started. Here are some other choices that I think are the best free youtube text to speech software.
Let's look more closely at the best free Text to speech for youtube videos.
Try it Free
Part 1: Why We Need Text-to-Speech for YouTube Videos?
Generalizations regarding youtube content is very challenging. Every brand or channel is different. Every industry, every market, and every time period provides unique obstacles. But one idea holds true across industries and time: Businesses prosper when they continuously deliver fantastic content.
Digital and textual content can be spoken aloud using text-to-speech software. The software has a wide range of uses and is used by everybody, from adults and children to students and professionals.
When they hear narration in a human voice, viewers become emotionally engaged in materials like PDFs, books, novels, and online courses. For busy workers who need to multitask, text-to-speech solutions are appropriate.
There are several text-to-speech solutions available, which is not surprising. The same factors are increasing demand for audiobooks.
As the voiceover artists cost so much from the get-go, the TTS software offers a great opportunity to save money and start youtube making youtube content with little to no capital. It also takes very little time to create narrations which are perfect if you are in a time crunch or want to deliver a big volume of content quickly.
Moreover, adding voice narration to youtube videos enhances the user experience, as it is always far easier to listen than to read. And finally, by having the ability to use this software in multiple languages, you can significantly improve the global reach through your videos.
Part 2: Top 6 Text-to-Speech Voice Generators for Youtube
With over 3,000 voice options and the ability to read Text from any supported file in 11 languages, iMyFone VoxBox is the best youtbe to speech app currently on the market. All users will love this diverse choice platter.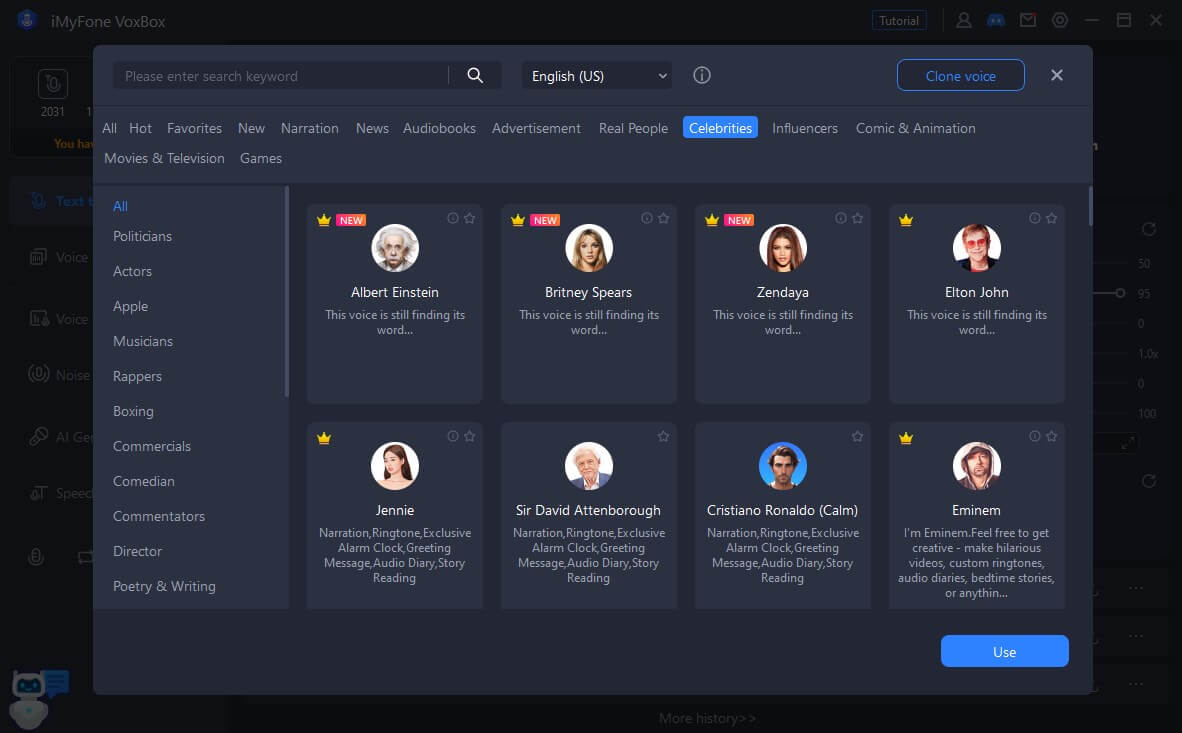 Features:
More than 3200 voices, including singers, famous personalities, cartoon characters, etc.

More than 22 langugaes & 25 regional accents, including British and Hindi.

Supported Pitch,Pauce,Speed, Emphasis,Volume of audio.

Supported multiple audio output format like WAV,OGG,MP3.

Supported select, cut, trim.
Pros:

Users can choose from a variety of voiceover options to produce outstanding content.

VoxBox gives you the utmost privacy by not listening to or reading your files.

There are no commercials, either.
Cons:

Currently, it is only compatible with Windows.
Reviews:
4.7 stars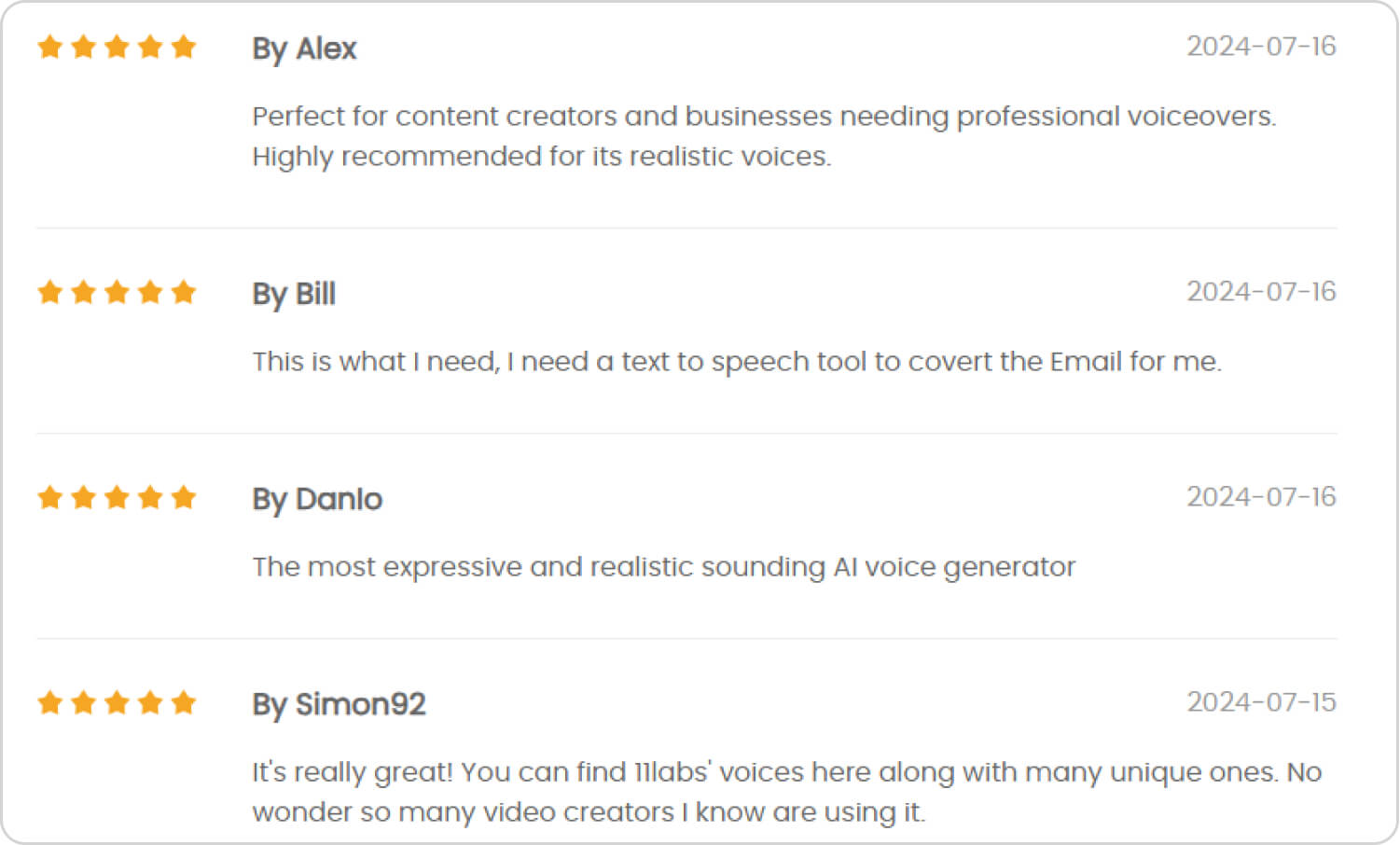 Price:
| Plan | Price |
| --- | --- |
| 1-month Plan | $14.95 |
| 1-year Plan | $39.95 |
| Lifetime Plan | $79.95 |
Try it Free
Watch this video to learn more about the Best TTS Voice Generator for YouTube-iMyFone VoxBox:
2) Speechelo
Speechelo provides expressions and voice tones that are realistic. Voiceovers are, therefore, more appealing. Speechelo can be used to make instructional videos, training movies, and sales videos, among many other things. It has features like speech tones, breathing and pauses, altering speed and tone, and support for 23 languages.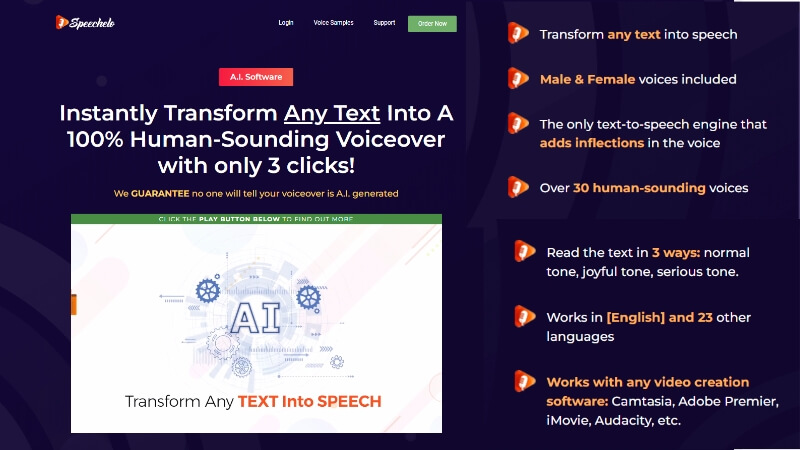 Features:
Speechelo's text-to-speech engine allows you to change the voice's intonation.

It has more than 30 voices, all of which are authentic.

Both male and female voices are present.

It is compatible with a number of video editing programs, including iMovie, Camtasia, Adobe, and Premier.

There are three tones you can read your writing in: a regular tone, a happy tone, and a serious tone.
Pros:

Authentic voice lines

Very easy to use.

Has great customer support.
Cons:

Speechelo will produce audio at a 48kbps rate. If you are familiar with the process of making sound, you would realize that this output is very low.

If you insert lengthy voiceovers, it can produce erroneous output.
Price:
| Plan | Price |
| --- | --- |
| 1-month Plan | $14.95 |
| 1-year Plan | $39.95 |
| Lifetime Plan | $79.95 |
3) Flixier
Advanced video editing software from Flixier is available in one browser and offers 1-minute outputs to any device, streamlined teamwork, and a ton of cloud storage. Regardless of the equipment they utilize, users of Flixier can export any video.
It keeps all stakeholders informed and enables each team member and contributor to stay in sync across any platform. Moreover, it can also utlize its deep learning technology to transform any text into speech for youtube content creation.
Teams can work together in realtime without being concerned that the project will become outdated. There is cloud storage, a thorough version history, comment sections for feedback, sophisticated exports, and email notifications. The tool operates without a hitch on operating systems like Windows, Mac, Linux, and Chromebooks.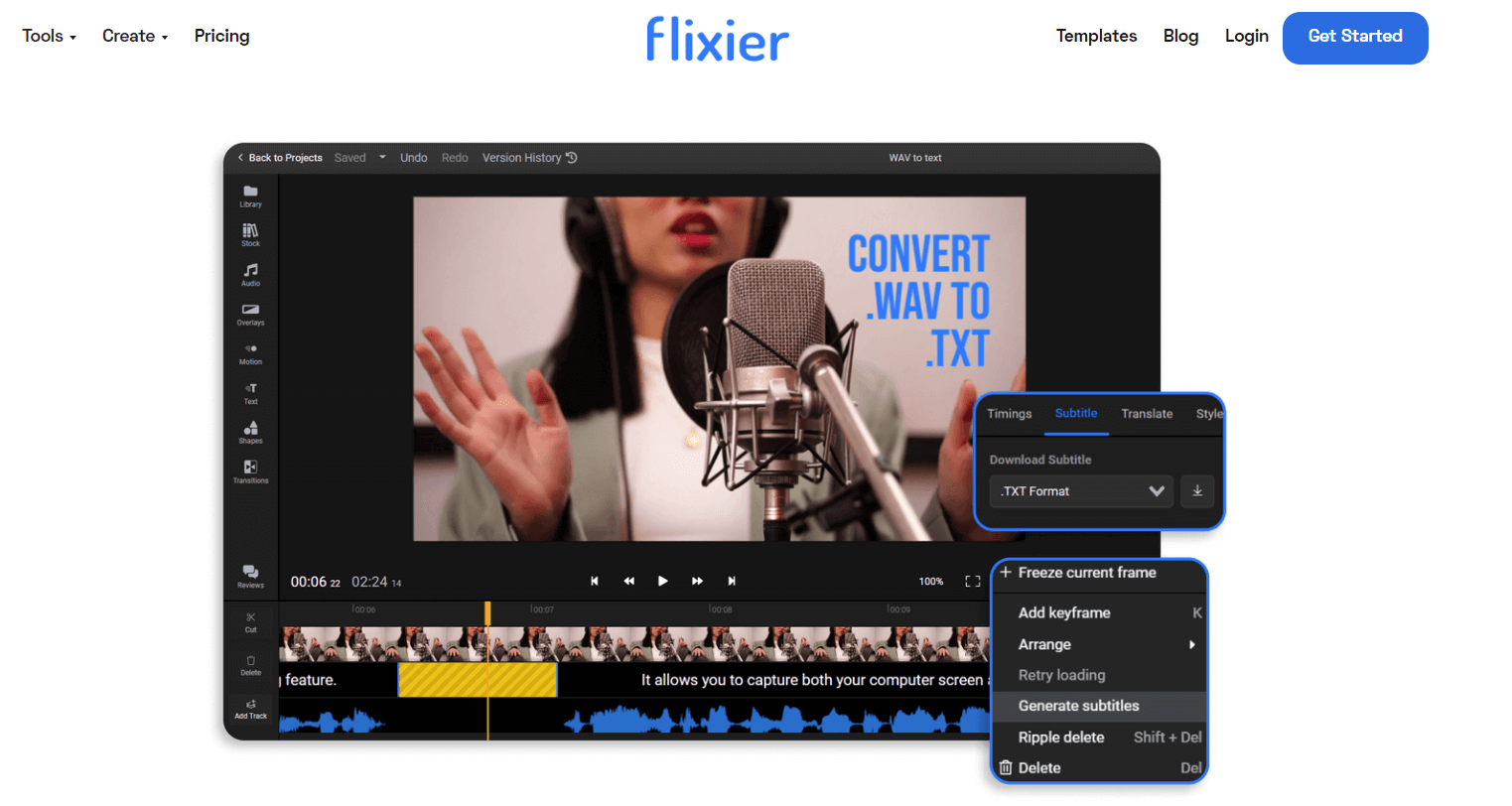 Features:
Realtime collaboration.

50+ transitions.

Greenscreen.

Powerful timeline.

Built-in stock libraries.

Video effects.

Browser based.

Screen record.

Webcam record.
Pros:

It can also be used as a Powerful online video editor.

Collaborate in real-time.

Easily create with Motion Graphics, Text to speech and Stock Footage.
Cons:

The main focus is more on video editing rather than Text to speech.
Price:
The Text to speech for YouTube videos is available with only the business plan, which costs $30 per month.
4) Synthesys
Synthesys assists in turning Text into a voice that sounds natural. You can select from a variety of tones, dialects, male and female voices, countries, and read speeds when using Synthesis. Additionally, it only requires three simple steps to produce artificial speech that sounds natural and may be applied to a range of commercial applications.
Choose the gender, look, accent, and tone we want the voice you create to have first. Content you want to convert to speech can be pasted or typed into Synthesys' AI voice-producing system. Finally, press "create" to begin quickly producing your synthetic speech. From here, you may change the speed reading and pause time.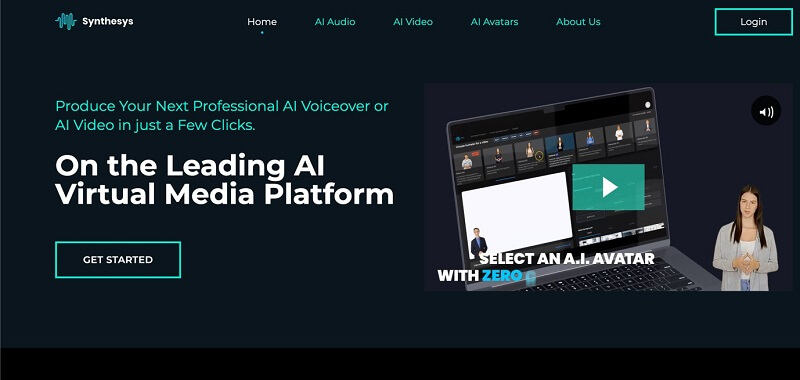 Features:
Cloud-based solution for greater reliability.

There is a large selection of knowledgeable voices that sound natural.

Thirty male voices and more than 35 female voices are present.
Pros:

Unlimited voices can be produced and purchased.

The interface that is incredibly user-friendly.
Cons:

It is possible to create and buy any number of voices.

Highly user-friendly UI.
Price:
| Plan | Price |
| --- | --- |
| Human Studio Synthesys | $31/Monthly |
| Audio Synthesys Plan | $23/Monthly |
| Audio and Human Studio Synthesys | $47/Monthly |
5) Notevibes
It works with Windows, Mac, Android, ipad, and the Internet. It is a fantastic text-to-speech application with many capabilities, Notevibes is available in both a free and a paid edition. Customers can change their pronunciation and choose from more than 500 translation characters.
Users now have complete access to all of their tools for learning a new language and improving their reading abilities. Additionally, 177 unique voices speaking in 18 different languages may be found on Notevibes.
Users enjoy the realistic voices' assistance in helping them pronounce words correctly. The tool's versatility makes it useful for users from all backgrounds.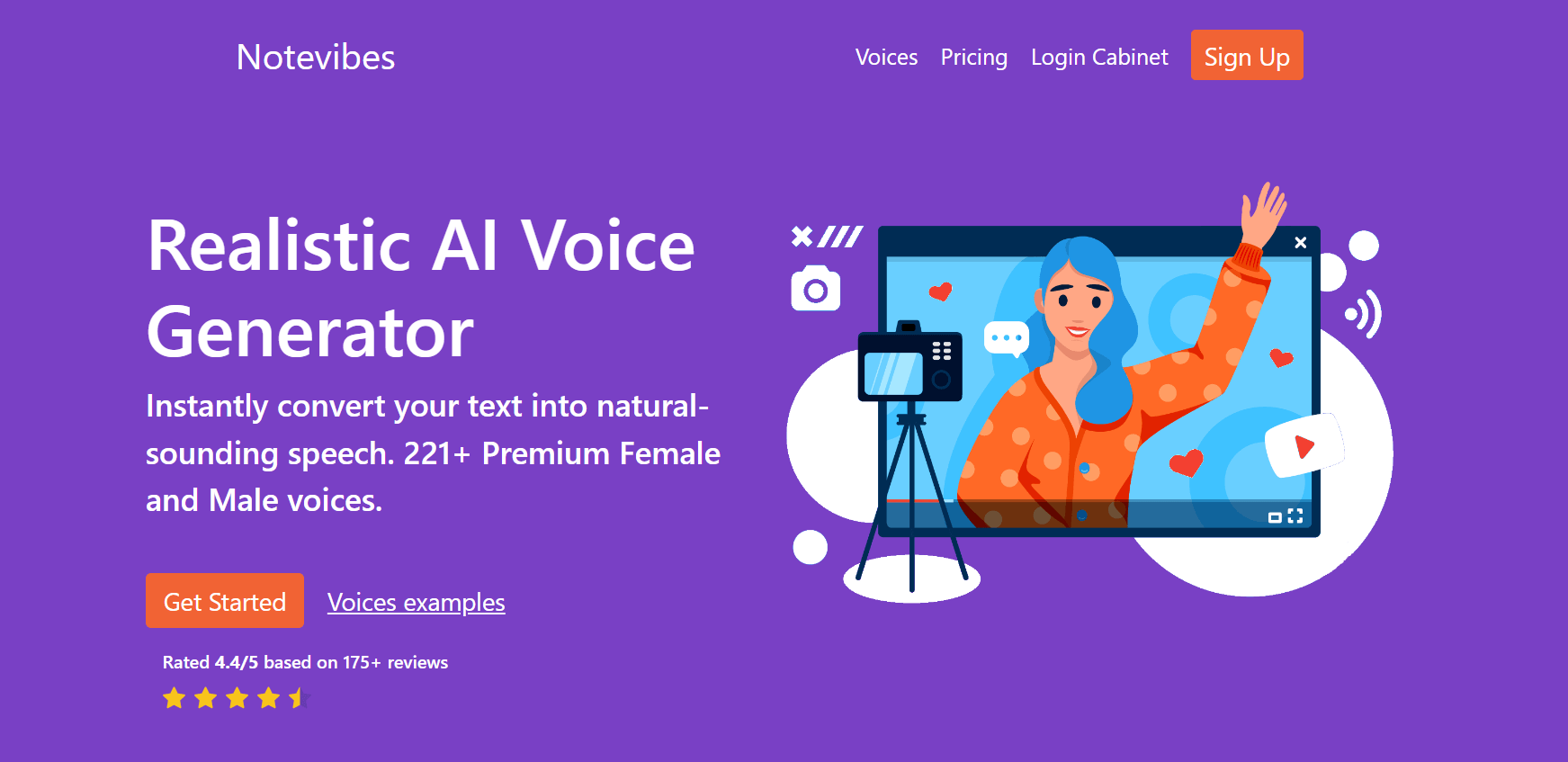 Features:
Authentic voice maker.

Public Speaking.

Create an MP3 of your spoken word.

47 Individual Voices, 200–1,000,000 Characters.
Pros:

Simple to use.

Available free online tool.

There are male and female voices in more than 30 languages with regional accents.
Cons:

There is no preview available. To listen, you must create the voiceover.

A single audio file cannot be created by combining many audio files.
Price:
| Plan | Price |
| --- | --- |
| PERSONAL PACK | $8/Monthly |
| COMMERCIAL PACK | $90/Monthly |
| Audio and Human Studio Synthesys | $4000/yearly |
6) Voicemaker
Among the many companies in the Text to Speech market, Voicemaker is one of the best products. The majority of the products in the Text-to-Voice category provide comparable capabilities at reasonable prices.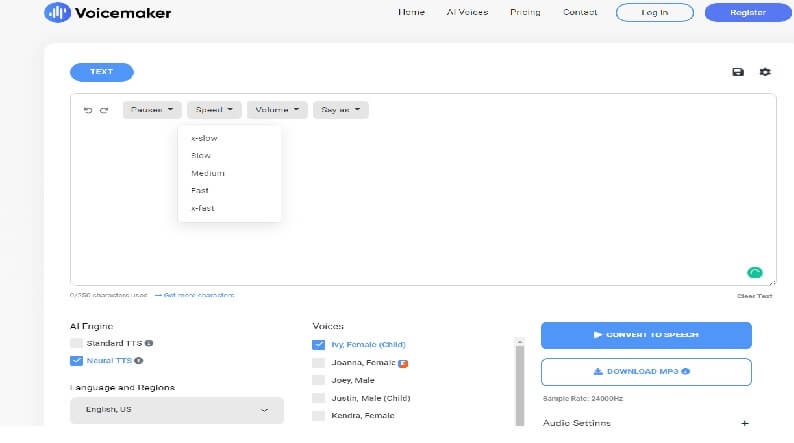 Features:
Even when your subscription expires, Voicemaker still lets you share your generated audio recordings.

You can use Voice maker for creating, Audiobooks and Podcasts, Youtube videos, E-learning material, Web and mobile applications, Public use and broadcasting or even in Call centers.

The audio files can be distributed globally on any platform.
Pros:

Trusted by 1000+ reputed brands.

Multiple AI engines and voices.

A massive collection of Languages and regions.
Cons:

It can be a bit overwhelming to use at first.
Price:
| Plan | Price |
| --- | --- |
| Basic Plan | $5/Monthly |
| Premium Plan | $10/Monthly |
| Business Plan | $20/Monthly |
Conclusion
Most text-to-speech programs operate in the same way. To convert content to audio, users either upload it or manually enter it. The best voice for the voiceover is then selected from among the various voices.
That being said, the smallest feature difference can create a big difference when it comes to using YouTube text to speech for your content. With that in mind, we highly recommend using VoxBox for your Youtube content creation needs.
The software solution is highly reliable, offers consistent quality, and has affordable pricing. So get started right away.
Try it Free