TikTok has become a haven for people who love to make or consume short-form media. Thousands upload their dancing routines, reviews, shoutouts, and informational content. While many use their voice, some are reluctant to do so. Are you shy to use your voice and need a better solution?
TikTok robot voice generator is the perfect answer for you. Now all you need is to press and hold the Text to Speech button, and the TikTok robot voice generator will speak for you. If you are interested in how to make the best of this valuable and fantastic function, please keep reading.
Part 1: What is Tiktok Text to Speech Voice Generator?
The text-to-speech feature in TikTok allows users to generate a voice for any text they type before posting on the platform. The TTS generator can generate up to 17 voices which you can choose, make default, or change when needed.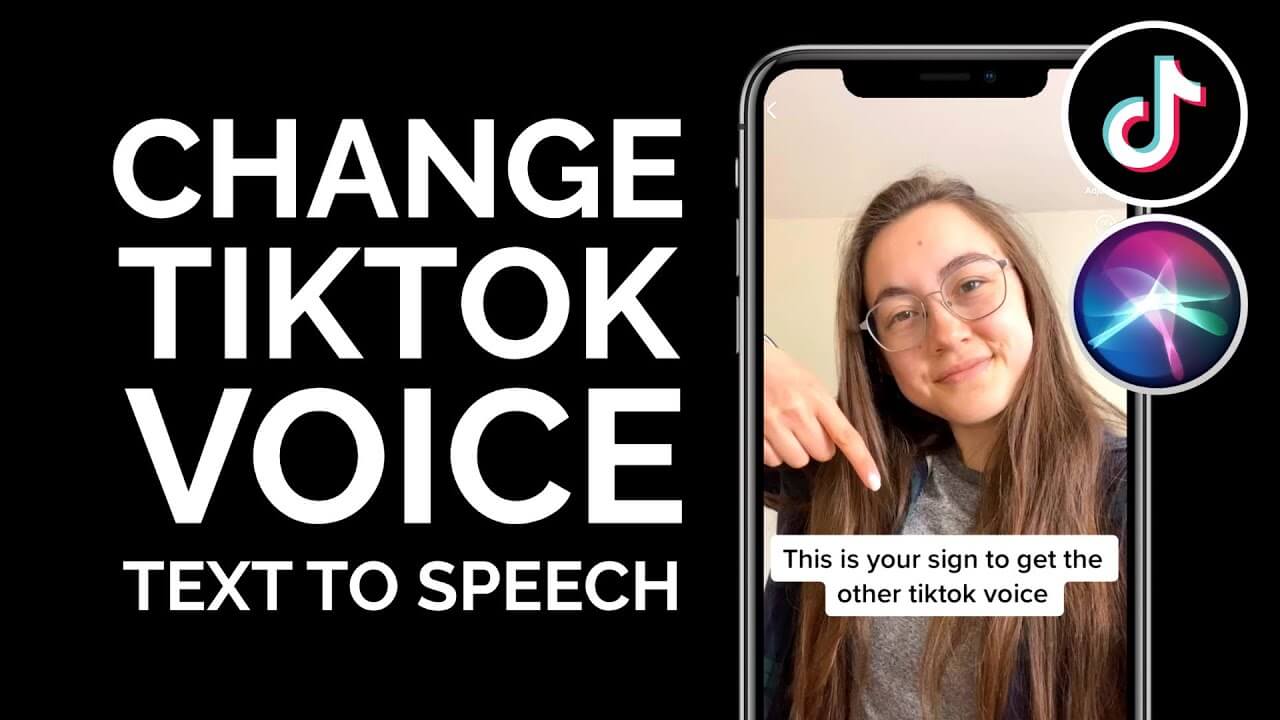 The feature is an excellent addition to the platform for those who want to use something other than their natural voice or English is not their first language. Using this TTS feature, anyone can add a robotic voice from 17 different voiceovers to their videos using TikTok robot voice generator options. Furthermore, it is a handy feature for visually and speech impaired people, who can join in on the TikTok fun.
Part 2: How to Make a Robotic Voice with TikTok
Now it is easier than ever to use the TTS function by using the TikTok robot voice generator and adding 17 different voices to your video content. If you are ready to start doing that, here are some quick steps to generate unique voices:
Step #1: Start the TikTok app and go to the recording video section by tapping the 'Red' button.
Step #2: Press the 'Red Circle' in the middle or upload a video.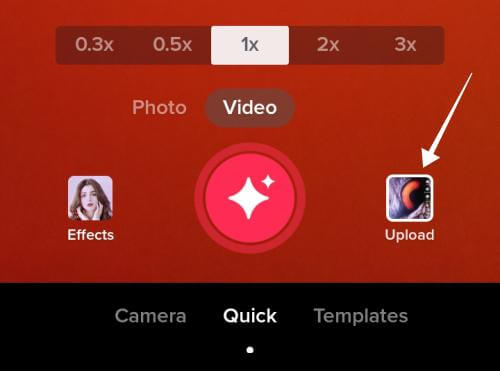 Step #3: Tap the 'Text button' on the top right and start writing. Tap 'Done' when finished.
Step #4: Tap and hold the text overlay on the screen, where you will see three options, as you see below.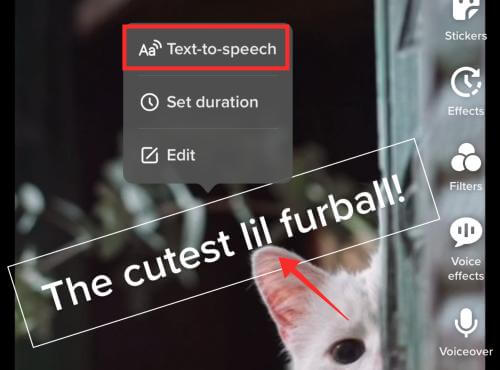 Step #5: Select the top option, Text-to-Speech, for the TikTok robot voice generator.
Step #6: The next step is to set the video duration you want the generator to speak from the text.
Step #7: Use the playback feature to check and confirm.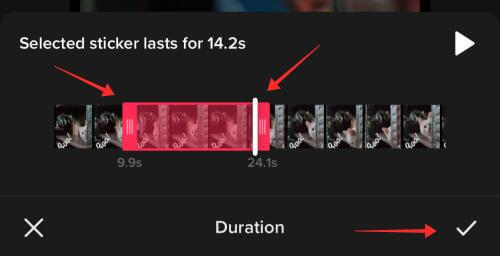 Step #8: Press 'Upload' when you are done.
Step #9: This is the easiest way to add the best voiceover to any video.
Part 3: How to Make a Robotic Voice with Best Alternative?
Most users might prefer the inbuilt TikTok robot voice generator, but it doesn't have enough features for more tech-savvy professionals. Let's look at the best alternative for such individuals.
There are so many options and features in iMyFone VoxBox that once you use it, you won't be using the TikTok robot voice generator. Instead, you won't be using any other generator, for that matter.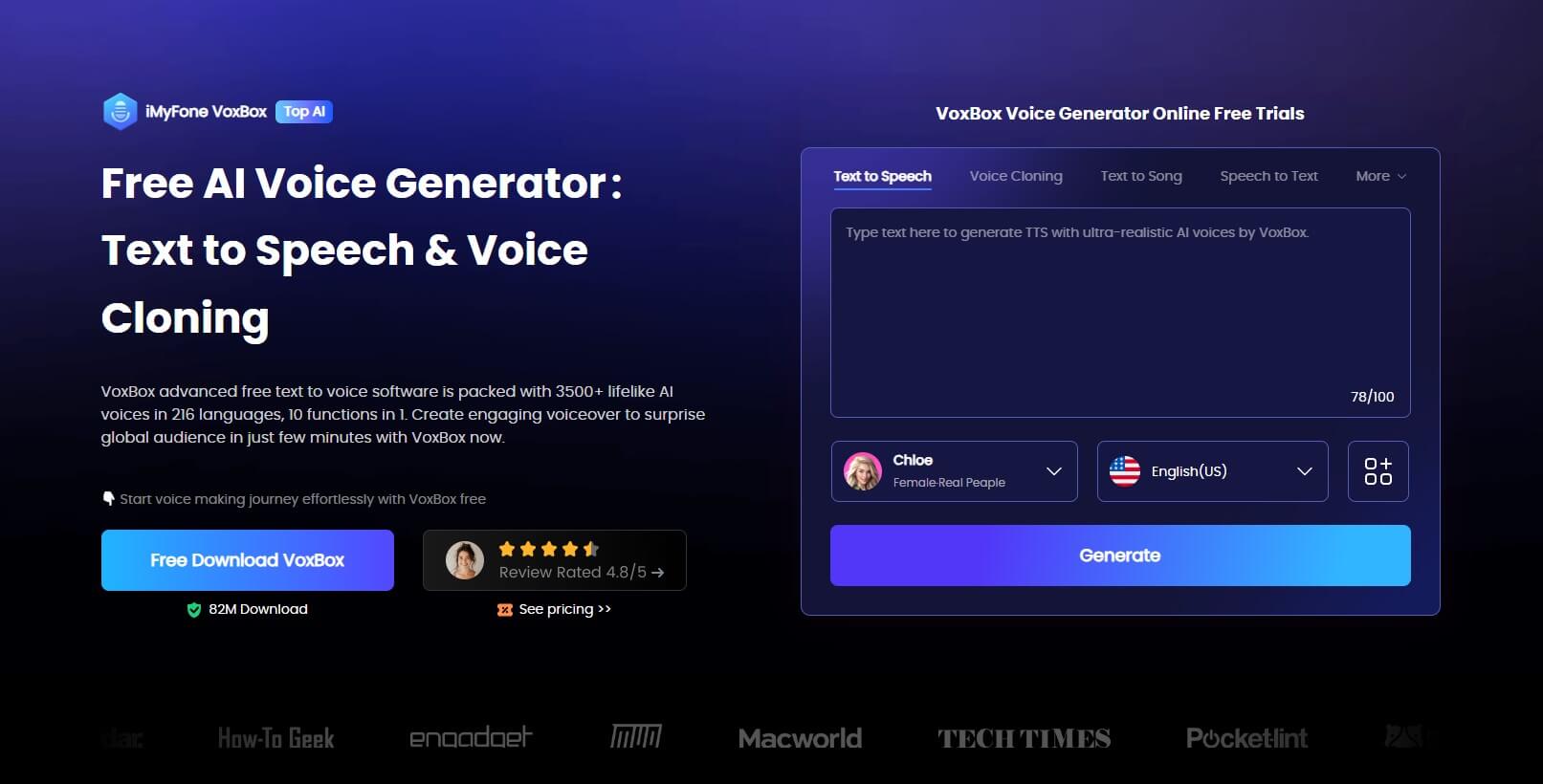 Key Features:
Users can write in their language and get voice generation in 46+ languages effortlessly.

Over 3,200 voiceover options compared to only 17 from the TikTok robot voice generator.

Fantastic UI and editing features are highly efficient for professional TikTokers.
How to Steps:
Step #1: Download from the iMyFone VoxBox website and install the VoxBox app.
Try it Free
Step #2: Head on over to the TTS page from the left side.
Step #3: Choose your robotic voice from the 'Voice' drop-down menu.
Step #4: Write the required text in the 'Text Box' and press convert.
Step #5: Use the editing feature to tweak until satisfied.
Step #6: Press safe to use your voiceover for TikTok.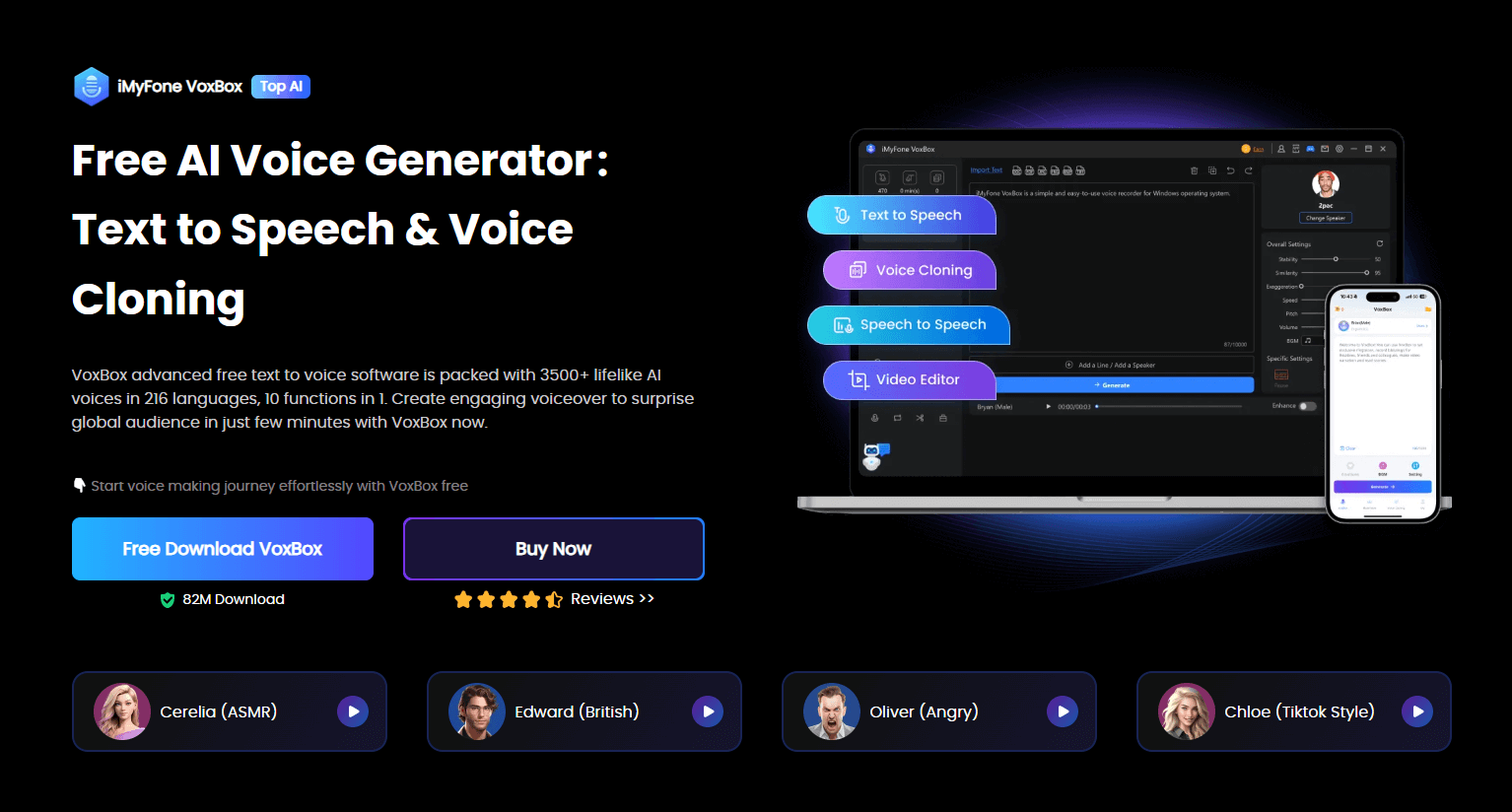 Pros:

Best collection of TikTok robot voice generator voices.

A powerful tool for regular TikTok streamers.

File conversion takes a few seconds.
Cons:

Medium-powered PC recommended.
Part 4: FAQs about TikTok Robot Voice Generator
1. How Do You Get the Robot Voice on TikTok?
The primary method is to use the contextual menus before uploading the video from the TikTok robot voice generator, as mentioned in the 2nd section of this article, in which you get to choose from 17 different voices.

If you want a more professional and detailed TikTok robot voice generator, we recommend reading in detail from the VoxBox section to enhance generated voiceover.
2. How to Get the Text to Speech Voices on TikTok?
Now, TikTok only supports 17 voices for the TTS feature, while more are added when collaborating with other companies or as a seasonal promotion. If you are looking for other voiceover types, you should use other TikTok robot voice generator available online or as apps.
3. How to Make Viral Videos Using Voiceover on TikTok?
Many factors are involved in going viral, but we recommend using better-quality audio when talking about only the TikTok robot voice generator. You can use a more professional tool like VoxBox to enhance the audio results.
Conclusion
Most users upload videos on TikTok for fun, to provide informational content, or want to go viral. The easiest way is to use the TikTok robot voice generator to enhance the quality of your uploads. This article explains in detail what other TikTok robot voice generator options you have if you need more than the default options.
The best alternative, in this case, is VoxBox, with its great library of languages, options to explore, and voiceovers.
Try it Free