As we all know, text to speech with subtitles is a versatile tool that enhances accessibility, improves comprehension, and extends the reach of content across diverse audiences and platforms. It plays a crucial role in making information more inclusive and user-friendly.
This article will guide you through the process. From language learners to the hard of hearing, or those who simply prefer listening to watching, this guide will be useful to anyone seeking to convert subtitles text to speech using AI technology. So, let's get started!
Listen to subtitle tts voice free generated by VoxBox. Also, you can custom AI voices you desire to be your subtitles on videos.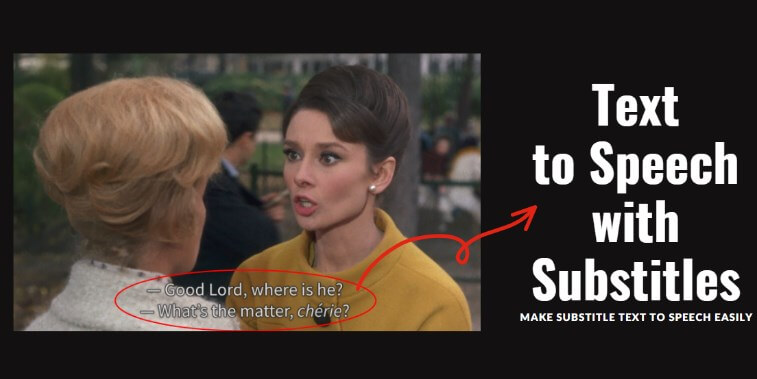 Part 1: Make Subtitle Text to Speech for Youtube Videos
VoxBox is a high-quality subtitle text to speech software tool that provides its users access to more than 3200 voices to work with. Using this amazing tool, users can easily create subtitle to speech for YouTube videos. It utilizes the latest AI technology to accurately convert written text into spoken words, making it easier for users to add voice-overs to their videos.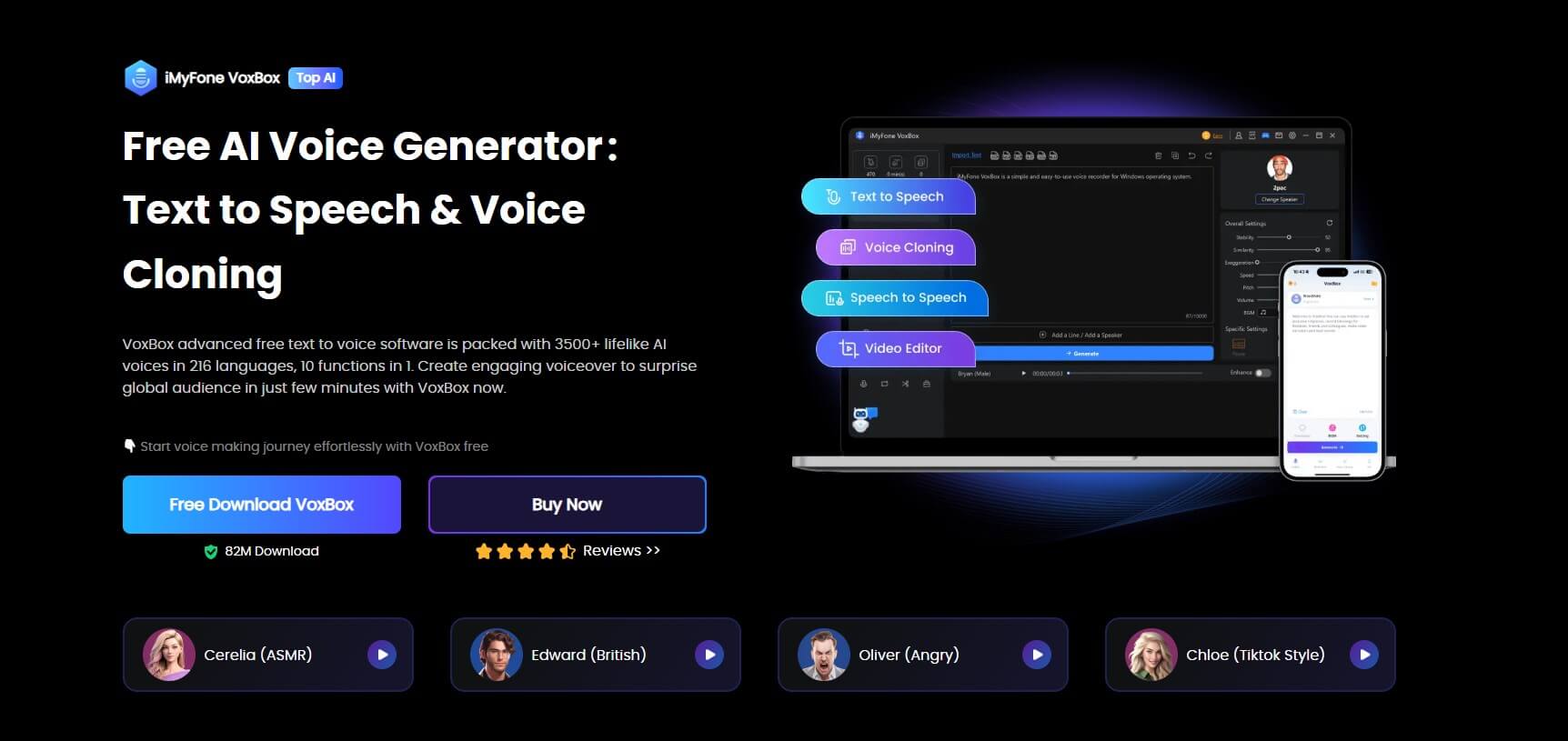 Key Features:
AI-powered text to speech conversion of various realistic voices.

Support 77+ languages.

Customizable voice options and settings such as speed and pitch adjustments.

Output options including OGG, WAV, and MP3.

3200+ voices available to work with.

Also, work as speech to text converter and voice cloning tool.
How to Make Text to Speech with Subtitles:
Step 1.Go to iMyFone VoxBox site and download VoxBox on your device.
Step 2. Now, open the app, click 'text to speech' from the menu on the left-hand-side, and Input the content for subtitle text to speech conversion. Also, choose the language and voice options.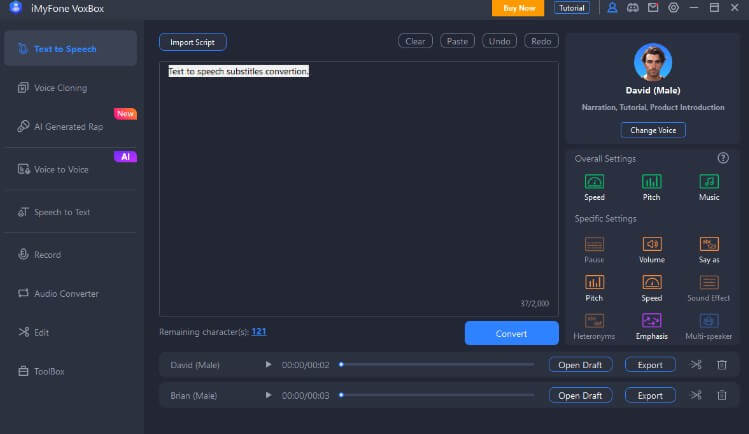 Step 3.Finally, click 'convert'. VoxBox will perform subtitle text to speech file within seconds and you will be ready to export the speech file.
Pros:

2000 character counts free to make substitle tts convertion.

Free trial availability.

High-quality speech output.

24/7 customer support.

Subtitle text to speech conversion within seconds.

Wide range of character voices available.
Cons:

Best features unlock with paid version of VoxBox.
Part 2: How to Translate Speech to Text Subtitle Free?
VoxBox is not only a brilliant tool for subtitle text to speech (TTS) conversion but also it is a formidable software for subtitle speech-to-text (STT) conversion that can be aptly used for converting audio into subtitles. It utilizes the latest artificial intelligence algorithms to accurately transcribe speech into text, making it ideal for a variety of use cases, such as film or video production, podcasts, and live events.
Key Features:
Advanced AI algorithms to ensure that the transcriptions it produces are highly accurate.

Supports multiple languages, allowing users to transcribe an audio in their preferred language.

Proper punctuation option.

Real-Time Transcription.

Support for multiple input file types including MP3, WAV, OGG, MP4, WMA, MPG,and WEBM.
How to Convert Speech to Substitle:
Step 1.To start with, download VoxBox app from the official website.
Step 2. Open the app, select ' speech to text', choose the desirable output language, and then upload your audio file or start a recording session.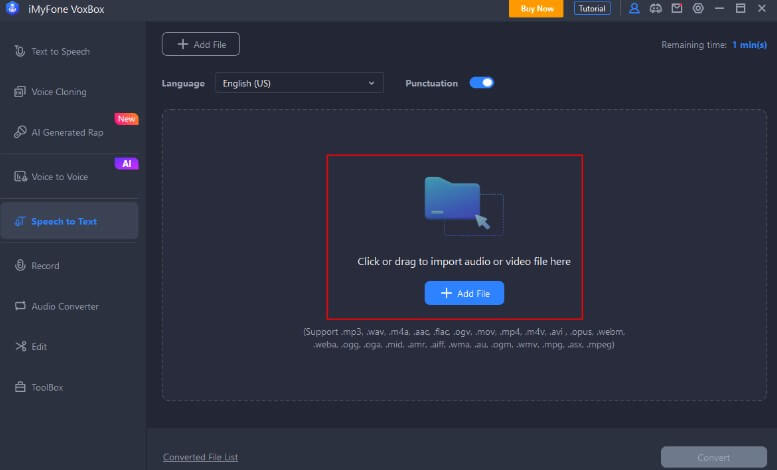 Step 3.Click 'convert', VoxBox will convert it to subtitle text within seconds. Finally, save it and enjoy!
Part 3: Benefits of Text to Speech with Subtitles
Accessibility: It makes content accessible to individuals with visual or reading disabilities. Subtitles provide a visual representation of spoken content, while text-to-speech helps those with visual impairments by reading aloud.
Multilingual Support: Text-to-speech technology can be used to translate content into multiple languages. Subtitles in different languages can accompany the spoken text, making content accessible to a global audience.
Content Repurposing: It allows content creators to repurpose their audio or video content into other formats, such as podcasts or articles, quickly and easily.
Mobile-Friendly: Users can consume content in environments where audio might not be appropriate, such as in quiet or public spaces, by reading subtitles.
Part 4: FAQs about Subtitle Text to Speech
1.How to convert speech to text to subtitles?
Yes, it is possible to convert speech to text and then to subtitles using a speech to text software such as VoxBox. The software transcribes the audio into text, which can then be edited and saved as subtitles.
2. How do I translate audio to English subtitles?
To translate audio to English subtitles, you can use a speech to text software like VoxBox, which can transcribe the audio into text. VoxBox also allows you to choose from a range of languages as the preferred output language including English. Then, you can edit the text to match the timing of the audio and save it as subtitles in the desired format.
3. Is there any text to speech voice generator to read subtitle loud?
Yes, there are text to speech voice generators available that can read subtitles out loud. One such tool is VoxBox, a cloud-based text-to-speech service that converts written text into spoken words in real time.
VoxBox provides a wide range of natural-sounding voices in multiple languages and allows users to customize the speech speed, volume, and pitch to suit their needs. It can be integrated into various applications and platforms for easy use.
Conclusion
To sum up, using AI Voice Generators like VoxBox for converting subtitle text to speech can revolutionize the way we consume media. With the ability to quickly and accuratelygenerate speech from written text, it saves time and effort for content creators, making it easier for users to access and understand audio content.
iMyFone VoxBox simply stands out among other voice generators because of its advanced AI technology, which produces high-quality voice outputs and offers a wide range of customizable options.