Are you looking for a Baldi text to speech voice generator to get realistic Baldi AI voice? If so, read on, you will get the perfect solution.
Whether you're a content creator, a gamer, or simply a fan of Baldi's Basics, you'll find valuable insights and practical steps to transform your voice and elevate your content.
In this article, we will delve into how to get Baldi AI voice for text to speech and voice change, as well as other characters voices in Baldi's Basics.
So, let's dive right in !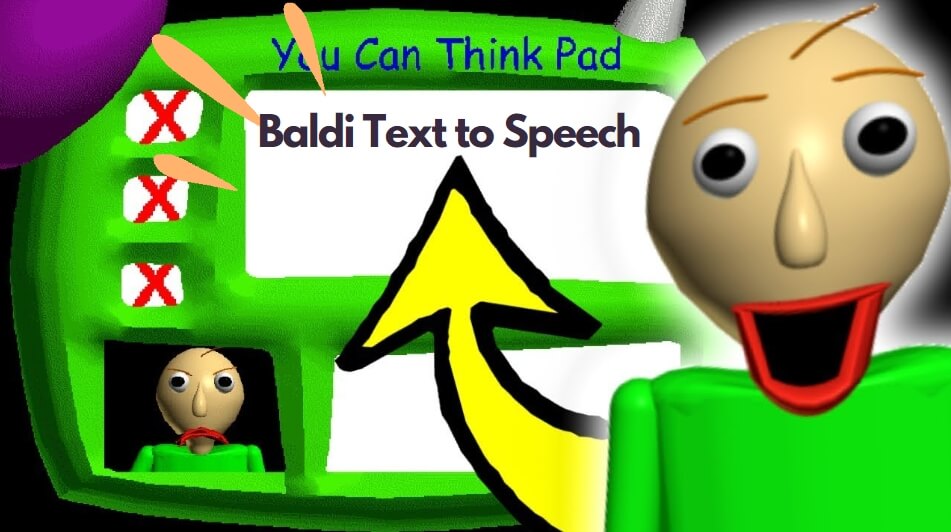 Tips
Listen to Baldi AI Voice free Generated using VoxBox.

Part 1: Basic Info about Baldi's Basics
Baldi's Basics is a 2018 parody horror video game developed by Micah McGonigal, known as Mystman12. Set in a school, players must find seven notebooks with math problems while avoiding Baldi.
The game satirizes 1990s educational games with poor graphics. As players fail math problems, Baldi becomes faster. When all notebooks are collected, players must escape.
The game gained popularity for its humor and difficulty, with YouTubers like DanTDM and PewDiePie contributing to its success. Baldi's Basics Plus introduced additional characters and features, and it was later ported to IOS and Android as Baldi's Basics Classic.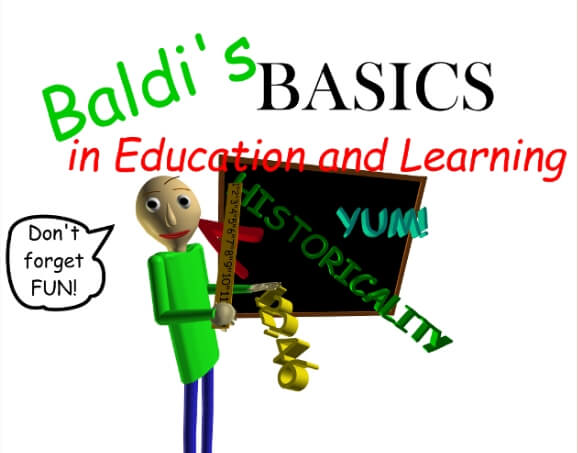 Part 2: Baldi Voice Actor
The voice actor behind Baldi in the Baldi's Basics series is Micah James McGonigal, also known as mystman12. He is the creator and sole developer of the game series.
Micah, hailing from Waynesboro, Virginia, USA, is known for his comedic and somewhat nonsensical approach to game development. Despite limited information about his personal life, he has gained fame for his work on Baldi's Basics, which has garnered attention from popular YouTubers like PewDiePie, Jacksepticeye, and Markiplier.
Micah's passion for making games, love for memes, and appreciation for retro and Nintendo games have influenced the unique and humorous style of his creations.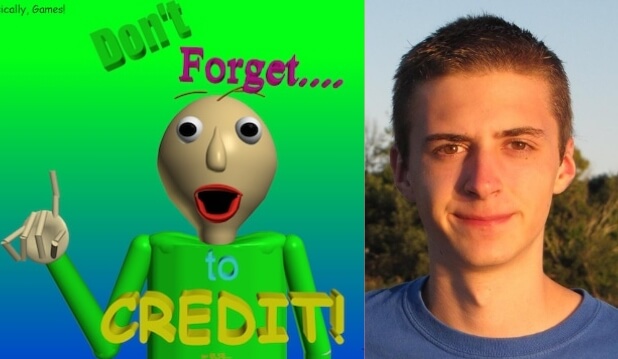 Part 3: Best Baldi Text to Speech Voice Generator to Get Baldi AI Voice
VoxBox -Baldi Text to Speech Voice Generator
VoxBox is your ticket to creating lifelike Baldi text to speech voiceovers, since it offers natural-sounding and realistic Baldi AI voice, serving as the best option for content creation, audiobooks, podcasts, and more.
Apart from the voice of Baldi, it offers 3200+ other AI voices, including characters in game, TV series, celebrities, singers, and more. Moreover, it also enables you to clone any voices you want only by uploading an audio file.
Bonus
Here is a coupon code you can use to enjoy 35% off for any paid plan in VoxBox. Try it Now!
VOXBOXYT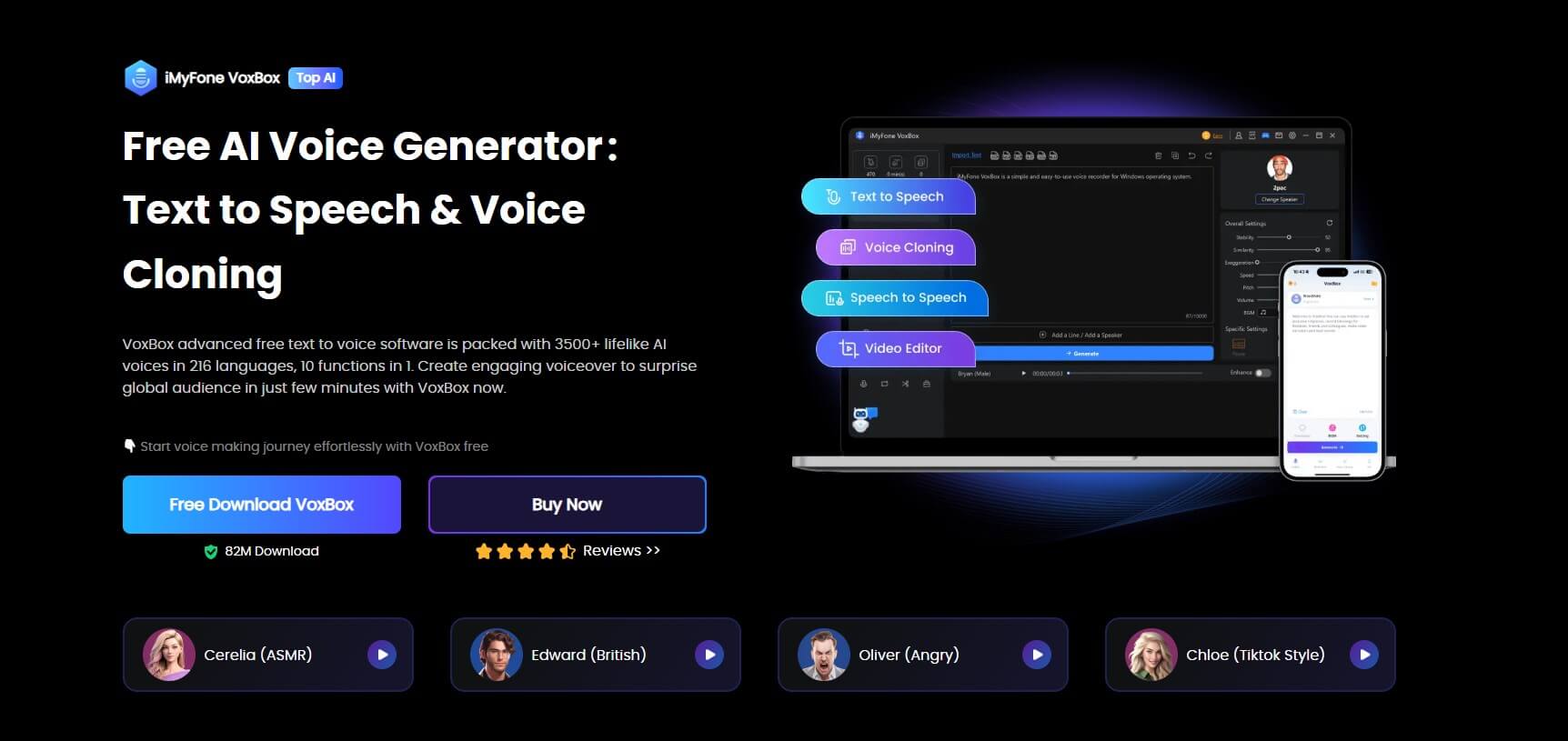 Free Generate Baldi AI Voice for Text to Speech
Step 1: Download & Installation
Step 2: Access the "Text to Speech" tab, enter your text & Click "Change Voice".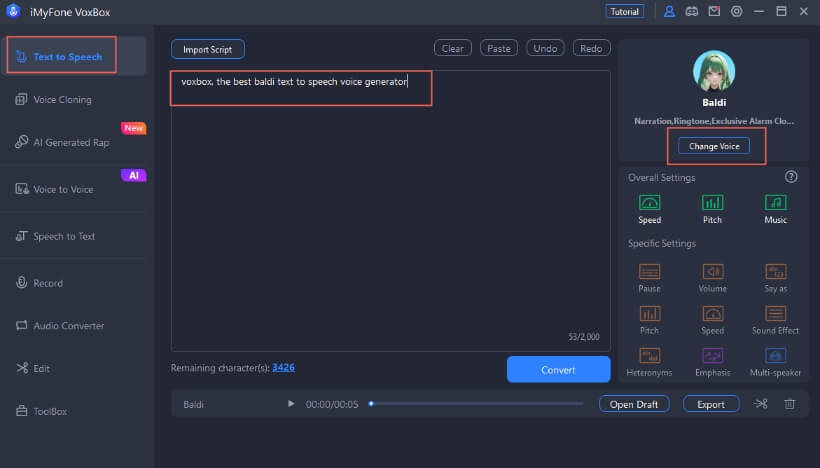 Step 3: Click "Games" > "Baldi's Basics" > "Baldi" to choose the iconic voice of Baldi, and finally click "Use".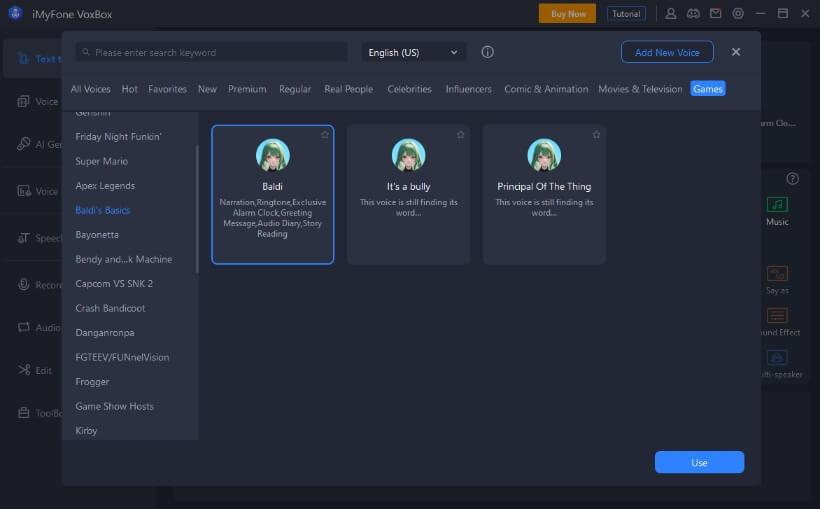 Step 4: Click "Convert" to get the realistic Baldi text to speech voiceovers.
Key Features:
Offers 2000 free characters for Baldi text to speech conversion.

High-quality voice cloning for content creators.

Provides 3200+ voices in 77+ languages, including celebrities and fictional characters.

Customize voiceovers with settings like speed, pitch, pause, and emotional tone.

Ideal for audiobooks, podcasts, content creation, gaming, IVR, and more.

Offers audio editing, text-to-speech, recording, speech-to-text, and voice cloning in one platform.

Import and export content in various formats, including MP3, WAV, Ogg, and more.
MagicMic – Baldi Voice Changer
MagicMic enables instant adoption of a realistic Baldi AI voice for real-time interactions, streaming, and gaming. It's compatible with both Mac and Windows OS, offering a vast voice library, including Baldi's Basics characters.
With 225+ AI voice filters, 600+ voice effects, and 200+ voice memes, MagicMic delivers seamless voice transformation.
Whether you're gaming, live streaming, or chatting on platforms like Discord, Zoom, or Twitch, MagicMic enhances your communication experience significantly.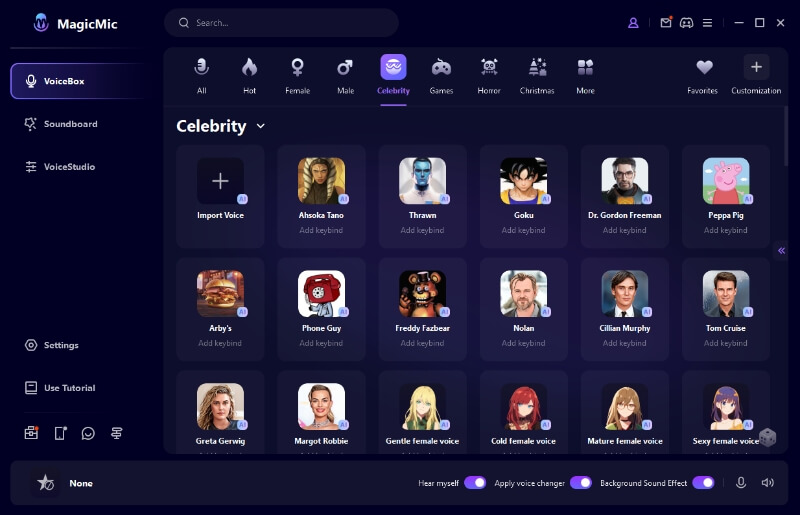 Features:
Allows you to clone any character except Baldi AI voice.

Swiftly switch between 225+ voices during conversations, streams, and gaming.

Enhance content with 600+ voice effects and 200+ memes for creativity.

Easily capture and refine audio files to meet your standards.

Tailor your voice with adjustable parameters for a unique persona.

Seamlessly integrate with popular programs and platforms, including Discord, Fortnite, Valorant, Zoom, Twitch, and more.
Part 4: Other Baldi's Basics Characters Voices You Can Get!
Baldi's Basics has gained great attention and interest since its release, including the distinct characters and their iconic voices.
With VoxBox, you can also gain access to thess characters voices with ease, let's have a close look at it!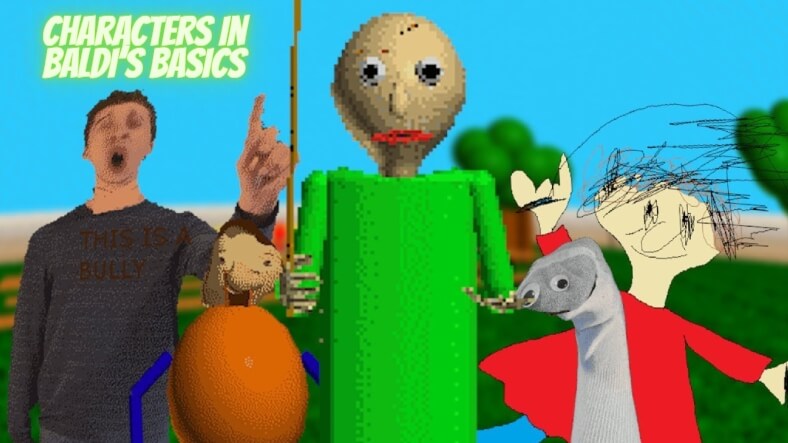 Playtime

A character with poor eyesight and short memory who always wants to play with the player.
It's a Bully

A character who serves as the school's bully and causes trouble for the player.
Principal of the Thing

The principal of the school who enforces the rules and keeps an eye on students.
1st Prize:

A character that won 1st prize at a science fair and rushes towards anyone it sees, hugging them.
Part 5: Hot FAQs About Baldi Text to Speech 2023
1. What is Baldi Text to Speech?
Baldi Text to Speech is a technology that converts written text into spoken words in the voice of Baldi, a character from the game Baldi's Basics. It works by using AI algorithms to generate speech patterns and mimic Baldi's voice.
2. Can I use Baldi AI Voice for commercial purposes?
The usage of Baldi AI Voice for commercial purposes may be subject to licensing and copyright restrictions. It's essential to check the terms and conditions of the AI voice service provider and obtain the necessary permissions if you plan to use it commercially.
3. How can I get Baldi AI voice for text to speech?
You can easily gain access to Baldi AI voice using VoxBox, and all you need to do is to choose the voice, enter the text, and click "convert" to get the voiceover.
4. What can Baldi text to speech voiceovers be used for?
You can use them for content creation, educational content, entertainment, gaming, streaming, audiobooks, podcasts, and more.
Conclusion

In conclusion, the Baldi text to speech voice generator offers exciting opportunities to engage with your audience, create captivating content, and explore the realm of Baldi's Basics like never before.
Whether you choose VoxBox or MagicMic, you can step into the shoes (or should we say voices) of Baldi and other beloved characters.
So, why wait? Download VoxBox and embark on your AI voice transformation journey today.