Do you follow the YouTube channel "Riggy The Rabbit Monkey" and want the funny Riggy AI voice? That would be something very simple, just use a speech generator to do it. You can also use Riggy's voice to add fun to your social media videos.
In this article, we will recommend two Riggy voice generators for text-to-speech and voice changing, and give you detailed steps to teach you how to operate them. Let's get started now!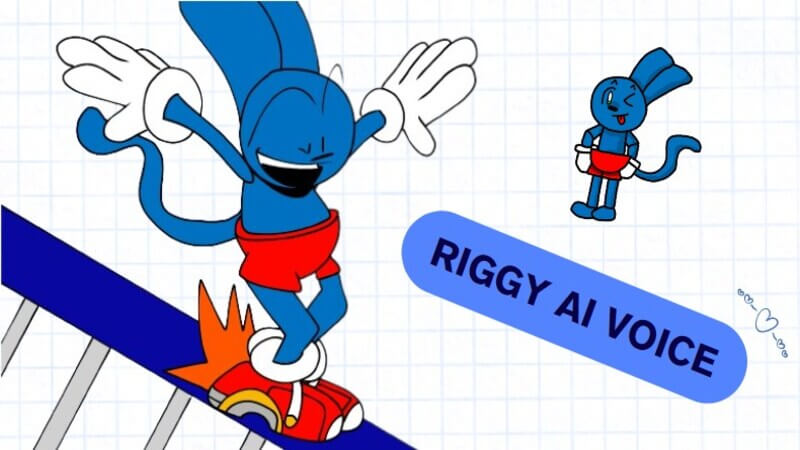 Part 1: Who Is Riggy The Runky?
Riggy The Runkey, also known as Rigmond T. Runkey, is a prominent figure in the YouTube channel Danno Cal Drawings, which boasts 2.41 million subscribers. Riggy is portrayed as a rubber hose style rabbit-monkey hybrid and serves as both an actor and a model for Danno Cal, who creates animated YouTube Shorts focusing on entertainment news, celebrities, movies, TV shows, and video games.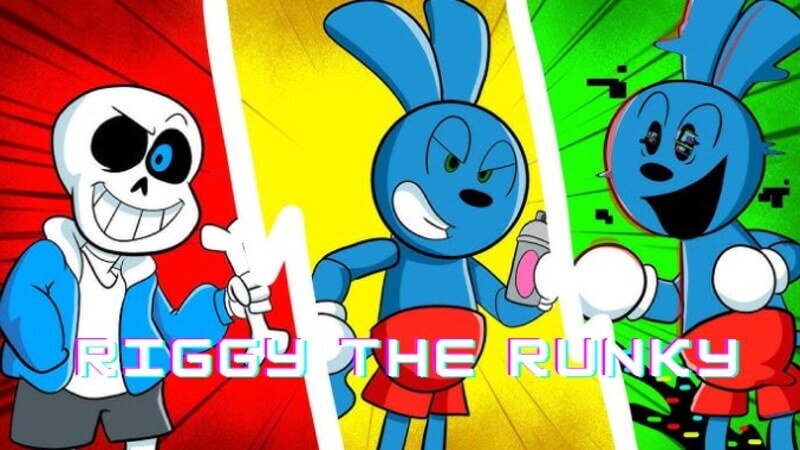 Riggy has his own channel called Riggy The Rabbit Monkey, where the character uploads content and engages in humorous banter with Danno.
Part 2: [Guide] Make Riggy AI Voice Via Voice Generators
The voice of Riggy sounds playful and cute, in this section, we will help you to gain the same Riggy The Runky's voice with top 2 voice generatore.
If you want a Riggy AI voice, then VoxBox is a great tool that allows you to clone Riggy's voice with 99% accuracy. At the same time, you can also use its text-to-speech function to generate Riggy AI dubbings. In addition, VoxBox provides a large number of sounds so that you can enrich the content of social media videos, not just Riggy's voice.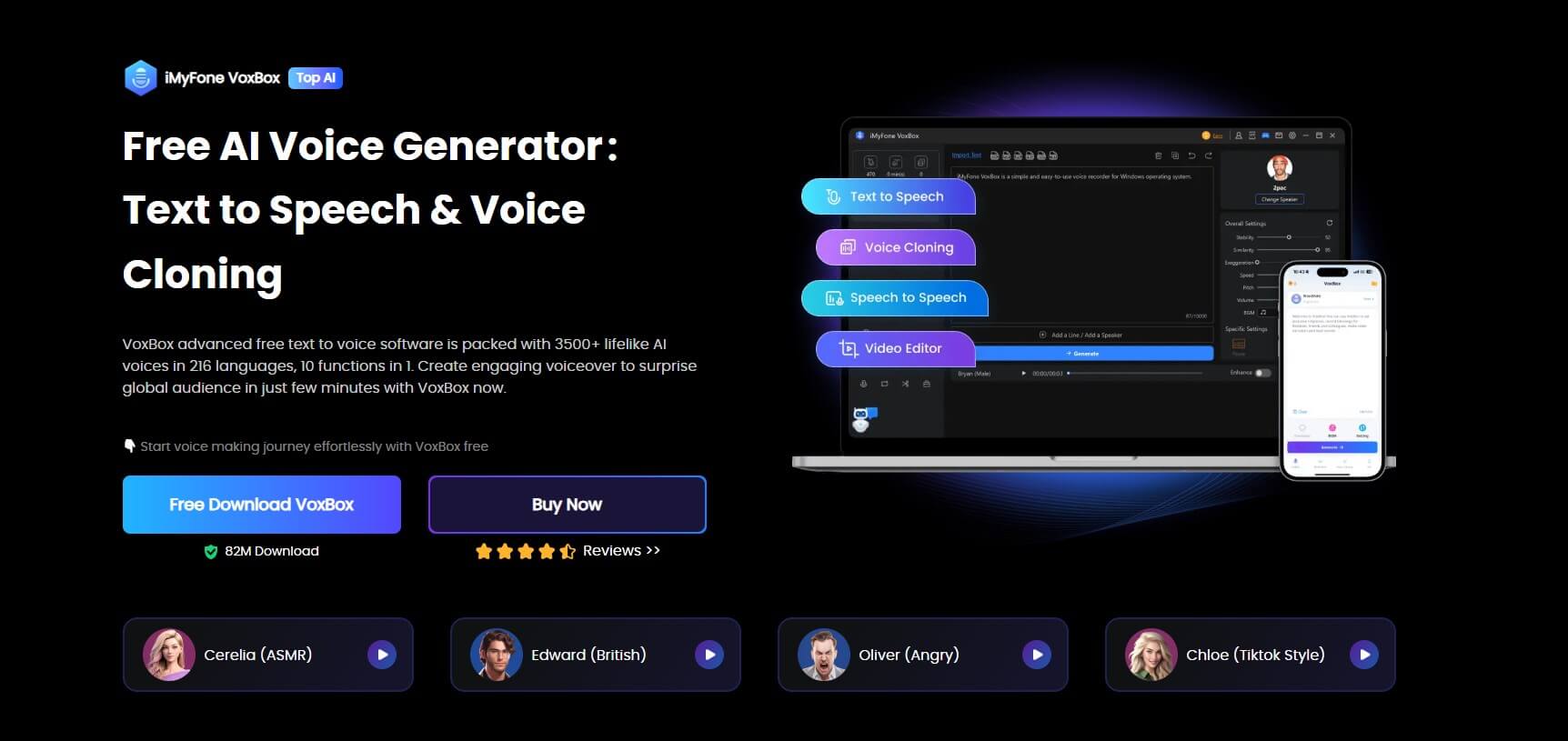 How To Get Riggy AI voice Via Voice Cloning & TTS:
#Step 1: Downlaod Voxbox and install it.
#Step 2: Open VoxBox, enter "Voice Cloning" section and the obvious cloning page, then upload the audio file of Riggy voice to clone.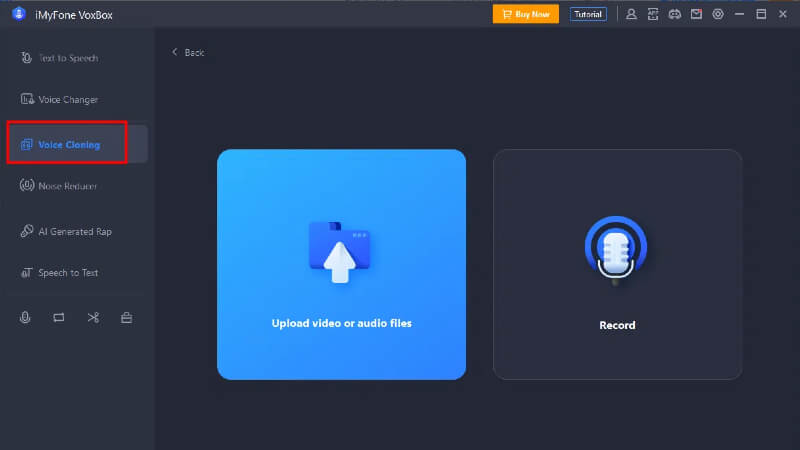 #Step 3: After cloning, enter "Text to Speech" section, click "Change Speaker" and access "My Voice", and choose the voice you have cloned.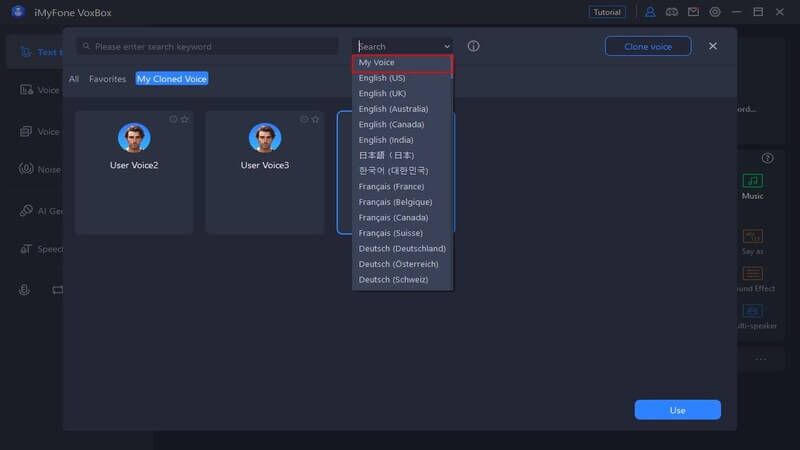 #Step 4: Type the text and convert it to voiceover. Then export it to your devices.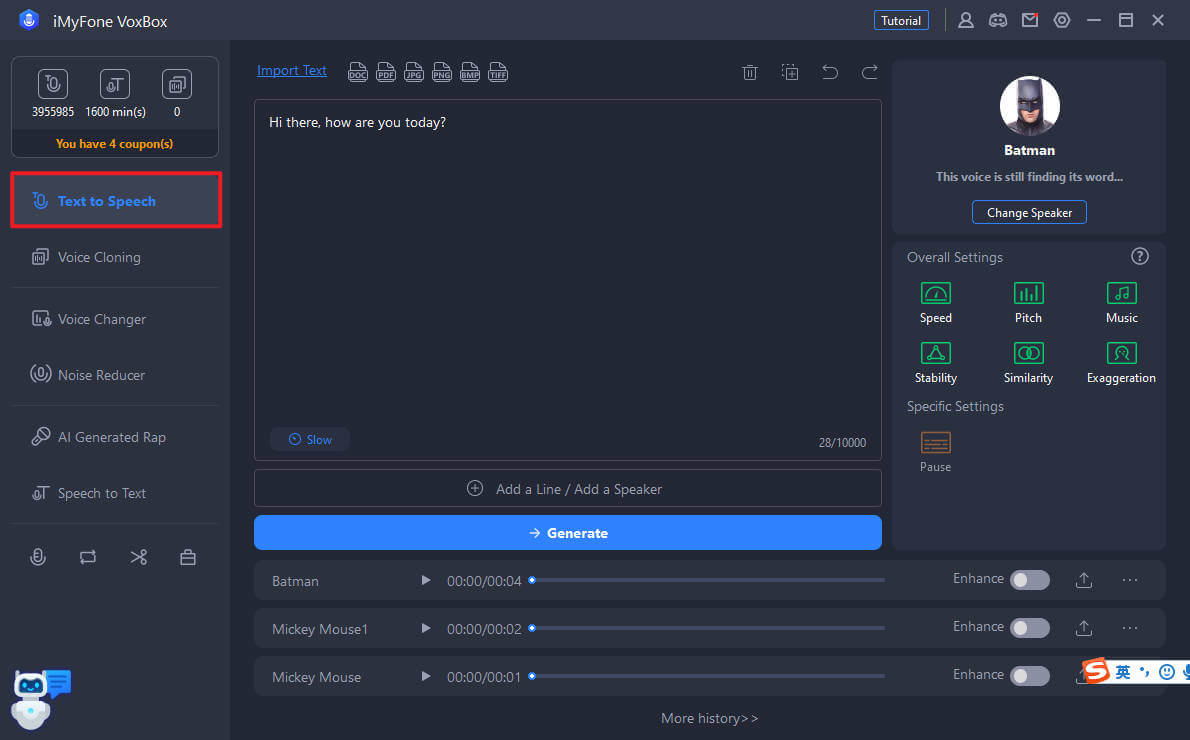 Features:
2000 character counts give you a free trial for Riggy voice generation.

3200+ voices for YouTube and TikTok videos narration.

Famous YouTuber and streamer voices provided for you.

Other mutiful funtions including STT, noise reduction, recording, audio editing, etc.

Custom any character voice you like though voice cloning.

Adjustable settings like speed, pitch support.
Special Offer: Get Official VoxBox with A Discount
35% off Coupon Code: VOXBOXYT
MagicMic helps you generate natural Riggy AI voices, allowing you to change your voice in real time. This voice changer offers a wide range of voices, perfect for streaming, gaming, and real-time interactions, including multiple celebrities and virtual characters. You can easily transform sounds to create content.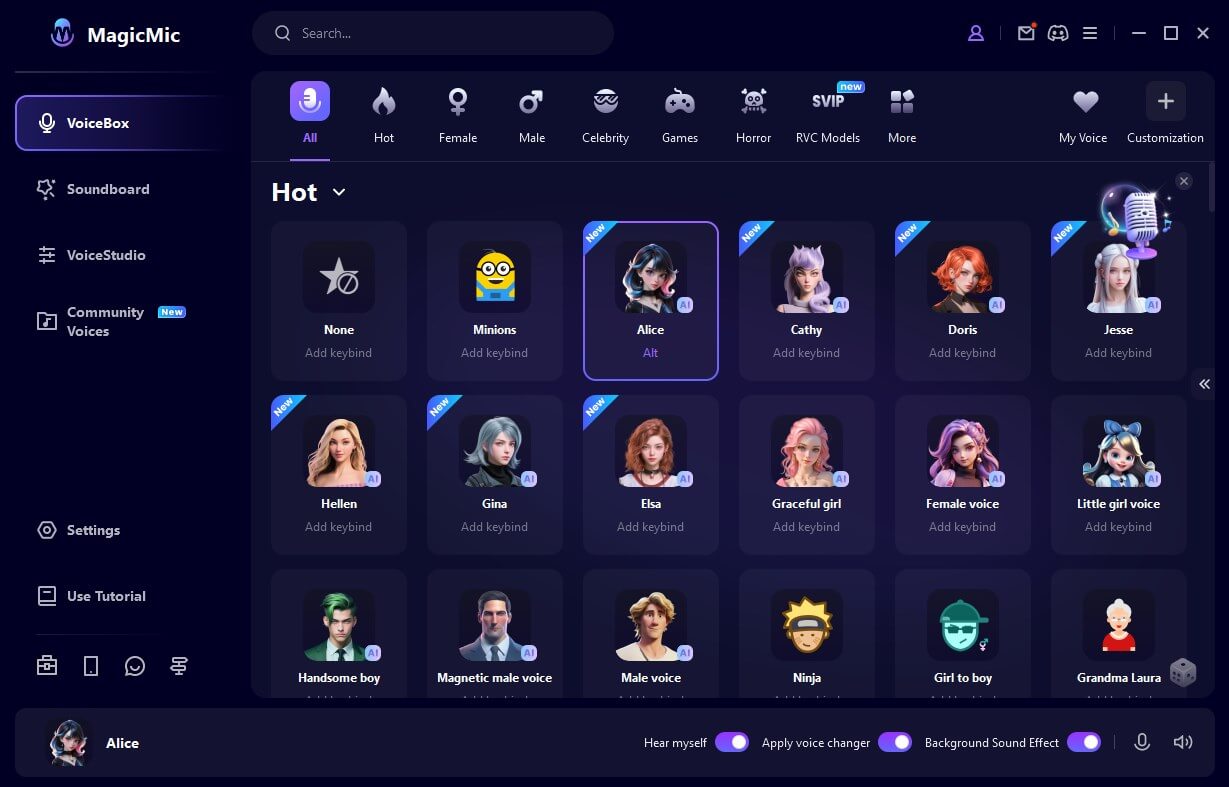 Steps to Transform into Real-time Riggy AI Voice
#Step 1: Download MagicMic.
#Step 2: Activate "App Voice Changer" and enable "Hear myself" and specify microphone and headphones as input and output devices.
#Step 3: Select the Voice Changer Virtual Audio Device as the input to the application.
#Step 4: Enter "Customize", upload the audio file of Riggy's voice, speak into the microphone after the sound is generated, and perform real-time voice conversion.
Features:
Users can enjoy 225+ voice filters, 600+ sound effects, and 200+ voice memes.

MagicMic is compatible with various social media platforms and games.

It allows you to adjust your voice and recording by setting parameters.

Supports real-time voice modification.

Easily enhance your voice and save it as a template.
Part 3: FAQs about Riggy AI Voice
1. How can I generate lifelike Riggy The Runky AI voice?
Getting the AI-generated Riggy voice is a very simple matter. You only need to have a voice generator, and then upload the audio for cloning. If you also want to generate dubbing, then you have to enter text and convert it into speech.
2. Is it easy to sound like Riggy?
Yes, with a text-to-speech generator like VoxBox or voice changer like MagicMic, you can make your voice to be Riggy's, which has a high accurat similarity.
3. What kind of animal is Riggy?
Riggy, a Runkey (Rabbit Monkey), has green eyes, two prominent ears, a tail, and dons white gloves on each hand.
Conclusion
In the above, we recommended different tools to let you choose the method you prefer to get a natural Riggy AI voice. However, if what you need more is to produce narration, then you can use the professional dubbing tool VoxBox, which not only provides different types of sounds, but also has multiple voice generation features to enable you to create more interesting content.