Megatron is widely known for his villainous role in Transformers cartoons and their adaptations, including many movies. He is the leader of the evil forces, the Decepticons, who are in an endless struggle with Optimus Prime and the rag-tag band of heroes, the Autobots.
There is wide popularity among fans to sound like and love the voice of Optimus Prime, but the gravity and sinister quality the Megatron voice actor portrays is just unique. If you want to make your voice in online gaming and chats sound like Megatron voice, try the highly-ranked AI Megatron voice generator tool we discuss below.
Listen to Megatron AI Voice for free using iMyFone Voxbox down below!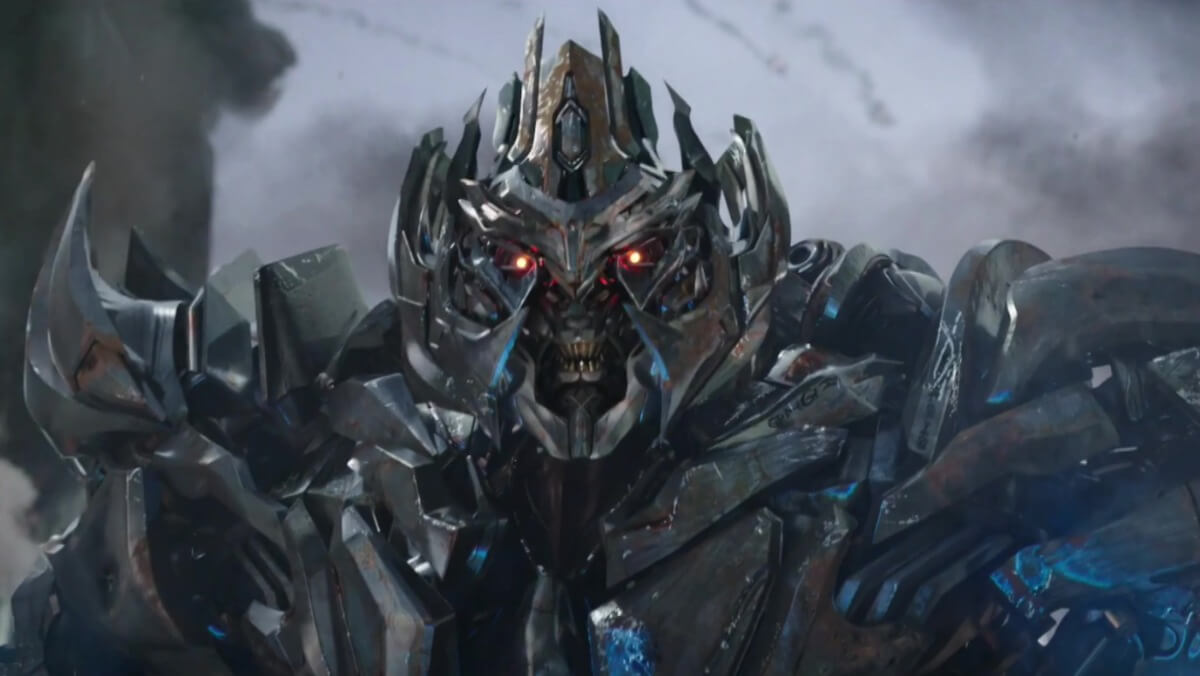 Part 1: Who is the Megatron Voice Actor?
One of the Transformers franchise's most popular and recognizable characters is Megatron, equaled only by Optimus Prime. He has gone on to cause trouble for the Autobots in television animated series, comic book, and film iterations. Megatron is ranked among the most popular action figures.
It also played a prominent role in making the "Transformers" animated series in 1980. Megatron is ruthless and a powerful opponent in animated series. Many voice actors voice Megatron, but the most famous artist who voices Megatron is Franklin Welker.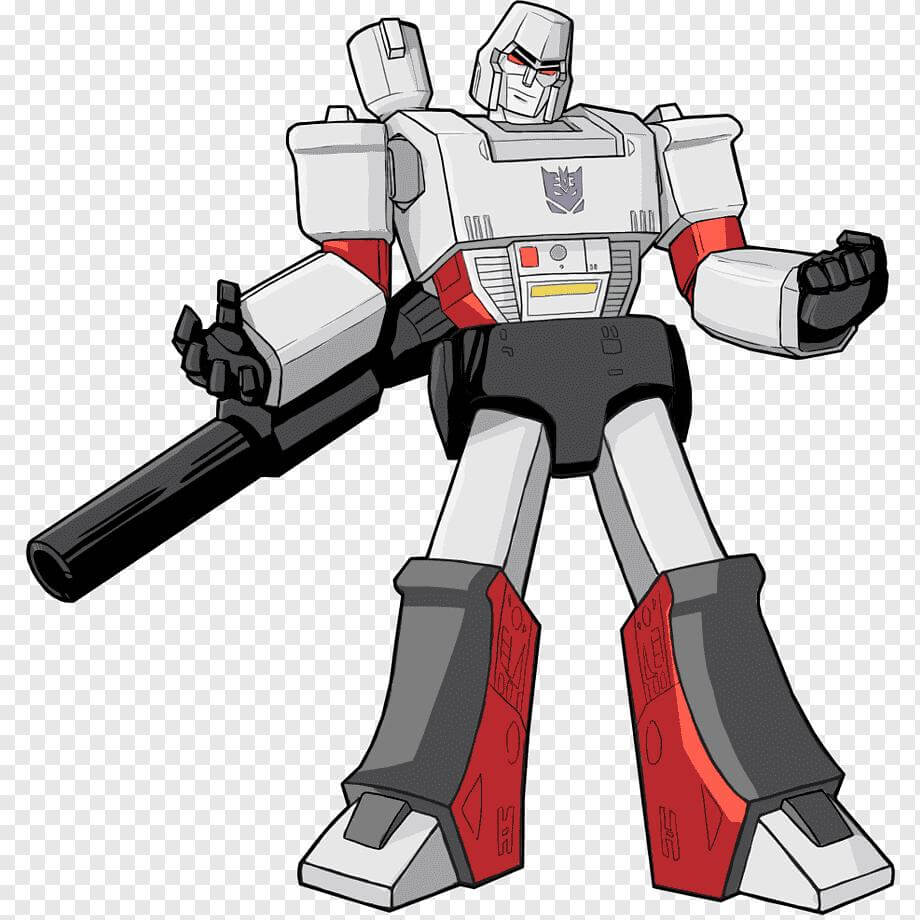 Franklin Wendell Welker
Franklin Wendell Welker works as the Megatron voice actor. He has also worked in many other franchises, like Scooby-Doo and Oswald the Lucky Rabbit. Frank Welker started his career in the 19s and holds the credit as the voice-over actor and participant in over 800 films, television, and video games.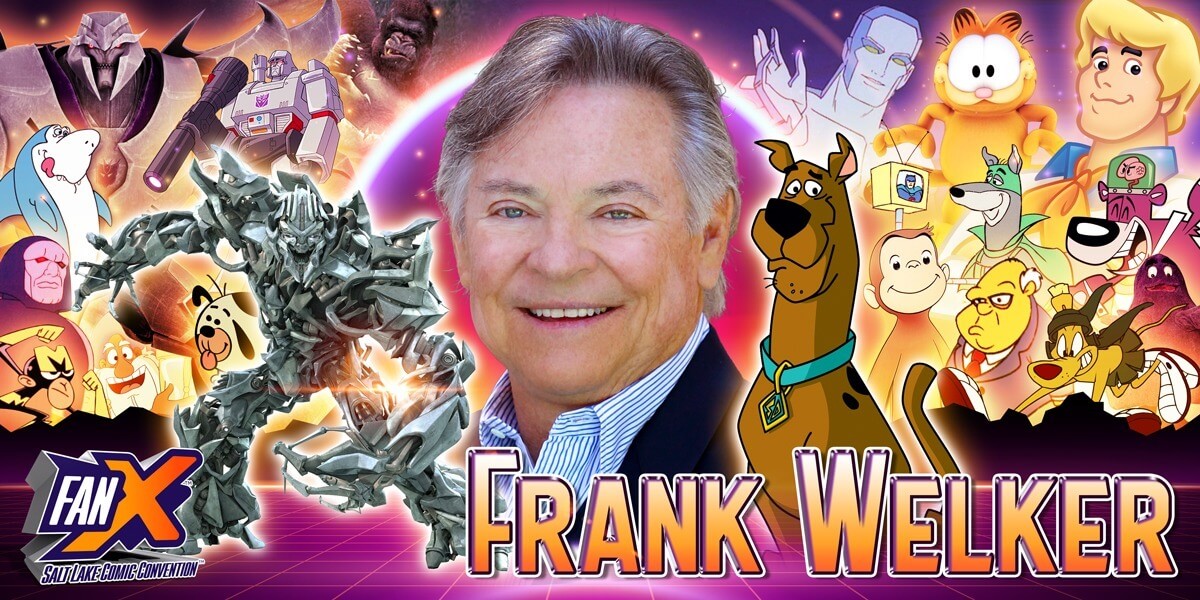 Part 2: VoxBox – AI Megatron Voice Generator
Megatron is the most potent evil character in the 1990s animated series and appeared in movies. If you want to make your text sound like Megatron voice. Then try the below given AI voice generator.
VoxBox is the top-ranked AI voice generator. It provides many different features and perks to its premium user compared to other AI text-to-speech voice generator tools. Add different voice skins and effects like Megatron voice to make your text enjoyable. Then VoxBox is the besttext to speech software for you.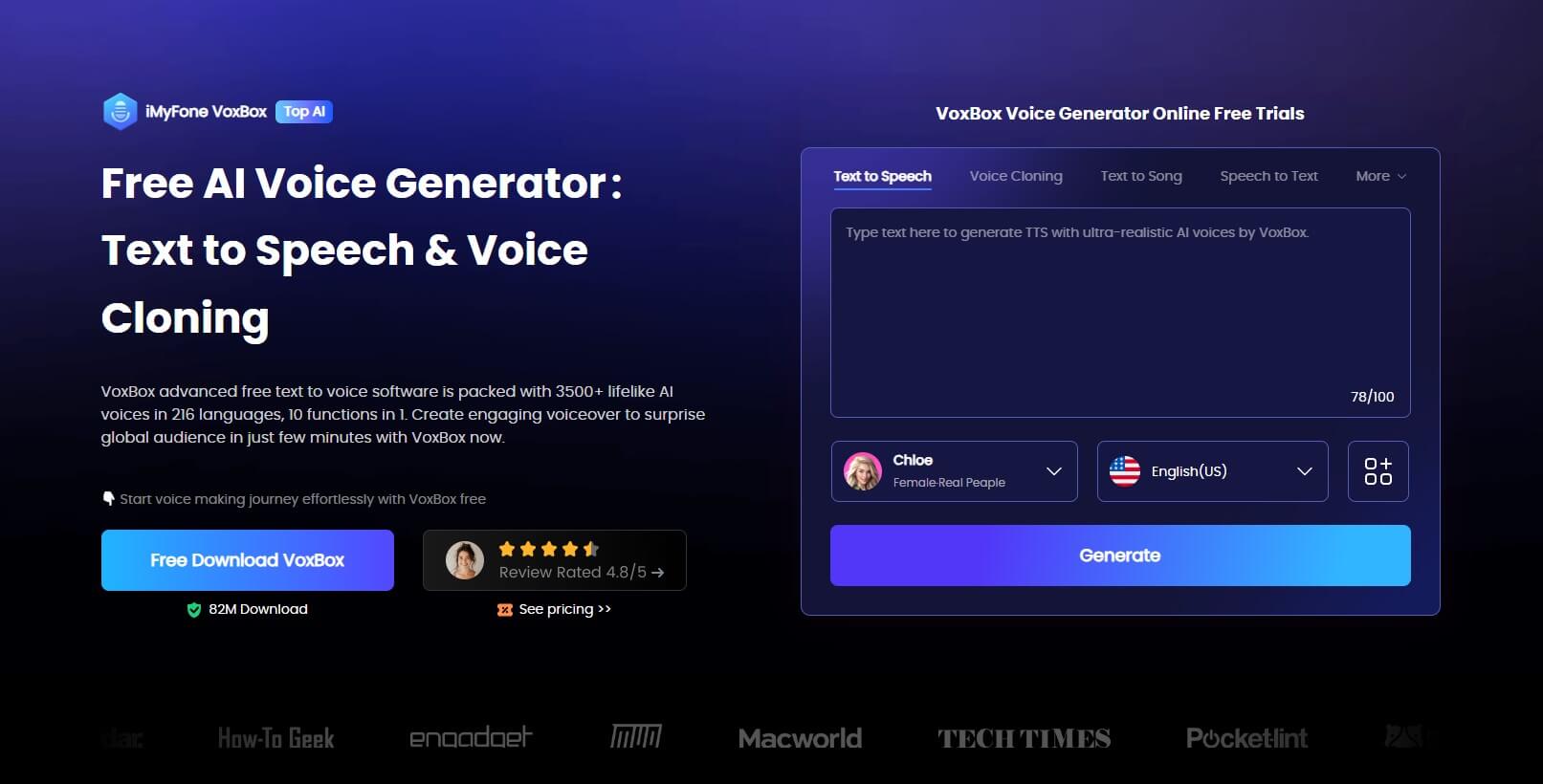 Key Features:
There is a wide range of animated voices, like Megatron voice, Optimus Prime, and many others, that you can use as text-to-speech.

You can customize the reading speed according to your preference.

It auto-enhances your voice and sound pitch according to the nature of the text.

The premium version allows the user to enter large document file.
How to Make Megatron's Voice:
Step #1: Launch the iMyFone VoxBox and go to the "Text to Speech" tab.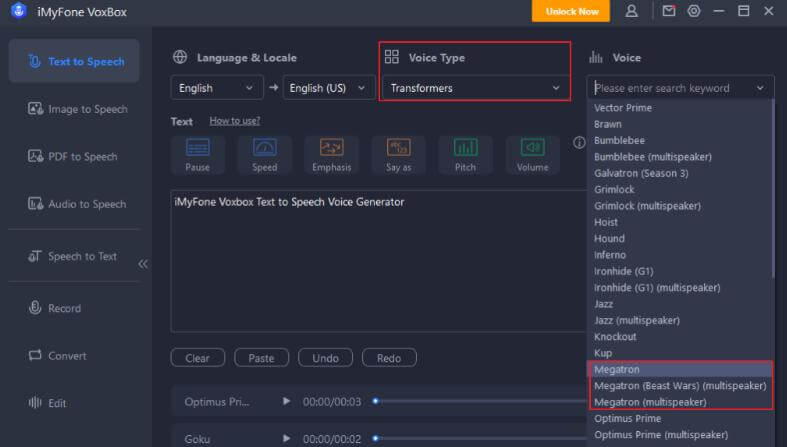 Step #2: From "Voice Type," select Megatron voice.
Step #3: Enter your text in the below-given section and press "Convert."
Pros:

Good voiceover quality for video.

Amazing features.

It doesn't require high-performance RAM & ROM.
Cons:

You need to have window 7 or above.
Part 3: FAQs About Megatron AI voice Generator
1. How to Make the Voice of Megatron with Text to Speech?
Many text-to-speech voice generators are available, and you can use them to make Megatron voice. It will take time to comprehend and use them to customize the sound effect completely. Some of the tools and software are challenging to use.
You can use VoxBox to make Megatron voice. It is easy to use; you only need to input your text in VoxBox, select the Megatron voice, and convert your text into the voice of Megatron.
2. Which is the Best Megatron AI Voice Generator?
There are plenty of AI voice generators available on the internet to download, but they offer limited features and voice skin and filters. You can barely find the Megatron voice on them, but if you want to avoid taking risks, then you should try VoxBox, where you can find Megatron voice that you can use in customizing your text-to-speech.
3. Who Voices Megatron in Transformer?
Franklin Wendell Welker voiced Megatron. Frank works in many different animated series as a voice-over artist. He shows his sport in up to 860 films, shows, animated movies, and series.
Conclusion
In this guide, we have talked about the most used and top-ranked AI text-to-speech voice generator, which you can use to make your text sounds more interesting. iMyFone VoxBox is the most powerful AI tool that provides you with many different perks, a hundred skin tones, and a voice like Megatron voice.