Are you looking for Emiru AI voice to make voiceovers or AI cover songs that are viral on YouTube? Read on, you will have your favorite Twitch streamer's voice at your disposal.
Whether you are an entertainment enthusiast, a content creator, or a dedicated follower of Emiru in the gaming world, you can craft captivating content and immersive experiences using streamer AI voice.
In this article, we delve into the exciting realm of Emiru AI voice generator, exploring how cutting-edge technology can empower you to elevate your content creation.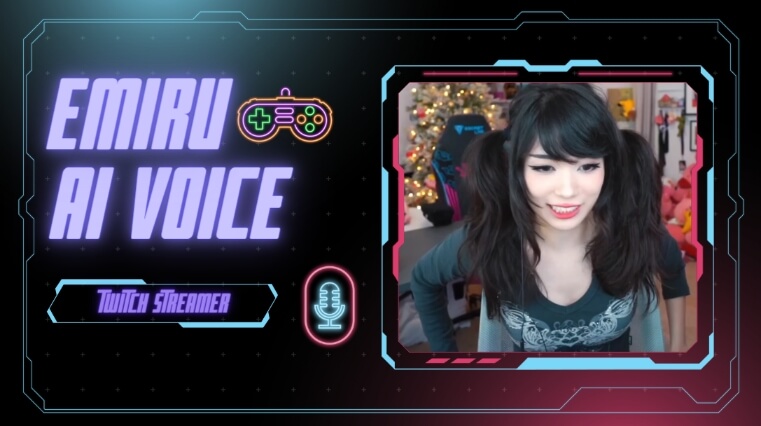 Part 1: Basic Info of Emiru
Emiru, a prominent American Twitch streamer and cosplayer, has established herself as a force in the digital entertainment sphere.
Her Twitch channel boasts over 1,100,000 followers, where she showcases her skills in both League of Legends gaming and intricate cosplays.
Beyond her streaming prowess, Emiru holds a significant role as a content creator and co-owner within the gaming organization One True King.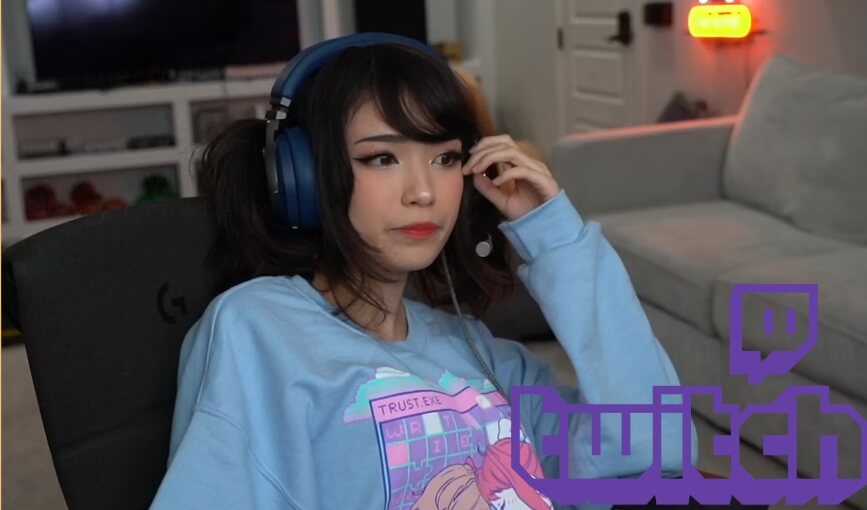 Part 2: Free Generate Emiru AI Voice for Text to Speech
With VoxBox, you can now generate realistic Emiru AI voice for text to speech or making AI rap with ease, since its powerful voice clone feature enables users to generate any voices once they upload certain audio files.
Apart from generating voices, you have more than 3200 voices to use, including YouTubers, Twitch streamers, famous personas, and even fictional characters, and it also supports dubbing in 77+ languages, ensuring that your content can reach global audience.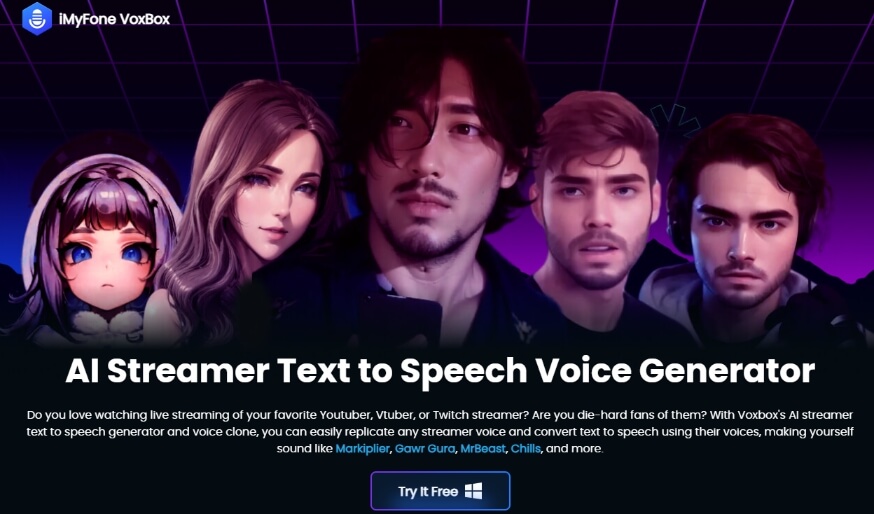 Free Generate Emiru AI Voice:
Step #1: Begin by downloading and installing VoxBox.
Step #2: Head to "Voice Cloning" feature to upload the audio file featuring Emiru voice to initiate the cloning process.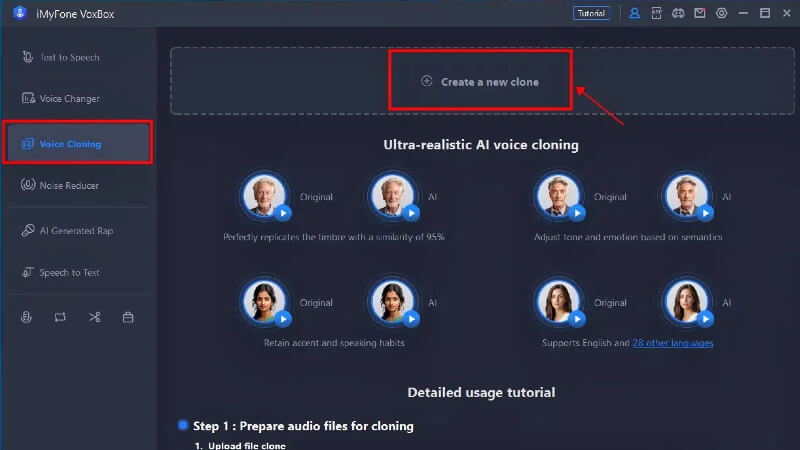 Step #3: Let AI do its magic, and get the cloned Emiru AI voice.
Step #4: Tap on "Text to Speech" to choose the voice you just cloned, and enter text to convert text to voice.
Key Features:
Effortleesly clone realistic Emiru voice for text to speech.

The upcoming version allows you to use any voice for AI rap making.

Users are given free 2000+ character counts for text to speech conversion.

With 3200+ voices, VoxBox can satisfy all your needs for dubbing.

You are allowed to dub in 77+ languages to get global audience.

Choose from multiple output formats like MP3, WAV, and OGG for versatile compatibility.
Part 3: How to Make Emiru AI Cover Using Her Voice
MusicAI - Emiru AI Cover Song Generator
For creating viral Emiru AI cover songs that resonate on platforms such as YouTube and TikTok, choose MusicAI.
This revolutionary platform seamlessly combines AI expertise with music composition, empowering users to craft AI-generated cover songs influenced by Emiru's voice and other renowned models.
With features like text-to-music conversion and vocal isolation, MusicAI streamlines music projects, utilizing a diverse range of AI models for effortless creative endeavors.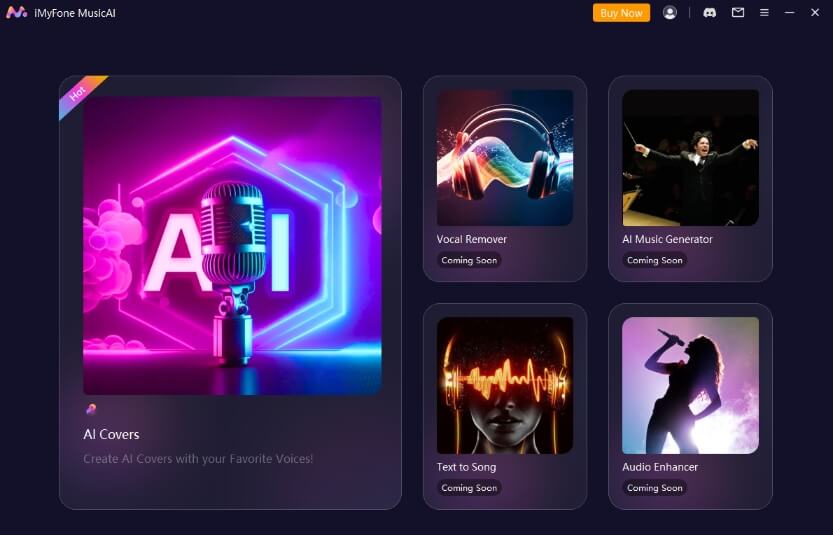 Key Features:
It allows you to make Emiru AI cover that is viral on social media.

MusicAI offers an array of AI models, allowing you to create cover songs with the voices of renowned singers and celebrities.

With a single click, enjoy higher-quality audio and music that captivates listeners.

Export cover songs in various formats like WAV, MP3, and OGG.
Part 4: FAQs About Emiru AI Voice 2023
1. What is Emiru AI Voice?
Emiru AI Voice is the voice that replicates the distinctive voice of Twitch streamer and cosplayer Emiru. It enables users to generate AI-generated voice content resembling Emiru's unique vocal tones.
2. How can I use Emiru AI Voice in my content creation?
You can incorporate Emiru AI Voice into various types of content, such as videos, podcasts, live streams, and more. The AI-generated voice adds a personalized touch to your creations, making them more engaging and captivating for your audience.
3. Can I use Emiru AI Voice for commercial purposes?
Yes, Emiru AI Voice can be used for commercial purposes, such as adding a unique touch to your brand's marketing campaigns, advertisements, and promotional content.
Conclusion

Emiru, the esteemed Twitch streamer and cosplayer, has captivated audiences with her dynamic persona. Using iMyFone Voxbox, you can effortlessly clone and get Emiru AI voice for text to speech conversion and AI cover song generation, elevating your channel.
Take the first step towards transformative creativity – download VoxBox today and let Emiru AI Voice shape your journey of artistic exploration.