Are you a fan of the charismatic Steve Harvey, known for his engaging television hosting, stand-up comedy, and bestselling books? Do you wish to create captivating content or personalize your voice with the legendary Steve Harvey's touch?
Look no further! In this article, we'll introduce you two powerful AI voice tools that allow you to generate realistic Steve Harvey AI voice for text-to-speech and real-time voice changing.
Let's get started!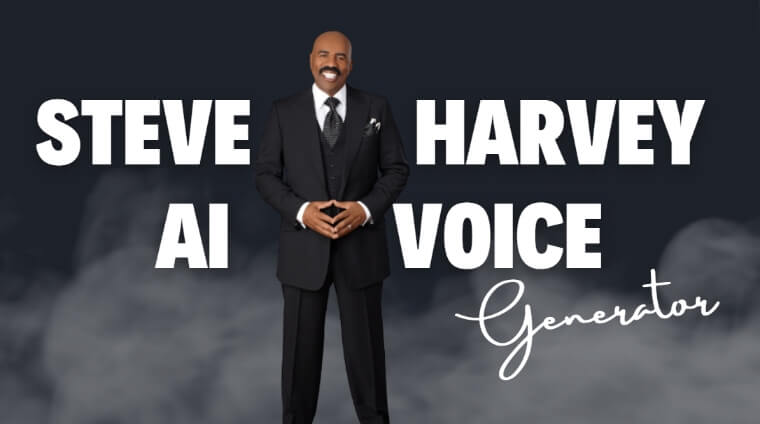 Part 1: Who is Steve Harvey?
Steve Harvey, whose full name is Broderick Stephen Harvey Sr., is a prominent American television host, actor, comedian, and producer. He was born on January 17, 1957. Over the years, he has become a household name and one of the most recognizable figures in the entertainment industry.
Steve Harvey's career took off in the early 1980s when he began as a stand-up comedian. His talent and charisma soon caught the attention of television executives, leading him to host various popular shows. Some of his notable hosting gigs include "The Steve Harvey Morning Show," "Family Feud," "Celebrity Family Feud," and "Family Feud Africa." He also hosted the Miss Universe competition for a period.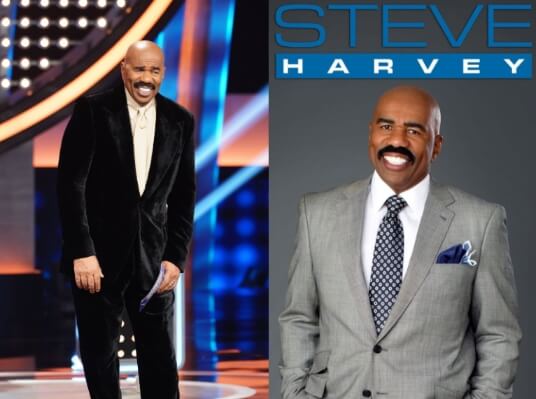 Beyond his success as a host, Steve Harvey has earned numerous accolades and awards for his work. He has won seven Daytime Emmy Awards, two Marconi Awards, and an impressive fourteen NAACP Image Awards.
With his infectious sense of humor, charm, and engaging personality, Steve Harvey continues to captivate audiences across the globe and remains an influential figure in the world of entertainment.
Part 2: Why is Steve Harvey Famous?
Steve Harvey is famous for the following reasons: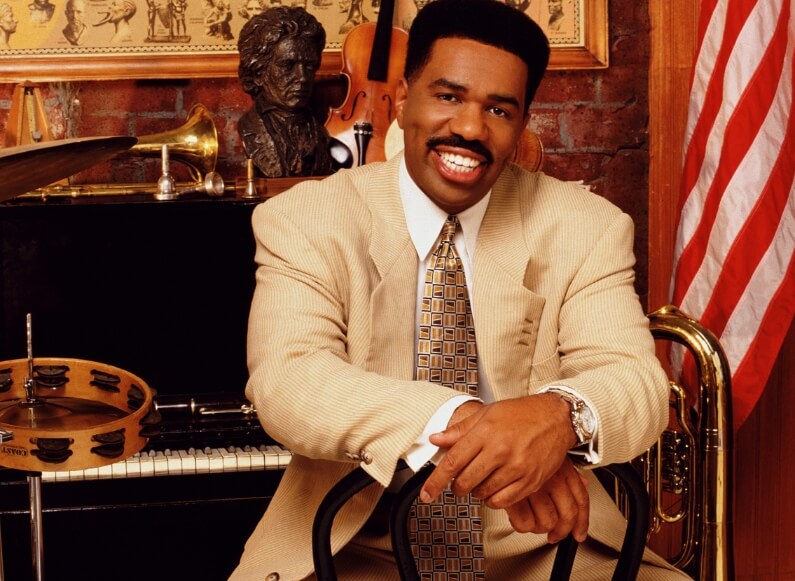 1. Television Hosting: Steve Harvey gained widespread fame as a television host. He has been the host of popular shows like "The Steve Harvey Morning Show," "Family Feud," "Celebrity Family Feud," and "Family Feud Africa." His hosting skills and engaging presence on these shows made him a household name.
2. Stand-Up Comedy: Harvey's career began as a stand-up comedian in the early 1980s. His talent for humor and entertaining performances helped him gain recognition in the comedy circuit.
3. "The Original Kings of Comedy": Steve Harvey was featured in the highly successful comedy tour and film "The Original Kings of Comedy" alongside fellow comedians Cedric the Entertainer, D.L. Hughley, and Bernie Mac. The tour and subsequent film further propelled him to fame.
4. Author: He is a successful author, known for writing books like "Act Like a Lady, Think Like a Man." This bestseller provided relationship advice and resonated with a wide audience.
5. Daytime Emmy Awards: Harvey's work as a television host earned him multiple Daytime Emmy Awards, recognizing his talent and contribution to the industry.
6. NAACP Image Awards: Steve Harvey has been honored with fourteen NAACP Image Awards, highlighting his impact and positive representation in the entertainment industry.
7. Business Ventures: He founded Steve Harvey Global, an entertainment company that houses his production company East 112 and other ventures. His involvement in business ventures further expanded his influence.
8. Miss Universe Hosting: Harvey hosted the Miss Universe competition, gaining attention and making headlines for a memorable mix-up in announcing the winner during the pageant.
9. Philanthropy: Together with his wife, Marjorie, Steve Harvey founded The Steve and Marjorie Harvey Foundation, showing his commitment to philanthropy and supporting youth education.
Steve Harvey's multi-faceted career, from comedy to television hosting, writing, and philanthropy, has contributed to his fame and enduring popularity.
Part 3: Free Get Natural-Sounding Steve Harvey AI Voice for Text to Speech
VoxBox -- Steve Harvey Voice Generator
VoxBox is the cutting-edge AI voice generator that allows you to create authentic Steve Harvey AI voice for text-to-speech applications, like content creation, dubbing, audio books, podcast, and more. Except for its powerful feature of cloning voices, it also provides you with 3200+ AI voices in 77+ languages ready to use, like that of Trump, Biden, Spongebob, and more.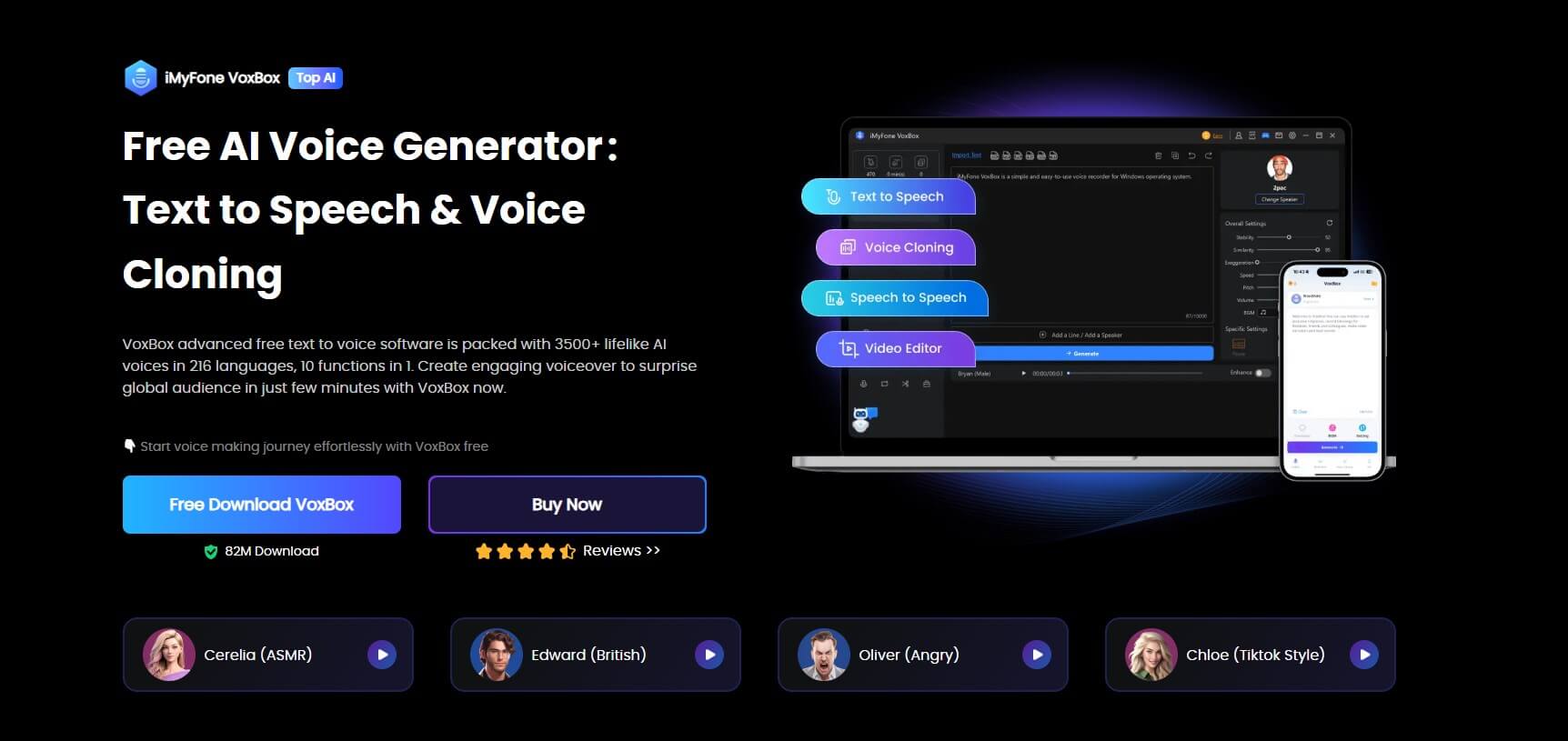 Free Get Authentic Steve Harvey AI Voice for TTS
Step 1: Download & Installation
Step 2: Click on "Voice Cloning" feature & Upload the audio file of Steve Harvey.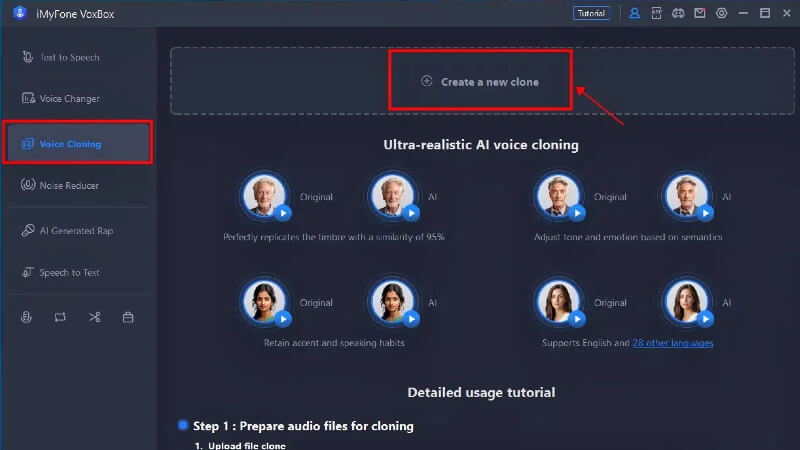 Step 3: Initiate the cloning process and obtain the realistic Steve Harvey AI voice.
Tips
Watch this video to learn more about using
AI overdub studio
to make more natural & realistic voice .
Step 4: After that, you can directly go to "Text to Speech" to do content creation or dubbing for any purpose using the AI voice you just cloned. Remember that the voiceover can be customized by adjusting pitch, pause, emphasis, etc.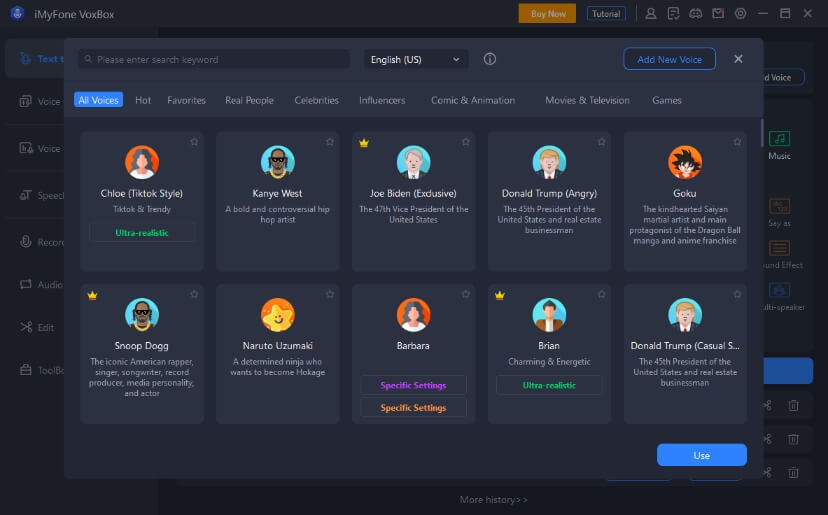 Key Features:
VoxBox enables you to create realistic AI voice of any one you like with its huge potential of voice clone.

It boasts 3200+ voices in 77+ languages for you to chosse from, including rappers, singers, characters, celebrities, etc.

It allows you to customize the voiceover through adjusting the pitch, volume, pause, emphasis, and more of the AI voice.

It is user-friendly with its intuitive interface.

It is more than a voice generator, with features like text to speech, speech to text, recording, audio editing, and more.
Part 4: Bonus Tip: How to Sound Like Steve Harvey in Real-Time
MagicMic – Steve Harvey Voice Changer
With MagicMic, you can also bring Steve Harvey's iconic voice into reality, and can use it in real-time, like during live-streaming, gaming, voice call, and more. Apart from Steve Harvey AI voice, it offers iconic characters like Jigsaw, Ghostface, Demon, and more, meanwhile ensuring your voice modifications using adjustable parameters.
Key Features:
Voice Memes: The software includes 200+ voice memes that you can use to add humor and entertainment to your conversations and content.

Extensive Voice Effects Library: With 600+ voice effects available, MagicMic provides a vast selection of sound alterations.

Real-Time AI Voice Filters: MagicMic offers over 225+ various AI voice filters that allow you to instantly change your voice during live conversations, etc.

Seamless Integration: MagicMic seamlessly integrates with your favorite programs and applications.

Voice Customization: The software offers easy-to-use tools for personalized voice-making with just one click.
Part 5: Hot FAQs About Steve Harvey AI Voice Generator
1. What is the AI voice generator for famous actors?
VoxBox is an advanced AI voice generator that allows users to create realistic and expressive AI-generated voices of famous actors and celebrities. This innovative tool utilizes cutting-edge AI technology to clone and emulate the voices of various personalities, including famous actors, providing users with the ability to use those voices in a wide range of applications.
2. What is the most realistic voice over generator?
VoxBox is the most realistic voice-over generator available today, utilizing cutting-edge AI technology to produce natural-sounding and expressive voiceovers. With its advanced voice cloning capabilities, VoxBox can create AI-generated voices that closely resemble real human voices, including well-known personalities like Steve Harvey and many others.
3. What is Steve Harvey AI Voice Generator?
Steve Harvey AI Voice Generator is an advanced technology that uses artificial intelligence and natural language processing to replicate the distinctive voice of Steve Harvey, the renowned American television host, comedian, and actor. This AI voice generator allows users to input text and convert it into speech that sounds remarkably similar to Steve Harvey's voice, including his tone, speech patterns, and mannerisms.
4. What can I use Steve Harvey AI Voice for?
Steve Harvey AI Voice can be used for various purposes, including voiceovers for videos and podcasts, narrations, character voices for animations and games, personalized voicemail greetings, and enhancing live streaming or gaming content with a recognizable voice.
5. Can I use Steve Harvey AI Voice on multiple platforms?
Yes, Steve Harvey AI Voice is designed to be versatile and compatible with multiple platforms and applications. You can use it on computers, mobile devices, streaming software, gaming platforms, and other applications that support text-to-speech functionality.
6. Where can I get Steve Harvey AI Voice?
Steve Harvey AI Voice can be obtained from reputable AI voice generator platforms or software providers. Look for trusted sources that offer quality voice generation and check for reviews and testimonials from other users before making a decision.
Conclusion

In conclusion, you can elevate your content creation, live streaming, or gaming with Steve Harvey AI voice generator --VoxBox, which enables you to engage your audience with authentic and expressive AI voices.
Take the first step towards creating captivating content and download VoxBox now to experience the magic of Steve Harvey AI voice in your projects!