Do you want to generate Jaiden Animations AI voice for text to speech, further elevating your content creation process? If so, you've landed in the right place!
Jaiden Animations is a rising star that has captured the hearts of millions across multiple social platforms, and the creative force behind engaging story-time animations, has built a fervent fanbase with her relatable narratives and unique style.
In this article, we will walk you through how to use Jaiden Animations AI voice generator to get her iconic voice.
Listen to the Jaiden Animations AI voice generated using VoxBox.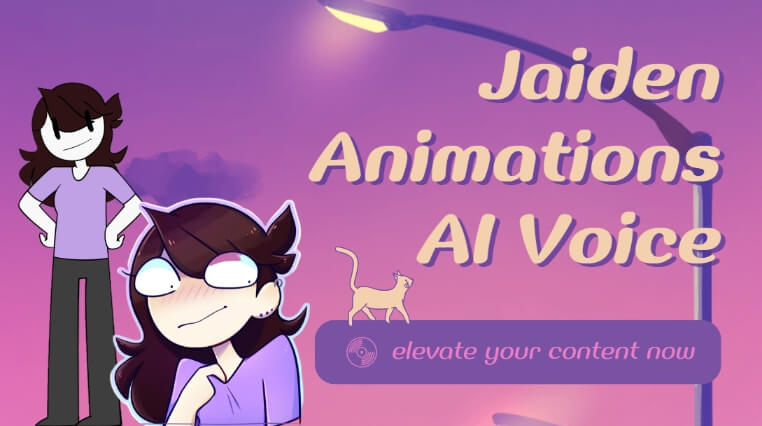 Part 1: Jaiden Animations: Bridging Stories and Animation
Jaiden Dittfach, known as Jaiden Animations, is a renowned American YouTuber and animator. With a captivating storytelling style, she creates animated videos that explore diverse topics, from personal experiences to video game stories.
Having garnered over 12 million subscribers and 2.3 billion views on her main YouTube channel, she's a standout content creator. Jaiden is also associated with the "Animation Squad," collaborates with fellow animators, and has appeared in notable events like YouTube Rewind.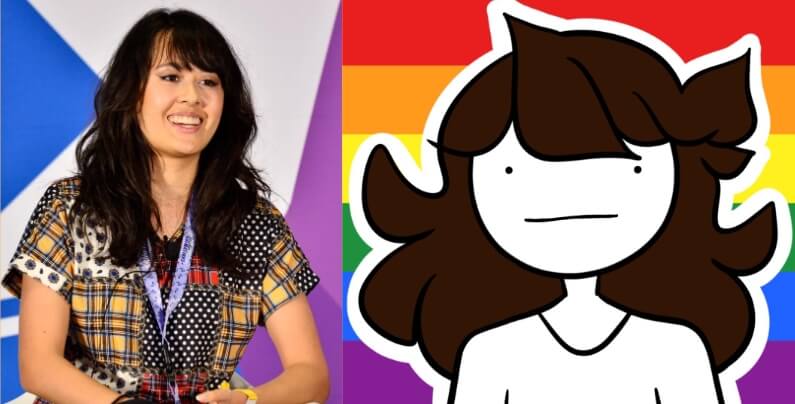 She's known for her openness, as seen in her video "Being Not Straight," where she came out as aromantic and asexual. With achievements like Streamy Awards and a massive following, Jaiden Animations is an influential figure in online content creation.
Part 2: Unveiling Jaiden Animations' Allure
Jaiden Animations' popularity stems from her relatable storytelling, artistic talent, and diverse content. Her engaging animations discussing personal experiences, emotions, and everyday topics resonate with viewers.
Collaborations with fellow animators and appearances in events like YouTube Rewind have expanded her reach. She's built a strong community by fostering connections with fans, referencing pop culture (e.g., PewDiePie), and showcasing her pet bird.
Despite YouTube's algorithm challenges, her consistent growth and featured appearances on various platforms highlight her impact and cement her reputation as a leading YouTube animator.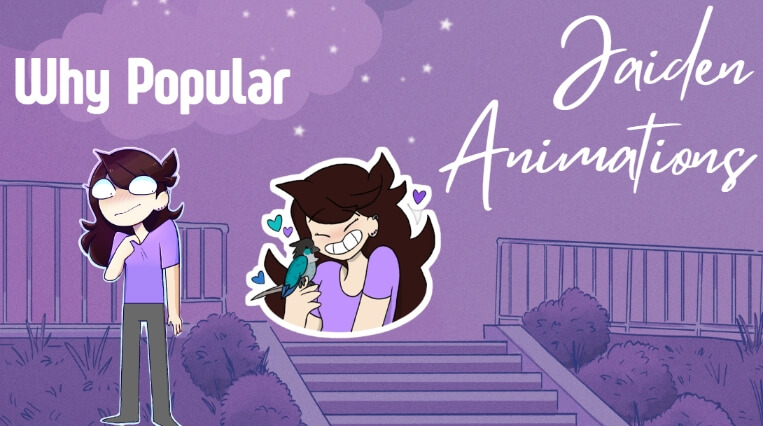 Part 3: Free Get Jaiden Animations AI Voice with Voice Generator
iMyFone VoxBox - Jaiden Animations AI Voice Generator
With VoxBox, you can effortlessly get Jaiden Animations AI voice for text to speech and more. Whether you're a content creator, streamer, or just a fan seeking a unique voiceover, VoxBox offers a seamless solution to replicate Jaiden's voice with stunning realism.
Apart from Jaiden Animations AI voice, you have more than 3200 voices to use, including YouTubers, Twitch streamers, famous personas, and even fictional characters, and it supportes doing voiceovers in 77+ languages, satisfying all your dubbing needs.
Besides, you can easily generate any voices you want with its voice clone feature, and you only need to upload the audio file, and then the powerful AI wil do its magic.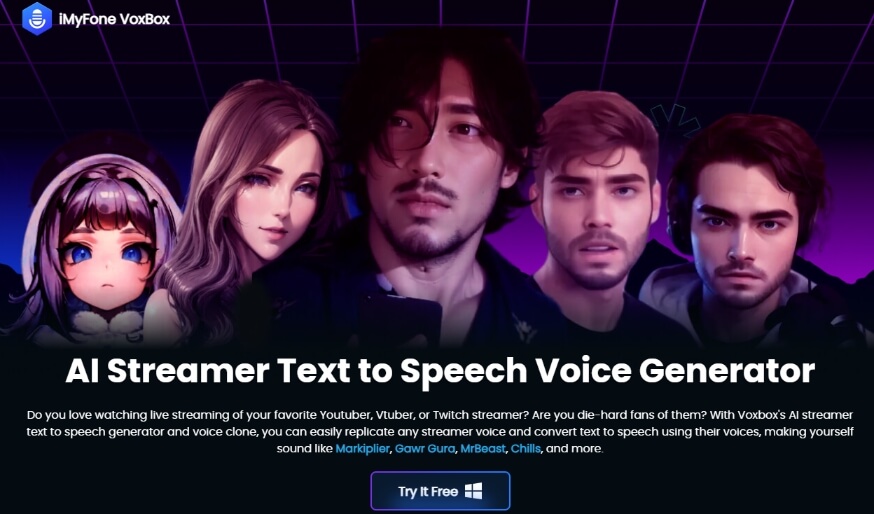 Free Generate Jaiden Animations AI Voice:
Step #1: Begin by downloading and installing the VoxBox application on your device.
Step #2: Tap on "Text to Speech" on the left pane and click on "Change voice" to choose the Jaiden Animations voice.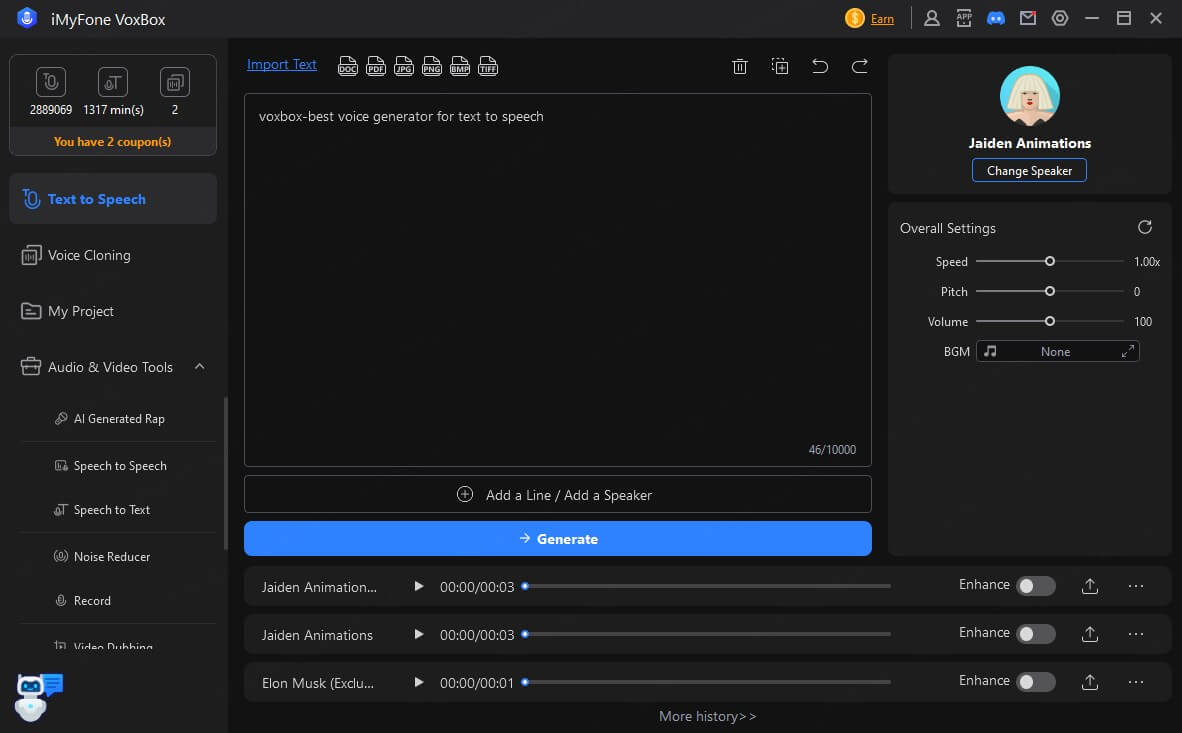 Step #3:Enter your text, and click "Convert" to get the voiceovers.
Key Features:
Transform text into Jaiden's AI voice across 77+ languages.

It offers 3200+ voices, including character voices, from Youtubers to fictional characters, and more.

You are allowed to clone any voice you want.

Users can enjoy free 2000 character counts for text to speech conversion.

Adjust speed, pitch, pause, emotional tone, and other nuances to fine-tune the generated voice to match your vision.

User-friendly design for easy navigation and efficient voice generation.
Part 4: How to Sound Like Jaiden Animations in Real-Time
MagicMic - Jaiden Animations Voice Changer
For those seeking an immediate and interactive experience, MagicMic presents a remarkable solution to morph your voice into Jaiden Animations' in real-time.
MagicMic presents an array of sophisticated tools for effortless voice modification and audio enhancement. With over 225 voice effects, 200+ voice memes, and 600+ sound effects, it revitalizes your content and enriches your gaming and streaming endeavors.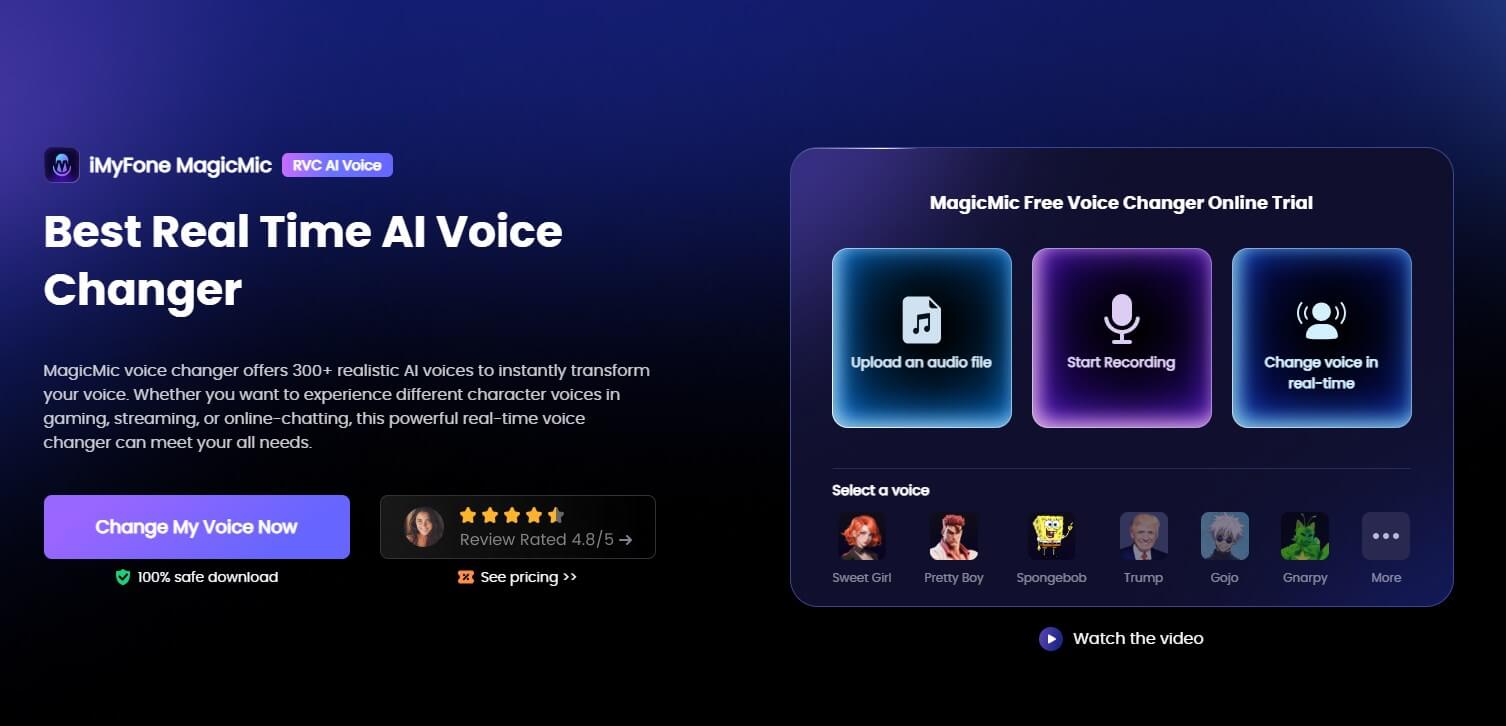 Key Features:
Choose from over 225 voice effects to craft unique auditory experiences.

AI-powered effects add depth and character to your voice interactions.

Elevate your recordings with more than 600 sound effects.

Access 600+ sound effects to enrich your recordings.

Inject humor and personality with a selection of voice memes.

Integrate with platforms like Discord and Twitch for enhanced interactions.
Part 5: FAQs About Jaiden Animations AI Voice
1. What is Jaiden Animations AI Voice?
Jaiden Animations AI Voice is a digitally generated replication of Jaiden Animations' distinctive voice, crafted through advanced technology to allow users to incorporate her voice into their content.
2. How can I use Jaiden Animations AI Voice?
You can access Jaiden Animations AI Voice through tools like VoxBox and MagicMic. VoxBox offers AI voice generation, while MagicMic provides real-time voice transformation into Jaiden's voice.
3. What are the applications of Jaiden Animations AI Voice?
Jaiden Animations AI Voice can be used for content creation, streaming, gaming, and more. It enables content creators to add a unique touch to their videos, engage audiences, and enhance their digital presence.
4. What are the applications of William Afton's AI voice?
William Afton AI voice can be used in various applications, including content creation, storytelling, podcasts, YouTube videos, live streams, video game mods, and more. It offers a unique way to engage audiences with a character's distinct voice.
5. Can I use Jaiden Animations AI Voice commercially?
The terms of use for Jaiden Animations AI Voice may vary based on the specific tool or platform you are using. It's recommended to review the terms and conditions provided by the respective service.
Conclusion

With AI-driven voice generation and real-time transformation, you can channel Jaiden Animations AI voice into your content, engaging your audience and elevating your digital presence.
iMyFone Voxbox, is the best Jaiden Animations AI voice generator to convert text to voice, and you can even change your voice in real time using Jaiden Animations voice changer.
Don't miss out – embark on this exciting journey today and download VoxBox to begin your transformative experience.