Nowadays, many people use AI voice generators instead of voiceover artists. These text to speech voice generators are very easy to use and don't require an appointment to set the schedule to record the voice.
TTS voice generators are based on artificial intelligence, which is much easier for them to generate any voice from the text. Nowadays, TTS voice generators are being used in every field. Event announcements are made using this tool. In this article, we will discuss how you can get an announcer voice with an effective TTS announcer voice generator.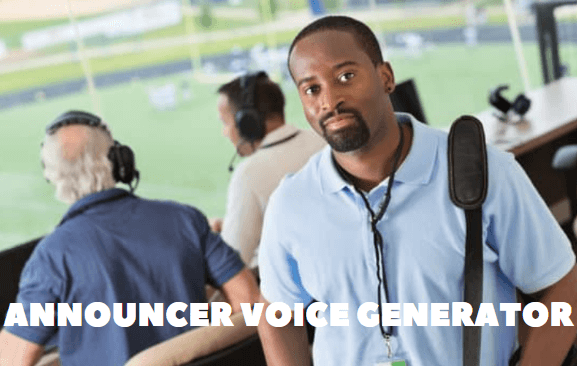 Try it Free
Part 1:How to Use an Announcer Voice Generator to Get News Report Voices?
If you are looking to generate a news reporter voice using a good and efficient tool, then iMyFone VoxBox is the best tool you can get. It is simple and easy to use.
VoxBox has a wide library from where you can choose the type of voice that you like. Here is how you can use the tool and generate announcer text to speech voice.
How to Generate Announcer Voice:
Step 1: Go to the iMyFone website and download VoxBox on your computer. Install the tool and launch it.

Try it Free

Step 2: Click on Text-to-Speech and you will see a text box, type in the text, choose the language, voice type, and voice. Select the announser voice you want and click on "Convert".

Step 3:It will take a few seconds to convert text into speech. Listen to the output before you export it. Make sure that you are satisfied with the output.
Part 2: Full Review of Smash Announcer Voice Generator - VoxBox
1)iMyFone VoxBox
One of the best tools for generating text-to-speech is iMyFone VoxBox. It is simple, easy, and safe. Although it has a trial version, its premium version is worth the money. People have reviewed this tool in good regard. Here are some of its features and key points.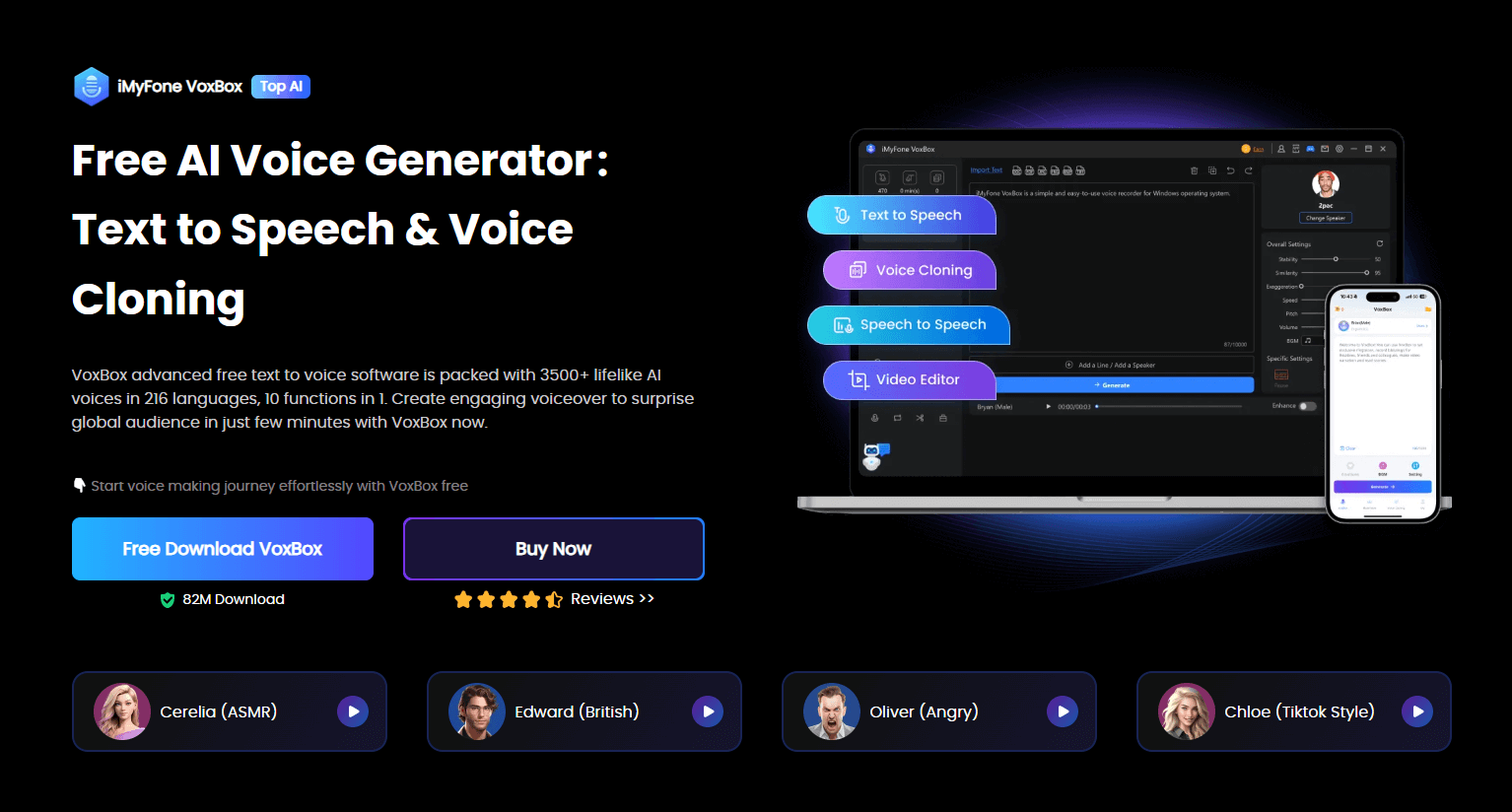 Features:
It has a wide library with more than 3200 voices like singer, rapper and includes real and expressive audio.

iMyFone VoxBox supports more than 46 languages.

100+ global accents you can choose from if you need.

iMyFone VoxBox supports conversion, editing, recording, TTS and STT.

It supports different formats like MP3, WAV of input and output.

VoxBox is completely safe and reliable to use.

It has an easy-to-use interface.
Try it Free
Pros:

It offers a high-quality and natrual soundings.

The results are generated within few seconds.

It has state-of-the-art speech recognition that will help it to develop text from speech which is an upcoming feature of the tool.

VoxBox has a free trial version that anyone can download without any credit card credentials.
Cons:

Currently, it is only compatible with Windows and not with macOS.
Part 3: People Also Ask for Announcer Voice Generator
1. How do you get a radio voice?
If you want to get a radio voice, then you can select the language, voice type, and voice. In the voice type, you can look for a radio voice. It is available in VoxBox as it has more than 3200 realistic and expressive voices.
2.Can VoxBox support WAV audio files?
Yes. VoxBox supports multiple audio formats for input and output. Some of the audio formats it supports are WAV, MP3, and more.
3. Does there has male Voice in VoxBox?
Yes. There are hundreds of male voices in VoxBox. Male voices are available in different languages and different voice types. You can simply choose the voice that you prefer. Listen to the audio and then export the output if you like.
Conclusion
In this article, we have briefly discussed a text-to-speech audio tool, iMyFone VoxBox. With the help of this tool, you can easily generate an announcer AI voice. You just need to type in the text, select language, voice type, and voice. Click on convert, and you are all done. You can create any voice with this tool. You can download the trial version and check why people rate this tool so highly.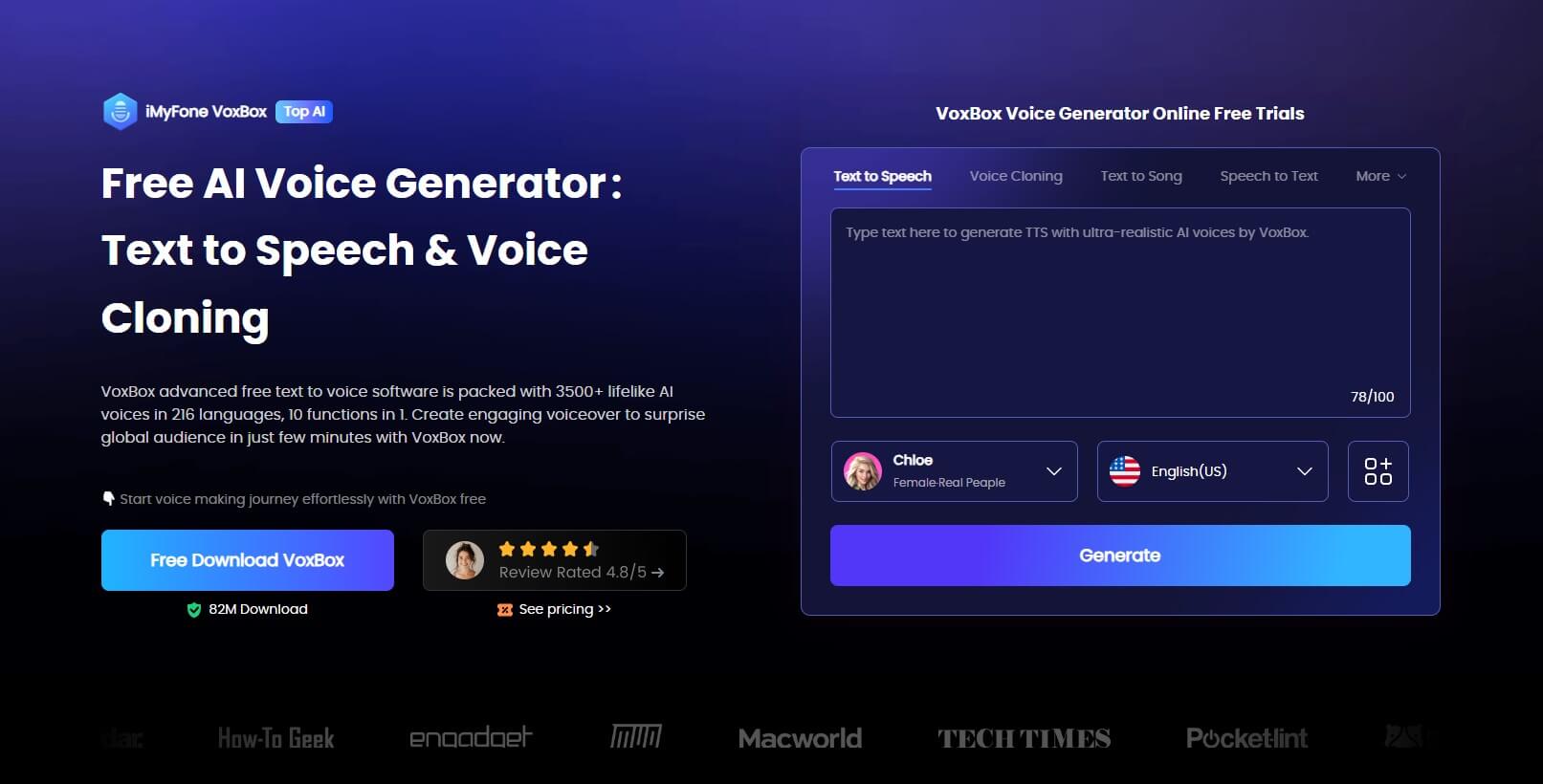 Try it Free