Animal Crossing is a video game simulation published by Nintendo which has multiple animals with different voices. So Animal Crossing voice generator is an AI tech tool to help you get your favorite character voices to create interesting dubs for your audiobooks, podcasts or videos on social platforms.
In this article, we will guide you on converting your script into an Animal crossing characters voice through professional text to speech and voice changer tools.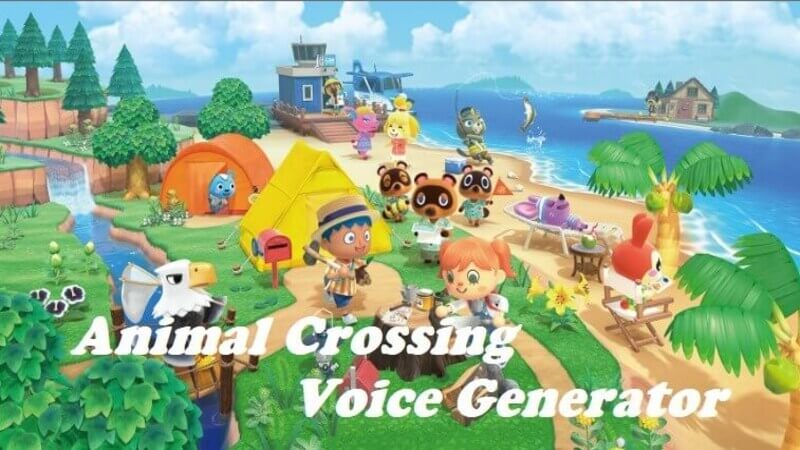 Part 1:Have you ever play Animal Crossing?
Animal Crossing is a wonderful simulation that everyone should play in their free time. If you haven't played this game, you must play it once to enjoy building houses with trees. The game starts with a small island where humans live around the animals.
You can use various activities such as taking fruits from trees and enjoying the fishing experience. You can collect multiple items and craft different things for survival. There are small markets where you can buy food items, clothes, and decorative items for your sweet home. You have bells as a credit to buy items in Animal crossing. You can customize and build tents beneath the trees.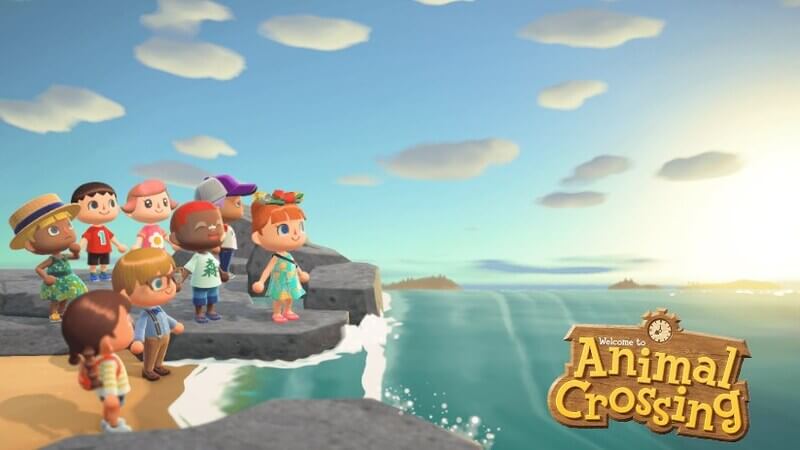 Part 2: How AI Animal Crossing Voice Generator Make Voiceover with Text to Speech?
Numerous Text To Speech and voiceover applications are available, but no one can beat iMyFone VoxBox is a powerful Animal Crossing voice generator whose numerous text to speech and voiceover applications are available.
It has a huge library of voices which the individuals like the most that you will have a list of a variety of voices, such as cartoons, heroes, games and more. All the voices stored in the library are natural sounding to appeal to the users and it has an accessible and well-managed interface that a beginner easily uses.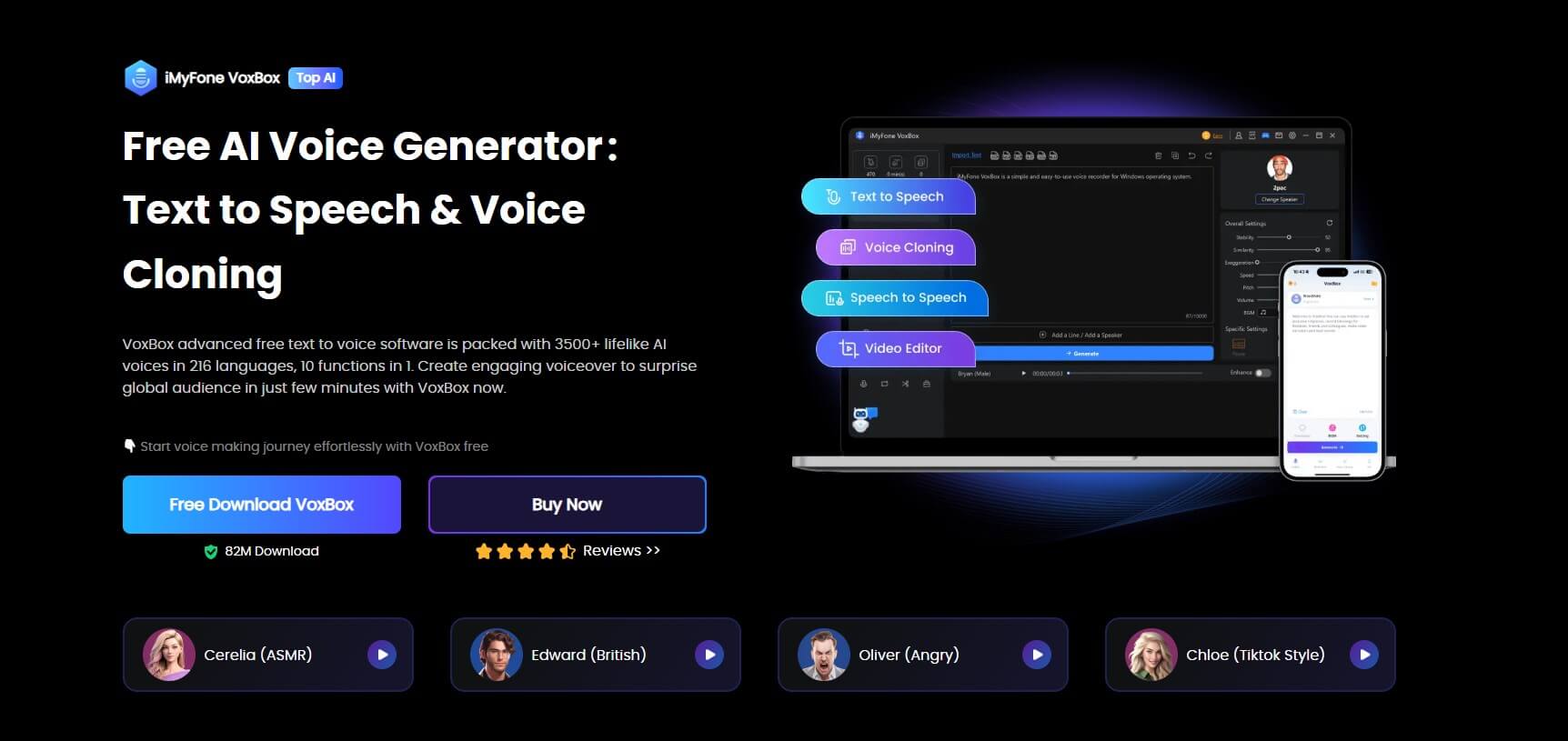 How To Use Animal Crossing Voice Generator:
#Step 1: Download and install VoxBox software.
#Step 2: Navigate to the "Voice Cloning" section and access the cloning page. Simply upload your file, wait briefly, and within minutes, you'll have the unmistakable voice.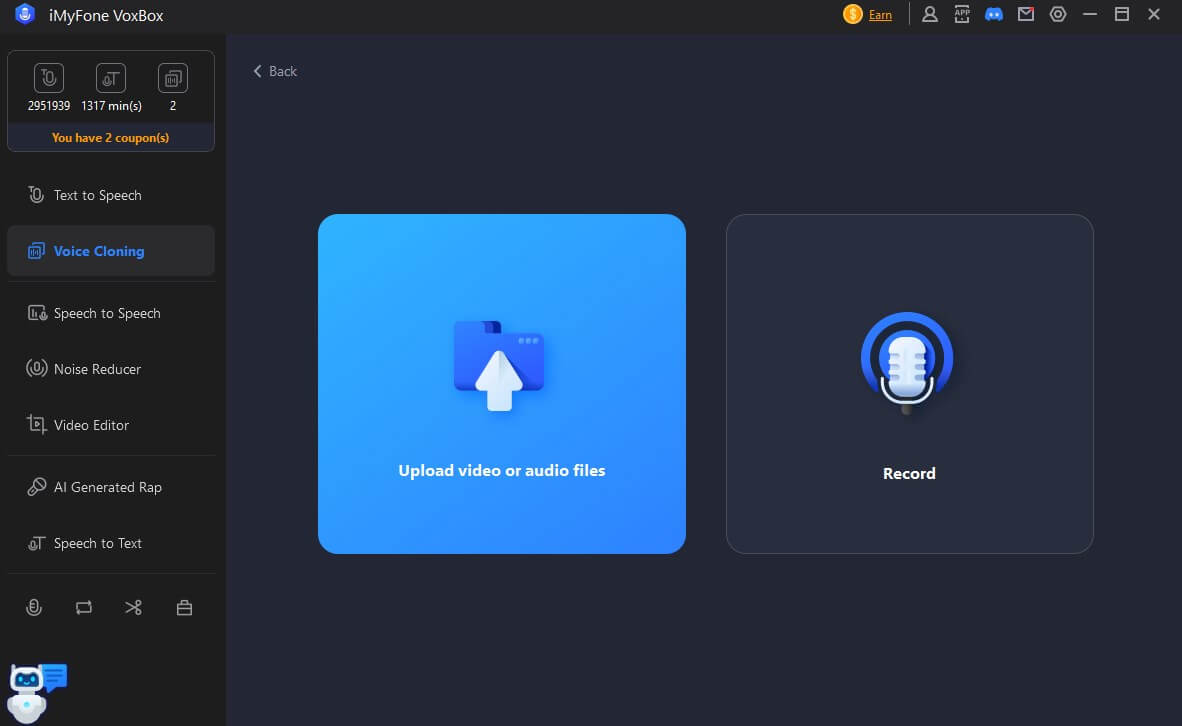 #Step 3: Subsequently, you have the option to select the "Text to Speech" tab. Enter your desired text and transform it into speech.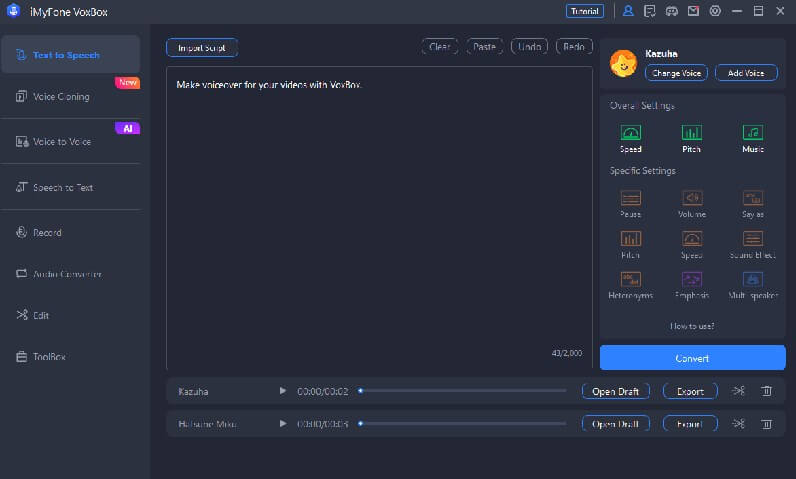 Features:
Boasting wide selection of virtual character voicee including anime, cartoon and other funny AI voices.

Over 3200 authentic voices for podcast recording, audiobook production, etc.

All kinds of games roles AI voices are provided.

Realistic Animal Crossing text-to-speech voices to dub in videos.

2000 letters free for text to speech conversion trial.

You can select the input and output formats and also convert the file format separately.
Pros:

Easy-to-use and directly interface.

Voice Clone to custom Animal Crossing AI voices.
Cons:

Need installation.
Price:
| Plan | Price |
| --- | --- |
| 1-month Plan | $15.95 |
| 1-year Plan | $44.95 |
| Lifetime Plan | $89.95 |
Fakeyou is a versatile online animal crossing voice generator that transforms written text into captivating audio. With Fakeyou text to speech tool, your words spring to life, offering a range of expressive voices and customizable features.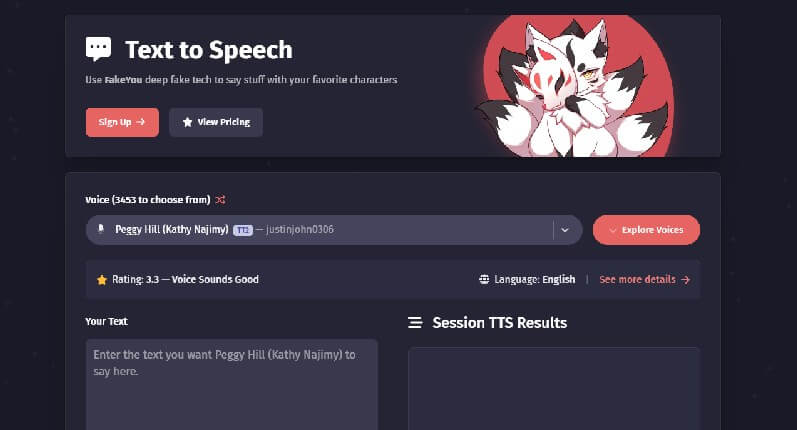 Features:
A diverse collection of more than 3,000 voices spanning various categories.

Huge community and constant voice updates.

Supports lip-sync video generation.

Multiple voice variations for creative expression.

8 languages and 12 accents offered.
Pros:

Available online for convenience and accessibility.

Intuitive user interface for easy navigation.

Provides lifelike and precise voices that impeccably mirror the original sources.
Cons:

Free users cannot generate long audio.
The MagicMic Animal Crossing voice changer is the application that empowers users to instantly change their voices into AI voice of characters of this games in real-time. Thanks to its user-friendly interface and compatibility with various operating systems, this tool is effortlessly accessible and usable across different platforms.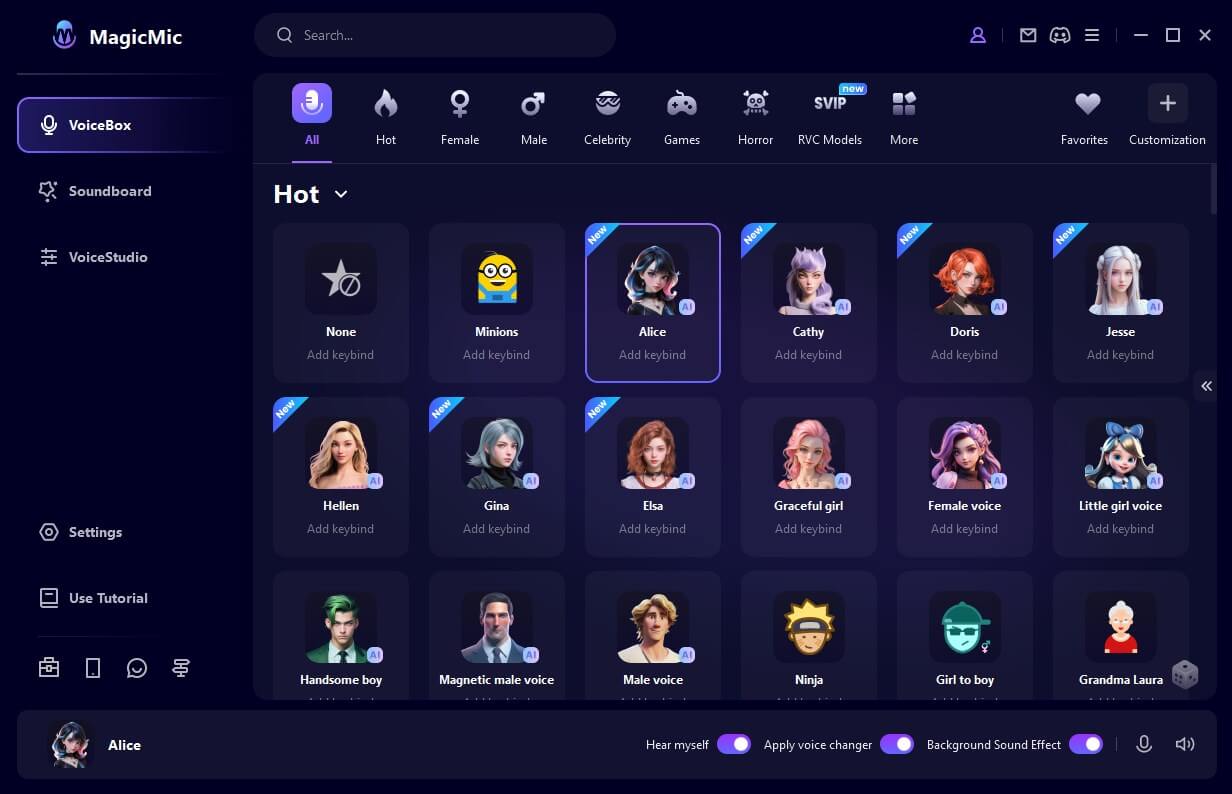 Steps of Animal Crossing AI Voice Changer:
Step 1: Download and install MagicMic, then sign in to the software.
Step 2: Select your main microphone connection as the input source. At the bottom, activate the "Apply Voice Changer" and "Hear Myself" toggles.
Step 3: To modify your voice within the application, opt for "Microphone (Voice Changer Virtual Audio Device)" as your designated input device.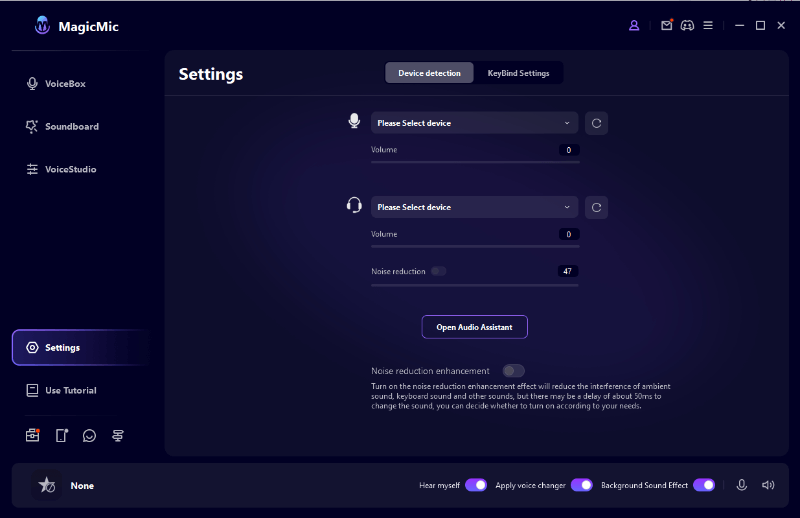 Step 4: Finally choose voice and sound effects from the available options.
Features:
The program is capable of replicating the voices of renowned fictional characters, celebrities, and other prominent figures.

It features a real-time voice changer suitable for online voice conversations.

The software facilitates the conversion of your real voices to gaming voices.

Software users can record their modified voices and store them in a range of audio formats.
Bounus: Let's Discuss the Cutest Characters Among Animal Crossing
Here are top 5 characters among the popular game Animal Crossing brief infomation.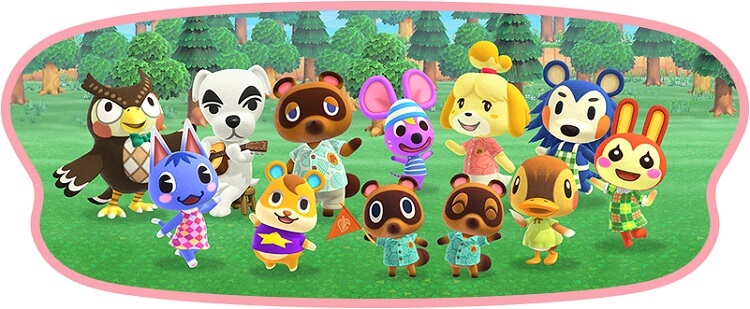 Isabelle: Leading the lineup is Isabelle, the iconic Shih Tzu secretary of the town hall. With her adorable bow and cheerful disposition, Isabelle is always ready to assist players in their daily tasks and keep the town running smoothly.
Marshal: Marshal, the smug squirrel with a penchant for fashion and a laid-back attitude. His dapper appearance and endearing expressions make him a charismatic presence in any village.
Fauna: Fauna, the gentle and kind-hearted deer, takes the third spot. With her soft-spoken nature and warm smile, she's the epitome of sweetness.
Molly: Fourth on the list is Molly, a delightful duck who exudes innocence and a love for reading. Her round glasses and perpetually cheerful expression make her irresistibly cute.
Bob: Rounding off the top 5 is Bob, the lazy cat known for his relaxed personality and quirky sense of humor. His round shape and perpetually half-closed eyes give him a perpetually laid-back look that's hard to resist.
Part 3: FAQs about Animal Crossing Voice Generator 2023
1. Can I integrate the Animal Crossing voice generator with streaming or content creation platforms?
Depending on the capabilities of the generator and the platforms you're using, you may be able to integrate the generated voices into streaming, videos, podcasts, and other forms of content creation.
2. Is the Animal Crossing voice generator accessible online?
Many voice generators are web-based, allowing users to access and use them directly from their browsers without the need for software downloads.
3. Can I use the Animal Crossing voice generator to recreate specific character voices from the game?
Some generators may offer the ability to replicate voices of specific characters from the Animal Crossing game, allowing you to immerse yourself in the game's world.
Conclusion
You got all the necessary knowledge about Animal crossing. If you want to generate Animal Crossing characters' AI voices, then you must use iMyFone VoxBox, a perfect Text-To-voice generator with multiple facilities. It has a simple interface that everyone can use. It offers real voices with optimal accuracy.