Adobe Premiere Pro is undoubtedly one of the best video editing tools you'll ever find at present times. However, you'll find some limitations with this tool. For instance, you'll not see more advanced and stylish elements in the Premiere.
In addition, if you also don't possess prior knowledge of After Effects, you can't generate elegant content.
Luckily, Premiere Pro offers a fantastic solution in the shape of MOGRTs files. You can import MOGRTs templates to Premiere Pro and make your content absolutely out of the ordinary.
In this article, you'll come to know how to import a MOGRT file into Premiere Pro.
Part 1. How to Import/Use/Install MOGRT File in Premiere Pro
Before working on your project, you'll need to know how to install or use the MOGRT file. Here's a brief guide to help your cause.
Step By Step Guide with
Adobe Premiere Pro
Step 1: Open Essential Graphics panel
After launching Premiere Pro, you need to hit the Graphics workspace and navigate to the Premiere Pro's Essential Graphics panel.
Step 2: Press + icon
Now, you need to move to the panel's bottom and press the'' +'' icon from there.
Step 3: Click Open
In this step, you'll need to open the "Finder'' option and open. MOGRT file, after clicking it.
Step 4: Type your name
After going into the Essential panel search bar, you'll need to type your template.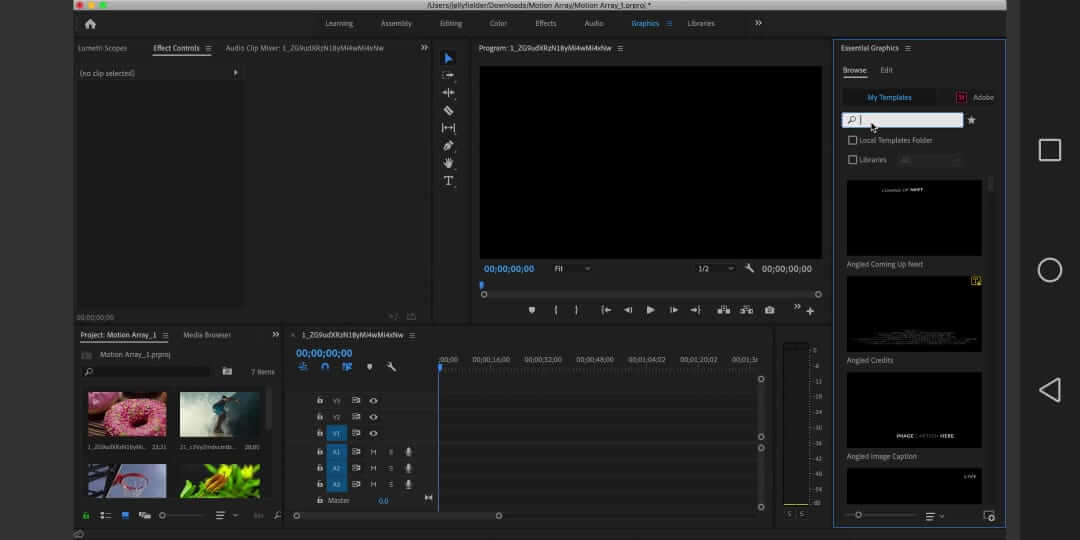 Multiple MOGRT files
You can also import or install multiple MOGRT files with the help of Finder. In this regard, you need to make sure two Finder windows are opened.
You can follow the steps below to get your job done.
Step 1: Navigate to the first Finder Window
After going into the Finder window, search for MOGRT files you'd like to import.
Step 2: Open the folder
In this phase, you only need to navigate to the second Finder window and open the Library>Adobe>Motion Graphics Template in the sequence.
Step 3: Drag your templates folder
Push your templates folder towards Motion Graphics Folder.
Step 4: Search the template.
After following all these steps, you'll be able to search these templates in your Essential Graphics panel.
Part 2. How to Import After Effects into Premiere Pro
A lot of persons complain about the fact that they couldn't import After Effects composition into the Adobe Premiere Pro.
It is indeed difficult for newbies to understand things quickly in Adobe Premiere Pro. But you don't have to feel bad about it; we'll tell you how to import the After Effects file to Adobe Premiere.
Follow the steps below and get your job done.
Step 1: Download Premiere Pro
First, you should find the Premiere Pro's download link and install the software on your computer. Later, it would help if you launched it.
Step 2: Open the menu file panel
Navigate to the Adobe Dynamic Link option after opening the menu. Next, you need to hit Import '' After Effects Composition''.
After opening the After Effects Composition option, you need to move towards the After Effects project and select a composition you'd like to import. After importing the composition, you'll need to press '' OK''.
Step 3: Add the composition to timeline
Now, you can drag it to the timeline to edit it.
Step 4: Add the templates
After importing the After Effects templates, you can now add them to any video you want. Templates can be transitions, a Picture-in-Picture effect, and cinematic black bars.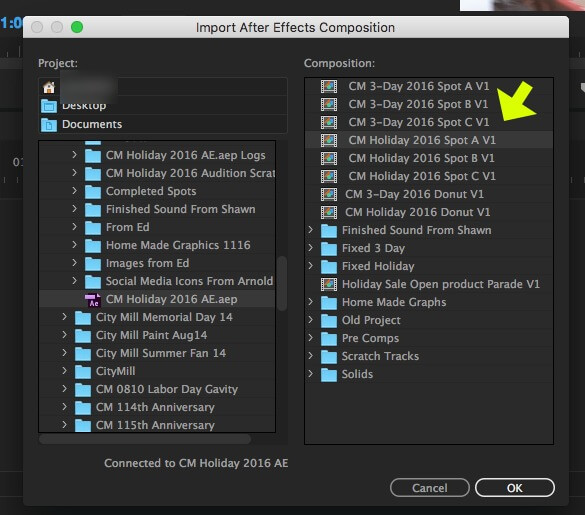 Part 3. Best Alternative Video Editor to Import File (Wired or Wireless) - iMyFone Filme
Even though Premiere Pro offers pretty fast and efficient services, a newbie still can't understand its interface easily. In addition, you'll also find its premium version a bit expensive to your likings.
In this scenario, a content creator wants to look for an excellent but affordable video editing tool. The good news for these people is that iMyFone Filme can live up to your expectations.
It comes with some stunning features and a pretty slick interface, making the job easier for newbies. More importantly, Filme offers its premium version at pretty reasonable rates.
Using Filme, you can explore some unique and exciting options. For instance, you can add flawless and breathtaking titles to your video and import files from your mobile device for editing it.
Moreover, Filme also provides you with the leverage to import a wired or wireless file from your iPhone or Android.
Features
Filme has a lot of innovative features, and we will discuss some popular features.
Rotate Tool
If you want to rotate your video orientation that is either horizontal or vertical, you can easily serve your purpose using the "Rotate" tool feature of iMyFone Filme.
With the help of rotation arrows and double-clicking on the clip, you will be able to rotate your video in iMyFone Filme.
Screen Recording
It is one of the best video features of Filme that enable you to record whatever you want to.
You can record the video screen simply by pressing the screen recording option whenever there is no facility for downloading the video. IMyFone Filme provides this wonderful and easy-to-use feature for its users.
Wireless File Import
Filme Video Editor provides this fantastic feature. It allows you to import your data wirelessly, and it is a well-matched feature with iOS, Android, Windows, and Mac.
You can import files by scanning QR codes and by wireless devices like Android, iOs, etc.
Supports All Platforms
IMyFone Filme is compatible with all social platforms. It allows you to share a video by simply uploading it on all social media platforms like Facebook, Twitter, Instagram, YouTube, etc.
Dynamic Filters and Effects
Filme provides plentiful effects and filters options to construct vivid and crystal clear digital films by adding animations.
It involves basic effects like festivals, educational, instructional, weddings that will gain attention and attract the right audience.
Fast Video Mode
Fast Video Mode enables you to make impressive slideshows with elegant templates and effects within seconds.
You can share your pleasant moments that as birthdays, business, festivals, holidays, etc.
Steps with iMyFone Filme
Step 1: Register with iMyFone Filme
To make any edits in iMyFone Filme, you'll need to download the software first. After downloading the software, you need to install it and launch the iMyFone Filme afterward.
Later, it would help decide whether you want to use iMyFone for free because it offers you a seven-day free premium. Meanwhile, you can also purchase its Premium version.
Sign up for the account after making the final decision.
Step 2: Import your file
Now, you'll need to hit the "Import Media" option under your "File" option. You'll find four options there.
If you want to import files, select "Import Files" if you want to import the whole folder, press "Import File Folder," and if you want to import files from Android or iPhone devices, select "Import from my phone''. From there, you can also select the wired or wireless option.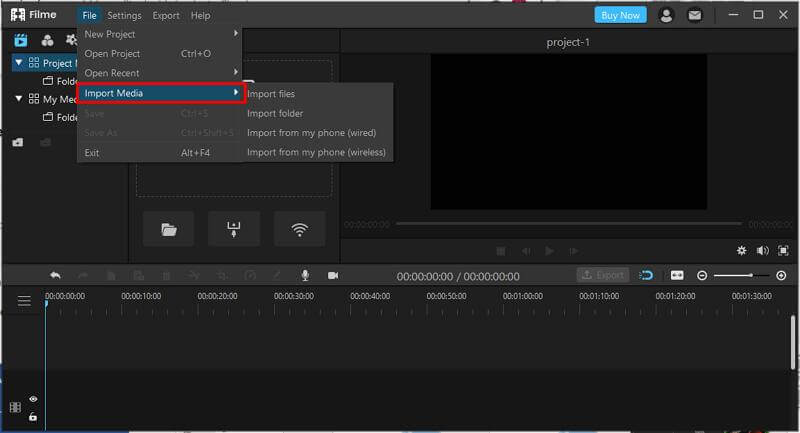 Step 3: Edit the file
After importing and dragging the file to the timeline, you can edit your file.
Part 4. FAQs about How to Import MOGRT File/After Effects in Premiere Pro
1. What is a MOGRT?
It is the abbreviation of Motion Graphic Template. You'll find a motion graphic animated template in After Effects. Luckily, you can import that animation from After Effects to Premiere Pro.
These templates will help you to create more stylish and advanced videos. You'll find several types of these templates, including video frames, text animations, transitions, and video frames. Each template offers its customizable options.
2. What is the difference between MOGRT and AEP Files?
There has been a lot of talks about MOGRT and AEP Files. You can open AEP files only in After Effects.
If you want to use these templates in Premiere Pro, you'll need to gather prior knowledge of Dynamic Linking. On the other hand, MOGRT files don't ask for any prior knowledge. Instead, you can load these templates directly to Premiere Pro.
However, MOGRT files have their limitations. Using these templates, you won't have complete control over your animation elements.
3. Where to buy MOGRTS?
Since MOGRTS offers a lot of editing facilities for content creators, everyone wants to purchase these templates. You can purchase these brilliant templates from Adobe Stock.
Conclusion
Since Premiere Pro doesn't offer you more advanced and exciting options to play with, importing MOGRT files isn't a bad idea.
You only need to follow some steps for importing After Effects templates to the Premiere Pro timeline. However, if you find this process hectic, you can explore iMyFone Filme.
Using iMyFone Filme, you won't have to rely on others for creating stylish content. Instead, Filme offers advanced and professional features for adding another dimension to your video.
Apart from its stylish and advanced features, iMyFone Filme also offers easy and inexpensive services for its users.
Don't waste your time and acquire Filme's subscription to make your experience breathtaking.