Split screens are a timeless classic in film and video editing. Many trends rise and fall over time, but split screens have managed to always stay in style no matter what. This is mostly because of the potential they have for creative storytelling. You can simultaneously show different aspects or perspectives of the same scene; you can portray many emotions in one take, you can take full advantage of different angles of one location, and much more! They are very flexible and easy to incorporate into your edits, but it's also important to know a few things about them before beginning. So, here's a tutorial on using split screen plugin and template in Premiere pro
Part 1. How to Create Split Screen in Premiere Pro
Having the right tool for the job is just as important as having skills. You won't be able to truly showcase the talent you possess or bring out the real beauty in edits with a sub-par editing tool. Premiere Pro is the top editing tool for videos on the market. Coming with a range of features, the program is perfect for trimming, arranging, and seamlessly transitioning between video clips.
That said, Premier pro also features the use of split screens! You can create your own, or you download a template and use that.
In this tutorial, you will learn a beginner and the easiest method to create a split-screen in premiere pro by split screen plugin or template.
Beginner Method:
For this method, we will simply learn a side-by-side split screen.
Step 1: The first thing you need to do is upload the clips you want to use onto Premiere and then start a new sequence with them. You've to import 2-3 videos.
Step 2: Next, place one clip on top of the other one on the timeline.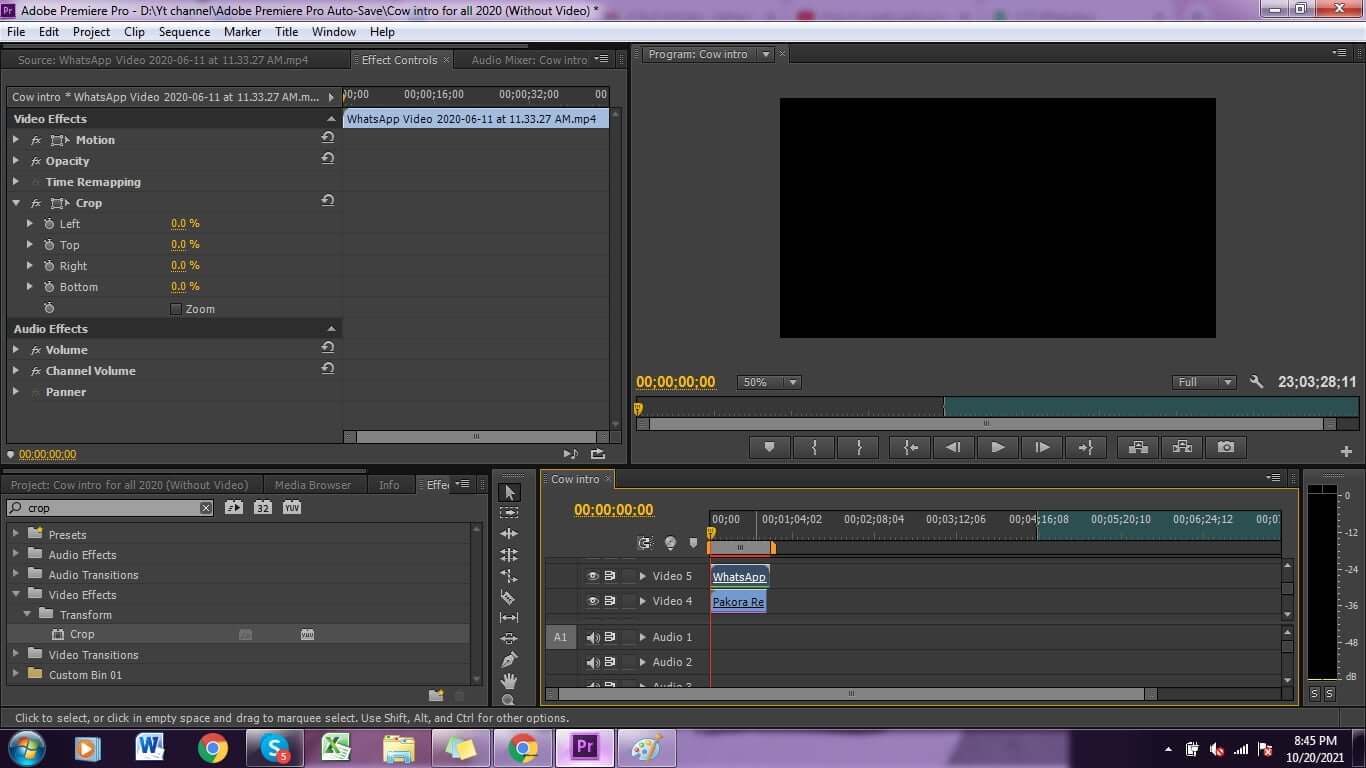 Step 3: In the effects panel, look up the crop effect and apply it to both clips. After you've done that, you can select one clip and make adjustments in the effects panel. Since we're only doing a simple side-by-side split-screen for two clips, you can adjust the dimensions of the clips you want to use. Depending on what point you want to split the screen, you have to choose the clip width you will use. For example, for a screen split in the middle, you need 50% of the width of each clip. You can select where to crop the footage.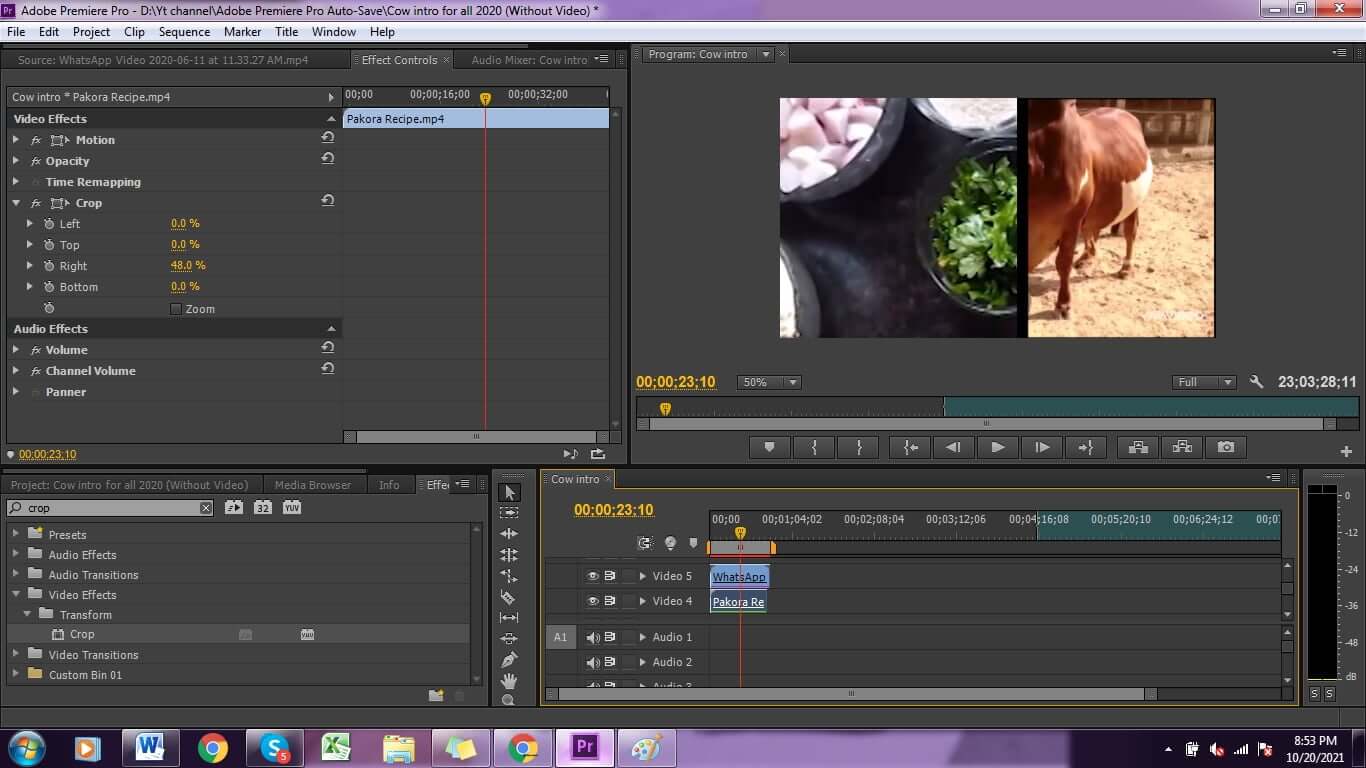 Step 4: When you're done, you can place the clip to the corner you want it to be in by changing the "position" under the motion option in the editing panel. Do the same to the second clip so you can see how your screen looks and whether you need to make more edits. Then set the crop value for both clips at 25% (assuming you want a middle split), and you're done!
Step 5: To add a third video to your edit, you need to first move the border graphics layer to video layer and then add the third clip. Then you can scale the footage to your desired length, let's say 50%, and then slide it into a corner by changing its position. You will have to reposition and scale the video underneath the new clip as well. You can adjust crop sidings by selecting the clip and extending or shortening it. You can even change the hues of each clip by selecting it on the timeline and then adjusting the colors on the Lumetri color panel.
Part 2. Best Alternative to Add Split Screen Effect - iMyFone Filme
iMyFone Filme is one of the most useful video editing tools on the market that will help you get all your editing work done conveniently in no time! Whether it's creating transitions, making slideshows, or using a split screen, Filme has got it all.
With its wide range of features, you'll never get tired of making new edits all the time. You will get to experiment with creative and innovative tools that all the pros use. Filme is an excellent step to improving your editing skills and getting the hang of the job step-by-step.
The software is super user-friendly, and even complete beginners can use it with no problem at all. You do not need to accumulate years of experience to understand how to navigate the software; everything is designed in an incredibly straightforward and easy-to-understand manner.
Its features don't just cater to beginners but those with experience too. You can benefit from many effects and filters that aren't available in other apps. Elevate the quality level of your work instantly by switching to Filme. From newbies to the experts, Filme has got everyone covered! Let's follow the below steps to add split screen:
Step 1: Open Filme on your computer. Click on the editing mode.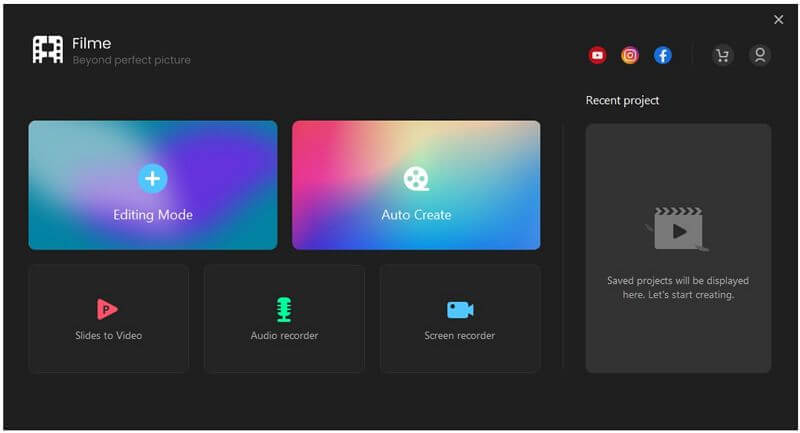 Step 2: Please select option File>Import Files and drag the content to the timeline.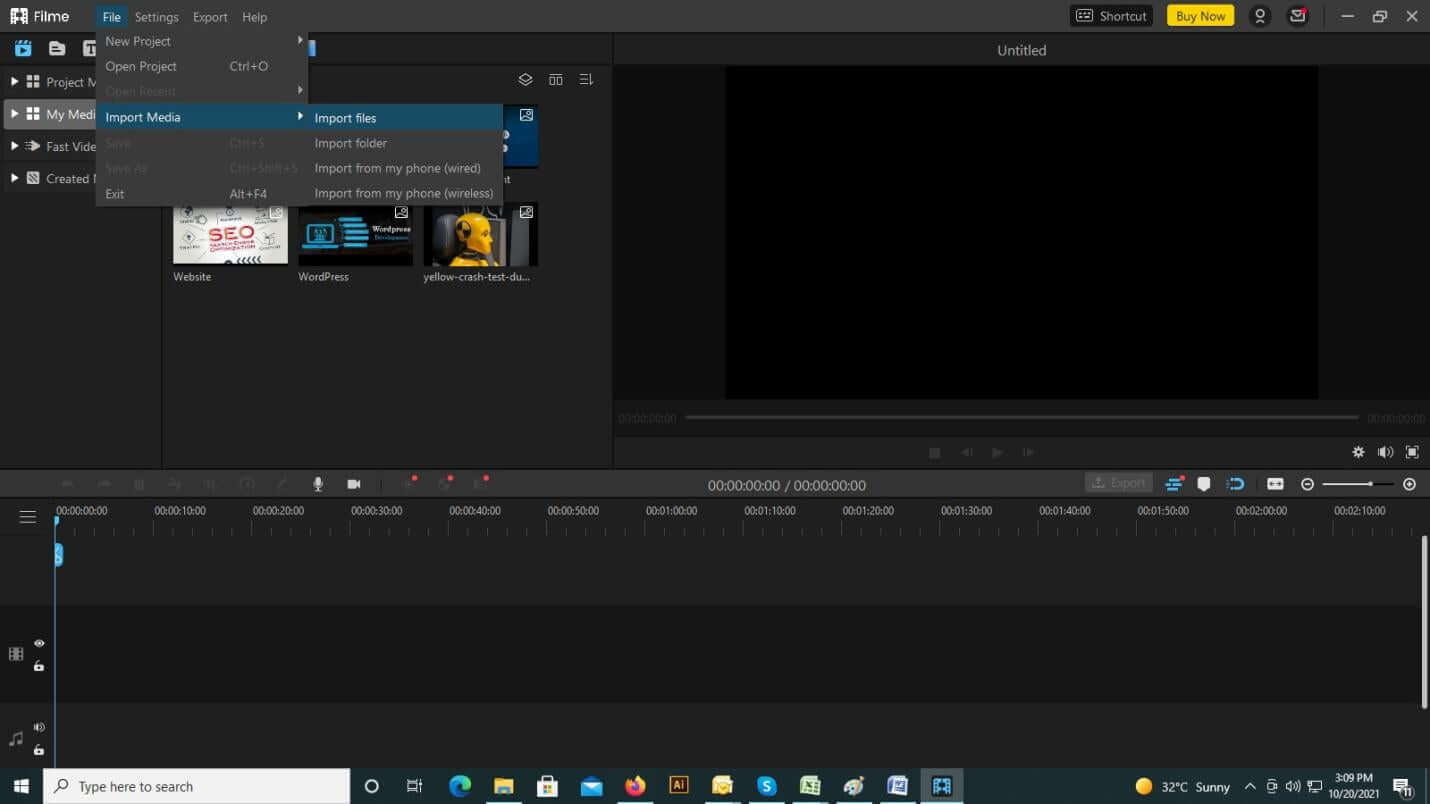 Step 3: Click the effects option, and you will see 4 split screen effects, add the effects to video, and then you can split the video to several screens.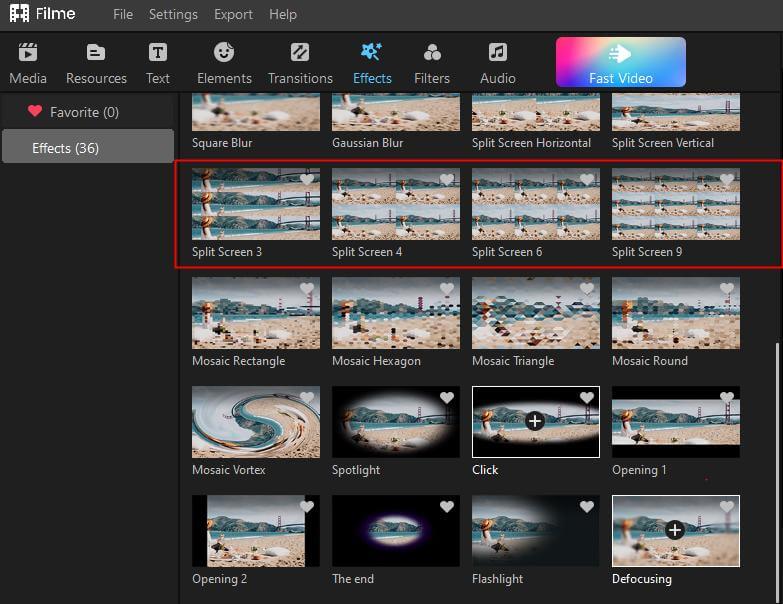 Step 4: Place 2 videos over each other. Now, you can crop or split a video and adjust position of each video on the screen as per your need.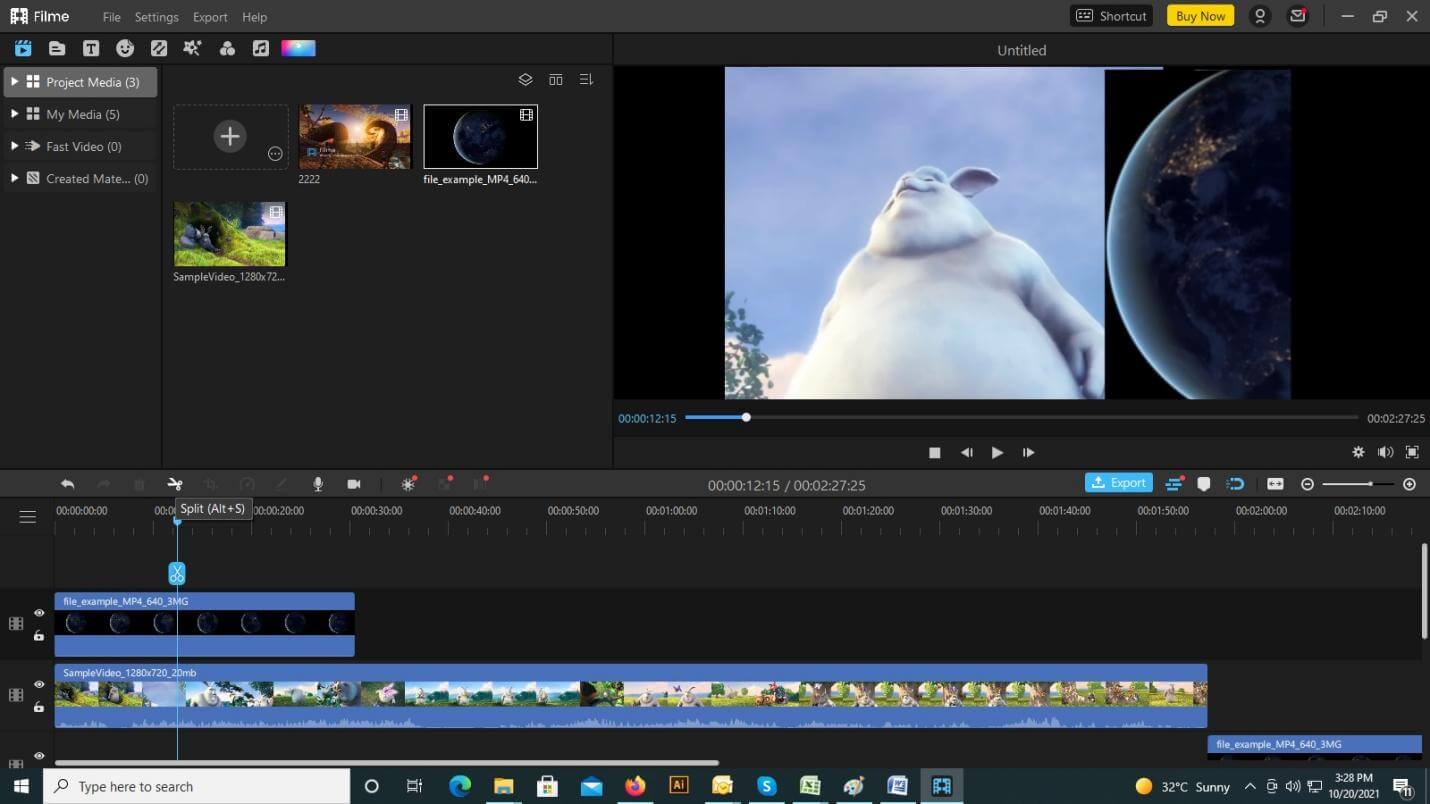 Step 5: To export a video, click on the export button and select the destination where you want to export the video.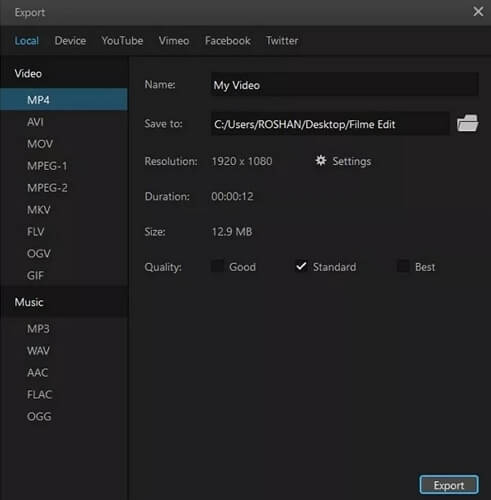 Part 3. Create Split Screen Video with Alternative Online Tools
Nowadays, so many split screen apps and online sites let you use premade split screen templates to edit your pictures and videos or make collages, so you don't have to spend time manually creating the screens. They even let you pick the frame you want to use and different colors for the borders. You can adjust border thickness as well where each image and video will be placed and how big each section will be. There is no shortage of available features and opportunities. The only limit is one's own imagination and creativity.
That being said, most online websites are also easy enough to use for complete beginners. Fastreel is offering users to edit the video online.
Step 1: Visit their official website.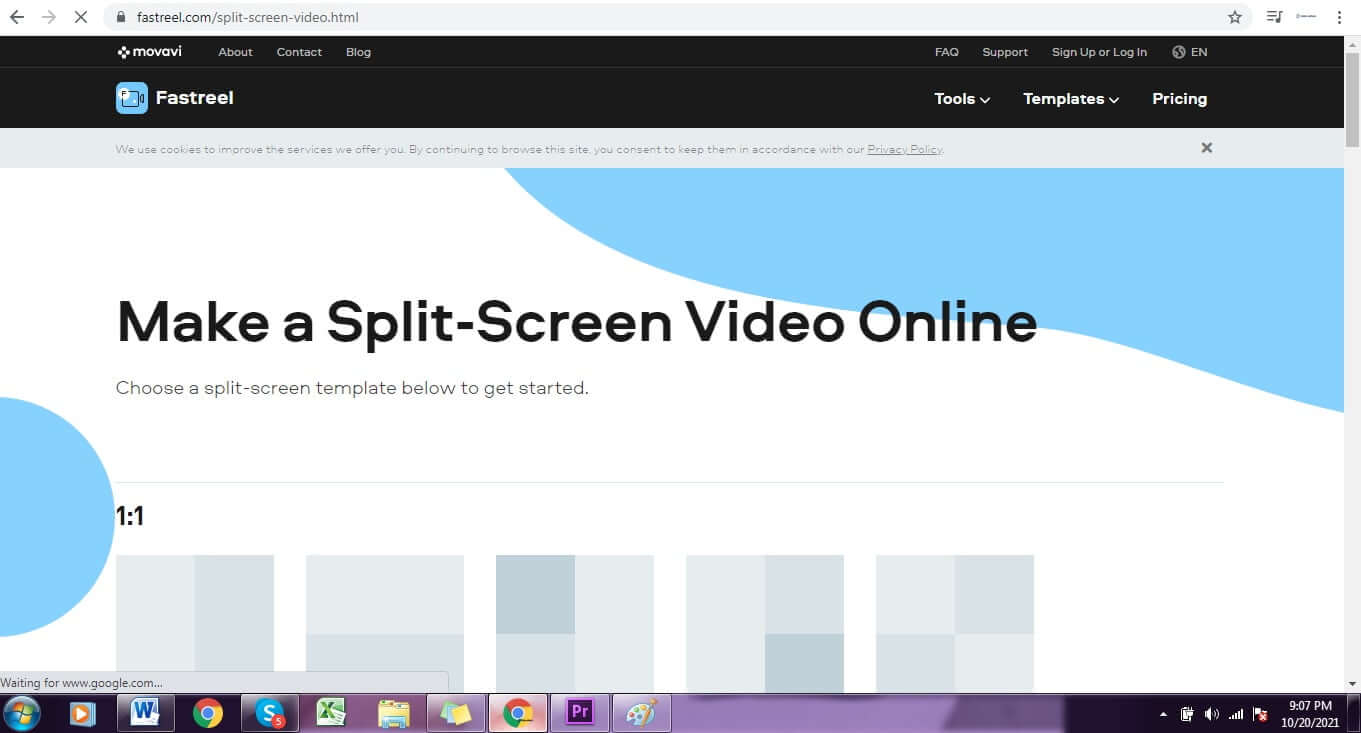 Step 2: There are multiple options to choose from. If you want 2 videos to upload in a single frame, you can select 1:1 option.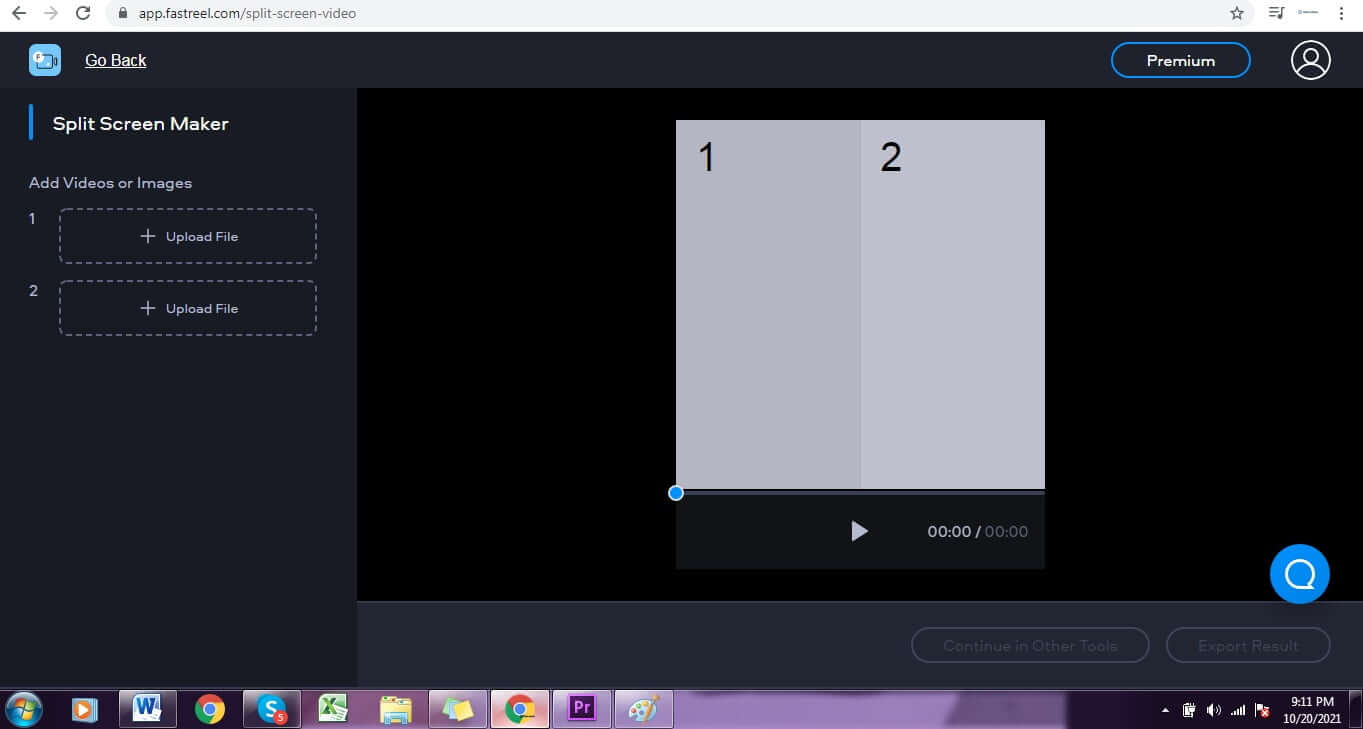 Step 3: Just upload the video from the options on the left. You can also click on the play button to preview the video.
Step 4: That's it, you're done. You can now save video.
Part 4. FAQs about Using Split Screen Effect Premiere Pro
Q. How do you add a border to the split-screen in Premiere pro?
You can add a border to your clips by first selecting the existing graphics layer and then slightly moving the clips out of the frame at the point of the split. You can also manually draw a border by choosing the rectangle tool on the bottom left side of the panel. Once you've designed the shape, you can select the 'V' key to move back to the selection tool. You can also use the pen tool when drawing diagonal borders. After choosing the shape, you can edit its color, width, and stroke in the graphics panel.
Q. Are there split screen templates for Premiere?
Yes, there are. Templates are convenient and easy to use when you don't want to waste time creating split screens over and over again. They have pre-made designs, and there is plenty of variety on the market for different types of templates and resolutions. There are free and paid ones available.
Q. How do you use a template on premiere pro?
To use a template, you have to first download it and then drag and drop it to your project panel. From there on, you can access which template you want to use and how many clips you want in it. After that, you can add your footage to each side by first double-clicking on its clip and then putting your clip on top of it.
Conclusion
Split screens are a great editing technique for editors who want to show more perspective in their projects. It's a well-known technique used by even the most prominent directors in making movies and portraying emotions, reactions, circumstances, contrast, lifestyle, and much more, even as far back as the 1950s. So split screens aren't anything new to the market, but they still have their charm. Use split screens on Adobe premiere pro to add that extra edge to your video edits.
You can make your custom screens or get templates. Filme is also a great alternative software for editing, with split screens providing any features one might need when making adjustments. It's a wonderful tool to use and is very beginner-friendly, so editors of any level of expertise can use the program with equal ease and comfort. You'll never get bored of all the features it has to offer.