If you run a business either a small home-based or a big industry, you want your business to grow and that growth requires promotion. There are infinite ways for promotion which includes brochures, pamphlets, leaflets, billboards, advertisement but the most important ingredient of promotion is video. By video, you can make captivating colourful visuals and skillfully convince users by showing the reviews in 3rd person and using some business and publication techniques.
Add cool music to video is very important now, we will talk how to add music to video in Premiere Pro now.
Part 1. How to Add Background Music to Adobe Premiere Pro
The addition of background music to the video makes it more legitimate as it becomes a full package. If your video is for entertainment then you can add a boom boom-type background music which will make your video livelier and more rousing. But if your video shows sad content then background music will be gloomy and down which enhances the factor of sorrow in your video. In this article, you will see how you can add music to Premiere Pro.
Steps for Add Music in Premiere Pro
Step 1: Moreover, there are specific websites designed to download music and graphic templates to add to your video clips to make them attractive. Download the track and copy it in your hard drive where you are performing the task. Then import the audio track now.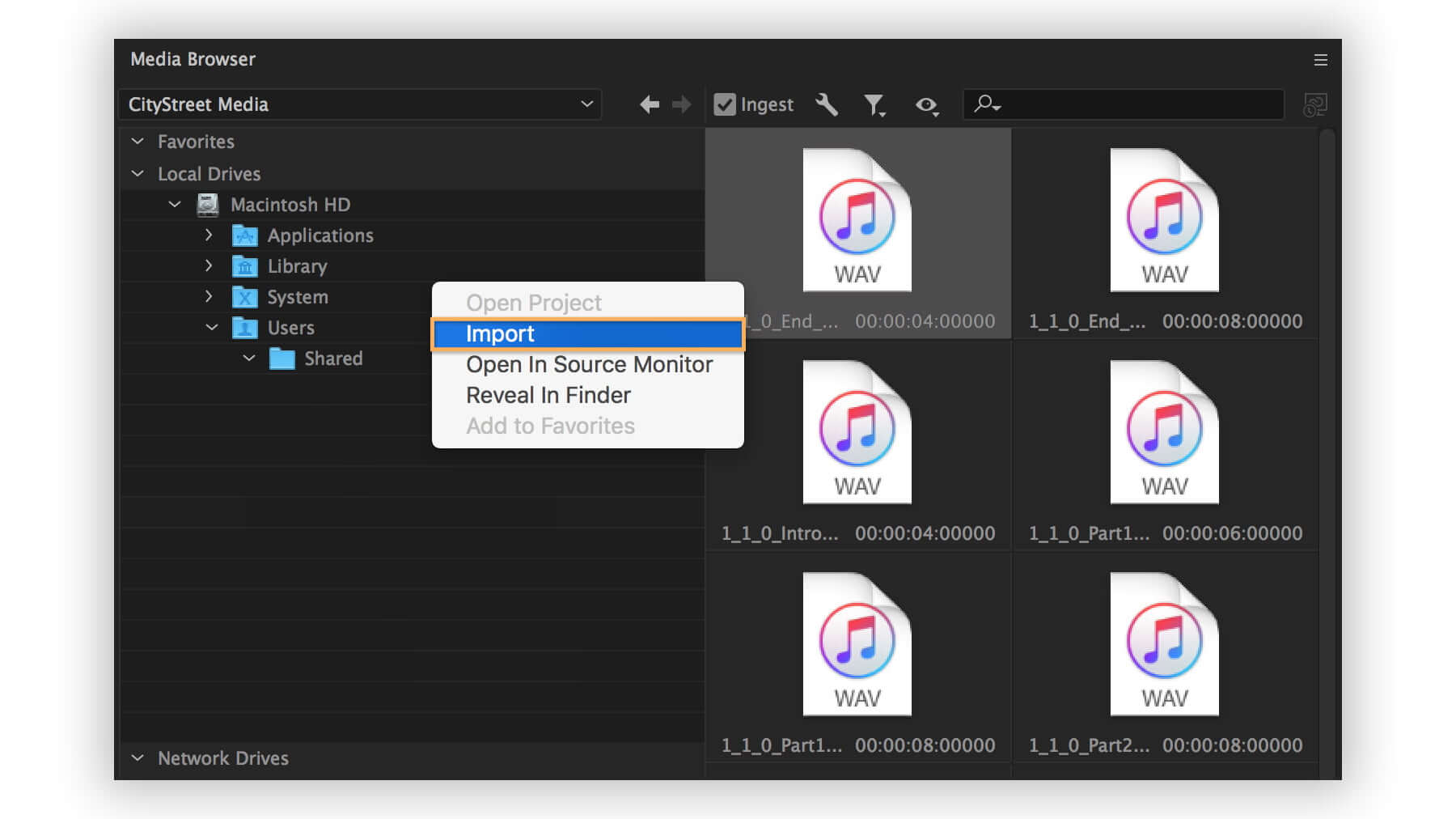 Step 2: From there drag the audio and drop it in the main box and now it has become the background music of your video. Now you cannot just put the whole track on the background you need to cut down your song according to the video's length and content.
Step 3: To cut down the track you need to press C and put the arrow on the point from where you want to cut short your audio and then press V and select the task and then press the delete button, this will make your audio short. You can use the arrow key to perform the task.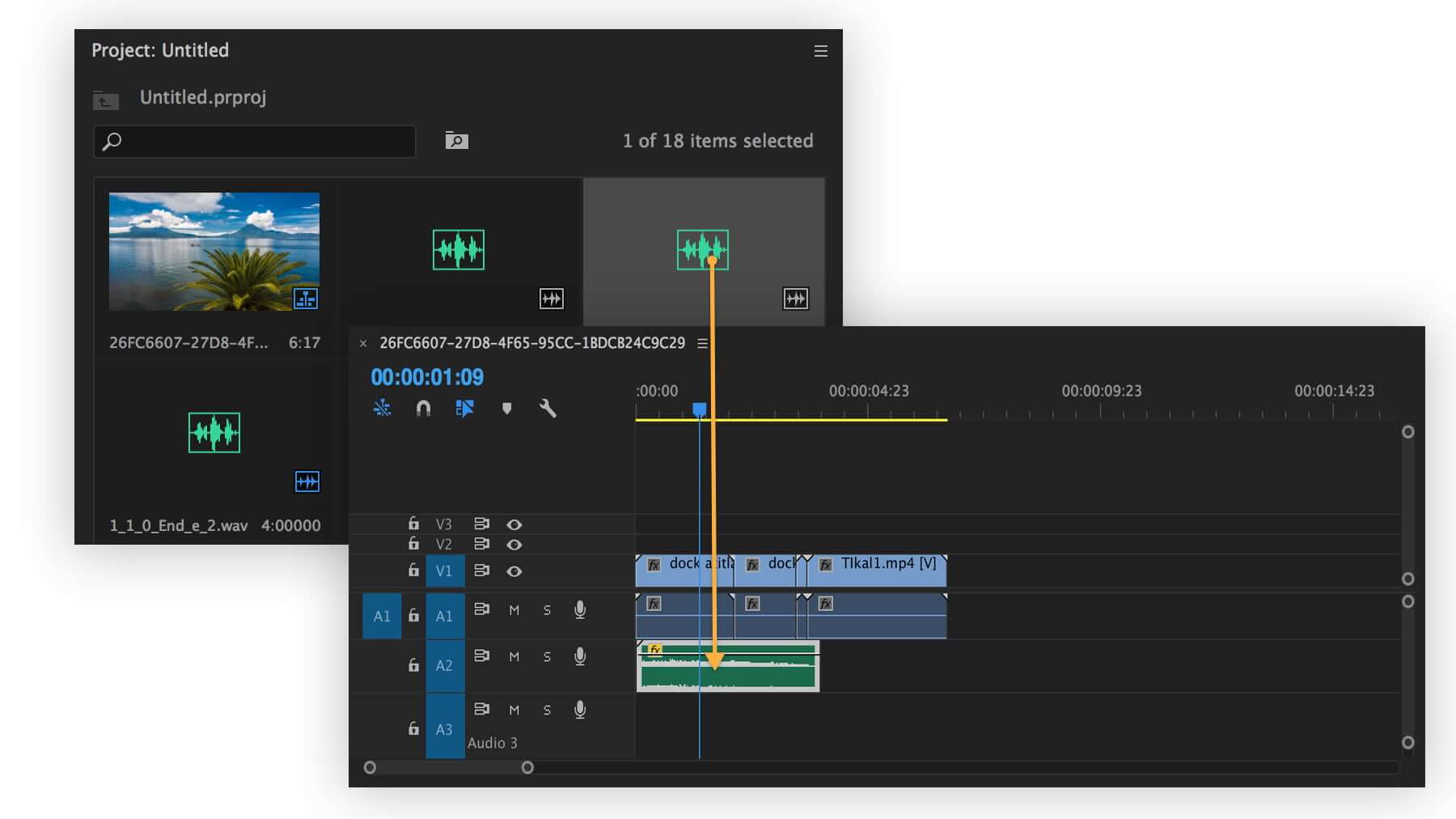 Step 4: Now music is added to the video and now you can fix your audio level by dragging the main box line up and down. If you want to make it a background track then you need to drag down the line up to 28 or negative 30 dB or somewhere around it.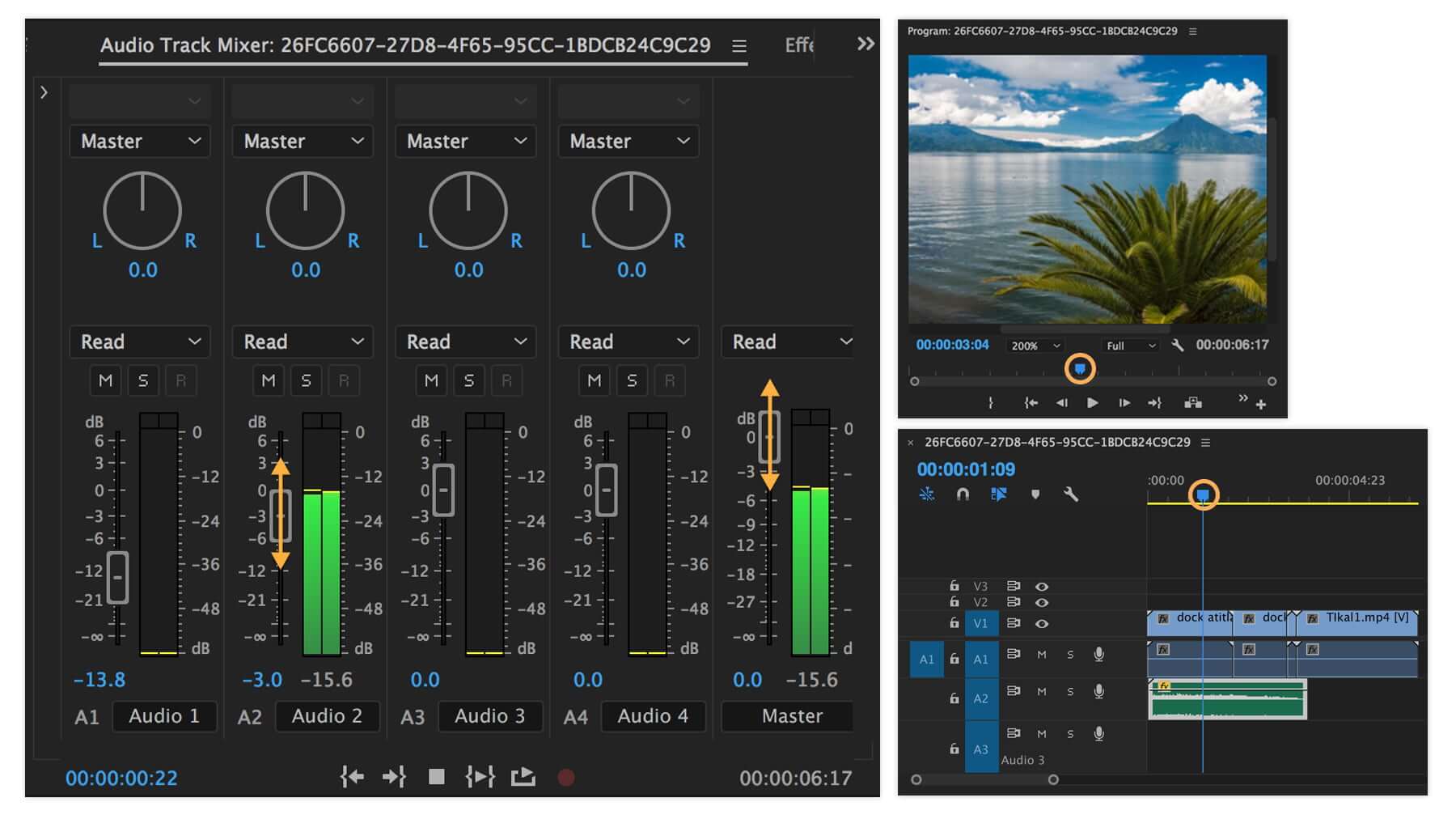 Part 2. Best Alternative to Add Music to Video - iMyFone Filme
There are many video editing software that allows you to add music and fix the volume of the track but does not offer services as much as iMyFone Filme offers to its users. iMyFone Filme offers numerous professional facilities and among those one of the most important and basic tools to edit a video is the addition of audio. The audio can be a piece of background music or a song fixed between video clips. iMyFone Filme allows its users to add music to the video in any form and of any type and also facilitates the users to fade in and fade out the audio and can fix the volume to their choice.
Why Choose Filme
Many people nowadays are paying heed to the media industry and resplendent visual effects and this thing is making them more curious about the video editing software. But they cannot unflinchingly download the software as there is numerous software in the market and it is difficult for them to choose one from them. So in this article, we will discuss some of the best features of iMyFone Filme to make it easier for you to differentiate between iMyFone Filme and other video editing software and you can see the difference between the features and cost of them and makes it simpler for you to opt for.
The first and foremost feature of iMyFone Filme is that it provides a cost-free version of it to let its users check their software and perform specific tasks and if they like it, then they can switch to the paid premiere version.

The second feature is the availability of stunning color workflows to make your video more colorful and bright.

The third best feature is that it is available on both MAC and android and it is safe to download and its inventors have made it in a way that it is protected from malware and other viruses.
Follow the given steps to add music in Filme
Step 1: The first you need to do after opening iMyFone Filme is to open text to video option. There you can see an add text box where you can add the text and import images.
Step 2: Software started compositing the animation and there you have to wait a little to get it done. After that you are opened to a whole editing mode where you can add audio, text, animation or whatever you want. As we are adding music to the video, we need to click on the little mic icon present in the middle of the main line. It offers us the music library of the software and allow us to add the sound track of our own choice as well.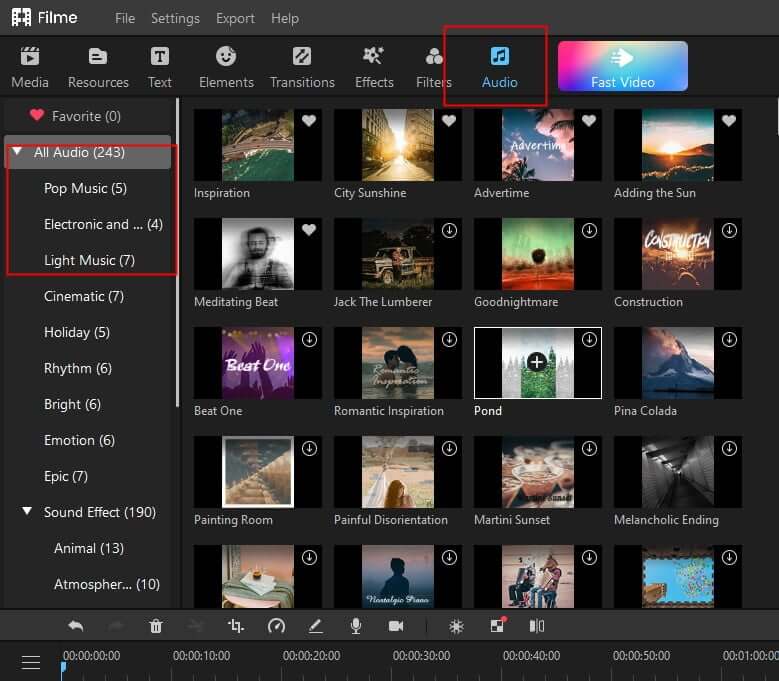 Step 3:
When we have done selecting the music track, we can crop and fix the volume of the music track. you can also fade in/out the music track.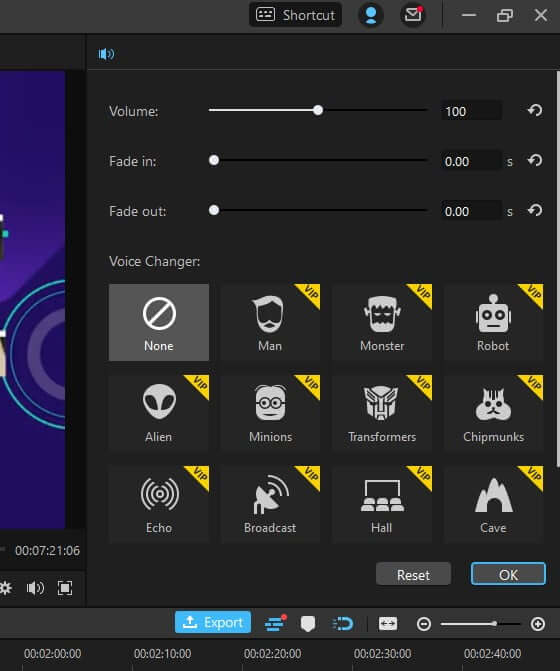 Part 3. Add Music to Video with Alternative App iPhone/Android
There are many video editing software that allows you to add music to the video to your device. But the problem is that they have different methods or setups for Windows Users and for mac users which makes it difficult for them and if that software allows them to do so they charge a monthly subscription and it proves costly for them. There are certain apps for iPhone and android users which will help them in getting their audio attached to the video. Let's have a look on that applications.
The app is KineMaster and it can be used by both android and IOS users. It is a full-fledged video editing app which will help you add music to the video. We will show the steps to add music to video in KineMaster app.
Step 1: Download KineMaster app on App store
Step 2: Open KineMaster app, and click the audio option, then you can add music, SFX audio, recorded audio and more, click the "+" button, and then you can add music to your timeline
Step 3: Export video with added music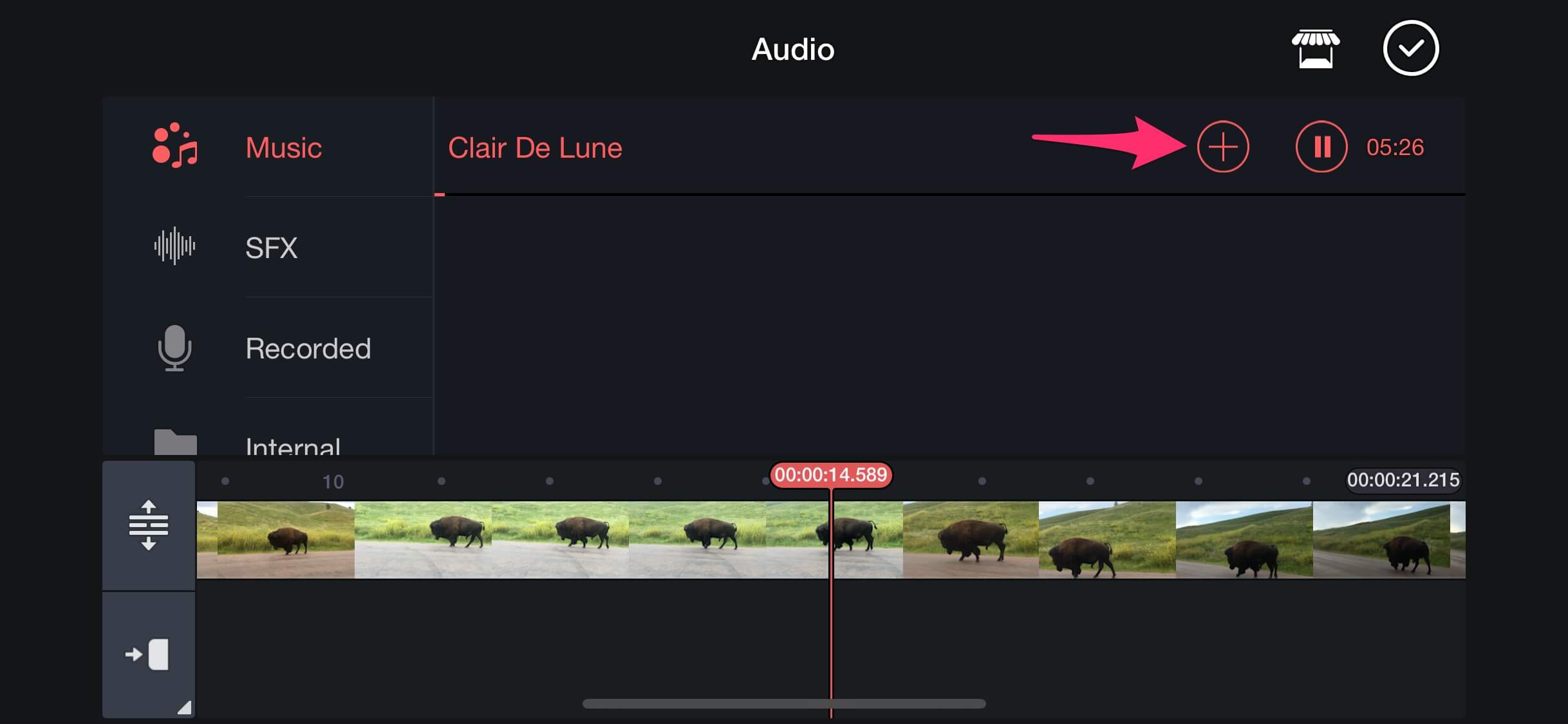 Part 4. Add Music to Video with Alternative Online Tools
If you want to add music to your video online and do not want to download the video editing software then you need to use some online tools as an alternative. Here we can have a look on these online tools which helps us in adding an audio track to the music. The online tool which we have is clideo. It is a secure online tool which makes it simpler for you to add music to the video.
Clideo is one of the finest online tool which can take place of any professional video editing software. You just need to open their website, click on the import video and then then you can add audio to it.
Step 2: You just need to open their website clideo.com, click on the import video and then then you can add audio to it.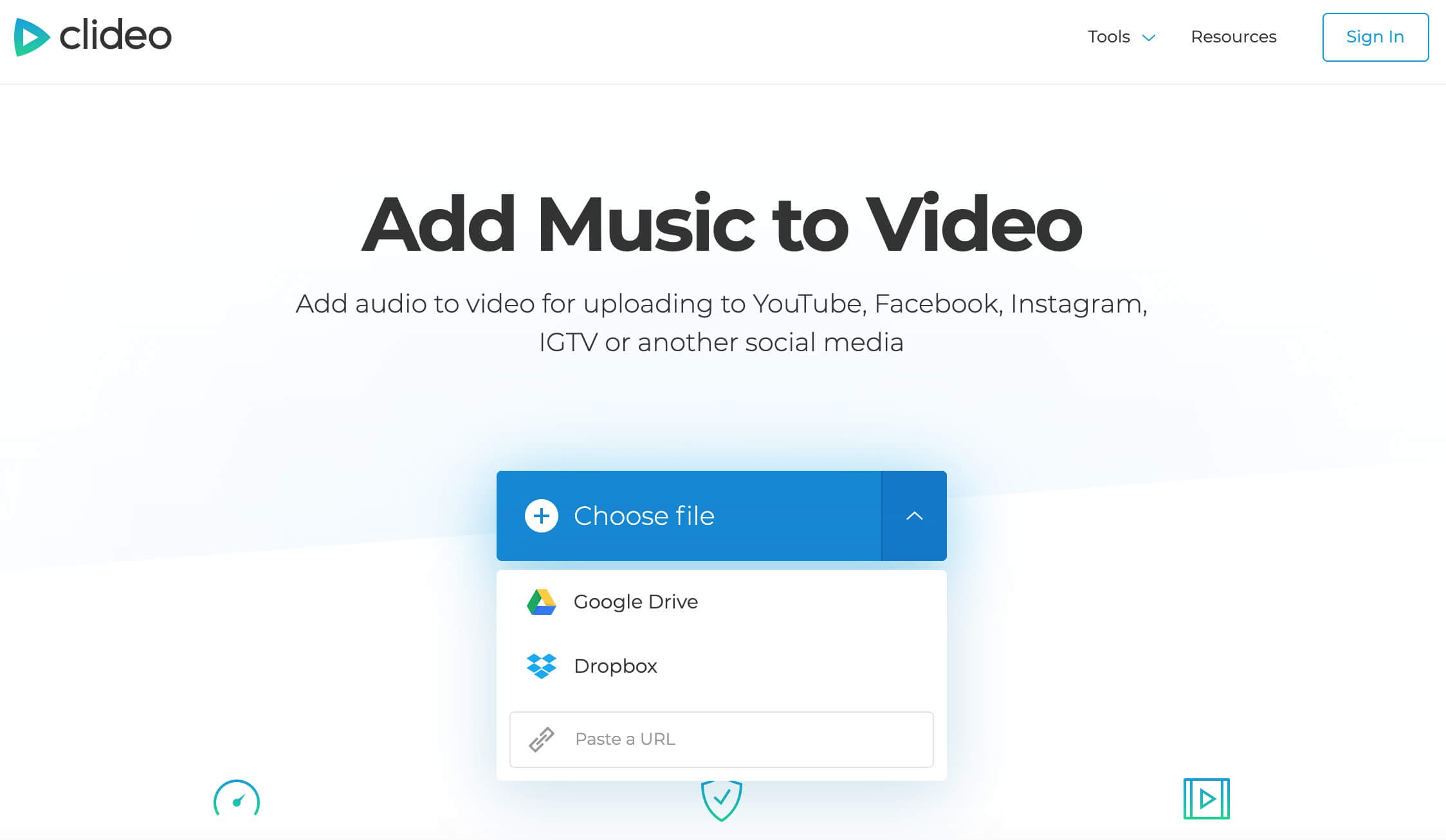 Step 2: After you import the music file from Clideo website, you can edit the music now. you can adjust the audio track volume or cut the audio. and then export the video with added music. It is very simple to use.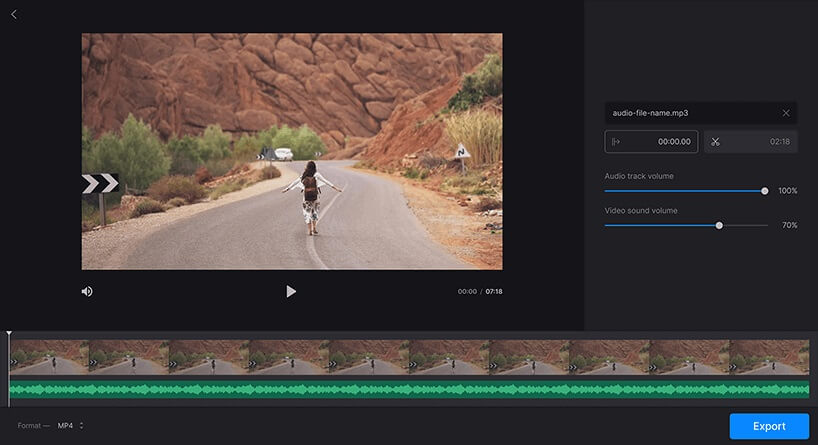 Part 5. FAQs about Add Free Music to Premiere Pro
In the era of technology where several video editing software has emerged and all of them has a different procedure for all the processes. Sometimes people get confused about using a new software so we will try to solve their queries and answer their questions.
1. Is there the same procedure for adding music to Premiere Pro and iMyFone Filme?
No, procedure for adding music in premiere pro of iMyFone Filme is differnet than the other video editing software. The procedure is not totally alien but in some steps it differs from the other software.
2. Do we add music in Premiere Pro free of cost?
Yes, you can add music to premiere pro free of cost. It is one of the most important feature which iMyFone Filme offers to its users.
3. Can we fix the music volume and adjust according to the need?
Yes, you can adjust the volume of your audio and can fix its pitch as well. you can fix the volume at some point higher and at some point lower
Conclusion
These videos should be produced by professional video editing software that can make editing and modifying a video easy to the extent that it becomes resplendent. For this, you need to look for that video editing software that will prove handy and economical. Furthermore, video editing software contains a free and a premiere pro version which is the professional and executive level of the software that allows its users to perform modernized and distinct functions.
In the era of science and technology where computer science is emerging and enhancing day by day, we should be well aware of all the rising technologies. Among which topmost is the video editing software which will cut, crop, copy and edit your image and video and makes it what it is not. We need to be well aware of the 5C's of video editing which are Camera angles, Continuity, Cutting, Close-ups, and Composition. And for this iMyFone Filme is the best video editing software that contains all the above-listed features and provides a safe and secure environment to perform the task. Just check out the link, download Filme and enjoy creating, editing and clipping your video.