Final Cut Pro is a video editing software intended to serve as a replacement for other software like iMovie and many others. Adobe After Effects is another version of Adobe Premiere that is specific to the effects that can be added to your footage during the process of editing them together with other clips. The article will discuss how Final Cut Pro differs from Adobe After Effects.
We will not only discuss Final Cut Pro vs After Effects but also recommend another comprehensive video editor called iMyFone Filme. It is mush easier to use when comes to video editing. Why not downloading it and try it out for free now?
Final Cut Pro and Adobe After Effects Comparison
There are many differences between Final Cut Pro and After Effects, and we will discuss some of them. The comparison will be made on the basis of their main features, pricing, user interface, file management, video effects, color correction, text, and System Requirements.
1. Pricing
The differences in their main features can also be seen in their pricing plans. Final Cut Pro starts from $299. It can be used on the Mac OS X operating system only, and it has limited functions at a certain time of use. Adobe After Effects is available for $20 per month, but it supports both Mac OS X and Windows platforms at the same time.
| | Final Cut Pro | Adobe After Effects |
| --- | --- | --- |
| Price | $299.99/license | $20 per month |
| Free Trial | | |
2. User Interface
The user interface of each application is very important since they are the first thing that the user sees when he/she starts to use them. The interface of Final Cut Pro has been made to be simple and easy to use. It has menus for the different sections like project, effects, adjustments, color correction, audio levels, and more. On the other hand, Adobe After Effects has very detailed menus for each part of the project. The menus are not only used in the application but also in its full version after it is downloaded.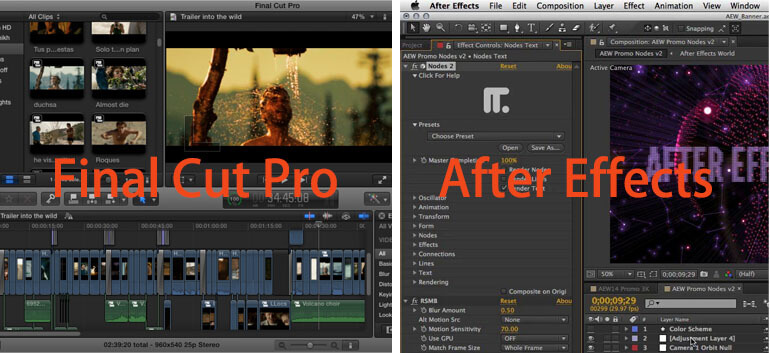 3. File Management
The file management of each application is also very important since it is where all the files are stored once they are created or edited. Final Cut Pro uses a project manager that stores the information about all of your files in secure storage. If you want to edit a file in the future, all you have to do is to go to the project manager and retrieve it. It also has metadata information that can be used when editing.
Although Adobe After Effects does not use the project manager, it has an extensive list of effects that can be added onto footage when creating or editing videos. The effects are very easy to use and help in adding animations, transitions, and split-screen options onto footage quickly.
4. Video Effects
The video effects are also very important for the user to use. Each application has many different features to make its videos look even better than before. However, the list of features varies due to different reasons. For example, the project manager of Final Cut Pro is limited. This means that you cannot add transitions or effects onto footage that it does not include. On the other hand, both applications have an extensive list of video effects that can be added upon creating or editing videos.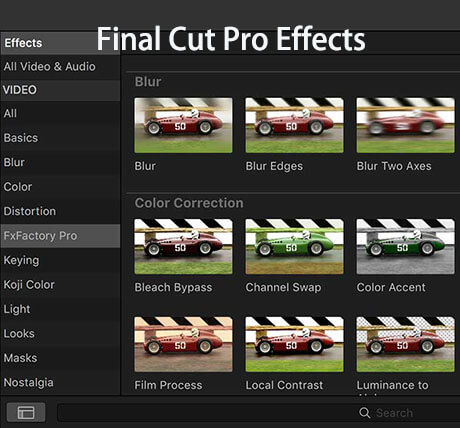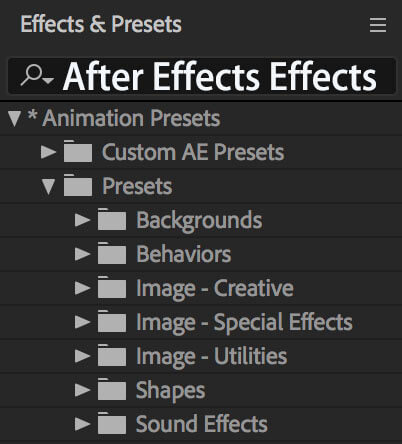 Related Tips for You:
Top 11 After Effects Templates to Embellish Your Video >>
5. Color Correction
Another important feature of video editing is color correction. Color correction is used to adjust the color of the video or to blend different images into one. The color can be made into various hues to suit different tastes. Both applications have the ability to perform color correction with an extensive list of effects that can be added onto footage when creating or editing videos. The effect menu for Final Cut Pro is not as detailed as Adobe After Effects, but it includes default options like hue, saturation, and brightness.
6. Text
The text feature is very important in video editing. The text can be made into different sizes and shapes to add to videos. It also helps in the title creation of your video. Both applications have their own unique lists of fonts that can be selected from. However, Final Cut Pro has a default option to make the title screen for your video while Adobe After Effects allows you to choose the font of your choice and style for a better creation of titles.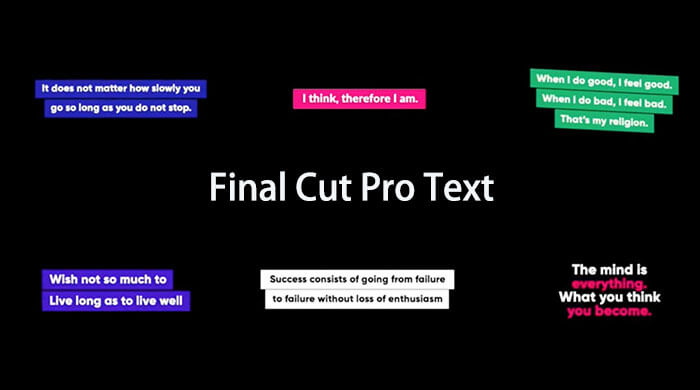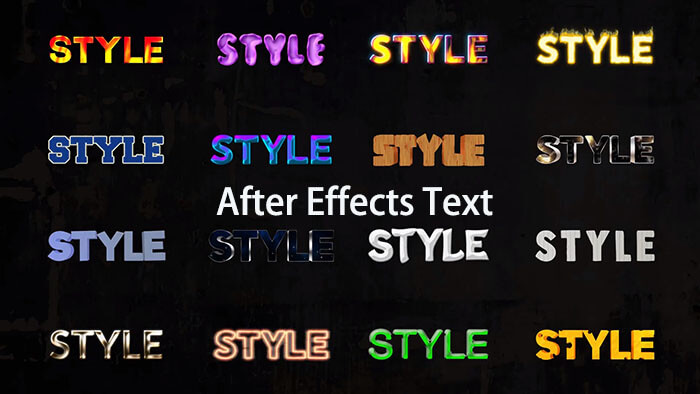 Related Tips for You:
10 Best Final Cut Pro Text Effects for You to Use in Video >>
7. System Requirements
The system requirements are also very important because they help in determining if a certain application can be used on a certain computer or not. The system requirements for Final Cut Pro are not as detailed as those of Adobe After Effects. It does not feature a detailed description of the computer. However, it can be used on any processor speed 1 GHz and RAM 2 GB at least. Final Cut Pro is also compatible with Windows-powered computers that have at least an Intel Pentium 4 processor 2 GHz, 512 MB of RAM and a 64 MB NVidia GeForce FX accelerated video card. In contrast, Adobe After Effects is compatible with Windows XP Operating System only but it features more complex requirements. It also has detailed information like processor speed, RAM required, and video card compatibility.
Final Cut Pro & After Effects: So Which One is Better for Video Editing
The differences between Final Cut Pro and Adobe After Effects are mainly due to their features. Some of them are the same while others differ greatly. Both applications will need to be used in order to find out which one is better for video editing.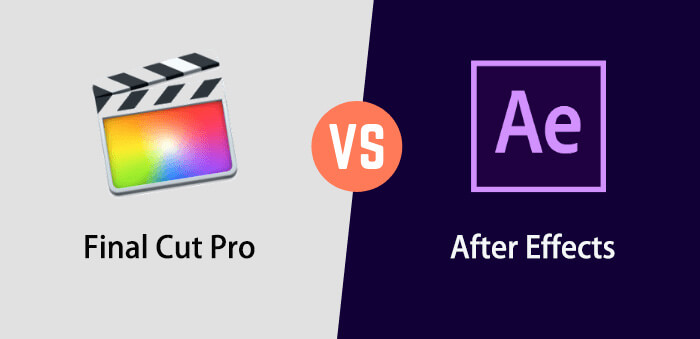 Final Cut Pro has some issues when compared to Adobe After Effects due to the lack of different editing tools within the project manager, namely effects, titles and transitions, color correction, and also some other features. Final cut after-effects on the other hand are completely advanced when compared with final cut pro due to it having advanced features like advanced video editing skills which means you can edit videos more easily than with final cut pro. Adobe After Effects also has the ability to do more advanced editing tasks whilst final cut pro can only do basic edits.
On the other hand, both applications have some advantages and disadvantages as well as unique features. For example, one advantage is that you can change the title of your video in both applications. Also, the color correction feature on the final cut after-effects is more advanced than that of the final cut pro whilst it has some useful features on the other hand. The bottom line is that it depends on your demands and requirements which software you would want to use.
How About Trying Another Comprehensive Video Editor - iMyFone Filme
iMyFone Filme is our recommendation in terms of fast video editing, which allows you to create beautiful videos. It's the easiest way to edit your videos without any stress.
We highly recommend using this editing tool as an alternative because of its unique features.
iMyFone Filme Key Features:

All-in-one video editor with useful editing tools - cropping video, rotating video, adding picture-in-picture (PiP), adjusting video speed, adding text and music to video.

Stylish effects and transitions - iMyFone Filme comes with various filters, transitions, animations, etc.

One-click Fast Video Mode – Fast Video Mode allows you to create quick video slideshows in just simple clicks.

Free & easy to use – You can download the software on your Windows or Mac for free, and it is very easy to use.
How to use iMyFone Filme to edit your videos
Let us show you one example how convenient this software is to edit the videos. Let's follow the below steps:
1)Open Filme on your computer, you'll see the below main screen.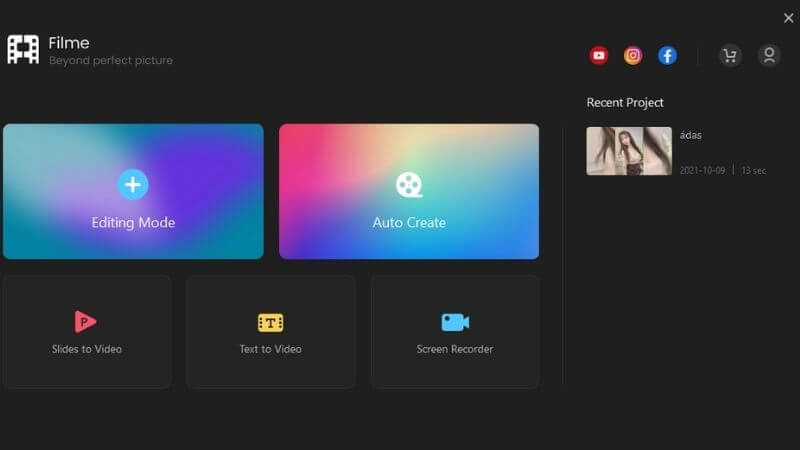 2)Click on the file option and click on the import button to select a video.
3)Now select the video and drag it into the timeline.
4)On the menu bar on the top of the tool, you will see "Text", "Transitions", "Effects" and more options. You can add them to your video with ease.
5)If you want to make some adjustments for your video, you can check the editing options above the video timeline.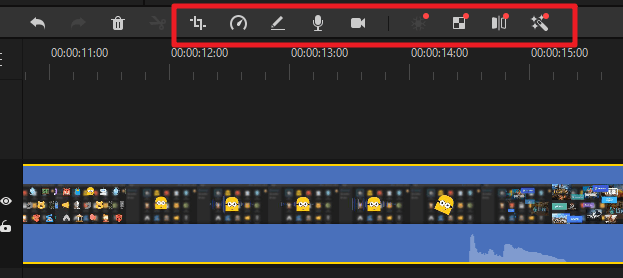 6)You can also create fast slideshow video by using Filme's Fast Video Mode. All you need to do is to click the Fast Video icon and follow the in-screen instructions. That's so easy!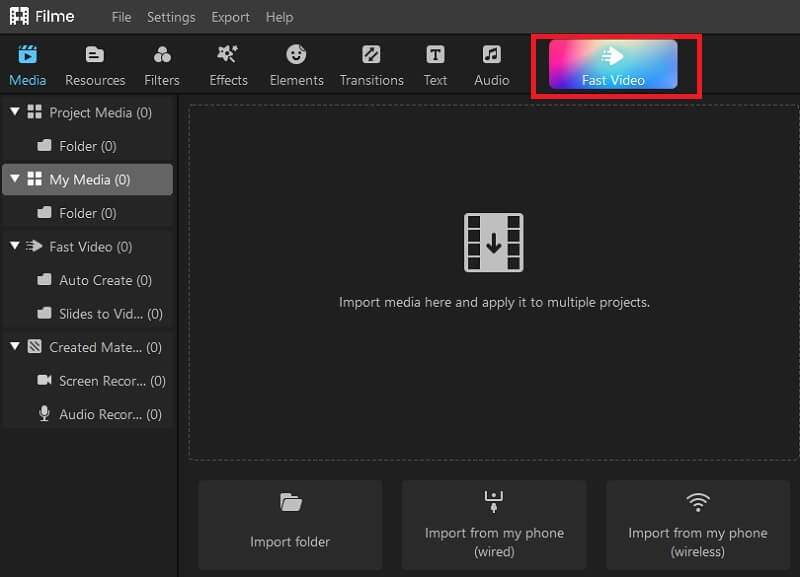 7) Save your videos once the video editing are done.
Conclusion
We have mentioned a few tools that are available in the market today. We have also discussed the differences between them and how they are different. We believe that the best choice is iMyFone Filme which is an advanced video editing tool. It has advanced features which make it very useful for all video editing purposes. The best part is that it has easy-to-use features that help you edit videos more easily than any other tools.