Elvis Presley's music is the stuff of legends, captivating fans for decades. And now, brace yourself, because you have the power to create your very own Elvis Presley AI cover songs! Thanks to the marvels of technology, an incredible AI cover song generator can make it happen.
In this article, we'll delve into the secrets of using Elvis Presley AI voice to make AI cover song that will transport you straight into the realm of the King of Rock and Roll himself. Get ready to be blown away!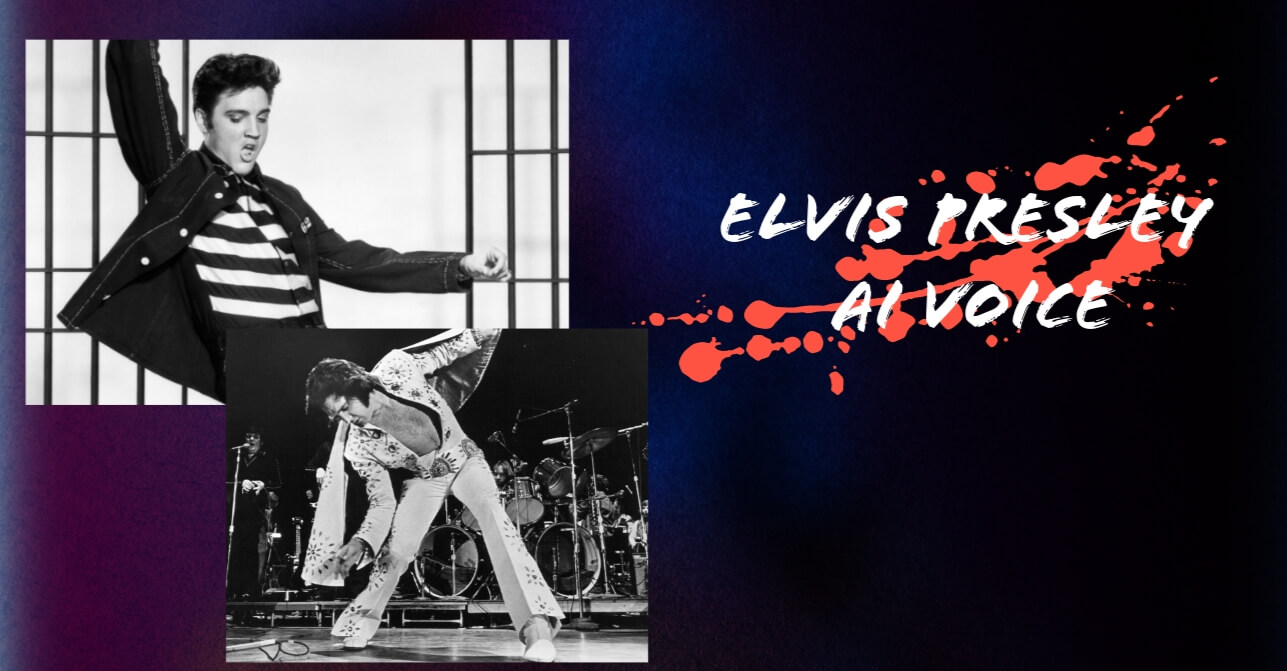 Part 1: Who is Elvis Presley?
Elvis Presley, born on January 8, 1935, and passed away on August 16, 1977, was a famous American singer and actor. He is commonly known as Elvis and is often called the "King of Rock and Roll." Elvis is considered a highly important figure in 20th-century culture. His lively and passionate singing, along with his bold and provocative stage presence, made him hugely popular but also sparked some initial disagreements.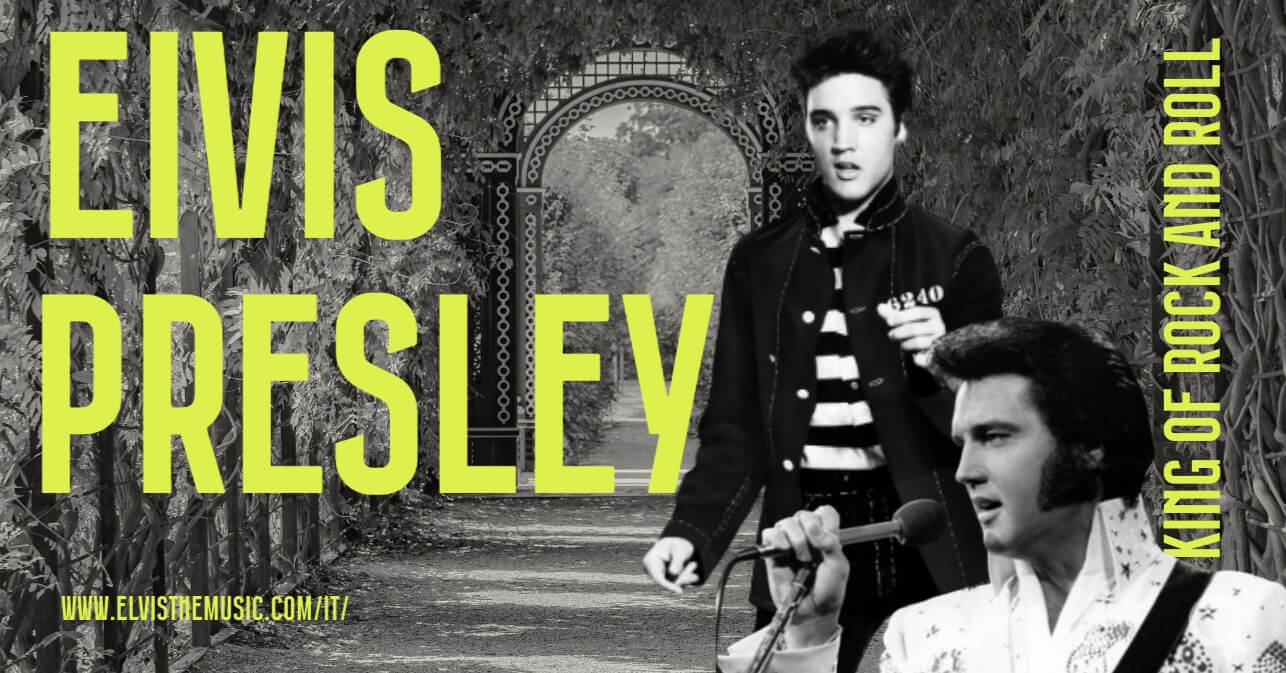 Elvis Presley has sold approximately 500 million records worldwide, making him one of the most successful music artists ever. He achieved commercial success across various genres such as pop, country, rhythm & blues, adult contemporary, and gospel. In recognition of his talent, he won three Grammy Awards and was honored with the prestigious Grammy Lifetime Achievement Award when he was only 36 years old.
Part 2: Why was Elvis Voice So Unique?
Elvis Presley possessed a remarkable baritone voice that had an exceptional vocal range and versatility. His voice spanned an impressive two octaves and a third, stretching from the low-G of a baritone to the high B of a tenor. Additionally, he had the ability to reach even higher notes in falsetto, extending his range to at least a D flat.
Moreover, one essential aspect of Elvis' distinctive sound was his masterful utilization of vibrato. This particular sound became iconic and has been imitated in various pop music compositions, yet it remains unrivaled in its impact and brilliance. Elvis' skillful execution of vibrato added a captivating dimension to his performances, solidifying his unparalleled contribution to the realm of music.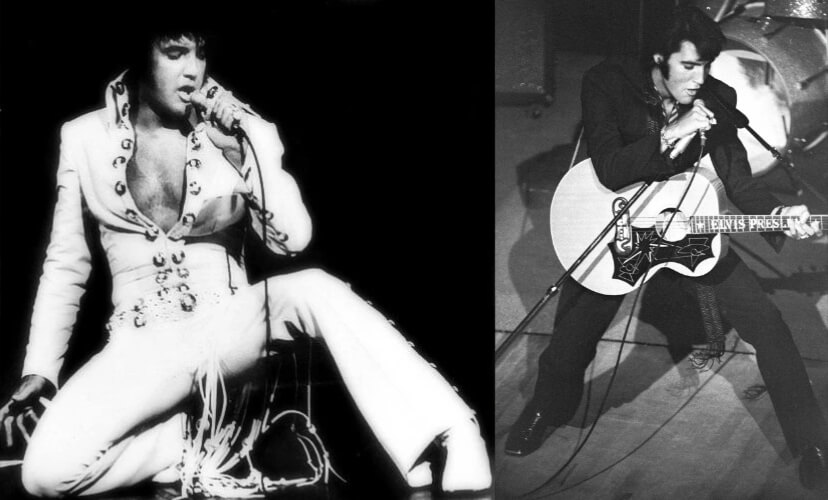 Part 3: How to Make an AI Cover Song with Elvis Presley AI Voice?
1. MusicAI -- AI Cover Generator
iMyFone MusicAI is a powerful AI music generator, with which you can generate AI cover song with single click, transform text to music, and audio track separation from video.
For AI cover song, it offers a vast majority of AI models for you to choose from, including famous singers, celebrities, and more, allowing you to make AI cover songs with their unique AI voice.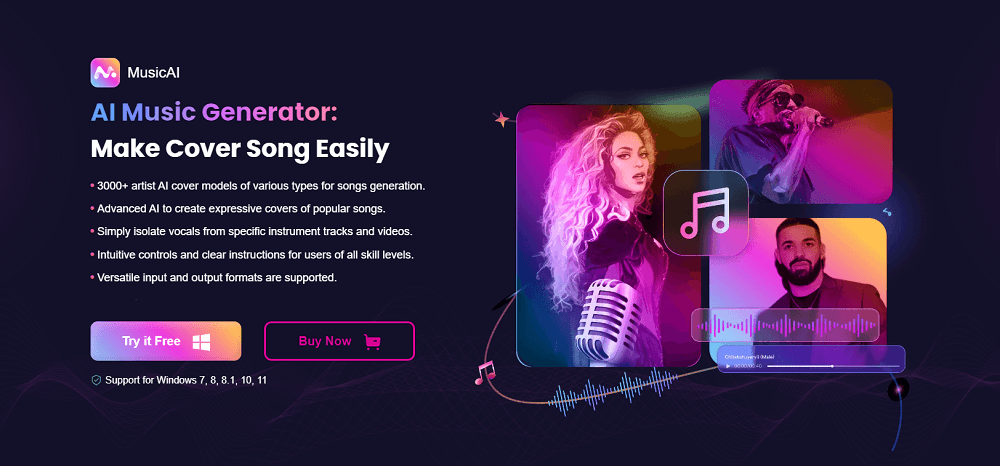 How to Make Elvis Presley AI Song Covers
Step 1: Download and install the software.
Step 2: Enter "AI Covers", select the Elvis Presley AI voice and upload the song file you want him to cover.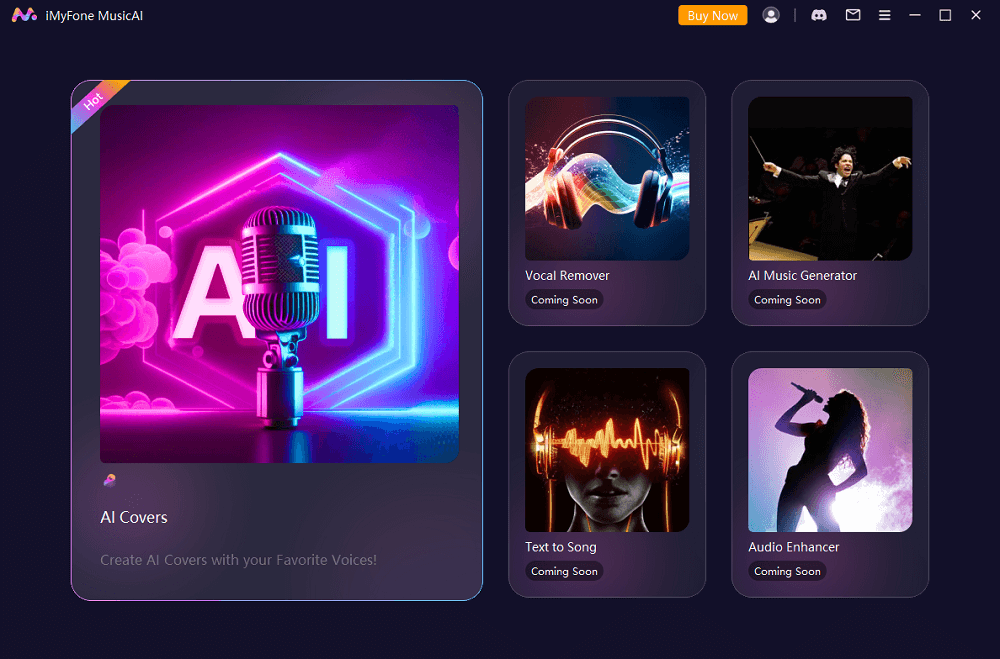 Step 3: Click on "Start", log in your account and wait for the results.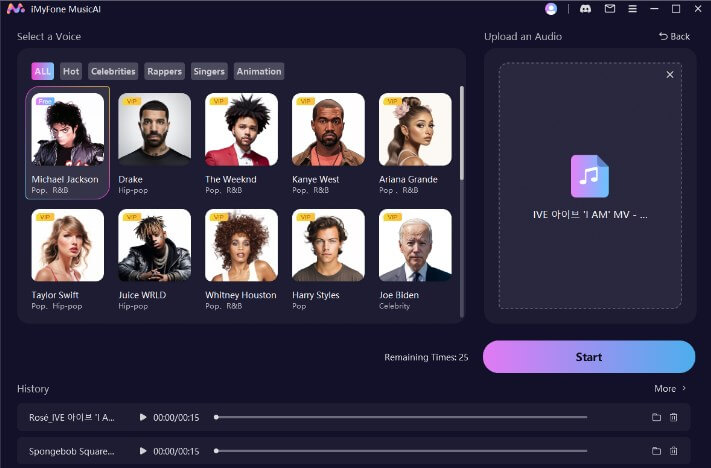 Key Features:
A large number of stunning AI voice from celebrities, singers, like, The Weeknd, Juice Wrld, and Kanye West, etc.

Allows to effortlessly separate out vocals, background muic and instruments.

Satisfy all you needs with AI cover song generator, text-to-song,vocal removal, and more upcoming features.

The AI generated cove songs are of high quality.

Allows to export your cover song in various formats, including WAV, MP3, OGG, and more.
2. Covers.AI - AI Song Generator
Covers.ai is an online platform developed only for making AI cover songs. You can easily generate an AI cover by uploading a song and selecting a voice you like. But its AI voice models are limited. If you want to cover a song with a celebrity's voice that can't be found in covers.ai, you have to upload the voice model by yourself.
Bonus Tips
If you can't find the AI voice model of the person you want, use
iMyFone Voxbox
to clone the voice and upload it.
Just try it out free below!
How to Use AI Cover Song Generator to Make an Elvis Presley AI Song:
Step 1: Enter the interface of this website and click "Try the Beta".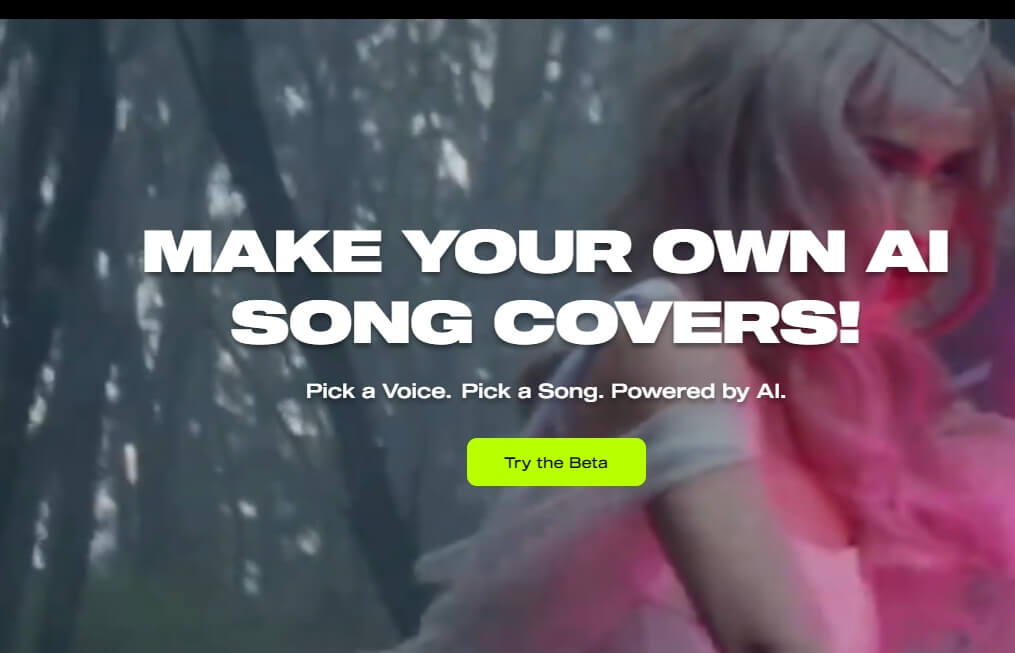 Step 2: Upload the song you want to cover & Select a voice & Enter your email.
Bonus Tips
If your song is on YouTube, you can use a youtube mp3 converter.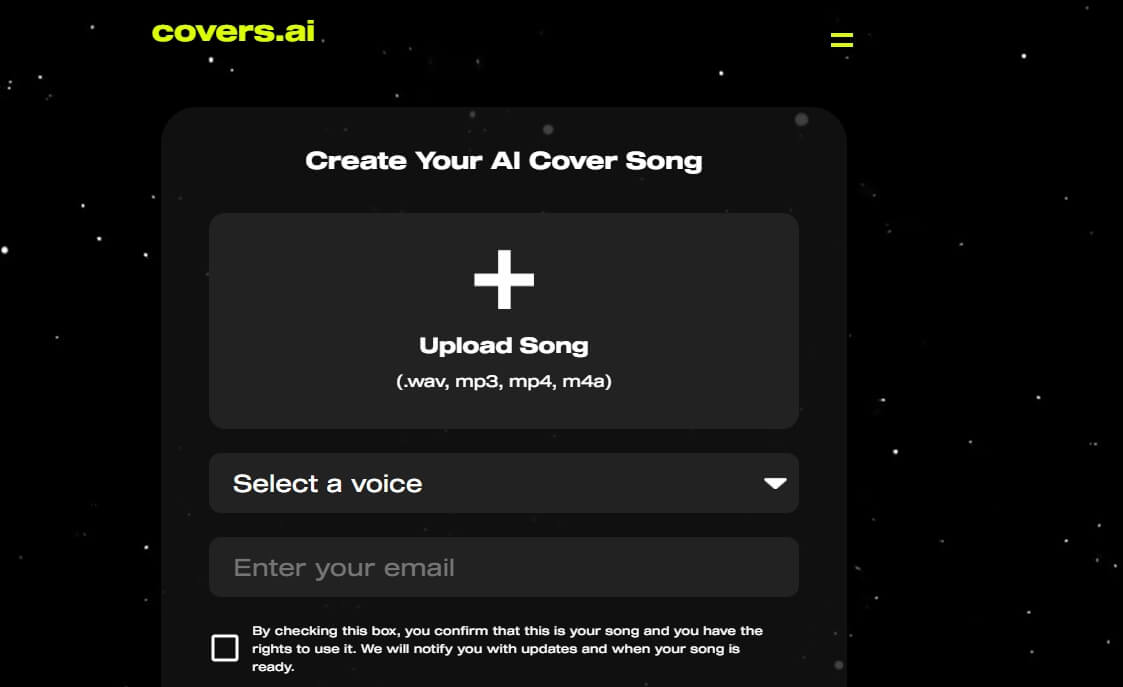 Step 3: You will get noticed by email when the Elvis Presley AI song is ready.
Key Features:
Able to generate AI cover songs of high quality.

Has various voices from celebrities to choose from.

Allows to submit voices of anyone you want to use to make AI cover.

It's an online platform and easy to navigate.
Part 4: Bonus Tip: Generate Elvis Presley AI Voice with TTS Voice Generator
VoxBox is an AI tool to generate AI voices that flawlessly emulate the unique style and distinctive vocal tone of Elvis, creating captivating voiceovers that mirror his distinctive artistry.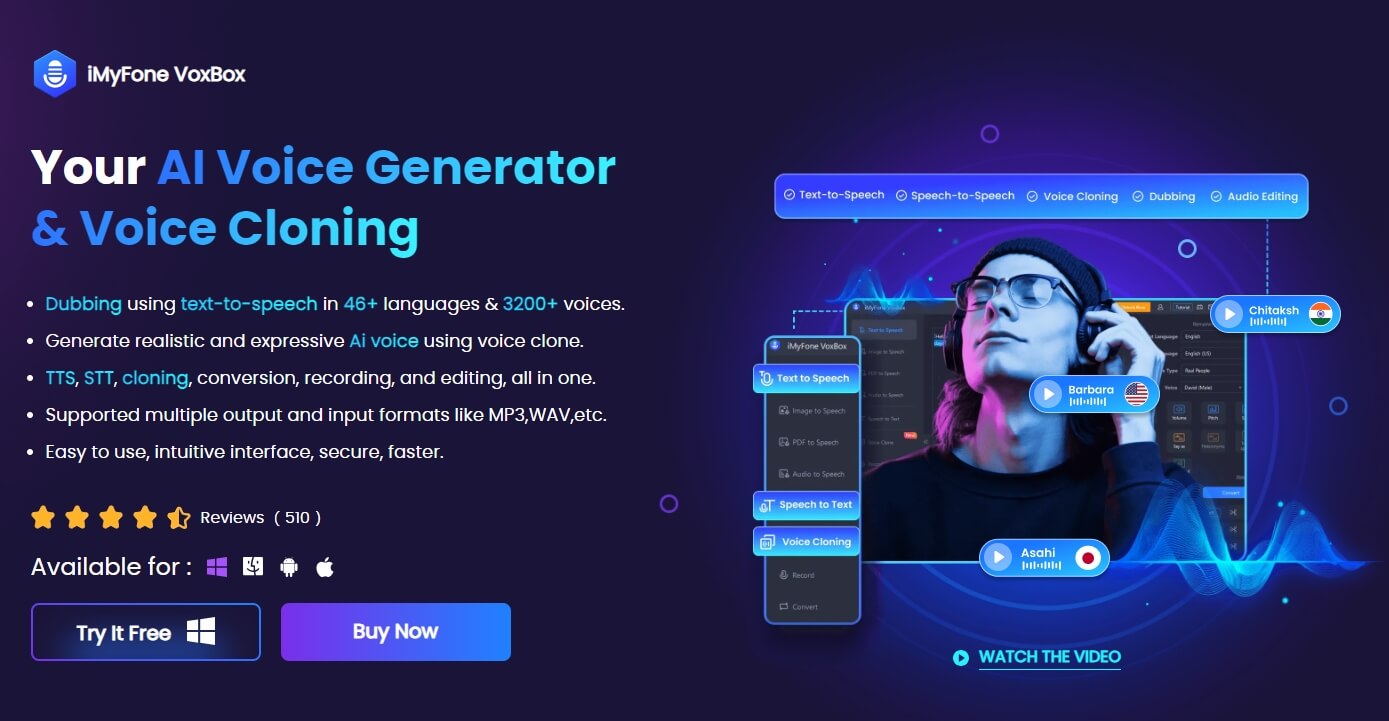 Effortlessly Get Elvis Presley AI Voice:
Step 1: Download and install VoxBox software, and select "Text to Speech" on the left side.
Step 2: Select the voice of Elvis Presley, and input the text you wanna convert to the speech.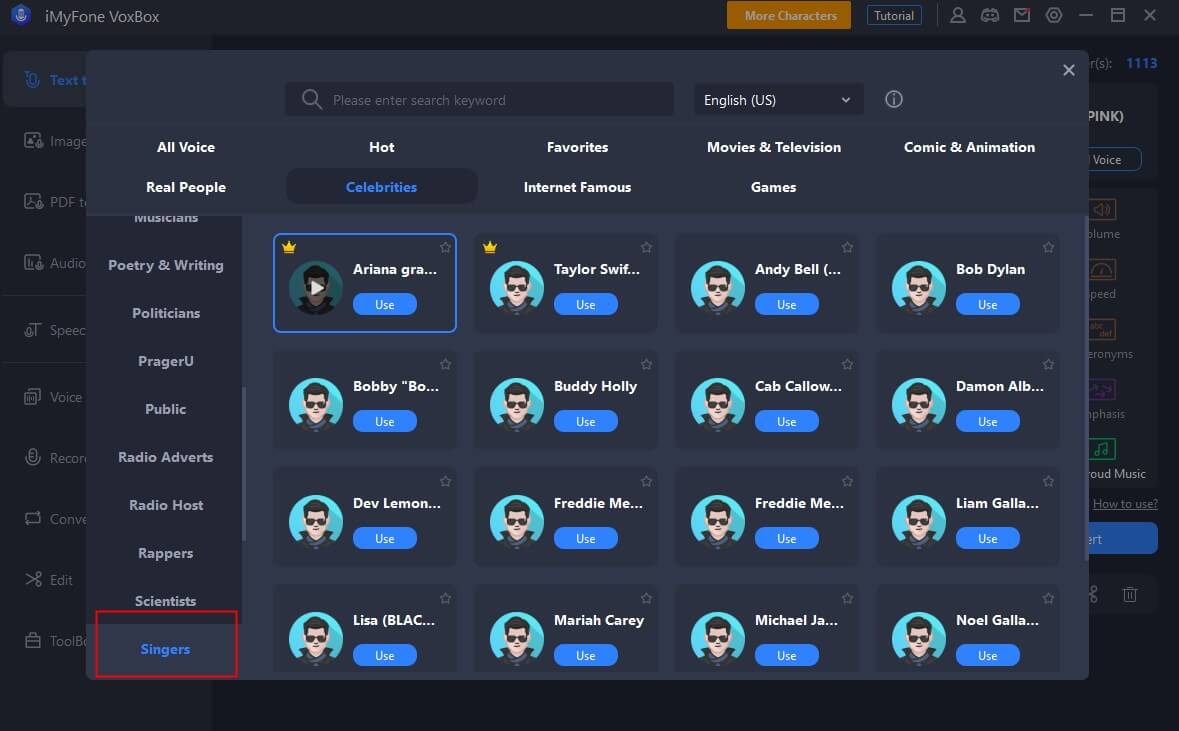 Step 3: Adjust the options and export the results.
Conclusion
In essence, Making AI cover songs featuring the iconic Elvis Presley has become much easier with AI song generator -- MusicAI.
Now take the leap to explore the world of the king of Rock and Roll, and make your own personalized Elvis Presley AI cover songs today!