In our daily life, noise is usually everywhere. At this time, AI background noise removal tools should play an important role. It minimizes noise, including annoying hissing while listening to blogs, crying babies in the family, noises other than human voices in meetings, and more.
In this article, we will introduce best 7 AI background noise removers to help you get some quiet personal time, also including free tools. let's start!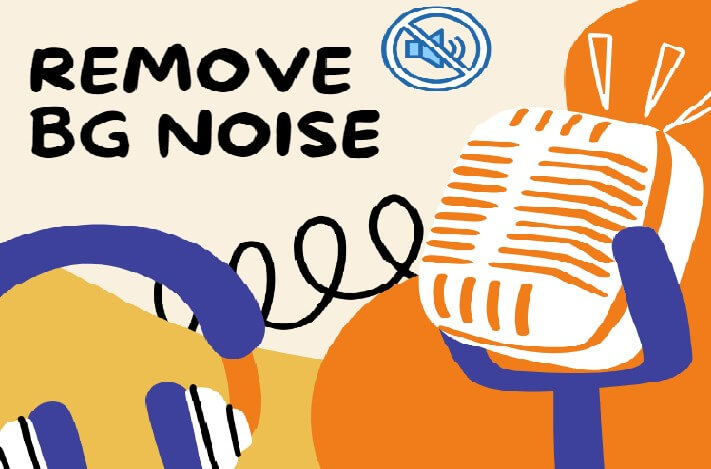 Part 1: What About AI Background Noise Remover?
1. Facts about AI Background Noise Remover
AI background noise remover is a technology that uses artificial intelligence algorithms to automatically detect and eliminate unwanted background noise from audio recordings. It is designed to enhance the clarity and quality of audio by focusing on the primary sound source while suppressing or removing any distracting or disruptive noise in the background.
2. Why is background noise removal important?
Background noise removal is crucial for improving the clarity and quality of audio content. It ensures that the main sound or voice is more audible and easier to understand, which is essential for various purposes such as podcasting, video production, music recording, and voiceovers. Removing background noise enhances the listening experience and makes the content more professional.
Part 3: Top 7 AI Background Noise Removal Tools To Get
MusicAI is an advanced AI music generator offering a comprehensive suite of AI-powered tools that simplifies the way you approach music creation. With features ranging from AI covers and text-to-song generation to AI composition and audio enhancement, MusicAI enables music enthusiasts to get more musical expression with convenience.
Plus, MusicAI's upcoming background noise removal feature promises to further refine your music and audio quality, ensuring that your music remains crystal clear and devoid of any unwanted distractions.Looking forward to achieving impeccable sound quality with our fuction in development.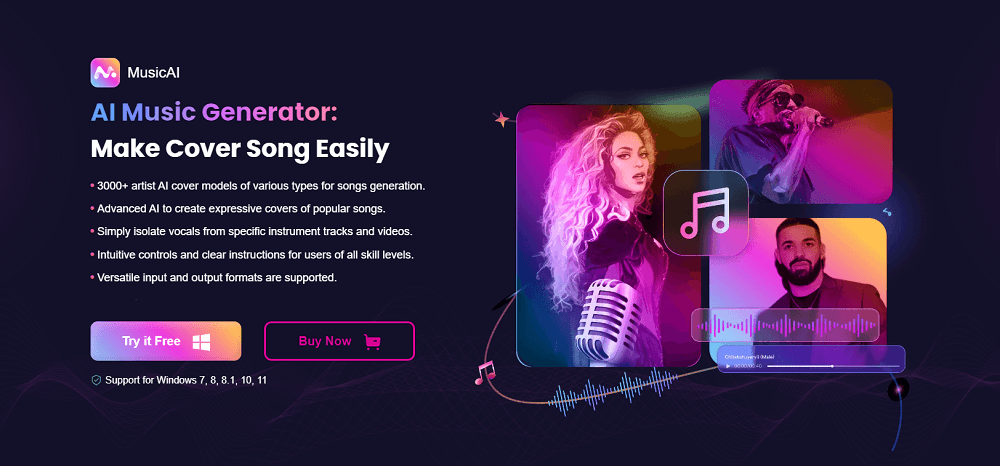 Key Features:
Many optional features will help you create more professional tracks.

The tool will enhance clarity by targeting and removing background noise.

It also can remove silence like pause to promote the audio quality.

MusicAI's AI background noise remover supports various audio formats.
Media.io's online background noise revomal tool offers over 30 options for noise removal. You can effectively eliminate various types of noise, such as traffic sounds, wind disturbances, baby cries, ringing phones, door slams, and ambient chatter. You can eliminate background noise, resulting in the production of high-quality sound akin to that of a professional studio.
Features:
Minimize various noise types.

It has the noise reduction with exceptional fidelity.

Compatible with numerous audio and video formats.

Elevate vocal clarity and eliminate ambient background noise.
Price:
Monthly Plan: $12.99
Pay As You Go: $24.99
Kapwing's background noise removal effectively cleanses your video's audio, isolating speech patterns, diminishing background noise. No need for mastering intricate audio editors like Adobe Audition or iMovie. If you're into livestreaming, podcasting, or use microphones like the Blue Snowball, you can eradicate unwanted background noise from your videos with just a single click.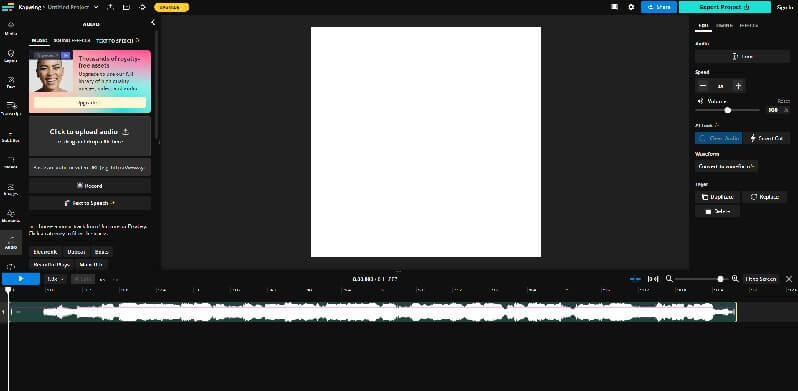 Features:
A vast collection of templates, along with copyright-free videos, images, music, and GIFs.

You can edit to remove your background noise without cost.

As a cloud-based platform, Kapwing ensures your videos are accessible from any location.

The accessibility is simplified

No ads and your information will never be shared.
Price:
Pro: $16
Business: Contact them
Veed, the online tool for removing background noise, stands out in its ability to identify and eliminate undesirable noise. It can guarantee optimal audio quality while efficiently remove surplus vocals for activities such as karaoke production. Yet, its prowess doesn't stop there, this robust editor also boasts functionalities like incorporating background music and sound effects into videos, as well as audio replacement.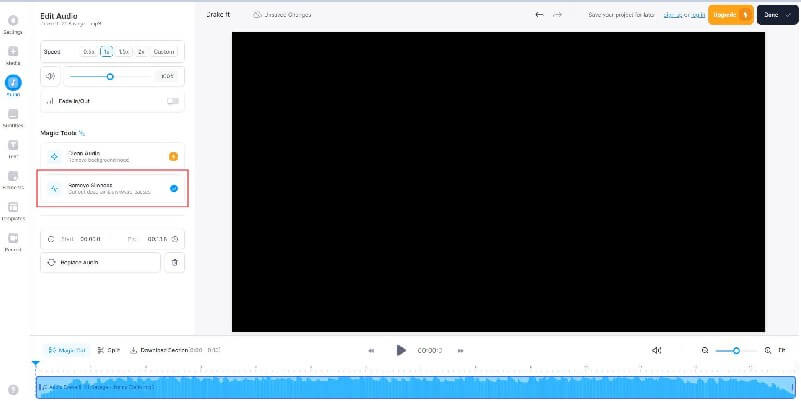 Features:
The background noise remover ensures a professional auditory for music projects.

You can benefit from audio enhancement powered by Dolby technology.

Use veed's versatile audio toolkit to make royalty-free music, sound effects.

Intuitive interface let the process easier.
Price:
Basic Plan: $16/mon
Pro Plan: $24/mon
Business Plan: $59/mon
LALAL.AI is another background noise removal that presents a premium vocal remover application. For new users, there's a restriction on the duration of audio and video processing, capping at 10 minutes. Despite this limitation, it's an option well. Tailored for streamers, journalists, and transcribers, its specialized algorithm excels at eliminating undesirable audio elements.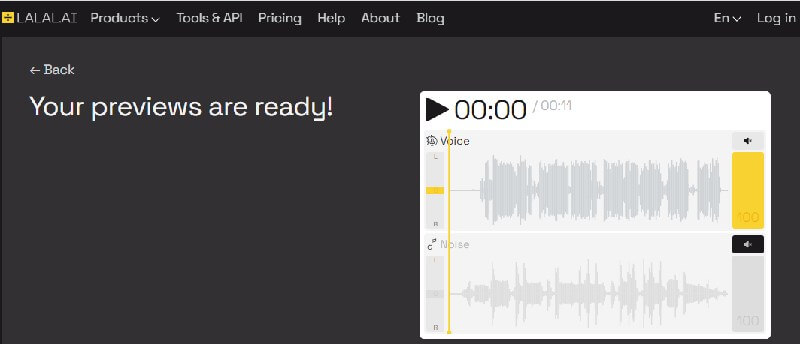 Features:
Different price plans correspond to different usage rights.

Support batch upload.

It is suitable both for individual and business use.

Allows to divide audio and video files into separate stems.
Price:
Lite Pack: $15
Plus Pack: $25
Pro Pack: $35
Aspose Audio RemoveBackgroundNoise, an entirely free application for eliminating background noise from audio files. Simply click within the designated file drop area to upload your audio file or effortlessly drag and drop it. Once uploaded, your audio file will undergo processing, and you'll receive an instant download link for the resulting file.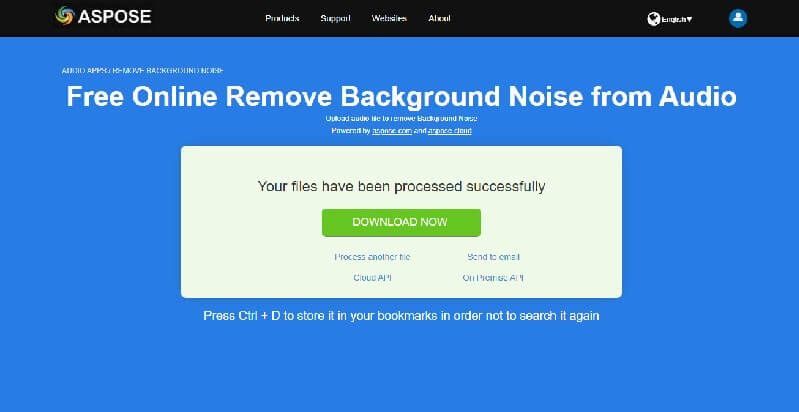 Features:
The background noise remover is trusted expertise of aspose.com and aspose.cloud.

Fast and easy working process.

Access this tool from various platforms, including Mac OS, Linux, Android, and iOS.

Support for 25 file formats.
Price:
Free
Audo Studio employs AI-driven background noise removal as a solution for enhancing audio quality. This advanced tool effortlessly eliminates a range of noises, including dog barks and helicopter roars, with a simple click. Whether you're dealing with background noise, echo, or volume imbalances, this tool ensures swift and automatic improvement. Designed for podcasters, video creators, and YouTube channels, Audo Studio offers the capability to efficiently clean audio.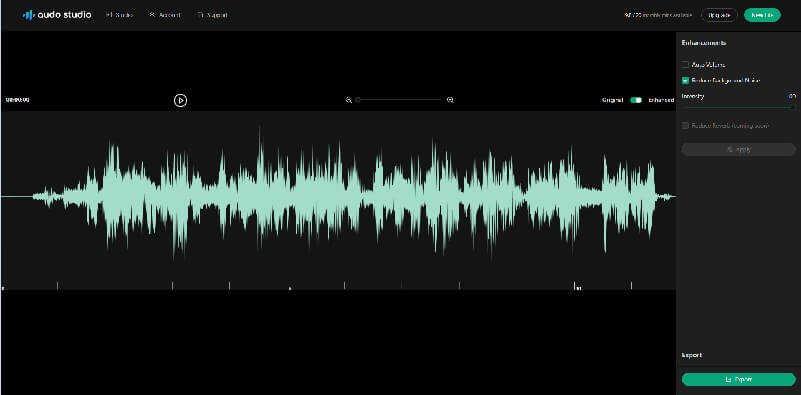 Features:
20 monthly mins available.

Three functions of auto volume, bg noise reduction and reverb removal.

Very detailed video guide on how to use.
Price:
Creator: $12/mon
Pay As You Go: $20
Part 3: Part 4: Hot FAQs about Background Noise Removal 2023 1.Can background noise removal affect the quality of the main audio?
When performed correctly, background noise removal should not significantly affect the quality of the main audio. Modern noise removal tools are designed to minimize any distortion or artifacts while targeting only the unwanted noise frequencies.
2.Are there any limitations to background noise removal?
While background noise removal tools are effective, they may face challenges with certain types of noises that are intertwined with the main audio. For example, removing background noise that is similar in frequency to the main voice or sound might result in some loss of the desired audio. It's important to use noise removal tools judiciously and to adjust settings as needed.
3.What are some popular background noise removal tools?
Some popular background noise removal tools include MusicAI, Audacity, Adobe Audition, RX Audio Editor, as well as online platforms like Kapwing, VEED, and Media.io. These tools offer various features and functionalities for removing unwanted background noise from different types of audio and video content.
Conclusion
The powerful AI tool of Background noise removal can let you focus on listening to audio and watching video, improve your efficiency, and also allow you to enjoy your time more comfortably if you are listening to podcasts or music. MusicAI is a full-featured AI music generator, so look forward to its great new feature to remove background noises.