I guess many people are interested in Pokemon. Do you want to generate cute Pokemon creatures with just a few lines of text? If so, you're in the right place.
In this article, we'll introduce the top 6 Pokemon AI generators that can help you easily obtain images of Pokemon or 3D Pokemon creatures. Additionally, there also have some voice tools we recommend that can get the same voice from the Pokemon series or games.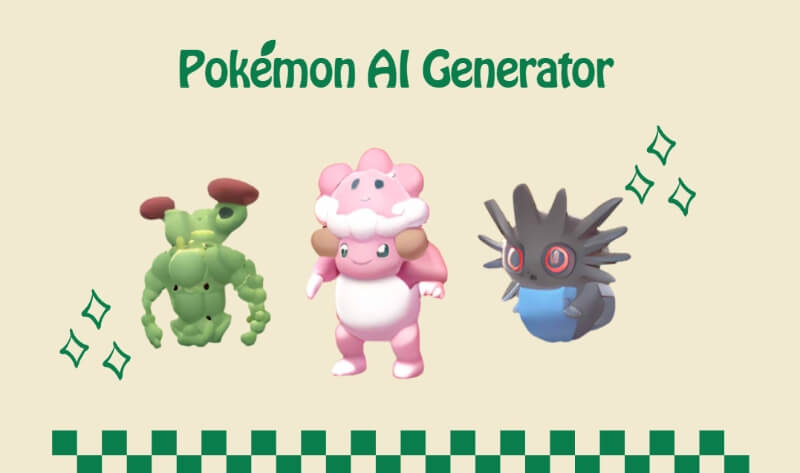 Part 1: The Information about Pokimane AI Generator
Pokemon, you know, is like this big Japanese thing with video games, cartoons, trading cards, and all that fun stuff. It's all about a world where people and these cool creatures called Pokemon live together, each Pokemon having its own superpowers. While Pokemon is mostly aimed at kids, it's got fans of all ages.
Now, this AI Pokemon Generator is a nifty tool. It uses some smarts to come up with its own Pokemon. You can tell it stuff like what type or color you want, and it cooks up a Pokemon to match. Or, if you're feeling lazy, it can even make a random Pokemon without you telling it anything specific. How cool is that?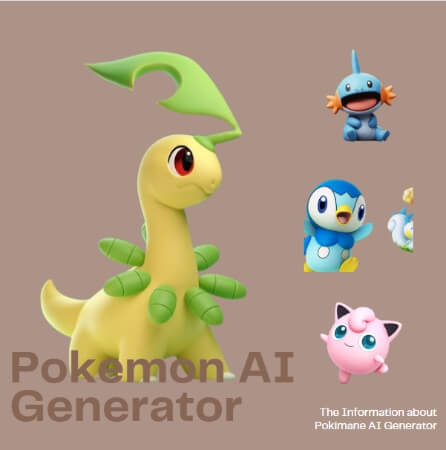 Part 2: 5 Best AI Pokemon Generators
1. NokémonAI - AI Pokémon Generator
Imagine you're dreaming of your own fiery dragon-like critter or a cute, grassy buddy. Well, with NokémonAI, your words can turn these dreams into reality. This fantastic feature is part of the Advanced Generation, giving you more reasons than ever to rack up those Noképoints. Get started on your path to becoming a Fakémon master today!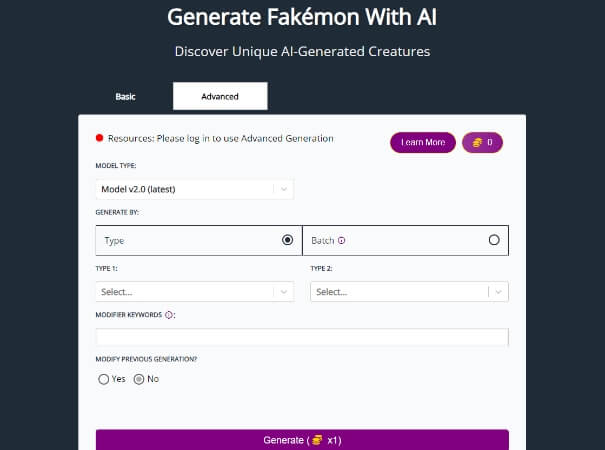 Features
Get creative with Fakemon by blending two elemental types, adding extra depth to their abilities and traits.

Use special keywords to steer the image generation, ensuring your creation matches your vision perfectly.

Every Fakemon crafted with Nokepoints is one-of-a-kind, promising truly unique and exceptional creations.
How to use?
Creating a Fakémon using the Basic Generation is as easy as 1-2-3:
1. Launch the Fakémon Generator and head over to the Basic section.
2. Pick your Fakémon's style (2D or 3D) and select a single type (like fire, water, grass, and more) from the choices provided.
3. Hit the "Generate" button, and watch your unique Fakémon come to life, shaped by your chosen attributes.
Price:
Novice Trainer: $2/month, 30 daily generations, 5 Fakemon, 50 storage.
Elite Trainer: $5/month, 100 daily generations, 10 Fakemon, 20 Noképoints, 200 storage.
Master Trainer: $10/month, 200 daily generations, 20 Fakemon, 50 Noképoints, 500 storage.
2. Lambdal - Text to Pokémon
With Lambdal, you can simply tell it what you want, and it'll create your very own Pokemon character – no need for any fancy tricks. They've made it super simple – Lambdal takes your ideas and makes custom Pokemon pictures. So, if you're dreaming of a fiery dragon or a cute critter, Lambdal brings your Pokémon ideas to life without any fuss.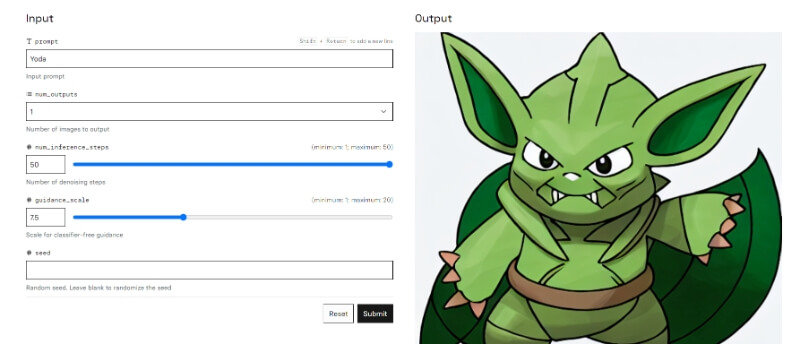 Features
Easily generate specific Pokemon characters with just a text description. You can create up to 4 different characters in the same time.

You can easily adjust the size of the generated images as you want.

Lambdal's training models can generate Pokemon and create a wide range of characters, including "Girl with a Pearl Earring," a cute Obama-inspired creature, Donald Trump, Boris Johnson, Totoro, and Hello Kitty, among others.
Price:
Free.
3. Plugger.ai - Pokemon Generator Online
With Plugger.ai's cool text-to-Pokemon generator, you can make your very own Pokemon in a snap. Just type a quick description or some keywords, and bam, the AI makes a one-of-a-kind Pokemon for you. Plus, you can use this model for making awesome AI anime and AI anime art too!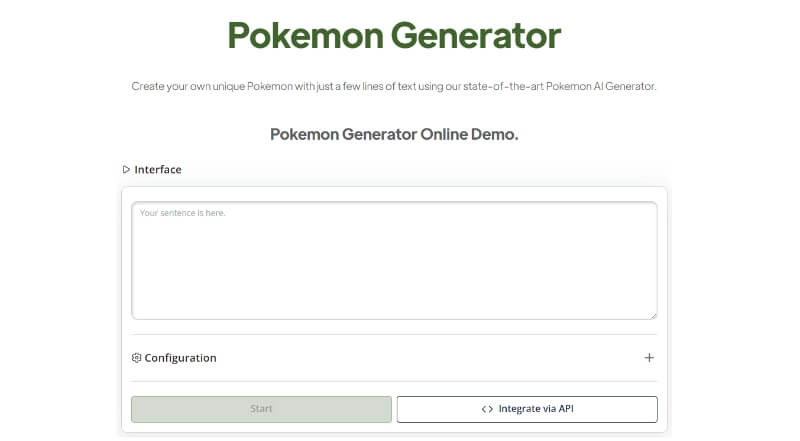 Features
You can create Pokemon creatures with just a simple text description, no need for complex steps.

Once your creation is ready, you can download the image right away, making it super convenient.

The generation process is lightning-fast, taking only a few seconds, saving you time.

Lambdal offers a free trial, allowing you to test it out before making a purchase.
Price:
4,000 Capacity per Month: $9.96 per Month
10,000 Capacity per Month: $24.90 per Month
20,000 Capacity per Month: $44.80 per Month
Maybe you've always wanted your very own Pokemon buddy, like a cool anime pet. Well, guess what? With Fotor's AI Pokemon creator, you can bring that dream to life. Fotor's AI lets you craft Pokemon characters that have never been seen in the Pokemon world.

Features
Quick Pokemon creation from text online

Diverse Pokemon art styles

Cool 3D Pokemon images

You can adjust the number and style of the AI-generated Pokemon
Price:
$7.19 per month
31.99 per year
As an artificial image generator, VEED can generate AI images of Pokemon in a few seconds. You only need to fill in the features you want to generate into the corresponding places, click Generate, and you will get unique Pokemon creatures.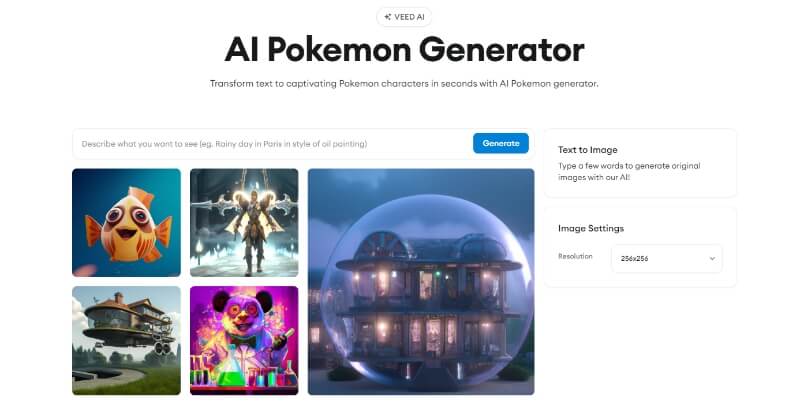 Features
Just a few simple words and you've got yourself a Pokemon image – it's quick and easy.

Resize your pictures as you like, for the perfect fit.

VEED offers a free video editor where you can easily add text, sound, and music to make your videos more exciting.
Price:
Basic $18 per user, per month
Pro $30 per user, per month
Business $70 per user, per month
Part3: FAQs about Pokemon AI Generator
1. Can AI generate Pokemon?
Certainly, there are a variety of AI tools available for generating Pokémon images, including the ones highlighted in this article, such as NokémonAI, Lambdal, Plugger.ai, Fotor, and VEED.IO.
2. What is the Pokemon generator description?
The Pokemon generator description is a text-to-Pokemon tool. Just provide the description of the Pokemon you want, and it takes care of the rest.
3. How do I create my own Pokémon?
To create your own Pokemon, start by selecting one of the recommended products mentioned above. Next, describe the key features or details of the Pokemon you desire, and you'll soon have your unique Pokemon creatures.
Part 4: Bonus Tips: Generating Pokemon Voices with AI Voice Changer & Generator
1) MagicMic - Real-time AI Pokemon Voice Changer
If you're concerned about revealing your real voice during gaming or voice chats, or if you want to have some fun with your friends, consider giving MagicMic a try. This voice changer can alter your voice on the fly, with options like classic Pokémon or various creature sounds. It offers over 250 additional sound options, and you can even use AI cloning to mimic any sound you fancy.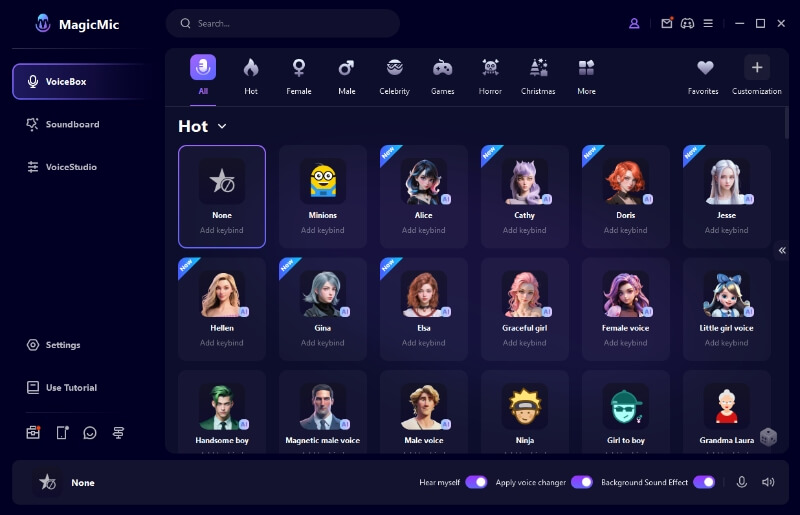 Key features of MagicMic AI voice changer
More than 250 voice effects, 600 soundboards, and 200 voice memes.

Real-time voice transformation for gaming and streaming on platforms like Discord, Twitch, Fortnite, Xbox, Skype, and many others.

Noise reduction can ensure clear voice adjustments even in noisy surroundings.

Personalized keybinds for each sound effect to make them easily accessible.

Get five premium-quality, complimentary voices every day.

Compatible with Windows, Mac, Android, and iOS operating systems.
How to use MagicMic real-time voice changer?
Step 1: Download and Set Up MagicMic
Download MagicMic, choose your microphone and headphones, then enable "Apply Voice Changer" and "Hear Myself" down below.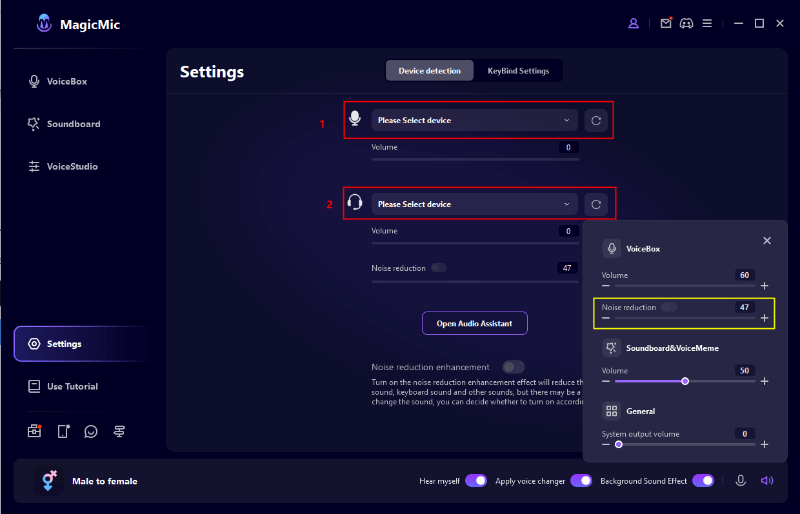 Step 2: Change Voice in Real-time. In the app where you want to alter your voice, pick "Microphone (Voice Changer Virtual Audio Device)" as your input source.
Step 3: Creat Pokemon AI voice.
Select "Customization," import an audio of one of the Pokemon creatures, and then follow the steps above to change your voice into a Pokemon in real-time.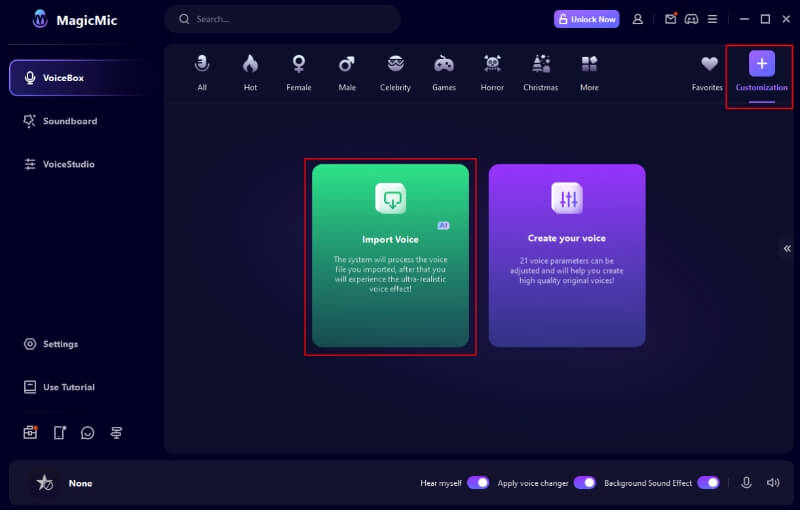 2. VoxBox - Text to Speech & Pokemon Voice Generator
Would you like to add a unique voiceover to your video? VoxBox is a TTS and voice generator that can turn text into speech, and even transform it into various voices like Pokemon. It also allows you to adjust the speed, pitch, and add some music to your voiceovers.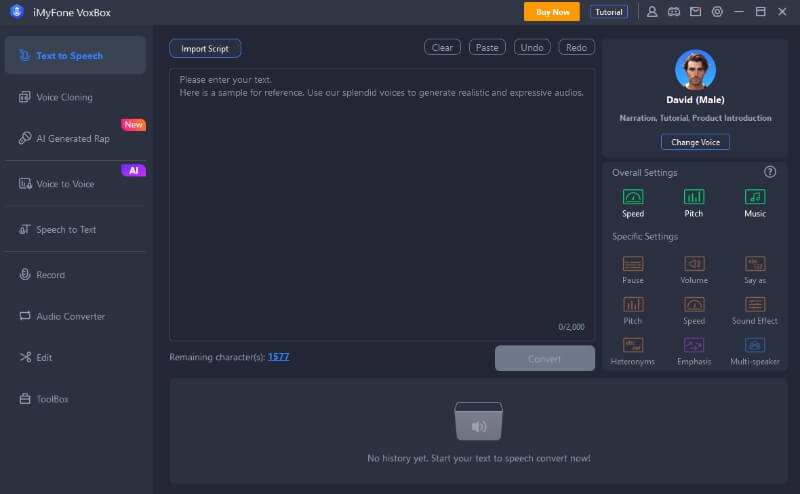 Key Features:
Over 2000 free voices for text-to-speech.

It has the functions text-to-speech, speech-to-text, recording, editing, and audio conversion.

Voice cloning technology.

Easily export TTS in MP3, WAV, Ogg, and more.

Offers 3200+ voices in 77+ languages.
Final Words
After reading this, I trust you now have a better grasp of AI Pokémon generators and have selected the Pokémon AI generator that suits your needs. Additionally, MagicMic voice changer and VoxBox voice generator are great tools worth trying out. So, why not give them a shot?