Are you worried that you can't write a good description for your product, Meta, YouTube channel, video? Then the AI description generator can definitely help you. This tool only requires you to roughly describe the content you want, and it can generate a description for you.
In this article, we will introduce 8 AI description generators for you, with some additional bonuses: text to speech and voice changer to make your videos more attractive. Keep reading!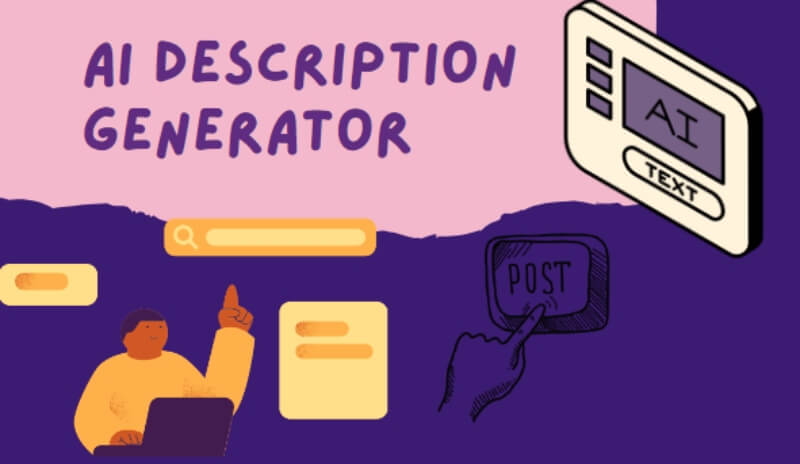 Part 1. The Role of AI Description Generators [Pros & Cons]
The AI description generator is a great tool for those who don't want to write descriptions themselves or want to save time, whether it is product descriptions for e-commerce platforms, YouTube descriptions for video content creators, video descriptions summarizing video content, and optimizing online content. Meta description and description generator can all come in handy.
Of course, in addition to these benefits, it also has some disadvantages. The following will introduce you to the advantages and disadvantages of description generator.
Pros of AI Description Generator:
1. Save time: Using AI tools only takes a short time to generate a description, which greatly saves time and cost.
2. Professionalism: Artificial intelligence has much more knowledge reserves than humans, and it can generate some highly professional content.
3. Save money: For companies that outsource product descriptions, AI tools significantly reduce the financial investment
Cons of AI Description Generator:
1. If the information you provide is inaccurate, the content it generates may disappoint you.
2. The generated content usually requires secondary review and modification to ensure smooth context.
3. Some tools may require payment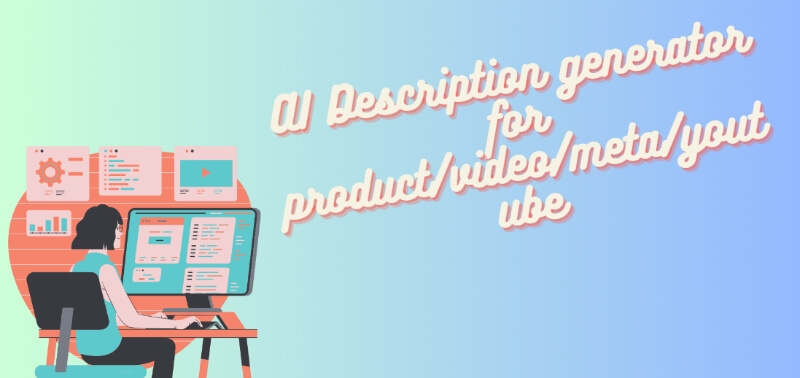 Part 2. Top 8 AI Description Generators for Product/Meta/Video/Youtube
The Ahrefs' AI Product Description Generator uses a language model trained on extensive text data to grasp patterns, grammar, and vocabulary.
It leverages this acquired knowledge to create text that closely resembles human writing in response to a provided prompt or input. The resulting text merges the model's learned knowledge with its comprehension of the input.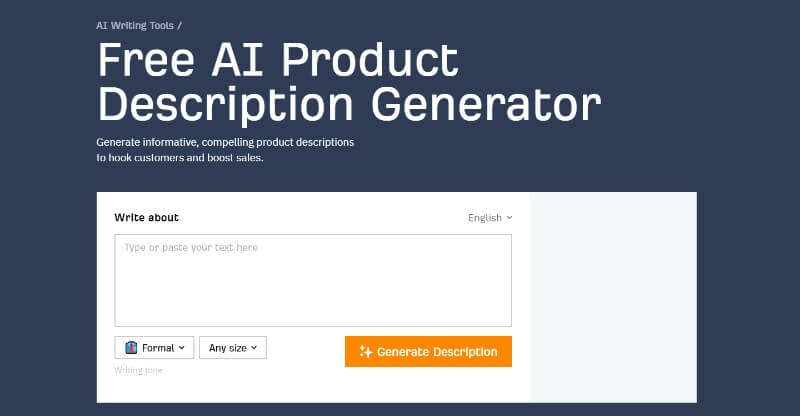 Key Features:
E-commerce Efficiency: Streamlines product descriptions, saves time for online retailers.

Content Creation Aid: Helps writers craft persuasive, structured product descriptions.

Marketing Support: Facilitates agencies in creating consistent, impactful product descriptions.
Copy.ai is a free product description generator that enables you to create beautiful and effective product descriptions that sell.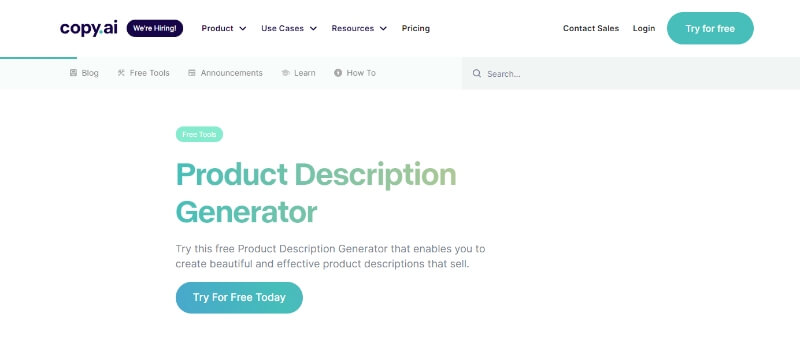 Key Features:
Offers a budget-friendly unlimited plan for high-volume users.

Actively seeks your input to enhance content quality in workflows.
Jasper, previously known as Jarvis, stands out as a robust and feature-rich AI description generator. As one of the early applications built upon GPT, its extended existence has lent it a sense of maturity, setting it apart from many other tools.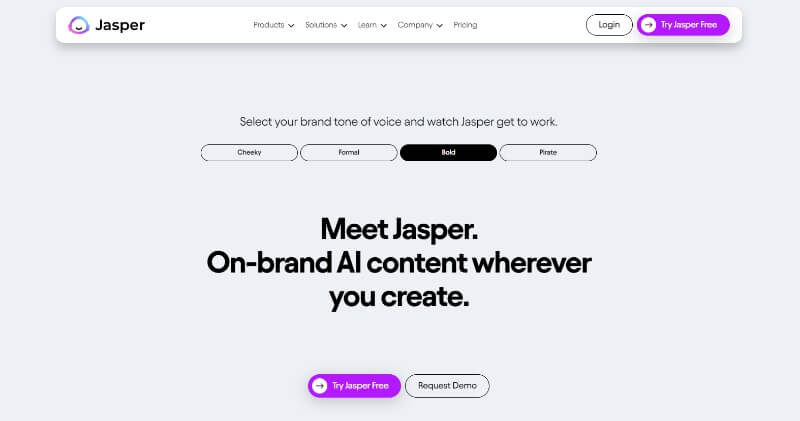 Key Features:
Among the most mature and feature-rich selections

Offers integration with Grammarly, Surfer, and its proprietary AI art generator
For sellers on platforms like Shopify, eBay, and Amazon, Frase.io offers assistance in crafting unique product descriptions.
This tool can generate descriptions across various categories, including jewelry, clothing, sports equipment, and more.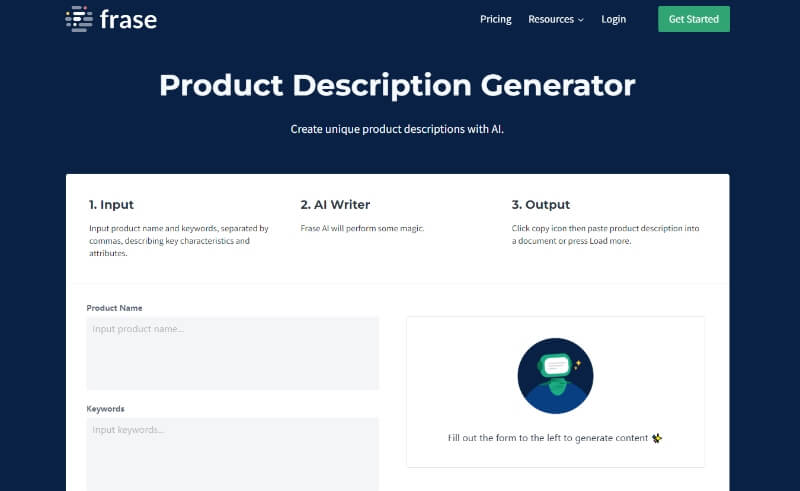 Key Features:
Frase's research tool drives software sales, aiding in document creation and answering questions.

Leverage Frase research to outline your articles.

Offers numerous templates

Generate insightful Q&A content using Frase's question-focused templates.

Frase simplifies marketing copy creation, unrestricted by AI for SEO content.
Dashword is a meta description generator harnessing the power of machine learning, powered by GPT-3 from OpenAI. It specializes in crafting concise description ideas tailored to long-form content, making it ideal for guides, how-to articles, listicles, and more.
To make use of this powerful tool, simply input the subject of your article, which can be your title or the central theme of your content. Add any keywords you'd like to see featured in the meta description. Then, with a click of a button, "Generate Ideas," Dashword will create meta description suggestions.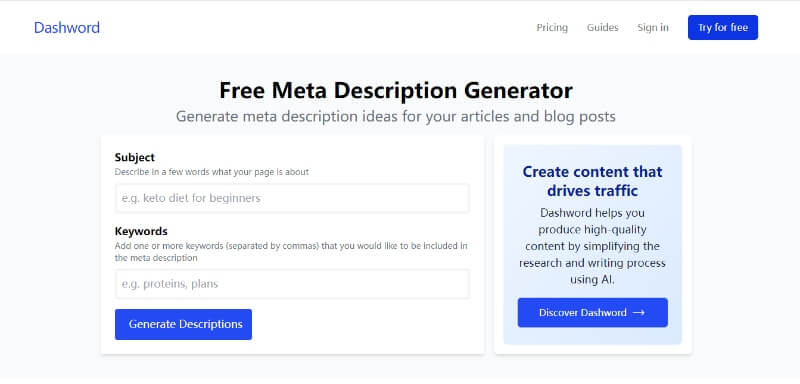 Key Features:
Dashword reduces manual research, saving time and boosting productivity.

Allows you to expand your content program without hiring extra strategists.

Produces valuable content that outperforms competitors and ranks higher.

Reducing staff costs in deciphering Google's preferences.
Quicktools by Picsart is an invaluable tool for individuals and small businesses, simplifies competitive product description generation.

Key Features:
Streamlines product description creation.

Provides description variations for testing and SEO enhancement.

Allows easy editing and customization.
In search of an engaging and expert YouTube channel description? Experiment with Hootsuite's free AI-powered generator for captivating descriptions with a few simple clicks.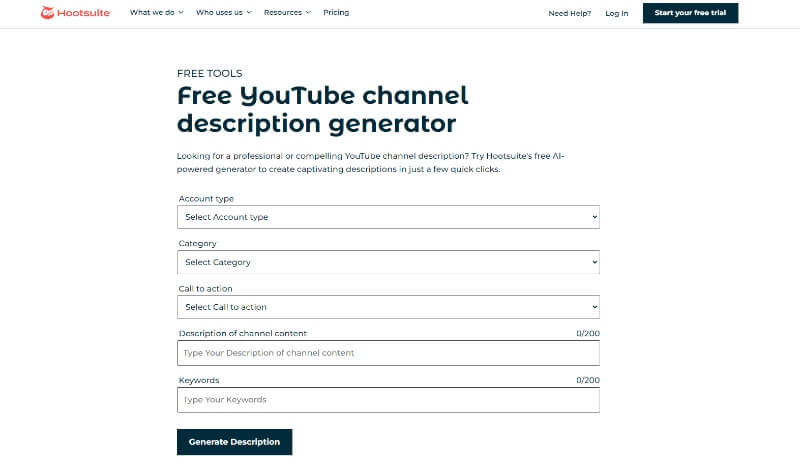 Key Features:
Game Streamers: Hootsuite aids in presenting gaming schedule and personality to viewers effectively.

DIY Enthusiasts: The generator crafts descriptions outlining project focus and skills.

Music Creators: Ideal for music channels to showcase their content.

Review Experts: Inform your audience about the topics critique and cover.

Vlogging Personalities: Showcase uniqueness and connect with potential viewers in your channel description.
The vidIQ Description Generator is a state-of-the-art tool that simplifies YouTube video description creation. It uses advanced AI to analyze your video title and generate SEO-optimized, engaging descriptions, improving viewer engagement and search visibility.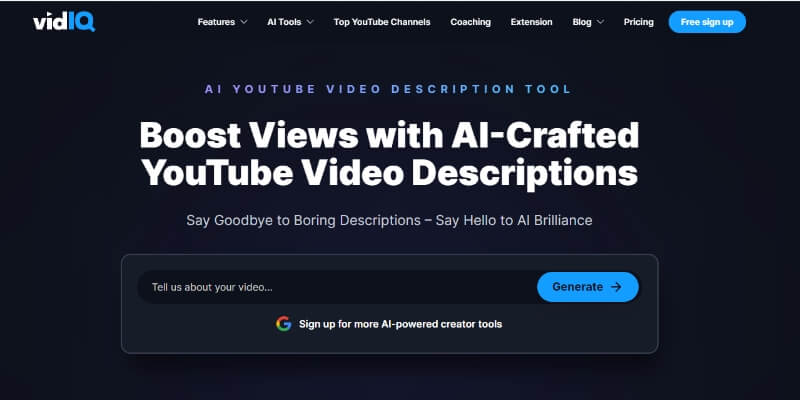 Key Features:
Clear and concise descriptions.

Keywords enhance relevance.

Informative context adds clarity.

Encourages interaction through CTAs.
Bonus Tip: Convert Description to Speech and Change Voice for Videos
1) MagicMic - Real-time AI Voice Changer
MagicMic is a real-time AI voice changer that can modify your voice during live broadcasts. It offers over 250 different voices and 800 soundboards to choose from. Additionally, it can be used for in-game voice chats and everyday calls.
Apart from real-time usage, MagicMic also provides voice transformation through uploaded and recorded content. If you're a content creator looking to give your text and voiceovers a different sound, MagicMic can help you achieve that.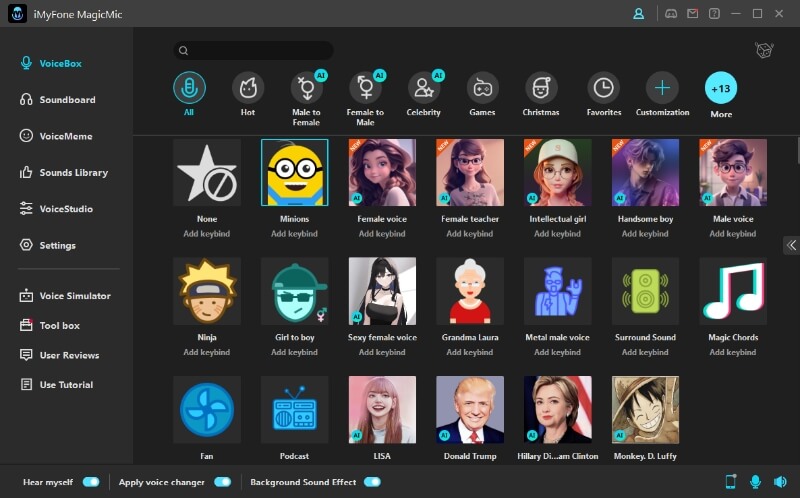 Key features of MagicMic AI voice changer
Over 250 unique voice variations, 600 soundboards, and 200 voice memes.

Real time voice-changing for gaming and streaming on platforms like Discord, Twitch, Fortnite, Xbox, Skype and more.

The noise reduction feature ensures clear voice changes even in noisy environments.

Set custom hotkeys for each sound effect for convenient use.

Get five high-quality free voices daily.

Supports Windows, Mac, Android, and iOS operating systems.
How to use MagicMic real-time voice changer?
Step 1: Download and Set Up MagicMic
Download MagicMic. Select your microphone and headphones, then activate "Apply Voice Changer" and "Hear Myself" at the bottom.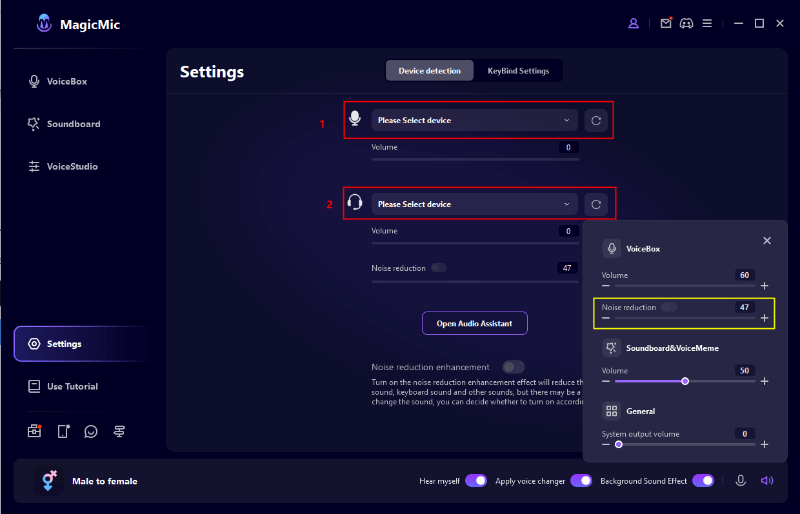 Step 2: Change Voice in Real-time Select "Microphone (Voice Changer Virtual Audio Device)" as your input device in the application you want to change voice.
Step 3: Upload or Record Voice
Navigate to the "Tool Box" in the sidebar, opt to upload a file or record for voice modulation, pick your desired sound effect, and then hit "Export" to acquire the altered voice.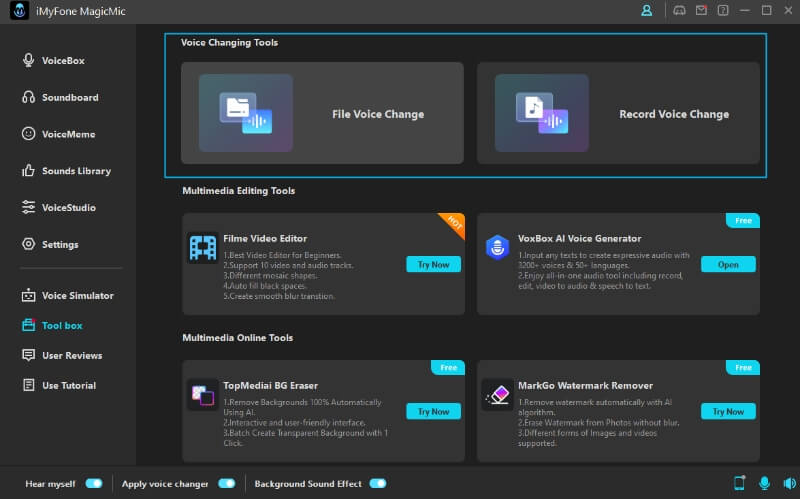 2. VoxBox - Text to Speech & Voice Generator
If you don't want to dub your own text, then VoxBox is definitely suitable for you. You only need to use the AI description generator tools recommended above to generate the content you need, and then put the content into VoxBox, and you will get an AI description for you. Dubbed audio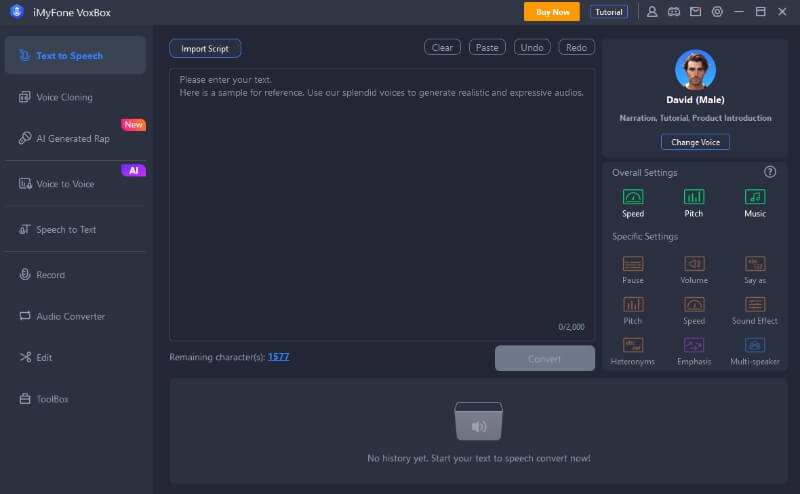 Key Features:
2000+ free character voices for text-to-speech apps.

All-in-one tool: text-to-speech, speech-to-text, recording, editing, and audio conversion.

Voice cloning technology.

3200+ voices in 77+ languages.

Export TTS in formats like MP3, WAV, Ogg, and more.
Part 4: FAQs about AI Description Generator
What is an AI Description Generator?
It is a tool that uses artificial intelligence to automatically create human-readable descriptions for various types of content, such as images, videos, products, and more.
Do AI Description Generators work well for creative or highly specialized content?
Yes, AI generators are best suited for factual and descriptive content, and they also perform as effectively in highly creative or specialized domains.
Are there any costs associated with using AI Description Generators?
The availability of free or paid AI Description Generators varies. Some offer free access with limitations, while others require subscription fees for full features.
Conclusion
In today's tech-driven world, AI description generators have become content creators' best pals. Whether you're into e-commerce, explaining images, crunching data, or anything else, these AI wizard tools save time, keep things consistent, and make your audience smile. But, hey, don't forget they have their limits, especially in tricky areas.
We've introduced you to eight fantastic description generator tools in this article. Plus, we've got some AI voice tools like MagicMic to supercharge your video content. Why not give them a spin? You won't be disappointed!