Text-to-video AI technology can convert written text into video content. This technology uses artificial intelligence to turn what you want to express into corresponding visual effects, audio or animation.
It helps people save time and labor costs to produce video content to gain a lot of traffic and popularity. Whether it is commercial content, marketing content or social media videos, etc., AI video generator will help you complete production easily.
In this article, we will introduce best 11 AI generators for you to convert text to video efforlessly.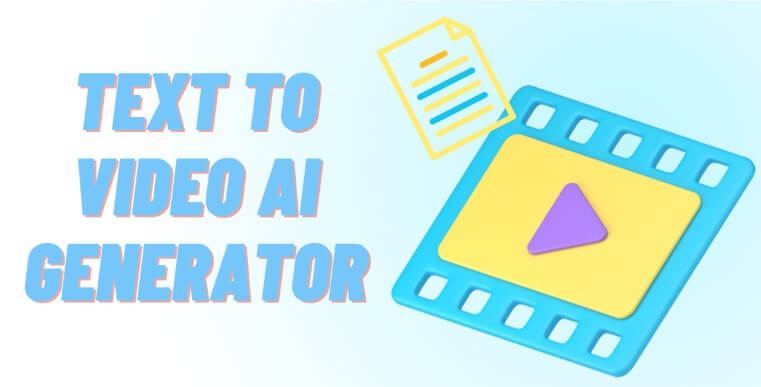 Part 1: What Can Text to Video AI Do?
Text-to-video AI is technology that turns written text into video content. It automatically streamlines the video production process, determining visual elements, animations and layouts to generate different types of videos.
It easily adapts to different platforms, and customized videos can make an impact on social media, websites, presentations, and more. Customization options allow users to choose themes, styles, and soundtracks to add a personal touch to their videos.
Part 2: Best 10 Text to Video AI Generators(Included Free Tools)
Invideo is a Top 1 AI video generator that helps you make video content quickly. It's easy to use even for users with no video editing experience.
With InVideo, you can easily create videos from scratch for YouTube, Instagram, and TikTok. In addition, you can also get English accents from many countries around the world to dub your videos.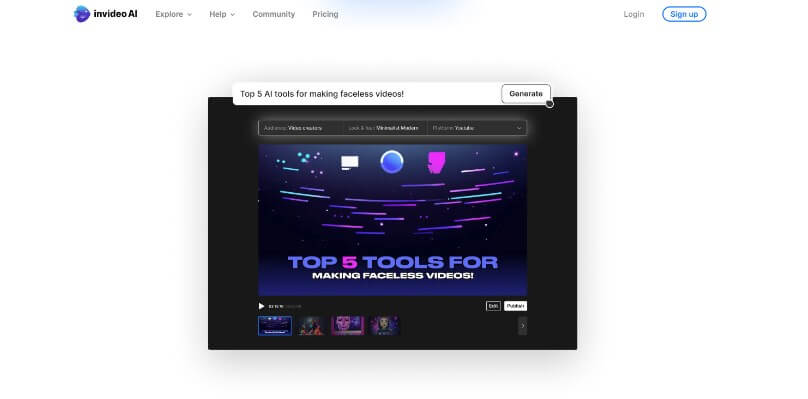 4 Steps To Make AI Text to Video:
#Step 1: Enter your topic and any specific instructions, choose the tone and target audience for your video.
#Step 2: Use the prompt box to edit and refine your video by providing instructions in natural language.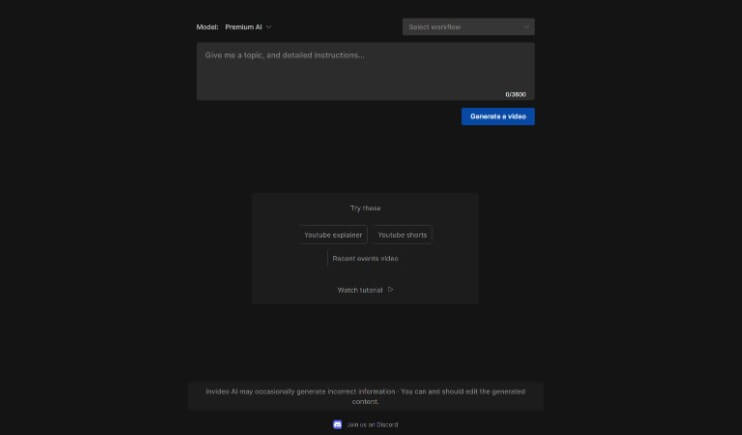 #Step 3: Enjoy the convenience of deleting scenes, replacing stock, changing accents, and more with InVideo AI.
#Step 4: Achieve a captivating video with human-like voiceovers.
Key Features:
Select from 5,000+ templates, transitions, and effects.

Create videos covering various topics like travel, finance, health, and more.

Access pre-written scripts, a wide range of footage, and voiceovers for your videos.

An extensive library of royalty-free images and videos.

Achieve high-quality Full HD video resolution..
VEED's AI text-to-video generator features a full set of video editing tools that allow you to create professional-looking videos without complicated configurations.
You can use AI to create scripts based on your industry, style and preferences, and choose your favorite template to customize the video to suit your image.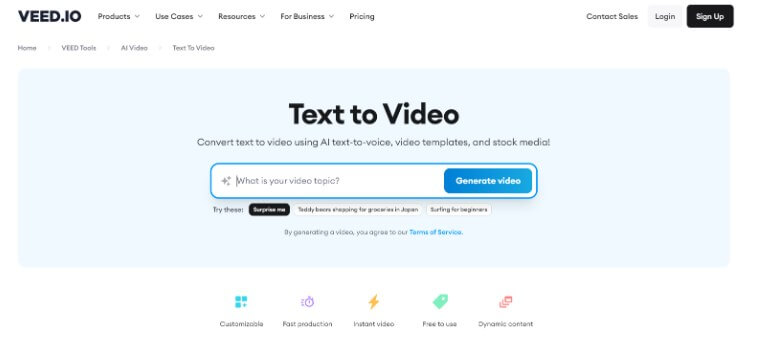 Key Features:
Simple one-click editing for easy use.

Budget-friendly pricing with low monthly fees.

Clear differentiation between free and paid versions.

Robust online video editing features.

Ideal for businesses of all sizes and types.
FlexClip is one of the best AI video generators that is very friendly for users on a budget. It adds AI video scripting and AI image generator for scripting and image creation to help you create high-resolution videos.
Moreover, this online text to video tool has a simple user interface and is commonly used for high-quality explainer videos, personalized videos, and content marketing.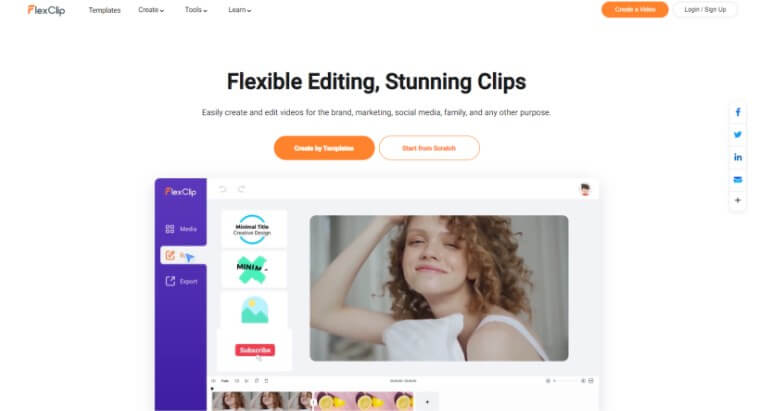 Key Features:
Affordable pricing options available.

Diverse array of video generation possibilities.

Vast collection of assets, including images and videos.
Elai.io is a free text-to-video AI generator that also allows your ideas to be presented through video content. It is run by a global team of experts in artificial intelligence technology and is trusted by more than 2,000 companies around the world.
You just copy and paste the blog post link or text, then select a template and let Elai.io automatically generate the video. The last thing you need to do is check the modified video and download it.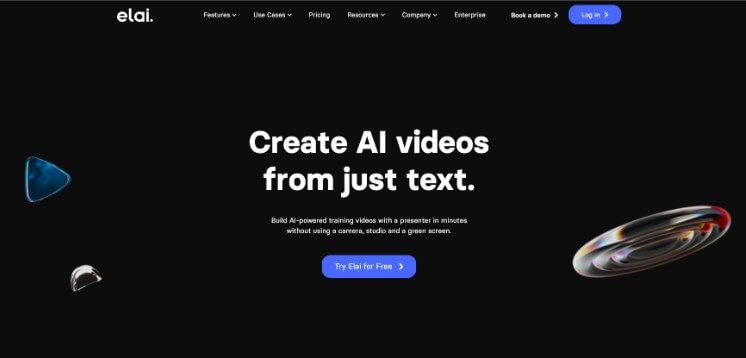 Key Features:
60+ languages and 25+ avatars to select.

Supports PPTX file to video.

Allows to request an avatar for yourself.

Personalized video generation at scale.
Synthesia is an excellent online AI video generator for text to video that can generate high-quality video clips from photos. Additionally, Synthesia can make faces in videos look super real because its smart programs pay close attention to every detail of the face.
You can also easily put these videos into different tools for making things, and many big companies like Google and Nike use Synthesia.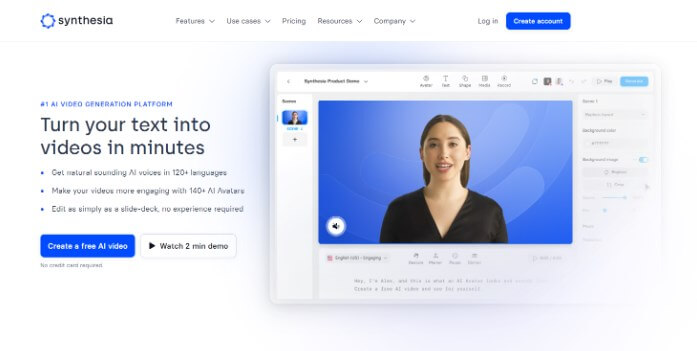 Key Features:
Suitable for making training videos.

More than 120 languages are used for dubbing.

Over 40 AI avatars are offered.

Includes automatic closed captioning.

Features 60+ new video templates.
The seventh AI text-to-video tool to recommend is Steve.ai, which is often used in the professional production of animated videos and live videos, allowing you to turn text into live videos.
Steve.ai also provides you with an AI voice-to-video generator and an AI podcast-to-video generator, it can convert your blog across channels into one or more short videos in a few seconds.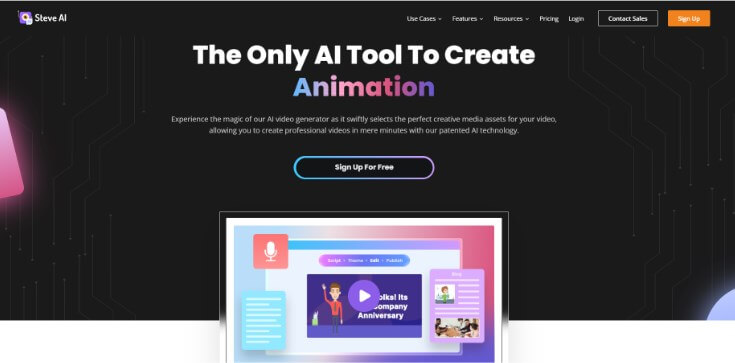 Key Features:
Import the content with any content format.

Applies to both animation and live action.

100 AI avatars and templates.

Keywords assist AI in selecting more accurate resources for your videos.
Pictory is the best choice among all text-to-video AI generators for creating and editing videos for social media. This tool extracts snippets from your Zoom, Teams, webinars and podcasts and automatically converts them into brand-friendly short videos to expand brand influence.
Another powerful feature of Pictory is that you can create exciting videos that are easy to share, especially suitable for user groups who want to share short videos on social media.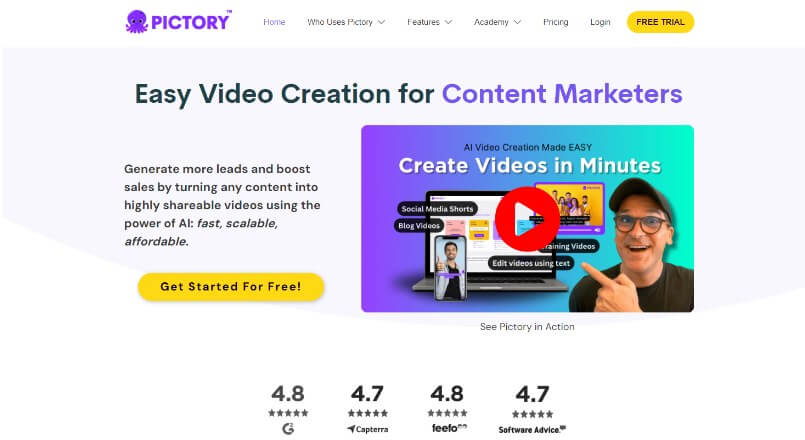 Key Features:
The resulting video is highly shareable.

Automatically add subtitles to all videos.

Video production based on text or script.

Numerous five-star reviews.

Convert long videos into short videos.
Deepbrain AI is a great program for quickly and easily generating AI videos from basic text. Just have your script ready, use the text-to-video feature, and get a video with a lifelike AI avatar in under 5 minutes.
For first-time users, it has an easy-to-use drag-and-drop interface, as well as powerful features like closed captions, backgrounds, and audio tracks. There are also over 100 fully licensed AI characters available to support your video production.
How To Use DeepBrain Text to Video AI Generator:
#Step 1: Create a new project and choose the starter template.
#Step 2: You can enter it manually or copy and paste the script.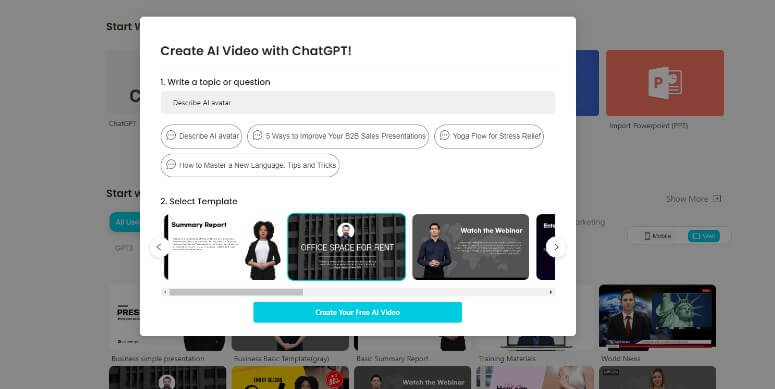 #Step 3: Select the appropriate language and AI model, and once editing is complete, export the composite video.
Key Features:
100+ sounds in 80+ types of languages.

Access over 500 video templates including training videos, operation videos, etc.

Save time preparing, shooting and editing videos.
Colossyan text-to-video AI generator is suitable for enterprises to produce artificial intelligence videos. You can choose from a variety of avatars or create your own AI character to avoid showing up.
At the same time, you can easily translate the entire video with one click, change accents and clothing with the support of 120 language options.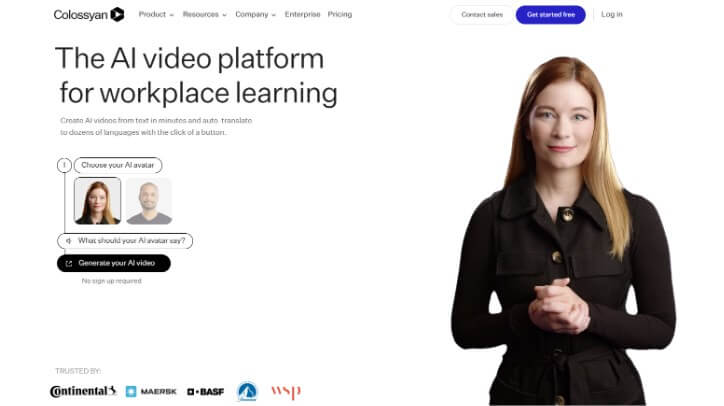 Key Features:
Allows you to have multiple avatars in your video.

Free trial option available.

PDF and PPT files to videos conversion.

Convenient automatic translation.

You can clone your own voice for dubbing.
Synthesys, which relies on text-to-video to convert scripts into AI dynamic media presentations, is often used in commercial video production. It gives users a highly customizable, easy-to-use editing and rendering interface, and can produce high-resolution output.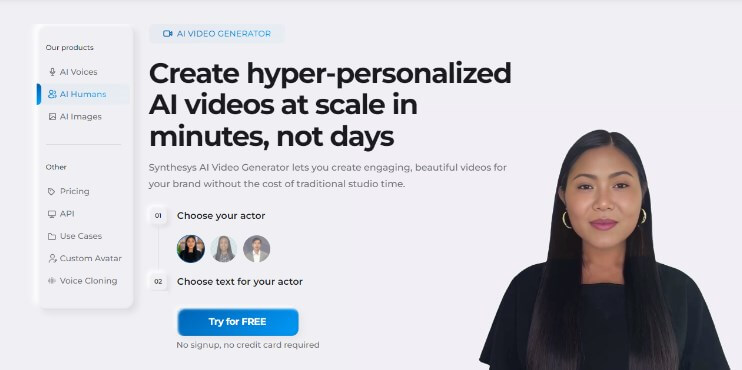 Key Features:
Contains over 300 realistic sounds in 140 languages.

60+ AI avatars made by real actors.

Effectively design and refine video content at scale.

With multi-scene function.
Bonus: Top AI Text to Speech Generator For Videos
VoxBox is a professional AI voice generator for video dubbing. Its voice cloning and text-to-speech features make it easy to get the voice you want and add interesting narration to your videos.
Its sound library stores more than 3,200 voices, including real people, celebrities, animations, characters and other categories. You can generate your own voiceovers for various video types, whether formal or informal.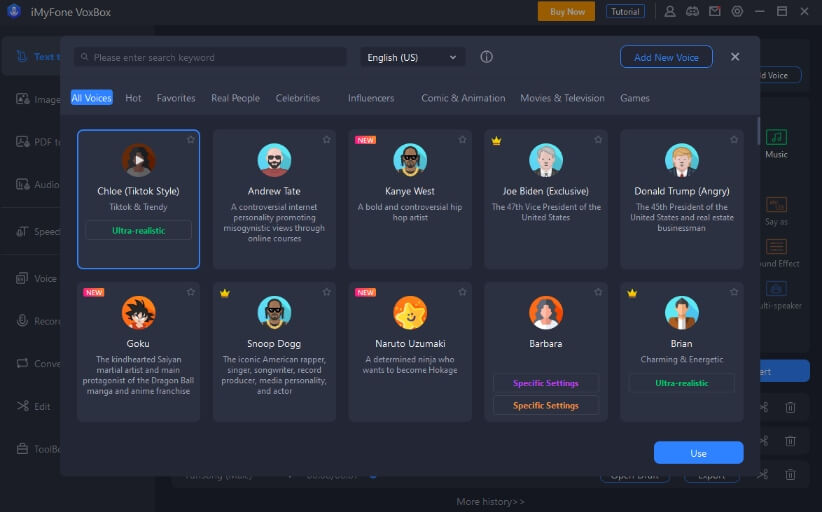 How To Add Voiceover with TTS For Videos:
Step #1: Download and install VoxBox, open it.
Step #2: Enter "Text to Speech", then hit "change speaker" to choose which voice you want.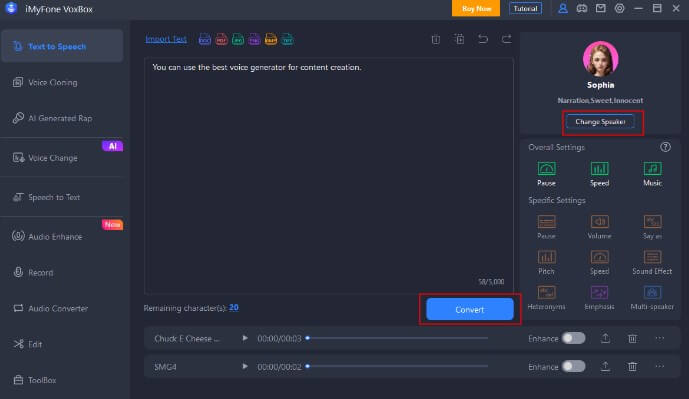 Step #3: Then type or import text and tab "Convert" button to make captions easily for videos.
Key Features:
Accessible 77+ languages and 100+ accents.

2000 free characters for dubbing in videos with text-to-speech.

Adjust the audio pitch, speed and other options to suit the videos.

Four operating systems included: Windows, macOS, iOS, and Android.

Supports text-to-speech on different platforms like YouTube, TikTok, Discord, etc.
Part 3: Hot FAQs about Text to Video AI 2023
1. Can AI generate a video from text?
Yes, AI now uses technology to generate videos from text. There are already many AI video generators on the market these days.
2. What are the applications of Text to Video AI?
Text to Video AI finds applications in marketing, content creation, e-learning, advertisements, social media content, and more.
3. Can Text to Video AI generate voiceovers as well?
Yes, many text-to-video AI tools offer the ability to generate voiceovers based on input text. However, you can also use specialized dubbing software such as VoxBox to dub videos.
Conclusion
There are many AI video generators on the market to choose from. If you want to create videos with a personal touch but don't want to appear on camera, or you need to create video content such as animations and movies, then you can find the best text-to-video AI generators on this list to achieve your goal.