Uploading photos on the Internet without a watermark is not so protected. Anyone can use your photos without your consent, even if you submit your photos on stock photo websites.
Watermarking all photos before posting them on your website or social media is one of the most effective techniques to avoid unauthorized use of your photos. The watermark is not noticeable at first glance, but it can be revealed with a single click. This process is often used to protect the copyright of the content creator.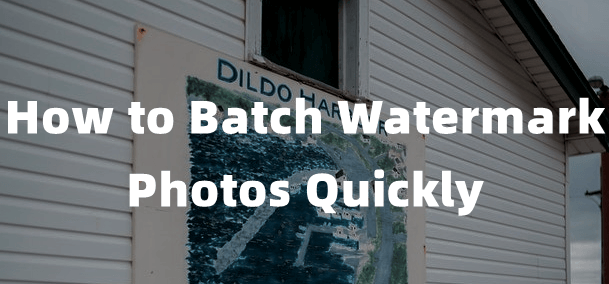 This article will introduce five software that helps batch watermark on mac, which is fast and effective.
The Most Professional Batch Watermark On Mac
To batch watermark on mac for free, you can use iMyFone MarkGo. Plenty of people are using this software to batch watermark on Mac and are highly satisfied with the performance of the software. Because of its effective performance and user-friendly features, the downloading ratio of this software is increasing day by day. You can remove items without causing blur or distortion, and you can also erase shadows and wrinkles from faces and the image background.MarkGo is a good video watermark remover in the software industry, thanks to its powerful AI-powered technology.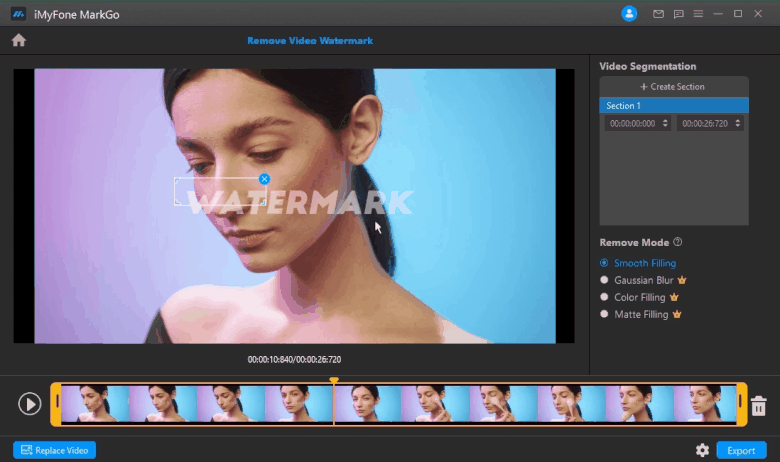 Watch the video tutorial to learn more about MarkGo.
iMyFone MarkGo to batch watermark for Mac
Go to the link and click the try it free option. after the software is downloaded, click on the run option and install iMyFone MarkGo.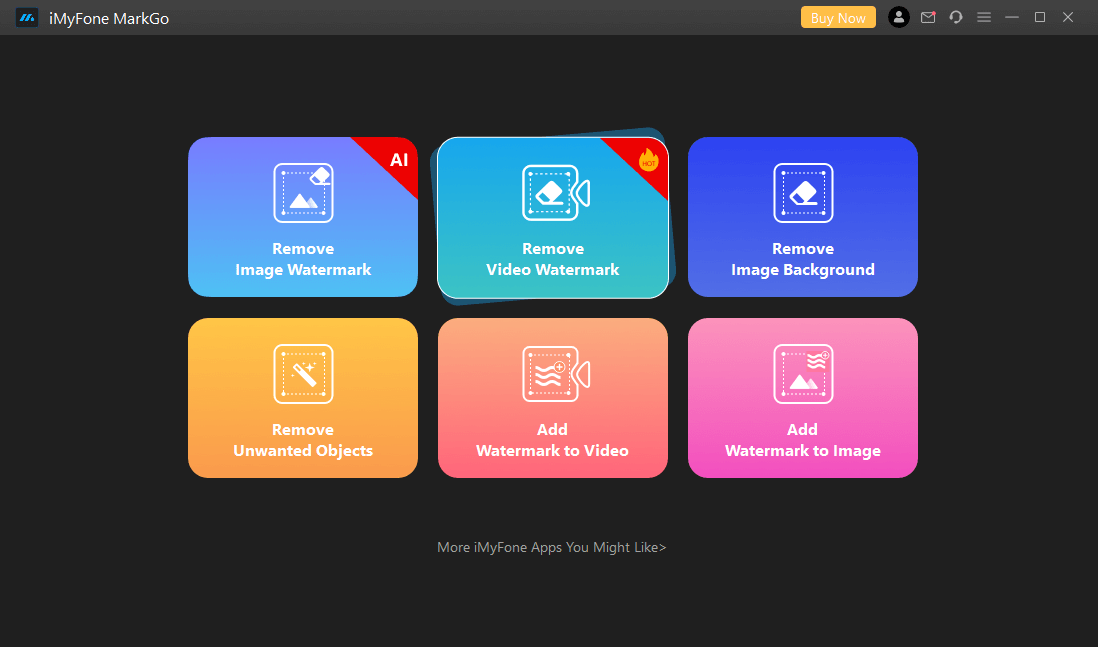 Step 2: Select the Task and Upload the Image
Click on the Add Watermark to Image
and select the images from your mac or use the "Drop to add the image" option to upload it on the iMyFone MarkGo.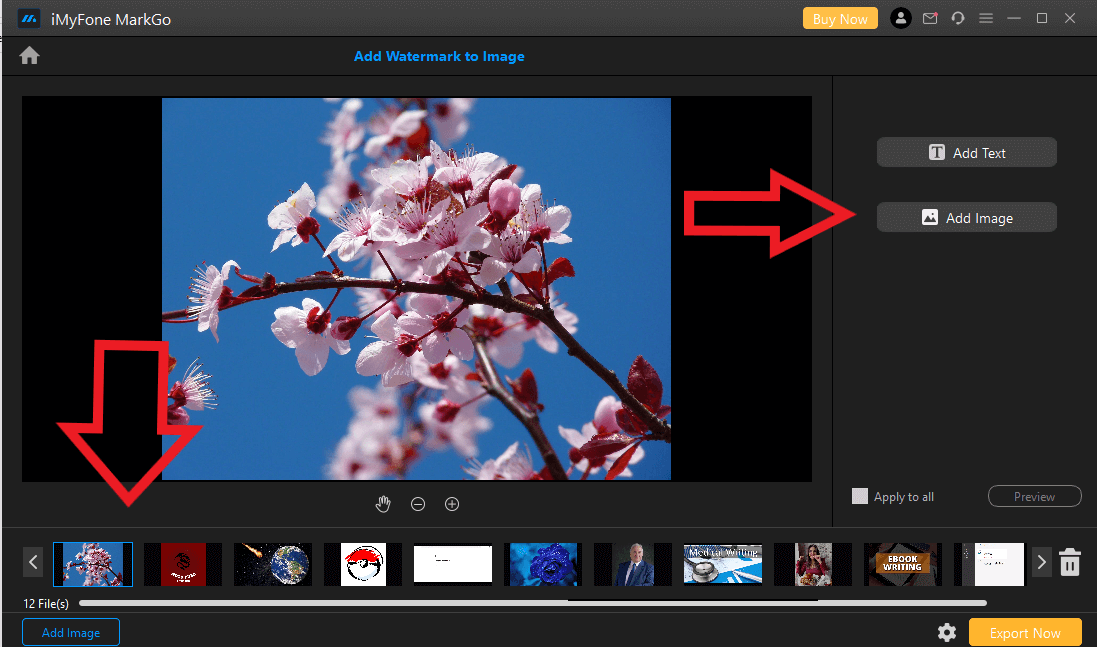 Step 3: Import a Watermark
To add a watermark to a photo, use the right-hand Add Text or Add Image tools.
Step 4: Preview and Export the Image
Select the button preview to see the image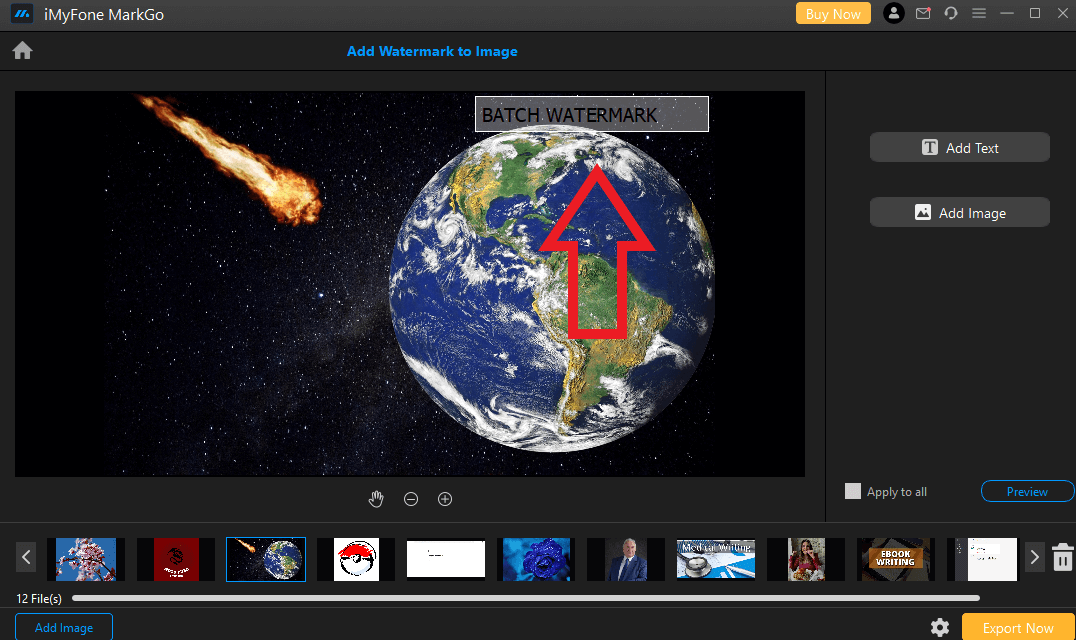 and then export the image, which auto-downloads the image in high quality.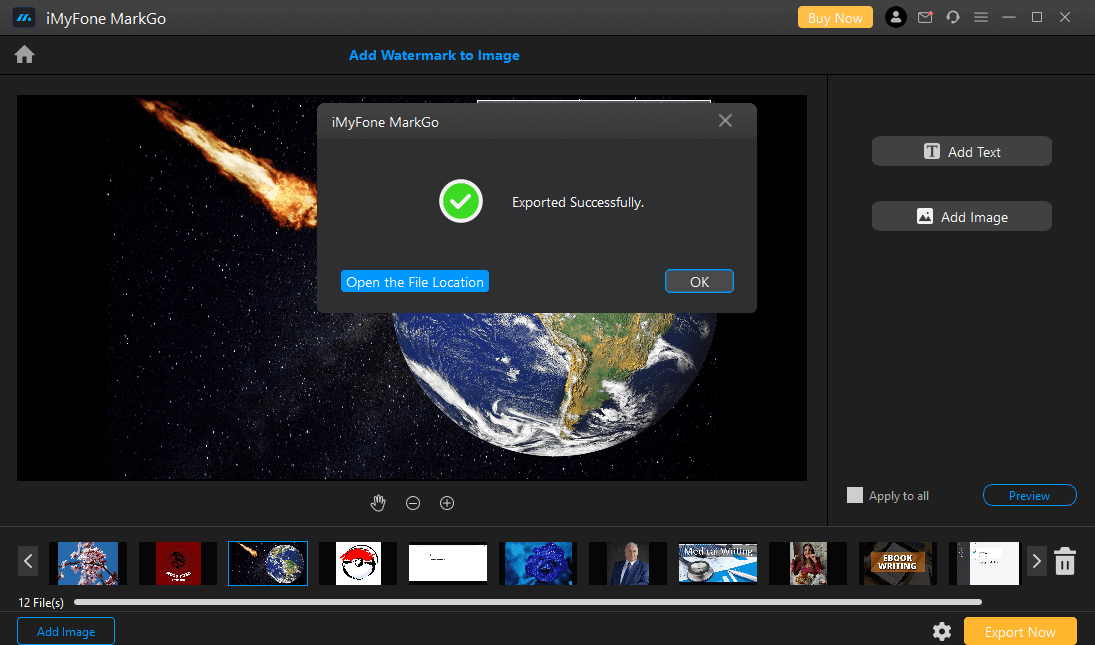 Why do I choose MarkGo for the batch watermark?
Batch watermarking on a Mac is necessary to prevent your photographs from being used without your permission on the internet. It would help if you used MarkGo to batch watermark-free or batch watermark for mac because of its extensive capabilities, user-friendly programme, and, most significantly, its ability to handle complex tasks.
It allows the user to add text, graphics, or logos to images. These watermarks can be visible or transparent, and they can be added to individual images or all of the images in a batch.
Advantages of Using iMyFone MarkGo
Simple to use.

Plenty of formats supported.

Premium version available at an affordable price.

Free version available.

Easy removal of watermarks from photos as well as videos.

Bulk action option available.

Easy remove of dates, texts, emojis, people, and objects.
How to Batch Watermarks Fast Using PhotoMarks
Photomarks is a unique watermarking application. Despite being laden with specific functionality, it's specially intended to make watermarking easy. You can change transparency and color and other embellishments like outlining a photo with its simple interface. It has an easy-to-use interface with various choices for modifying logos and text without sacrificing quality.
Advantages

Great photo editor.

It saves a lot of time for basic editing.

Very convenient.

An excellent alternative to Photoshop.
Disadvantages

It's not easy to understand for beginners.

Not secure to use.

Bunch of other suspicious files "TROJAN " with it
Step 1: Download and Install PhotoMarks
Download the PhotoMarks and install it on your Mac. It is easy to download and install with a few simple clicks.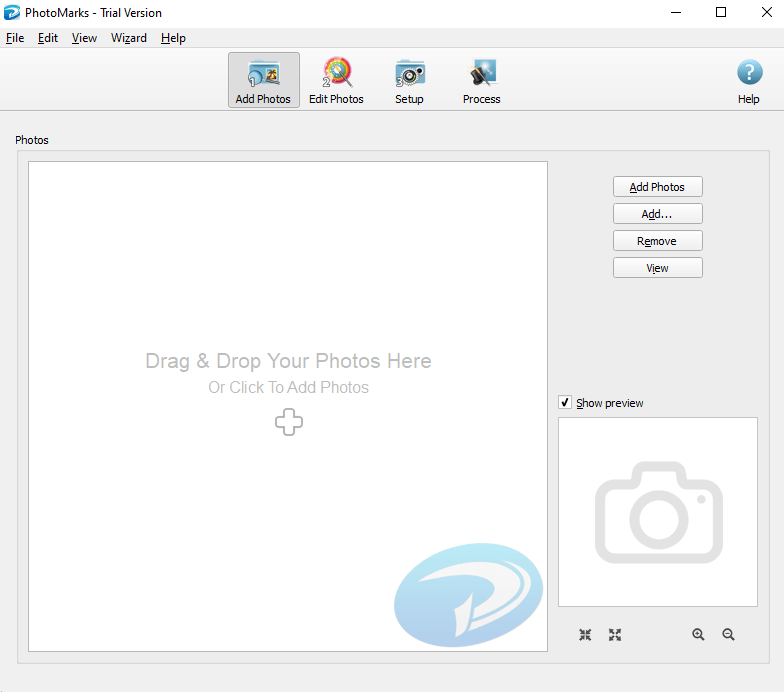 Step 2: Add Images to PhotoMarks
After installing the free version, add batch images on mac for free on PhotoMarks. Select all the photos on which you want watermarks.
Step 3: Define the edit
In this step, define the software for the watermark you want on your photos, and edit the watermark, including graphic features.
Step 4: Select the output folder and apply changes
Select the output folder and apply changes after the watermark editing and graphic features selection. select "All" to apply watermarks to all the images.
Batch Watermark Free Online--WaterMarquee
Use this online watermarking tool to make your watermarks or utilize completely customizable templates to protect your photographs. Water Marquee makes putting a watermark on a photo quickly.
Advantages

Unique watermark templates.

Batch processing.

Supports vector file formats.

40+ unique fonts.
Disadvantages

Fun with a narrow focus.

It may occasionally fail to work correctly, and it can be difficult or impossible to remove watermark from an image once they have been applied if you need modifications.

More than 40% of the functions are restricted to the premium subscription.
Step 1: Open the WaterMarquee Website
The first step is to open the website of WaterMarquee and click the free version.
Step 2: Select the Images
Select the images or use the drag and drop option to add images.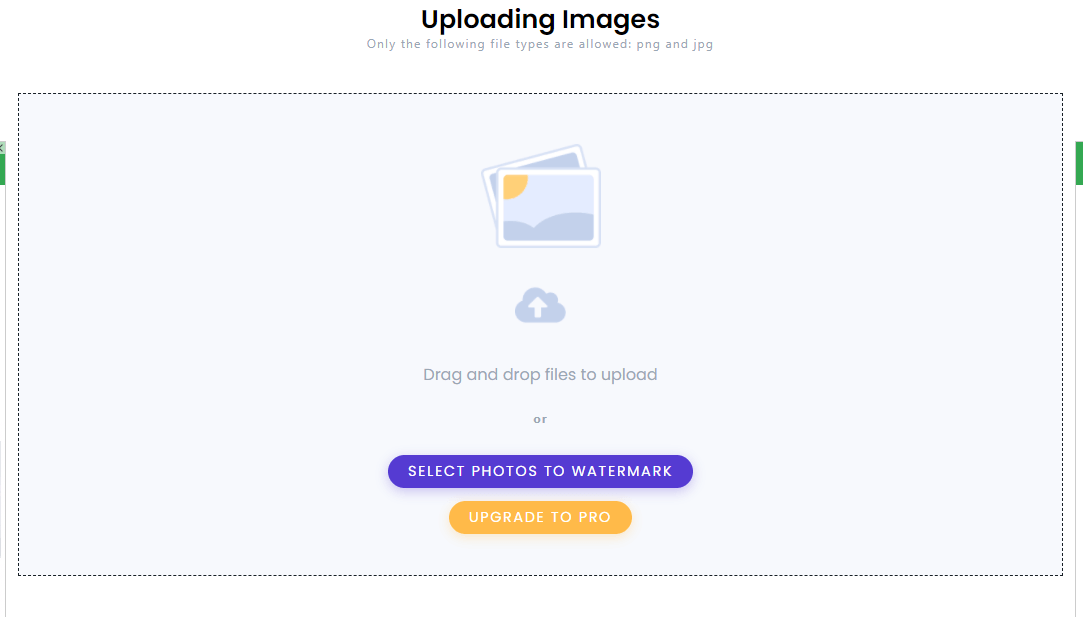 Step 3: Add Text for Watermark
After selecting and adding the images, write the text and choose the watermark's color and font.
Step 4: Download the Image
After writing the watermark, download the image easily with one click.
Batch Watermark Photos on Mac with PhotoX Batch Watermark
PhotoX Batch Watermark Software allows you to add watermarks to multiple photos at once. With just one click, you can add a watermark to all of your images.
Advantages

Apply Multiple Effects.

Apply to fade-out effect to photos.

Support Different Formats of Image.

Convert your photos into grayscale.
Step 1: Install and Launch PhotoX Batch Watermark
Go to the website, download the free version and install it on your mac.
Step 2: Add the Text and Images
After successfully installing the PhotoX Batch Watermark, add the text for your watermarks. Add the images after clicking on the "Add Images."
Step 3: Click add Watermark and Save
Scroll down and click "Add watermark," and save the images with watermarks.
How to Easily Batch Watermark photos on Mac with PhotoBulk
PhotoBulk is a significant upgrade to an easy-to-use bulk picture editor that allows you to resize, optimize, rename, and convert hundreds of thousands of photographs with a single click.
Advantages

Real-Time Preview.

Easy settings.

Bulk Conversion.
Disadvantages

Photo quality has deteriorated noticeably.

Photobulk doesn't work with Photos App.

It can make images look ugly and blurry, making them less attractive to viewers.
Step 1: Download and Launch the PhotoBulk
Go to the website, download the Photobulk and install it on your mac.
Step 2: Add Watermark Text and Photos
After installing the PhotoBulk, add the text for the watermark
and add the images.
Step 3: Save the Images
After editing the watermark by selecting the colors, text size, etc., click on the button Save to save the changes.
FAQS---5 Software to Batch Watermark Photos
1. How can I batch watermark on mac?
You can easily batch watermark on mac by using MarkGo, the most effective, convenient, and simple software. It includes many features that are user-friendly and easy to learn. An essential factor for using MarkGo is working for bulk photos with no errors.
2. How can I completely remove a watermark?
If you want next-level work with no mistakes, then it is MarkGo, used currently by many experts, beginners in the field, and photographers. Removing a watermark with precision is only done by MarkGo.
3. How can I remove the watermark online?
There is much software online and offline available that helps you remove watermark online. But we prefer you to go for a MarkGo because of its high features like user-friendly, easy to use, more compatible, and support many formats.
4. How can I make a watermark without compromising its quality?
The easiest way to batch watermark without losing the quality is by using the MarkGo. MarkGo has many features that help the photo watermark without compromising the quality.
5. I don't have Photoshop, so how can I watermark my photos?
MarkGo is adaptable and offers numerous possibilities. It allows you to watermark your photographs quickly and easily without using Photoshop. You may alter colour, typeface, and picture opacity by dragging an image or text anywhere on your image.
Conclusion
To batch watermark on mac is essential to protect your photos from being used by people on the internet without consent. To batch watermark-free or batch watermark for mac, you should use MarkGo because of its vast features, user-friendly application, and, most importantly, handling complex projects.