Video editing these days has become very common. It is due to the rapid growth of social media platforms and digitalization. There are numerous video editors available that one can use to edit the video. But most of them leave a watermark on the video.
In this article, we will talk about some online tools that will help the user to add music to video online without any watermark.
Part 1. 5 Best Online Tools to Add Music to Video [No Watermark]
1

FlexClip
The first tool on our list is FlexClip. It is an online tool that is free. You can simply go to their website and add music to your video. FlexClip not only allows the user to add music or audio track to the video, but it has different editing tools that you can use to edit the video.
FlexClip has different kinds of templates, text animation, elements, overlays, and many more features. There aren't many online video tools that allow you to enjoy such features for free. You can simply import or browse the media from your computer and start editing.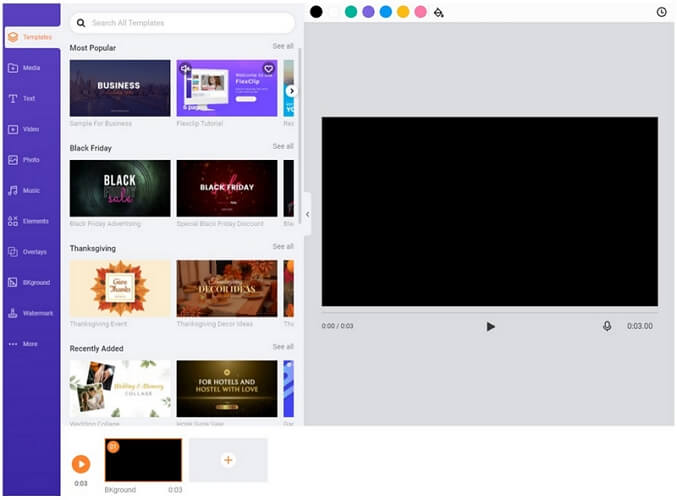 Pros:

Has multiple editing features and tools

Has no watermark
Cons:

Reduces the quality of video
2

Clipchamp
The second online video editor on our list is Clipchamp. This tool not only allows you to browse or import media from your computer, but you can import the media using Dropbox, Google Drive, OneDrive, Zoom, Box, and Google Photos. This freedom of importing the media does not come with other online video editing tools.
Clipchamp is a free online video editing tool, but you can only export the video in 480p resolution. Due to its diversity and multiple editing features, Clipchamp only allows free users to export the video in limited resolution. However, if you want to export video in higher quality and resolution, then you can purchase any plan that suits you. You can either pay on a monthly or yearly basis. Clipchamp also has some default music and SFX that you can add to your video to make it interesting without any cost.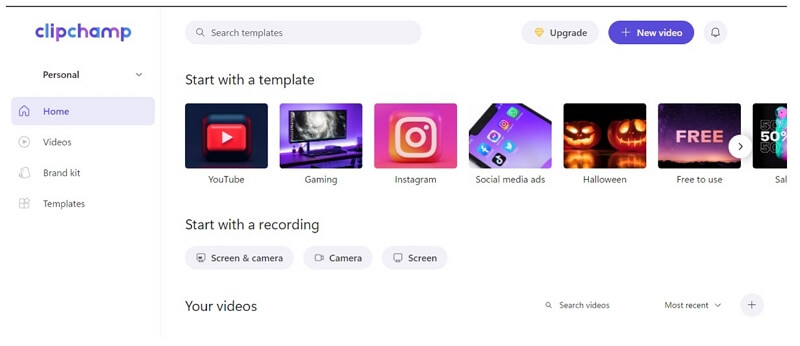 Pros:

Media can be imported from different sources

Has default audio clips and music that you can add to your video
Cons:


To be able to export high-quality video, you have to purchase the premium version
3

Movie Maker Online
Movie Maker Online is one of the most basic online video editing tools. It does not have multiple editing features but allows you to export the edited video up to 1080p resolution.
On the home screen, you will simply see an option of "Add Files". By clicking this option, you can import your video and music to the website easily. You can also add stock photos and free music from the online video editor. Once you are done, you can click on "Make Video". It will take some time to process, and your video will be ready. The video that you will export will not contain a watermark of any sort.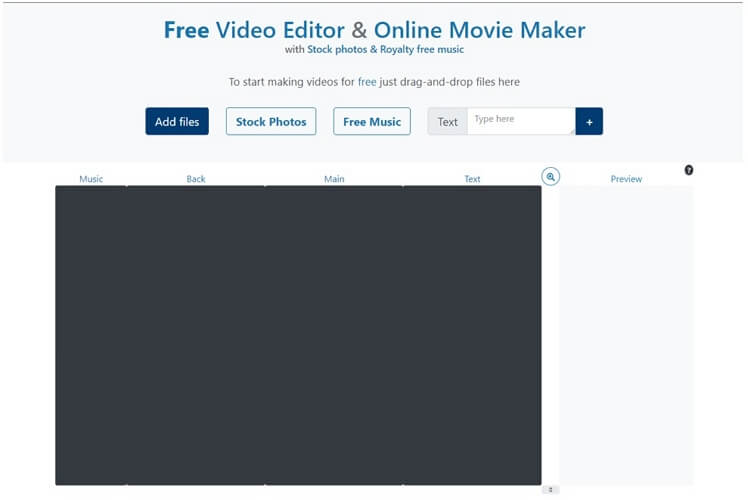 Pros:

Easy to use

Can export high-quality videos without any watermark
Cons:

Does not have other editing options

Very basic and used for one single purpose
4

Online Converter
Another online video editing tool to add music to a video is Online Converter. This tool is also free and leaves no watermark on the video. It has pretty simple options. You will see two simple buttons on the homepage of this website. One is "Choose File" for video, and another is "Choose File" for audio. Just simply click on both the options one by one and select the video and audio. It also has an option to replace the audio in the video or keep the audio of the video.
Now that you have chosen the files click on "Add". The audio will be added to the video. But the only drawback with this online tool is that you can import the media up to 200 MB. So, if you are thinking of editing and adding music to high-quality and high-resolution videos, then you should not go for this online tool. However, this website has other features as well, namely video compressor, video merger, video trimmer, video rotator, add watermark to video, brighten video, stabilize video, and many more.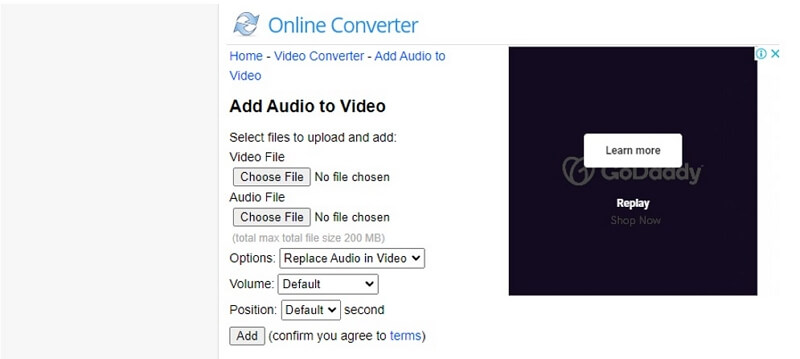 Pros:

This website has extensions to other features that you can use for free

Easy to use
Cons:

Take a few minutes to process a video of large file size
5

Voice2v
The last but not the least online video editor to add music to a video is Voice2v. The best thing about this online tool is that it gives the user an option to change the language if the user does not know English. It has English, Hindi, Thai, French and Arabic languages as options. This website is solely to add music or audio clips to any video that you like.
This online tool gives you options one by one. The first option you get is "Upload Your Video". Once the video is imported, you will get an option of "Upload an Audio File". Then click on the option of "Add the audio to the video now". It will take a few seconds to upload and process the edit, and then you can easily download or export the video. This online tool does not lower the quality of the video and is very easy to use.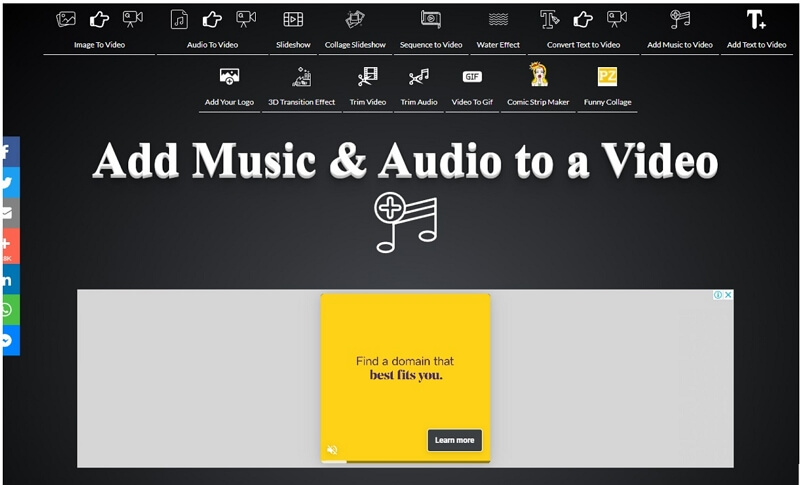 Pros:

It does not reduce the video quality

It comes in different languages
Cons:

It has only one feature of adding music to video
Part 2. Best Watermark Remover to Remove Watermark from Video
We have mentioned online video editing tools free of the watermark. If, by any chance, you used a tool that adds the watermark to the video, then you can easily remove it. iMyFone MarkGo is one of the best watermark tools that you can find. You can use this tool to add and remove the watermark from any pictures or video. Let us see how you can remove watermark from any video using iMyFone MarkGo.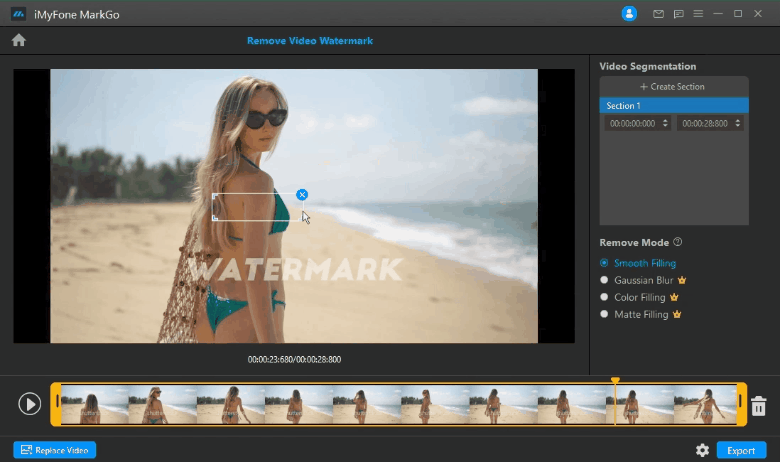 Wonderful Features of iMyFone MarkGo
User-friendly, without any technical knowledge required to remove watermark in just one single click.

Easy to remove and add watermark for videos and pics, with no traces at all.

Free to try the remover, during which you can check the compatibility.

Able to add watermark for up tp 100 pics in batch for copyright considerations.
watch this video to learn how to remove watermark for video
Step 1: iMyFone MarkGo is among the list of software that is compatible with both Windows and macOS. You can simply go to the website and download the variant that suits you the best. After installation, open it. You will see four different options. Among these options, click on "Remove Video Watermark" as we want to remove the watermark from the video.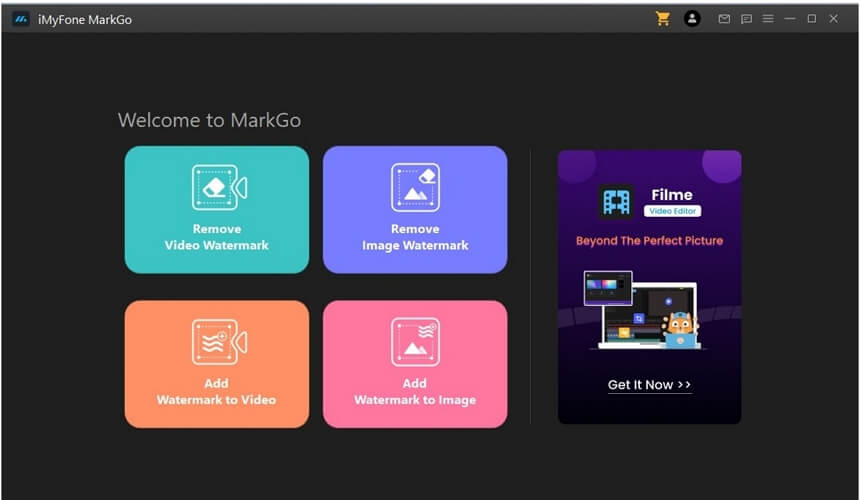 Step 2: Once you click on "Remove Video Watermark", it will open a new window. It will ask you to add a video. Here, you can browse or import the video with a watermark.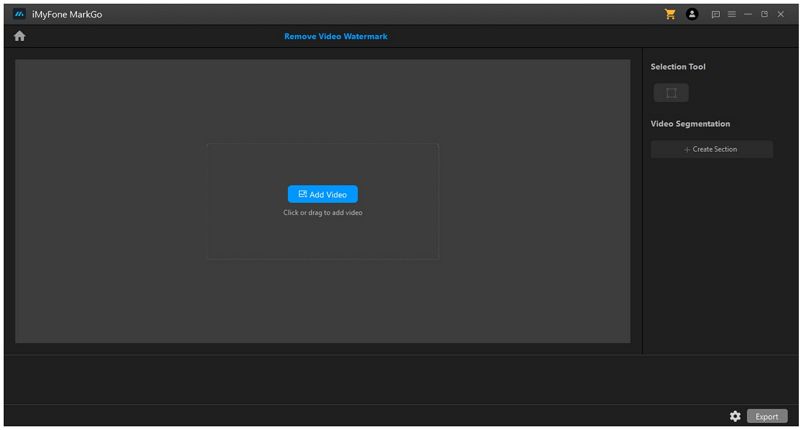 Step 3: A resizable box will appear on the video. Take this box and select the watermark inch by inch so it can be removed easily.
Step 4: iMyFone MarkGo allows the user to remove the watermark with four different effects. These effects are smooth filling, gaussian blur, color filling, and matte filling. However, only the smooth filling can be used for free. All the other effects are premium, and you will have to upgrade your plan to use it.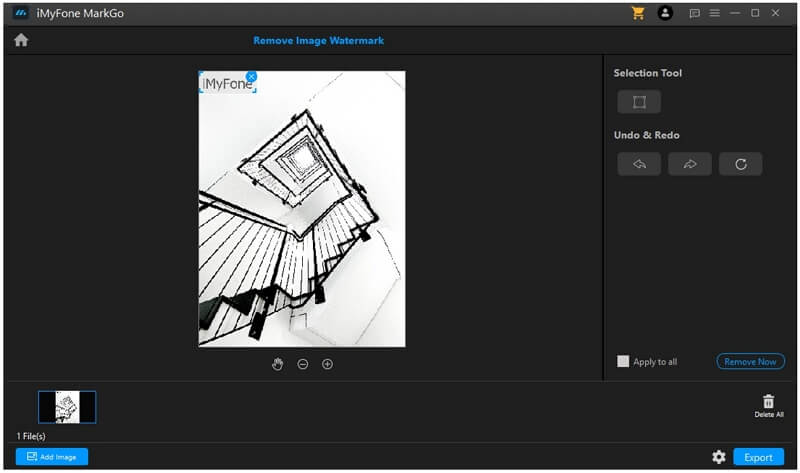 Step 5: Now, the watermark is successfully removed from your video, and you can easily export it by clicking on the "Export" button.
Conclusion
These were some online tools that you can use to add music to videos for free without any watermark. But if you have videos that have a watermark on them, then you use iMyFone MarkGo to remove the watermark from any type of video for free. It is a free and easy-to-use tool that you can download in seconds.