We'd probable have confused about God, Demons, Saints or Angels of voice, cause we all know which just a mythological stories. but all of them came from religious.
So in this article, we will discuss how we can generate them using a Text to Speech generator. We will share different tools that you can use.
Part 1: How to Understand Religious Voices?
Voices are a part of religious and spiritual beliefs. By spiritual, we mean that it is distinctive and has a connection that serves a meaning or purpose in life. There are different kinds of religious voices, mainly the voices of demons, angels, saints, and Gods. All of these voices have different characteristics and significance. We can easily distinguish between all the religious voices if we know about their key features. Let us see what the common and popular religious voices are and their characteristics.
Part 2: 4 Common and Popular Religious voices
1) Voice of God-Darth Vader
For those of you who don't know about God-Darth Vader, he is a fictional character from the famous Star Wars Universe.
God-Darth Vader is a villain who has a deep and creepy voice. His voice is a combination of mechanical sound with breathing noise. It sounds terrifying, which is the reason for its popularity. As it is very famous, the voice of God-Darth Vader can be recreated with text-to-speech generators. It can be difficult to find the correct TTS tool to generate this specific voice, but we will later discuss that in the article.
2) Voice of Demons
Voice of Demons is not specified to any character like God-Darth Vader. There are plenty of demon characters anyone can transform voice into.
The key feature of the voice of demons is that they are scary and have a terror in their voice. It can be of goblins or ghosts. It is the voice of evil and sounds demonic as it has a negative character. Different TTS offers a voice of demons, and you can find it easily as it is widespread.
3) Voice of Saint
Saints are religious persons that ought to spread the word of God through their actions and life. They are usually soft-spoken and tend to manipulate people with their words.
Voice of Saints is very calm and collected. They have an attraction in their voice to gather people for a mutual cause which is spreading goodness in the world. As saints are considered to be holy persons, they try to be as humble and calm as they can be with their voices.
4) Voice of Angels
Angels are the opposite of demons. As the voice of demons has terror in their voice, the voice of Angels has contentment and assurance in their voice.
Angels are not people; they are sent by God for a special purpose and objective in this world. They try to guide the people toward the right path. It is a natural, soft timbre and low pitch voice that may sound supernatural. The voice of angels is very powerful as they are wise and gentle towards everyone.
Part 3: A Text to Voice Generator-VoxBox
If you are looking for a text-to-voice generator, then iMyFone Voxbox is the best choice. It is a feature of this tool and is quite impressive.
TTS is everywhere for different purposes. It is not only used in soundtracks, but most AI-based technologies are using this to create guides for people.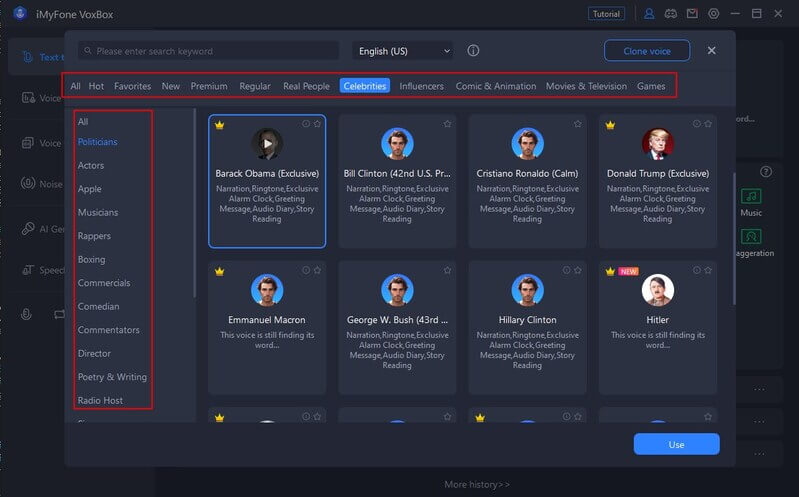 However, with this tool, you can create religious voices as well. It has a diverse library from which you can choose the voices. Let us look at some of the key features of iMyFone VoxBox and how much it costs.
Features:
iMyFone VoxBox is not only a text-to-voice generator, but it is also an audio recorder and editor.

Allows the user to perform multi-track audio editing.

The user can easily trim, cut, delete and clip the soundtrack.

The user can export the audio in different formats.

Provides high-quality audio output. Privacy and safety are guaranteed to every user.
Pros:

iMyFone VoxBox supports different audio formats.

It has a trial version that works with PC as it is compatible with Windows.

User-friendly interface.

iMyFone VoxBox is reliable and safe to use.

Easier to use than most audio editing and TTS tools.

Audio editing is fairly easy in iMyFone VoxBox.
Cons:

The free trial version has limited features that users can use.

Only compatible with Windows. As it is a desktop tool, it needs to be downloaded and installed.
Conclusion
In this article, we have briefly discussed religious texts and voices. Different religious voices have different traits. Some have calm and soothing voices, while some have deep and scary voices. It all depends on the depth and pitch of the voice that sets them apart. iMyFone VoxBox is a tool that you can use to convert your text to voice. It has different voice options available that you can choose from.
iMyFone Voxbox is very easy to operate and allows you to get your desired voice in no time. It has a trial version that you can easily download on your computer and use to convert any text to voice. It uses AI technology and works very effectively.