In a constantly evolving digital landscape, content creators are continually searching for creative ways to engage their audiences. if each spoken word is clear using the AI tech application, People without professional recording equipment, will not grapple with subpar recordings or intrusive background noise.
In this article, we'll give a full guide to AI-powered solutions like Adobe Podcast AI to help with audio issues, and also introduce the top alternatives to Adobe Podcast AI.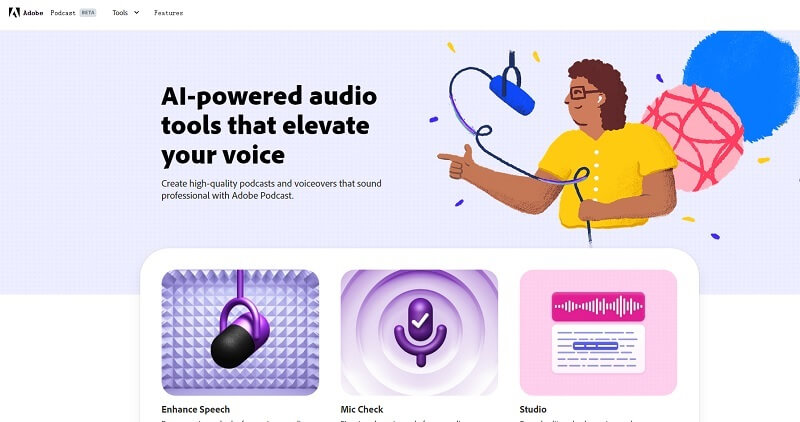 Adobe Podcast AI is an AI voice enhancer designed to enhance audio and give convenience to podcast content creators. which includes many key features such as enhanced voice and microphone check settings. Adobe Podcast AI enables content creators to access studio-quality audio content without owning a professional recording studio.
To use Adobe Podcast AI, visit the platform and access the "Enhance Speech" features. Then upload or drag your audio files, wait a minute, and you will get MP3s into studio-quality recordings.
Other Key Features of Adobe Podcast AI
Enhance Speech
Achieve studio-quality audio for free with Adobe Podcast AI's "Enhance Speech," effortlessly transforming your voice recordings into professional podcast studio quality.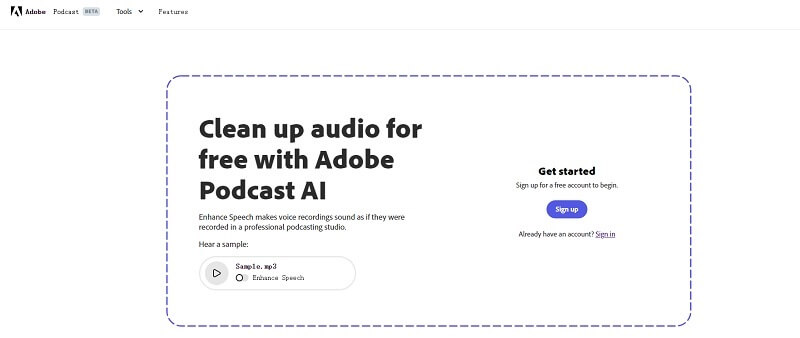 Mic Check
The Mic Check feature assists users in optimizing their microphone and recording environment while utilizing AI to ensure professional sound quality, all without the need for expensive equipment.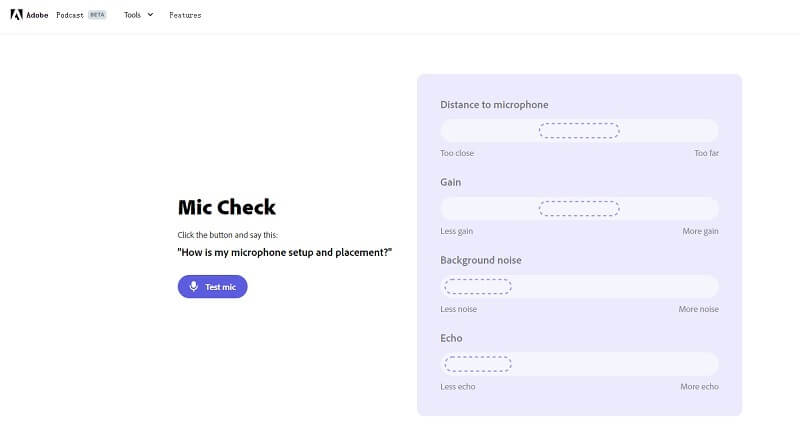 Part 2: Why Choose Adobe AI Podcast?
A common reason cited is Adobe Podcast AI's key features like speech enhancer, noise reduction, and background noise removal, which essentially improve audio quality, ensuring content creators can have studio-quality audio at a low cost.
Consistency and Precision in Voice Enhancement
The "Enhanced Speech" feature enhances speech clarity by utilizing advanced algorithms for automatic detection and refinement of speech features. Using it ensures that you can consistently and accurately improve voice cleaner throughout your audio, saving time.
Multifaceted Audio Enhancement
Traditionally, achieving higher-quality, clear voice audio necessitates a professional recording studio, professional recording equipment, and even skilled voice actors. However, "enhance speech" from Adobe Podcast AI leverages cutting-edge AI tech, offering a cost-effective solution to address the diverse audio needs of users. Whatever enhancing voice quality for interviews, lectures, podcasts, and other voice-over recordings, as well as recordings in various environments, even those with background noise.
Part 3: Bonus Tip: Top Substitutes for Adobe Podcast AI Voice Generation
VoxBox is an AI voice generator for voice-over production in podcasts, audiobooks, advertisements, etc. It also offers support for noise reduction, background noise removal, voice cleaning, and eliminating unwanted sounds. VoxBox can accurately be 99% similar to human-like voices with real-time voice cloning technology. Moreover, it boasts an extensive text-to-speech voice library, enabling other dubbing creators to access cost-effective, studio-quality voiceovers with exceptional efficiency.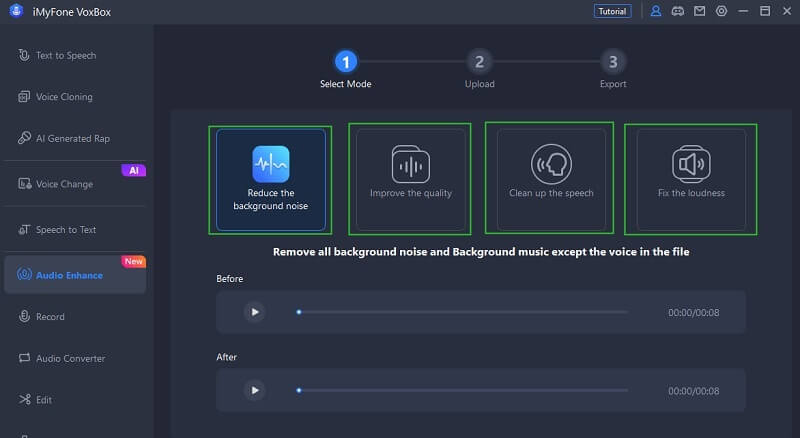 Key features
Offers a wide range of AI features, including audio enhancer, noise reduction, voice cleaner, voice generation and more.

Human lifelike AI voice is remarkably 99% reproduced with instant AI voice cloning.

Supports 100% natural text-to-speech voiceover.

Multiple professional-grade audio quality in multiple formats for podcasts, audiobooks, and other audio content.
Final words
This article introduces the three primary audio enhancement functions of the robust and cost-effective Adobe AI podcast tool, aimed at simplifying, streamlining, and reducing the cost of audio storytelling creation for podcast enthusiasts. However, if you're seeking more than just audio enhancement and are looking for studio-quality voice generation, we'd like to introduce you to VoxBox , an AI voice generator software.