Suppose your friend's birthday is approaching and you'd like to prank him. What would you do to prank him?
Gone are the days when you throw jokes at your friends, and they get annoyed at you. Instead, it would help put hard yards to make the prank relevant. Luckily, you can consider changing your voice and making it sound like a robot or something else's to prank your friends.
In this regard, you can look for a voice changing mask. It enables you to make your voice sound like a robot or others when you speak after wearing the mask.
Here, in this guide, we'll reveal the top 4 voice changer masks for you.
Part 1: Top 4 Voice Changer Masks For Choice
Kylo Ren Voice Changer Mask is a self-controlled mask that generates the voices of Darth Vader's grandson. To activate this mask, you'll only need to press a button, and then you can wear it with minimal effort.
On top of that, you can use this mask with voice changer in various events, including weddings, Halloween, and birthday parties, to prank others.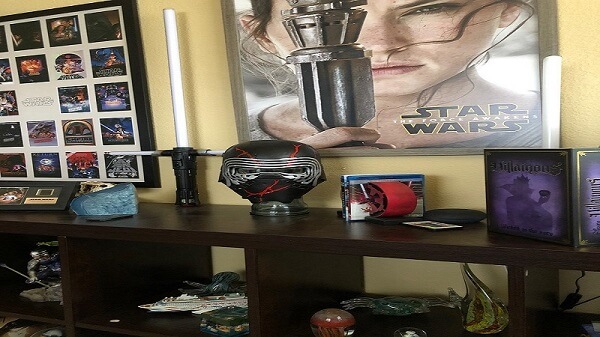 Features:
It comes with an adjustable strap that makes it prolific.

You can wear it easily, courtesy of its light nature.

You can use it on many occasions.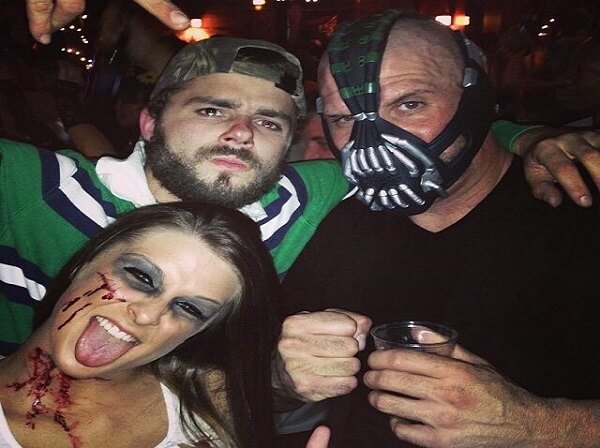 Features:
You can use Bane face mask voice changer for Christmas, Halloween, cosplay, parties, etc.

You won't face any difficulty wearing it, courtesy of its lightweight.
MEGOO Led voice changer with the mask is another brilliant mask, especially for children. However, adults can also wear this mask to prank their friends. The mask produces a pretty interesting voice that can make anyone scared.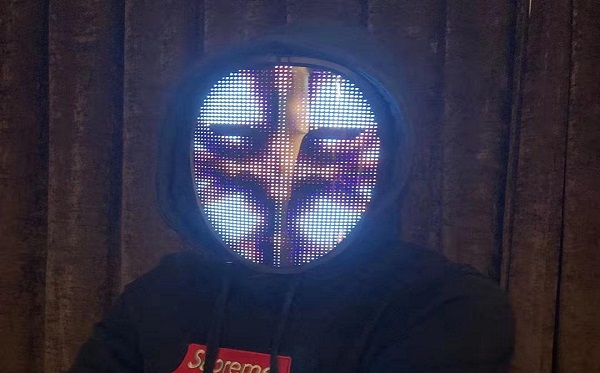 Features:
It is lightweight.

You can use it for birthday parties, weddings, or Halloween.

It is refundable.
Darth Vader mask is a famous mask, and everyone seems to be using it. You can inhale and exhale air by wearing this mask, intimidating anyone. It is the voice of Darth Vader, a character in Stars wars.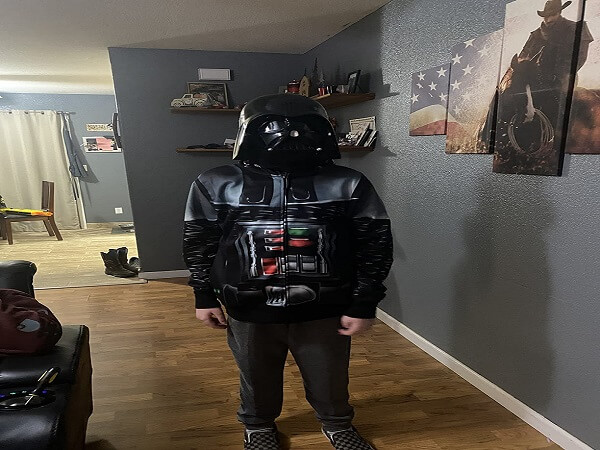 Features:
Using this helmet, you can make your voice sound like Darth Vader.

It is pretty lightweight.

It comes with mechanical breathing sounds.
Part 2: 5 Voice Changer Mask Alternatives for PC/Mobile
If you're looking for a voice changer mask alternative, you might have to look at iMyFone MagicMic. It sets every other voice changer apart to provide quality and professional services simultaneously.
Using this unbelievable tool, you can modify your voice and apply prolific sound effects to it in real time. Apart from offering sensational voice filters and flawless sound effects, another thing that can make you fall in love with this voice changer is its outstanding user interface.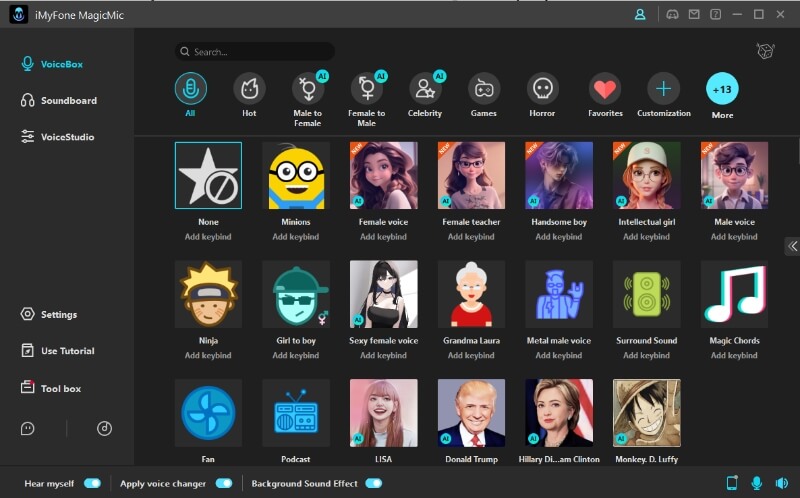 User Rating: 4.9
Features:
MagicMic doesn't take any time to install, as you can install and launch it within a few minutes.

Using MagicMic, you can play 500+ sound effects in real time.

Apart from offering a slick interface, MagicMic allows you to explore almost 100+ voice filters.

Its Random Dice feature helps you to choose an entertaining voice filter.

MagicMic acts as a voice modulator when you decide to use it on many online streaming platforms.
Voice Candy is by no means a high-quality voice changer, but it can help you to record your voice and then turn it into eight different characters. Importantly, only Mac users can use Voice Candy as it doesn't support any other operating system. The only thing that can make you happy is its user interface, as newbies may find it easy to use. On top of that, you can use the recorded sound for personal and commercial use as all the sound effects it comes from fall into the public domain.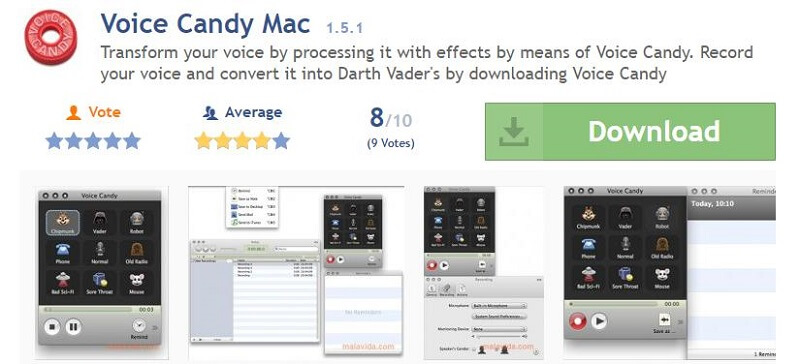 User Rating: 2.7
Features:
Voice Candy offers you 8 sensational voice filters, including Sore Throat, Bad Science fiction, and Vader Robot.

Voice Candy can make your voice sound like a voice-changing mask.

You can use Voice Candy as a voice recorder.

Voice Candy offers an effortless user interface.
If you ever ask for a voice changer that can turn out to be an alternative to a voice changer mask, it has to be Voicemod.
Changing voice and making it sound like a girl or boy is the profound ability of this extraordinary voice changer. Whether you're looking to alter your voice of recorded audio or in real-time, Voicemod won't disappoint you at all. Making your voice sound like a robot is probably the best thing that Voicemod can do for you as it comes with precise varieties to alter your voice.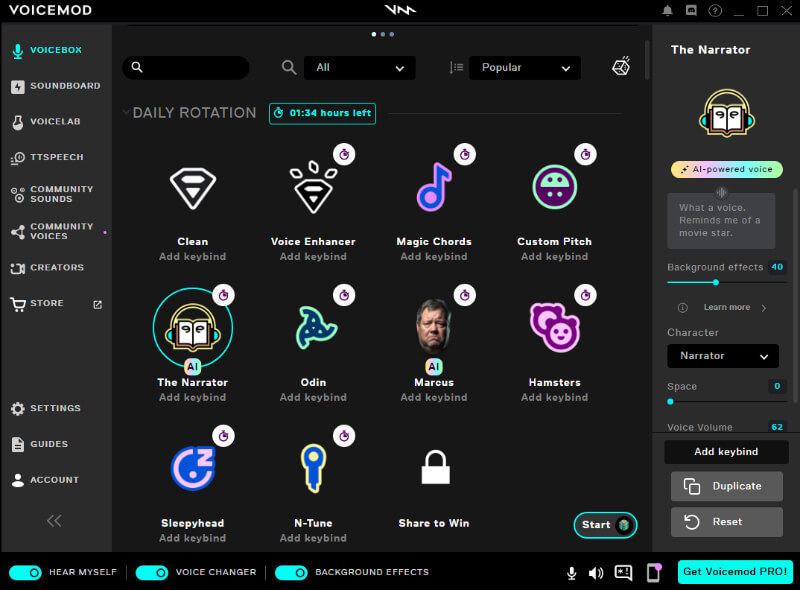 User Rating: 4.4
Features:
It supports various chatting and streaming platforms, including Twitch, Streamlabs, Among Us, CSGO, etc.

Voicemod allows you to explore live voice effect demos.

Using Voicemod, you've got the opportunity to sound like a girl, Robot, boy, alien, anime, or anything.

Voice is easy to use and install.

The sound effects that Voicemod offer contain high quality.
Voice Changer with Effects developer wanted to create a perfect tool that allows users to play alien and robotic voices effortlessly. This voice changer allows you to change the pitch and tone of your voice after recording it on the microphone. For this, all you need to do is speak on the microphone and then alter the voice by applying your favorite sound effects.
You can also import the recorded audio and apply voice filters to those audios. After changing the voice of the audio, you can share them with your friends on Facebook, Instagram, and other social media platforms.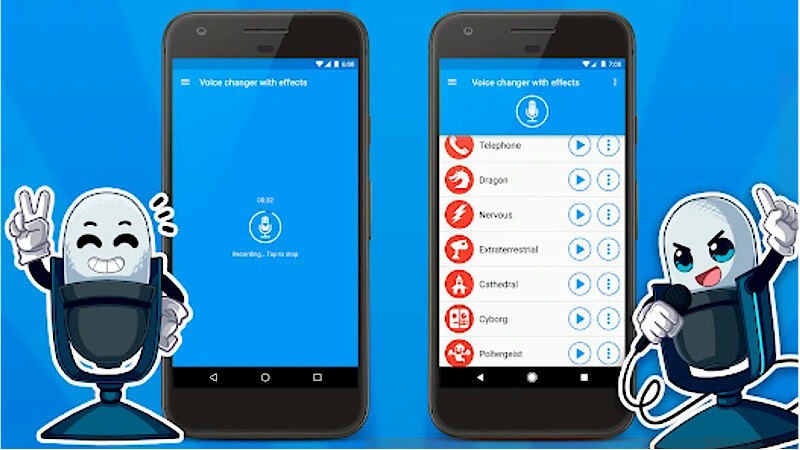 User Rating: 4.5
Features:
You can edit the pre-recorded files using this fascinating tool.

Voice Changer with Effects allows you to set a new ringtone.

It offers multiple sound effects, including Devil, Dragon, Drunk, Giant, Villain, etc.
Voice Changer with Plus can surely be a prestigious alternative to voice changer masks courtesy of its high-profile voice filters and sound effects. You won't find many voice changers for mobile that offer you more qualitative voice filters and sound effects than this terrific tool provides you with.
On top of that, this tool is more than a voice changer. Instead, it also allows you to edit your recording and make it perfect. Moreover, you can trim the recorded audio as it allows you to eliminate the unnecessary part from your recording.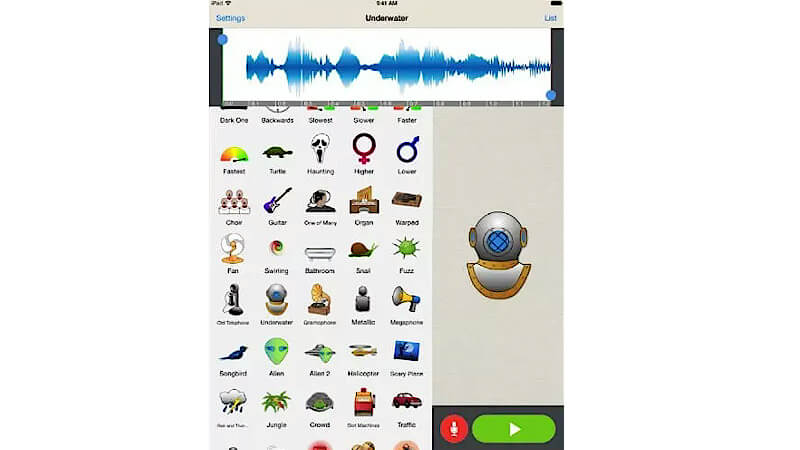 User Rating: 4.8
Features:
Voice Changer Plus offers various brilliant voice filters for you.

Using this tool, you can enjoy the presence of voiceOver recording options.

You can edit the audio after the modulation process.
Final Words
Considering the value that a voice changer mask can add when you'd wish to prank your friends, we've discussed the best 4 voice-changing mask options. After wearing the masks, you can easily change your voice and intimidate anyone you want.
However, these voice changing masks can be a bit expensive for your liking, so you can look for other options. To put that in context, we've explored the 5 voice changers. Of all the options, iMyFone MagicMic is the best one.