The B1 Battle Droid is an iconic element from the Star Wars universe, whose voice is precise, mechanical, and utterly distinct. Now you can get B1 Battle Droid AI voice that's both recognizable and efficient through text to speech tech.
In this essay, we will introduce the B1 Battle Droid voice actor and recommend top voice generator and voice changer for you to gain Battle Droid voice without any cost.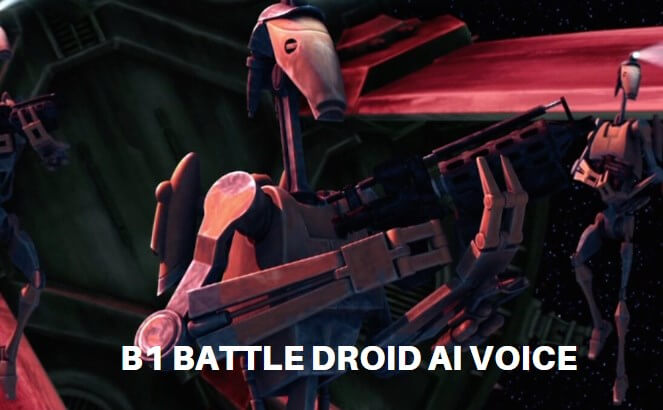 Part 1: B1 Battle Droid in Star Wars
The B1 Battle Droid, a staple in the Star Wars universe, is the face of the Trade Federation and later the Confederacy of Independent Systems' droid army. Standing at approximately 1.91 meters (6 feet 3 inches) tall, these droids boast a skeletal frame with two photoreceptors atop their heads and are armed with E-5 blaster rifles. Their AI, while rudimentary, allows for basic combat strategies, making them formidable in large numbers.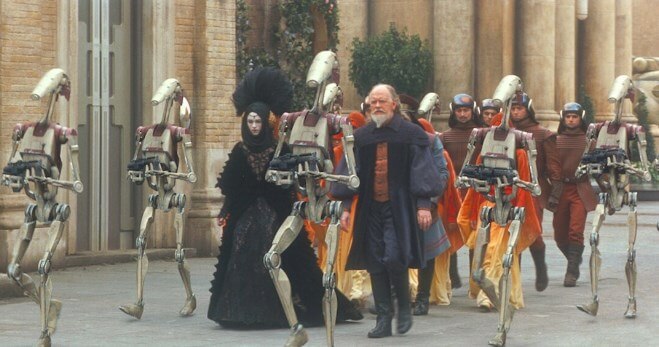 However, their predictable behavior and susceptibility to creative tactics mark their weaknesses. Post the Confederacy's fall, many B1 Battle Droids faced deactivation, although remnants found new purposes across the galaxy, showcasing their enduring impact on the Star Wars saga.
Part 2: Here Know About B1 Battle Droid Voice Actor
Matthew Wood is a highly accomplished figure in the world of sound editing and voice acting, particularly known for his significant contributions to the Star Wars franchise. He was born on August 15, 1972, in Walnut Creek, California, USA. Wood initially started as a sound engineer at Skywalker Sound, where he had the opportunity to work with legendary figures like Ben Burtt, a sound designer famous for his work in Star Wars.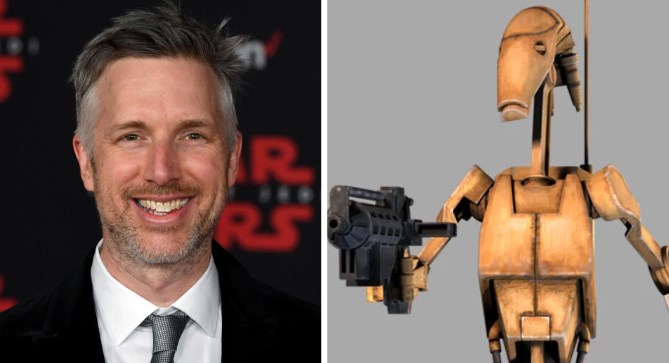 In the Star Wars prequel trilogy, starting from "The Phantom Menace" (1999), Wood provided the iconic voice for B1 Battle Droids. He also voiced other characters like General Grievous and supervising sound editor for various Star Wars films.
Part 3: How To Make B1 Battle Droid AI Voice Using Voice Generators?
The B1 Battle Droid voice is typically characterized by a mechanical and monotonous tone. If you are interested in his iconic voice, then the best voice generator VoxBox allows you to customize this unique sound effectively.
1) iMyFone VoxBox - B1 Battle Droid Text to Speech
iMyFone Voxbox is a perfect voice generator to create B1 Battle Droid AI voice for voiceovers and beyond. With VoxBox, you can transform text into the cool Battle Droid voice easily , accompanied by an extensive collection of 2000 free characters for text-to-speech conversion.
Moreover, VoxBox compasses 3200+ voices, granting you the ability to generate text-to-speech voiceovers encompassing celebrities, singers, fictional characters, and an array of diverse personas.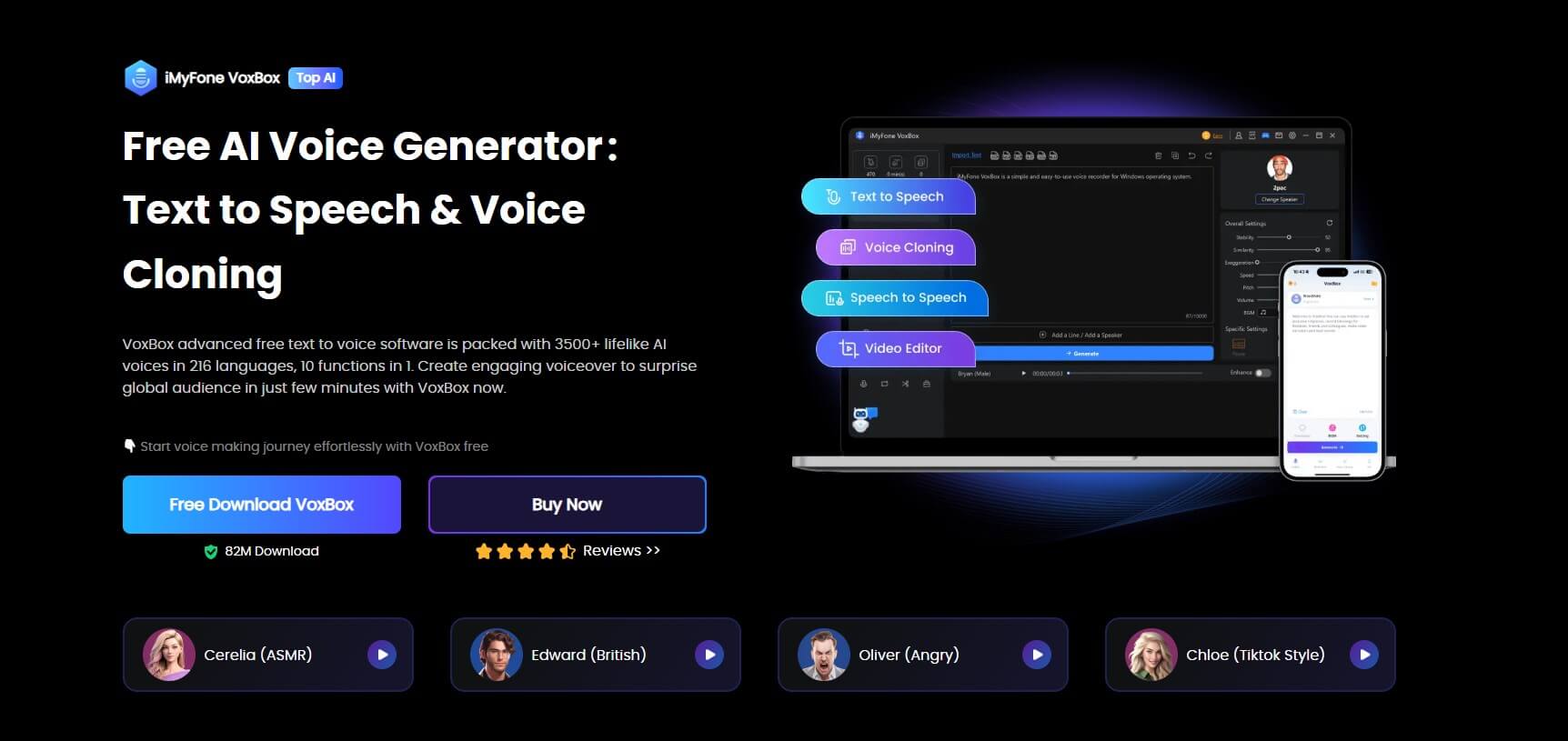 How to Make B1 Battle Droid AI Voice with TTS:
#Step 1: Downloading and installing VoxBox.
#Step 2: Head to "Voice Cloning" and access the cloning section. Simply upload the audio file you wish to clone and acquire the specific voice you need. Once the cloning process is complete, you can access it in "My cloned voice".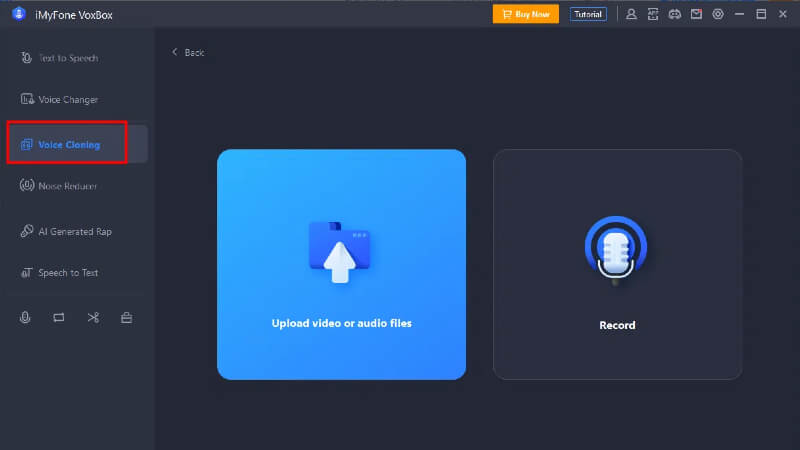 #Step 3: Use the voice and enter "Text to Speech" automatically, input text or import document into the interface, then convert it. If you need clearer voiceover, click on "Enhance".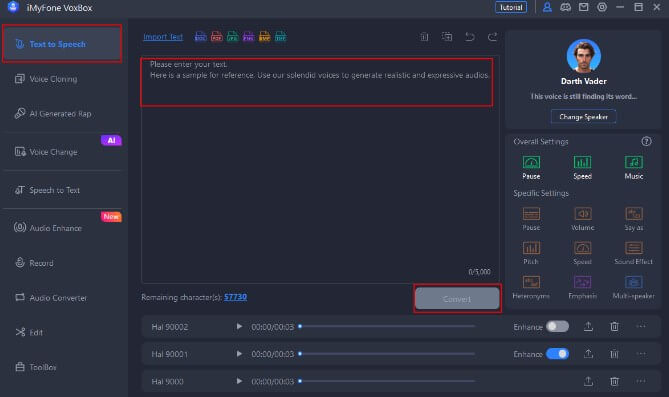 Key Features:
Popular character voices in star wars are provided for free.

Supports to custom the voice to close to tones of B1 Battle Droid.

Over 3200 voice options in 77+ languages.

Offering TV series or movie trailer narration generation.

One-click noise reduction.

Flexible formats for dubbings to be exported.
Part 4: Also Recommended: B1 Battle Droid Voice Changer
MagicMic voice changer can used to creat an authentic Battle Droid AI voice, perfect for live chats, streaming, and gaming adventures. Compatible with Mac and Windows, this flexible tool presents a wide array of voices, including beloved characters from famous movies, TV shows and beyond.
It boasts 225+ AI voice filters, 600+ voice effects, and 200+ voice memes, empowering you to embody diverse personas and elevate your content creation, gaming, and streaming experiences.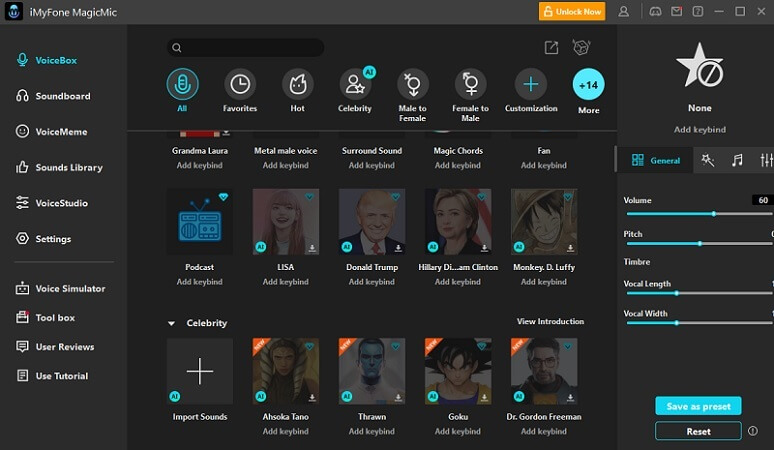 Key Features:
225+ AI voices for chats and gaming, including B1 Battle Droid voice.

Add fun to your content with 600+ voice effects and 200+ voice memes.

Record and improve audio easily.

More character sounds like Darth Vader, Yoda, etc.

Use with Discord, Fortnite, Zoom, Twitch, and more.
Part 5: FAQs about B1 Battle Droid AI Voice
1. How is the B1 Battle Droid AI voice created?
The B1 Battle Droid AI voice is generated using advanced artificial intelligence algorithms and deep learning techniques. It analyzes existing audio samples of B1 Battle Droid voices to create a virtual model that can produce similar speech patterns.
2. Can I use the Battle Droid AI voice for my projects?
Yes, many platforms and tools allow users to access and use the B1 Battle Droid AI voice for various projects, including voiceovers, videos, and more.
3. Can I use B1 Battle Droid text to speech on a website or in an app?
Yes, VoxBox offers a wide range of AI voices, including unique ones like B1 Battle Droid, allowing you to create engaging and interactive experiences for your users.
Conclusion
In conclusion, if you want a mechanized character voice, then B1 Battle Droid AI voice is very suitable for your requirements. You can get its distinct voice through voice changer or voice cloning and text-to-speech.
We highly recommend the VoxBox voice generator, which offers an array of AI voices, enabling you to not only access the B1 Battle Droid voice but also explore a multitude of other character voices. With its diverse 3200+ voice options and a wide variety With voice generation and editing capabilities, VoxBox is your go-to platform for bringing these voices to life in your content and adding a touch of the Star Wars galaxy to your projects.